Sigma 150-600mm Sport review
Intro
The Sigma 150-600mm f5-6.3 DG OS HSM Sport is a super-telephoto zoom lens, available in Canon, Nikon and Sigma mounts, and corrected for full-frame use. Announced in September 2014, it replaces the earlier 150-500mm f5-6.3, extending its reach while also offering higher performance and tougher build. It also now allows Sigma to compete on range with the existing Tamron 150-600mm f5-6.3.
Interestingly, Sigma is replacing the 150-500mm with not one, but two new lenses. Both share the same 150-600mm f5-6.3 specification, but have different levels of quality, construction and sealing. The higher-end Sport version reviewed here is fully weather-sealed, while the more affordable Contemporary version, yet to be released, employs a simpler optical construction and sealing at the mount to hit a lower price point. While the full specification and price of the Contemporary model were not known at the time of writing, the dual-offering remains a cunning approach by Sigma, allowing the cheaper version to compete with Tamron and the pricier one to go up against premium options from Canon and Nikon. Sigma appends the model names with an S for Sport or a C for Contemporary, so officially speaking I'm reviewing the 150-600mm f5-6.3 DG OS HSM | S.
Like the 150-500mm before it, the 150-600mm range is ideal for wildlife and sports photography, tight sunsets, or even distant street work. Despite Sigma's previous success with this range it's also one that's not been covered by Canon and Nikon, making it unique to third parties. And while the Sport version is a premium lens, Sigma's still managed to price it a little below the most recent Canon 100-400mm and Nikkor 80-400mm options, missing out on their slightly wider coverage, but crucially reaching 50% longer. Read on to find out if this is the best super-telephoto zoom for your DSLR or mirrorless camera!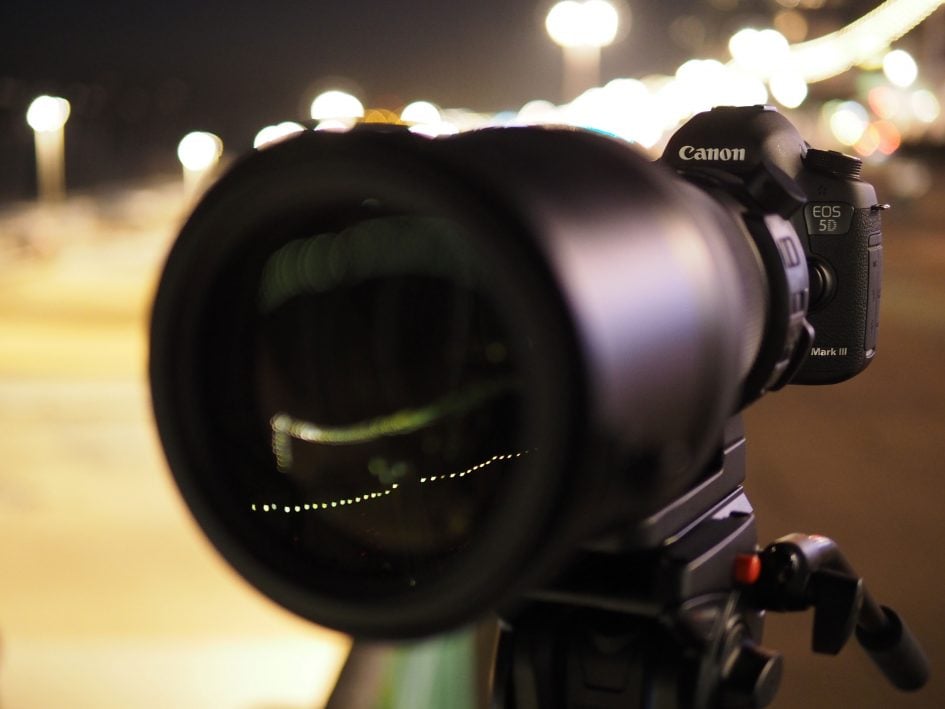 Sigma 150-600mm Sport design and build quality
The 150-600mm Sport is a reassuringly substantial lens, built to a high standard and exuding as much confidence as comparable zooms from Canon and Nikon. In your hands it's a completely different class to the earlier 150-500mm which feels mid-range in comparison. But the higher build and optical quality is also reflected in the weight which, at 2860g, is around 50% heavier than its 1910g predecessor. Indeed it's comfortably heavier than any of its rivals: Tamron's 150-600mm f5-6.3 weighs 1951g, while the 100-400mm and 80-400mm from Canon and Nikon are roughly half the weight at 1640g and 1570g respectively. The weight of Sigma's contemporary version wasn't known at the time of writing, but I'd expect it to be similar to the Tamron at about 2kg.
To be fair, the weight of the Sigma 150-600mm Sport includes the appropriately substantial tripod foot – and included it should be too since you can't take it off. It's a physically large lens too, measuring 121mm in diameter by 290mm in length. Compare that to the Contemporary version and Tamron's 150-600mm at 105x260mm, and Sigma's earlier 150-500mm at 95x252mm, or Canon's 100-400mm at 94x193mm.
It should be clear at this point that the 150-600mm Sport is bigger and heavier than most alternative propositions. That said, it's not impractical – I squeezed it into my F-Stop Loka pack with some other gear and even managed to do some handheld street, bird and sunset shooting with it. But it's not a lens you'll want to handhold for long, and neither is it one that you'll forget about carrying around. If you're upgrading from the earlier 150-500mm you'll really notice the difference, especially if you're hiking to shoot wildlife.
Speaking of transportation, the 150-600mm Sport is supplied with a dedicated padded carrying case which I generally slipped into my Loka backpack. It also comes with a substantial (there's that word again) lens hood that adds about 90mm to the length and can be reversed over the barrel for transportation, along with a padded soft cap that clamps round the hood with a Velcro flap. If you'd like to mount filters you'll need to dig deep for models that'll screw into the 105mm thread; there's no rear-mounted drop-in option.
Towards the end of the barrel, a chunky ring operates the zoom. It turns smoothly, and while there's understandably more resistance with the lens pointing upwards, it's always easy to operate. Zooming the lens extends the barrel by up to 90mm. With the lens zoomed to 600mm and the hood attached, the entire lens grows to 480mm in length, or just shy of 19 inches, so if you're using it around town, you're guaranteed some attention. I've pictured it below at 150mm and 600mm, with the lens hood mounted on both to show you how it looks in its largest configuration.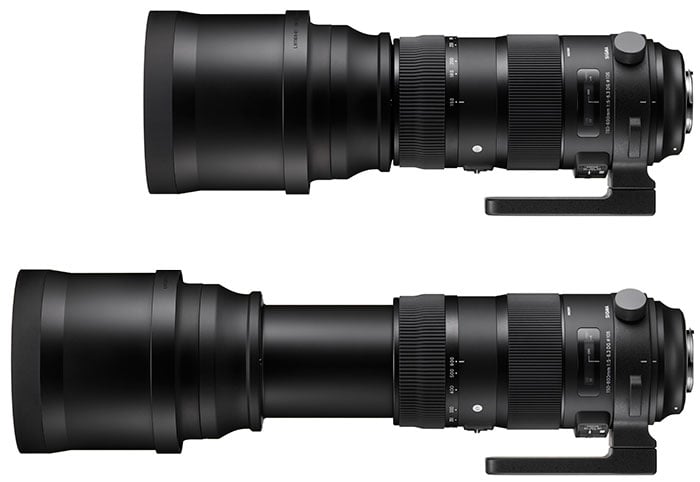 The 150-600mm Sport also lets you adjust the zoom with a push-pull motion and the barrel includes a nice indented section beyond the zoom ring which provides a comfortable area for your thumb and index finger. I wasn't a fan of the push-pull mechanism of Canon's original 100-400mm zoom, so approached the 150-600mm Sport with some trepidation, but in use it felt better to me: a smooth, natural action that could be adjusted quickly in the field if necessary. Whether it'll suck-in dust or other particles over time remains to be seen. Sigma quotes full dust and moisture sealing for the Sport version so I would hope so, but we won't really know until models have been in use for a while in challenging conditions.
You'll notice the zoom ring also has popular focal lengths marked on it: 150, 180, 200, 250, 300, 400, 500 and 600mm. A switch alongside the zoom ring lets you lock the barrel at any one of these marked focal lengths, preventing any creep; note the lock only works for the marked focal lengths, not in-between values. This is an incredibly useful feature as most lenses only offer a lock to hold the lens at its shortest configuration for transport. Now with the 150-600mm Sport you can confidently lock the barrel at any of the marked focal lengths as you swing it around to follow the action or point it straight up for, say, a Moon shot. The lock also disengages if the zoom ring is twisted hard or the barrel receives a knock, protecting the mechanism.
Further down the barrel you'll find an equally chunky manual focusing ring which again moves very smoothly with no catching. Behind this is a small window indicating the focusing distance scale.
Behind the focusing distance window you'll find the collar for the tripod foot which as I noted earlier is not removeable. The collar features a locking nut which when loosened allows the lens to freely rotate within. While many tripod collars simply grip the barrel and rattle around when loosened, the one here turns almost as smoothly as many focusing rings and features four 'stops' at 90 degree intervals, allowing you to quickly and easily switch between portrait and landscape orientations when mounted on a tripod. The collar is also where you'll find lugs for the supplied strap. So while the collar can't be removed to save a little weight, its captive nature has allowed Sigma to implement a very classy turning mechanism. Plus you can of course carry the lens by the foot.
On the side of the barrel, between the tripod collar and focusing ring, you'll also find four switches. From top to bottom these set the focusing mode, focusing range, Optical Stabilisation mode and Custom settings. Starting at the top, the AF mode switch lets you choose between AF, MF and MO which offers manual override during continuous AF operation. The focusing range switch offers autofocus at a choice of three ranges: full, 10m to infinity and 2.6 to 10m, the latter great for portrait or street photography. The OS switch can be set to 1 for normal use, 2 for panning, or Off. Finally, the Custom switch works with Sigma's optional USB dock to configure various aspects of the lens, including focusing speed and range. You can then store these as two custom presets or go for the default configuration. The ability to customize a lens using the dock and software on your computer is a neat innovation by Sigma that's not being offered elsewhere. I wonder if it could be extended to support customization using a smartphone or tablet in the future.
Finally it's also worth mentioning the mount, not just for its ability to dock with the optional USB unit, but also because Sigma offers a (paid) service to switch the mount should you change camera systems in the future. This is a wonderful way to protect your investment in lenses.
Sigma 150-600mm Sport optical construction
The 150-600mm Sport offers a super-telephoto range that's currently unique to third parties. Tamron was first to offer this range, but you won't find it in the catalogues of Canon or Nikon. It's ideally-suited to wildlife and sports photography, but can also prove effective for distant street use, although the physical size of the lens prevents it from being a discreet option. If you're into shooting sunsets, the range is also useful for delivering a decent-sized solar disc, especially if mounted on a cropped body. You can see an example of the four times range below.
| | |
| --- | --- |
| Sigma 150-600mm coverage at 150mm on full-frame | Sigma 150-600mm coverage at 600mm on full-frame |
| | |
| 150mm | 600mm |
Anyone who owned the earlier 150-500mm will welcome the extra reach of the new model, regardless of what they shoot. It also gives the lens a greater differentiator from the Canon 100-400mm and Nikkor 80-400mm. While each of these of course offers wider coverage at the short end, the new Sigma can zoom 50% longer and for its target use, length is everything. Pop it on an APSC body and the range becomes equivalent to 240-960mm on a Canon or 225-900mm on everything else.
The focal ratio of f5-6.3 is the same as the 150-500mm before it, meaning you enjoy the extra reach of 600mm without compromising the brightness. This in turn though means a larger, heavier and more expensive lens, and it should still be noted f5-6.3 is still hardly bright. Indeed you'll find yourself shooting at relatively high ISOs to achieve shutter speeds that are fast enough to either avoid motion, or if you're handholding, camera shake. Even if you're using a tripod you'll need to be quite aware of your surrounding conditions and what your system – not to mention technique – is capable of holding steady. On a still night with my Manfrotto 055 series tripod, I just about got away with a one second exposure at 600mm, but you should still be very aware of what is and is not possible. Of course this isn't a criticism of the Sigma lens, just a reminder of the limitations of shooting with a 600mm at f6.3.
1 sec, f/8, 400 ISO, 150-600mm at 600mm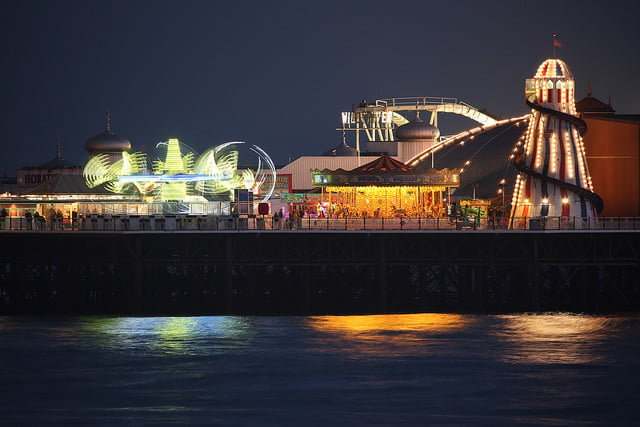 Click image to access original at Flickr
In terms of depth of field, an f5-6.3 lens isn't going to deliver massive separation between subject and background even at the longer focal lengths. Indeed to completely obliterate the background through a shallow depth of field, you'll need to zoom to 600mm, open the aperture to f6.3 and try and get as close to your subject as you can. The lens can actually focus quite close, down to 2.6m, and from this distance you'll get a 1:5 reproduction. Here's a handheld shot I took of a seagull at 600mm f6.3 and pretty much at the minimum focusing distance.
1/640, f/6.3, 800 ISO, 150-600mm at 600mm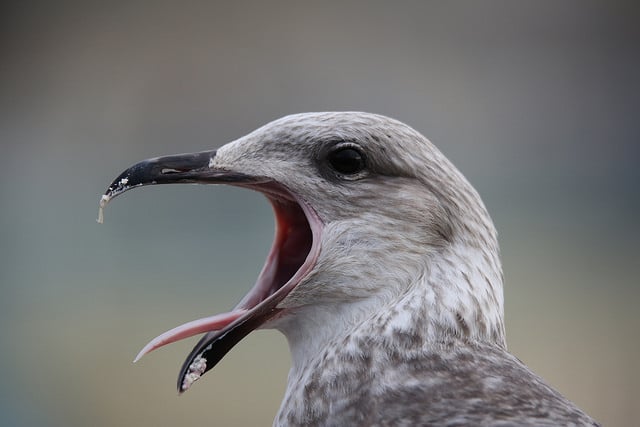 Click image to access original at Flickr
At this distance you're only capturing an area a few inches across which Of course isn't suitable for portraits. So if you move further back to fit in a person or two, your depth of field will correspondingly reduce. Thankfully the bokeh isn't as busy as many lenses of similar specification, but equally it's not going to deliver creamy results unless you're very close to the subject. This lens is about getting close to distant subjects with good quality at a reasonable price. If you want portraits with a shallow creamy depth of field, you'll need something with a much brighter focal ratio.
1/640, f/6.3, 800 ISO, 150-600mm at 600mm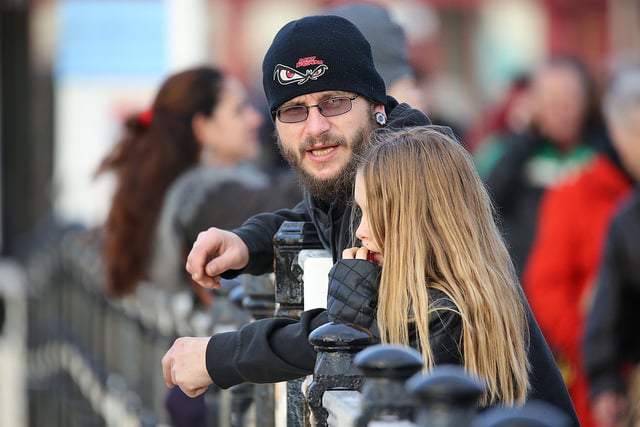 Click image to access original at Flickr
In case you were wondering why Sigma chose f6.3, it's to maintain AF compatibility (with modern DSLRs) when using a 1.4x teleconverter. Mount a 1.4x converter and the lens becomes 840mm f8 at the long end, and f8 is the limit of the best DSLR AF systems around right now. Note that many DSLRs may not support AF at f8, and even those that do may impose restrictions like only offering it on a handful of AF points. So if you're thinking of using the 150-600mm Sport with a 1.4x converter and want AF, then check your camera's specifications. Obviously with a 2x converter, it's manual focus only.
Inside the 150-600mm Sport employs 24 elements in 16 groups, with two FLD and three SLD elements; Sigma describes the F Low Dispersion elements as sharing the same performance as Flourite. The front and rear elements feature water and oil-repellent coatings.
The Optical Stabilisation, OS, system offers two modes: Mode 1 compensates both axes, while Mode 2 is for use with panning, only compensating one axis, but detecting whether you're shooting in the landscape or portrait orientation. To put it to the test I shot a sequence at 600mm with progressively slower shutter speeds starting at 1/640 to see how slowly I could handhold with and without stabilization.
Sigma 150-600mm Sport Optical Stabilisation at 600mm on FF body at 1/40: off / on

OS disabled. 600mm
OS enabled. 600mm
On the conditions of the day I needed a shutter speed of 1/320 to handhold a sharp result at 600mm using a full-frame body. Switching stabilization on allowed me to capture roughly the same result at 1/80, or if I was lucky, 1/40, corresponding to two to three stops of compensation, or three to four over conventional wisdom. I've pictured 100% crops from the 1/40 versions with and without stabilization above; the 1/80 stabilised result is 100% sharp, but I wanted to show what's possible at the slower shutter.
Like many big lenses, I also found the OS system on the 150-600mm Sport took a couple of seconds to warm up, delivering better stabilization than when you first half-pressed the shutter release. So if you're handholding under tough conditions, try and keep the shutter release half-pressed for a couple of seconds before firing. I allowed the system to power-up before taking my test shots here.
Sigma 150-600mm Sport focusing
The 150-600mm Sport is fitted with one of Sigma's HSM focusing motors which promises quick and quiet results. To test the lens I mounted it on a Canon EOS 5D Mark III body – I chose the 5D Mark III as it has a sophisticated AF system that is perfectly at home with action subjects, and it's also of course a full-frame body, thereby testing the optical capabilities of the lens.
Under daytime conditions, even with a dull Winter sky, the combination focused quickly and confidently. Refocusing between subjects a few meters apart was generally instant and the only time you'd really notice the lens taking longer was when refocusing from far to very close or back again. Even when focusing through the full range of 2.6m to infinity or back again you'd only be looking at about one second.
As mentioned earlier, you can limit the auto focusing range to 2.6m to 10m, or 10m to infinity, and when set to either of these modes the lens would refocus almost instantly. I was particularly impressed when raising the camera to my eye to take spontaneous handheld shots, as the camera and lens would generally lock on immediately.
It's fair to say many photographers will want to use the lens for sports and wildlife, so I tested the 150-600mm Sport with a variety of moving subjects from birds to jetskis to people running and cycling. I mostly used the EOS 5D Mark III set to its general Continuous AF profile and the zoned AF area, and in each situation the combination returned a high hit rate. Here's a shot of a jetski moving quickly across the frame.
1/2500, f/6.3, 800 ISO, 150-600mm at 600mm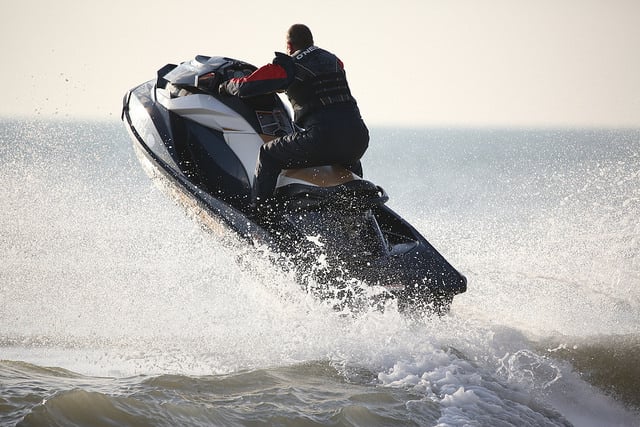 Click image to access original at Flickr
Again I was impressed how quickly the camera and lens would lock-onto a subject even in motion and then track it as it moved closer or further away. Even jetskis or birds approaching face-on at speed were tracked successfully. I realize this capability is as much down to the body as it is to the lens, but I was delighted to find the 150-600mm could be driven very successfully by the 5D Mark III for action. I'd be confident using it, at least in the situations described.
1/3200, f/6.3, 800 ISO, 150-600mm at 569mm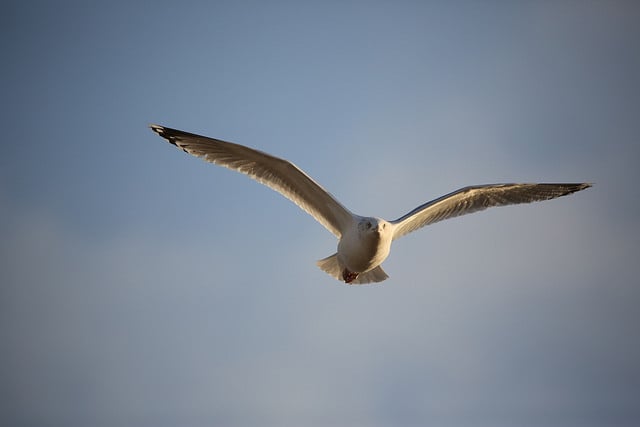 Click image to access original at Flickr
The only time the lens slowed down or struggled was with subjects with very low contrast in low light, and to be fair there's few cameras and lenses which handle these confidently.
Sigma 150-600mm Sport Image quality
For the rest of this page I'd like to pick out a selection of images I shot with the lens on a full-frame Canon EOS 5D Mark III to illustrate its flexibility and also pick-up on other aspects of its performance. All shots are JPEGs straight out of the cameras with no modification – you can download any of via Flickr by clicking the desired image. On the results page you'll see processed RAW files.
1/250, f/10, 800 ISO, 150-600mm at 300mm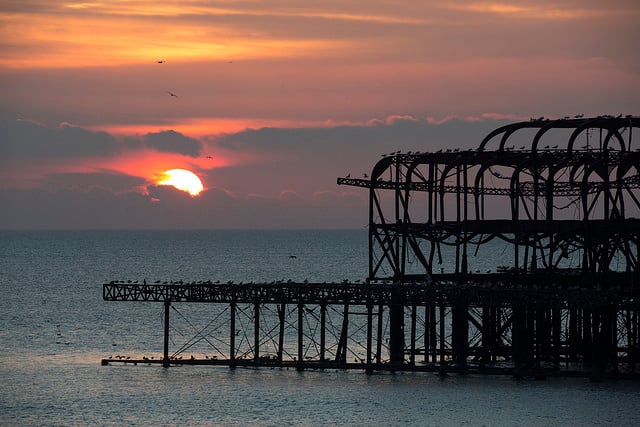 Click image to access original at Flickr

Above, 100% crop from original image
Big telephoto zooms are ideal for capturing the fading Sun at sunset or sunrise, reproducing the disc at a decent size. For this shot of the Sun setting behind the remains of Brighton's West Pier, I actually had the Sigma zoomed to half its maximum at 300mm in order to capture more of the pier's structure and give the image context. Even though the pier was still quite distant, you have to be very aware of the depth of field at very long focal lengths as it's rarely possible to have both the foreground and the Sun in focus at the same time even with small apertures. So the best approach is to focus on the foreground as I've done here.
0.3 secs, f/8, 400 ISO, 150-600mm at 600mm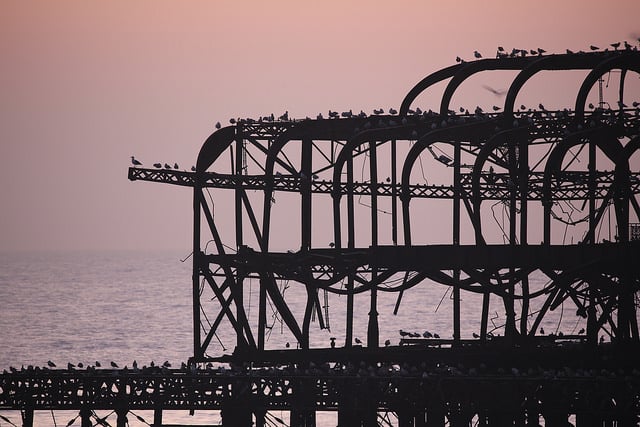 Click image to access original at Flickr

Above, 100% crop from original image
While framing-up the Sunset at the West Pier, I enjoyed the detail with the lens fully zoomed-into its maximum 600mm focal length. At this kind of power, the metallic skeleton is revealed to be home to countless birds. The light levels were fairly low at this point following Sunset, forcing a longish exposure of 0.3 seconds at f8 and 400 ISO. Luckily my tripod was sufficiently steady, but you should always be aware of possible vibrations.
1/800, f/8, 800 ISO, 150-600mm at 534mm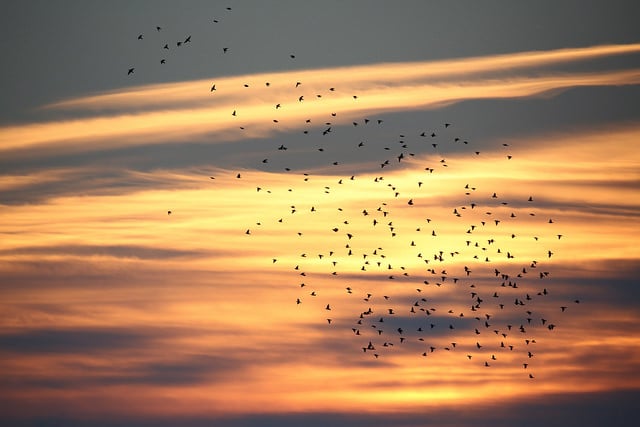 Click image to access original at Flickr

Above, 100% crop from original image
Staying with the birds by the Pier, the lens is perfect for capturing large flocks mustering. I snapped this with the lens at 534mm, close to the maximum focal length. I wanted to expose for the sky, so had no problems achieving a nice fast shutter to freeze the action. There's a little coloured fringing here, but it's easily removed when processing RAW files.
0.5 secs, f/8, 800 ISO, 150-600mm at 600mm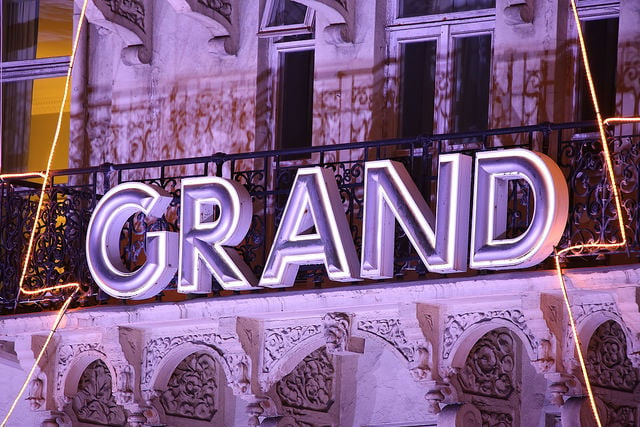 Click image to access original at Flickr

Above, 100% crop from original image
Super telephotos aren't what you'd normally associate with urban and architectural photography, but their tight fields can often deliver attractive compositions and details that are missed on wider views. I was stood across the road from the famous Brighton Grand hotel, shooting out towards the piers, when it occurred to me I also ought to try it on the building. At 600mm the hotel's illuminated sign filled the frame nicely, so I took the shot. The Canon 5D Mark III was set to 800 ISO and the lens to f8, which under the conditions resulted in an exposure of half a second. This was of course taken from a tripod.
1/60, f/5, 6400 ISO, 150-600mm at 150mm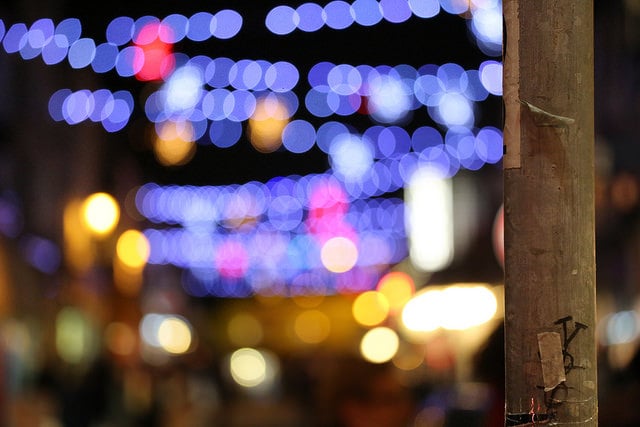 Click image to access original at Flickr
1/25, f/6.3, 6400 ISO, 150-600mm at 600mm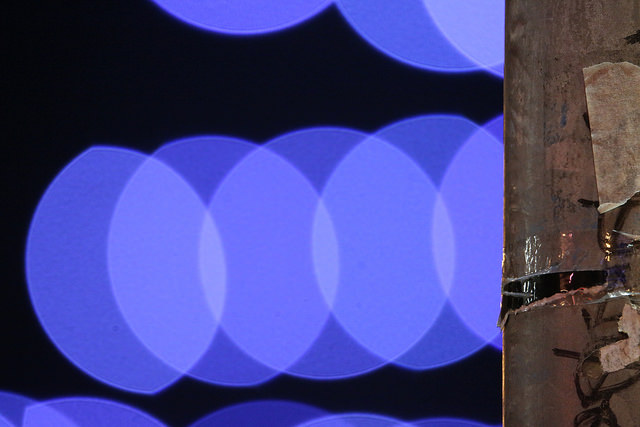 Click image to access original at Flickr
Behold, the biggest bokeh balls in the Galaxy! Well I don't know if that's strictly true but they're certainly pretty hefty. Above are two photos taken at 150m and 600mm from the closest focusing distance of a about two and a half meters, and at the respective maximum apertures. The bokeh balls are out-of-focus Christmas lights in the next street, so a distance of about 50m. Sorry the foreground isn't particularly inspiring – a post in the street – but I was limited in what was at the right height and distance to capture the lights this way. Anyway, technically speaking, the lens is obviously rendering specular highlights towards the edges and corners as the cat's eye shape, but with a clean, solid interior with no evidence of onion-rings. I'd say it's quite well-behaved.
1/640, f/6.3, 800 ISO, 150-600mm at 600mm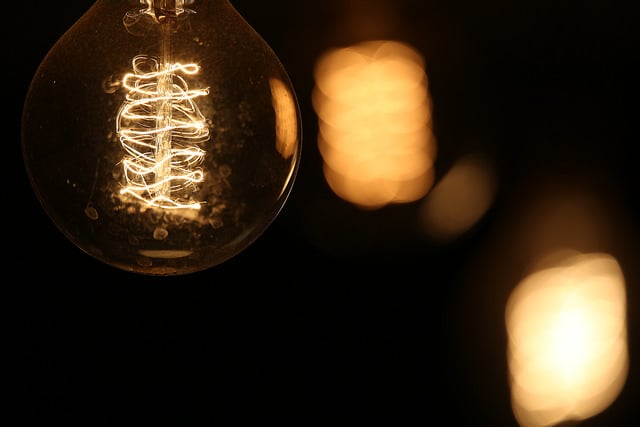 Click image to access original at Flickr

Above, 100% crop from original image
Here's another example of what you can capture with the lens fully zoomed to 600mm at its closest focusing distance. I shot this handheld in my favourite cafe from a distance of about two and a half meters. It's not exactly a practical macro lens, but it can deliver some interesting effects at close range.
1/640, f/8, 200 ISO, 150-600mm at 150mm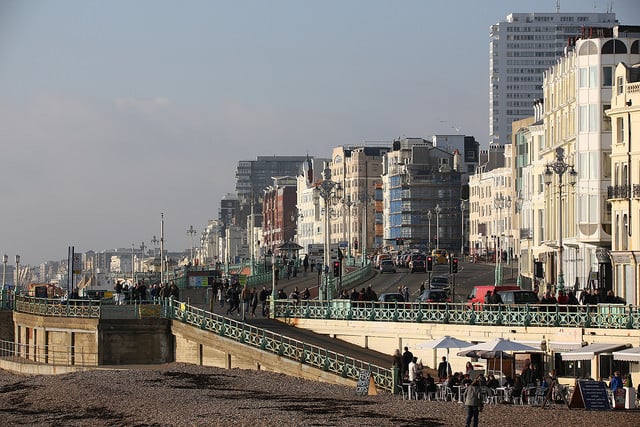 Click image to access original at Flickr

Above, 100% crop from original image
The Sigma 150-600mm is sufficiently sharp and well-corrected to deliver urban views that are packed with detail. I took this at the shortest focal length of 150mm, although have a similar shot at 300mm on my samples page. The only thing to be aware of when shooting scenes like these is the depth of field, which at very long focal lengths is very shallow. If the scene includes elements that are some distance apart, depth-wise, then there's a good chance they won't all be sharp. At 150-300mm it's reasonably forgiving, but at 600mm, you'll weant to make sure the subjects are in a similar plane of focus.
1/250, f/8, 800 ISO, 150-600mm at 512mm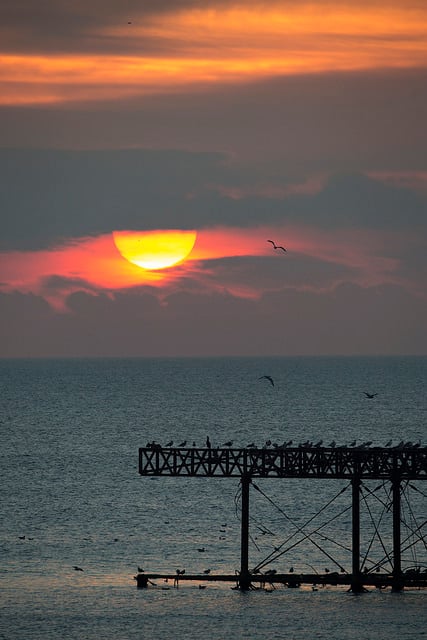 Click image to access original at Flickr

Above, 100% crop from original image
I'm coming close to the end of this page so thought another shot of the setting Sun seemed appropriate. You've seen my earlier image of Brighton's West Pier, so you can see this one in greater context despite it only including a small portion of the structure. This image shows the size of the solar disc when photographed at the maximum 600mm on a full-frame body.
Using Olympus OMD EM1: 1/200, f/6.3, 200 ISO, 150-600mm at 600mm (1200mm equiv)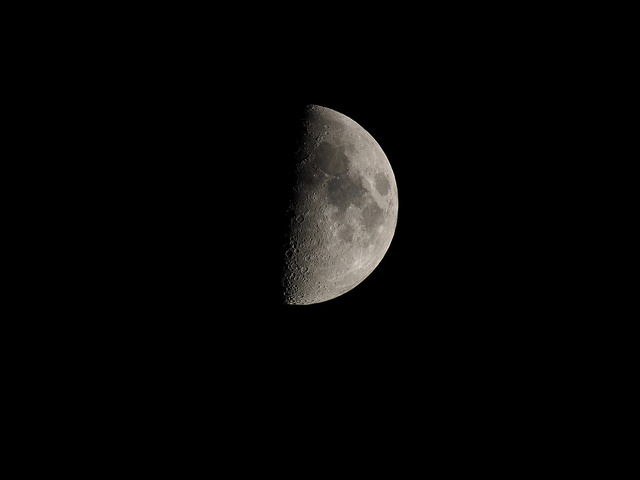 Click image to access original at Flickr

Above, 100% crop from original image
So far all of my sample photos were taken with a full-frame body, the EOS 5D Mark III, but of course the lens is perfectly happy mounted onto a camera with a smaller sensor. I tried it here mounted on an Olympus OMD EM1 using a basic adapter with no exposure or AF control, rendering the lens into a 300-1200mm manual focus monster. It's hard to manually focus at 1200mm equivalent, but magnified assistance and focus peaking on the EM1 allowed me to grab this fairly sharp shot of the Moon.
Now you can check out a more detailed look at the sharpness at different apertures in my Sigma 150-600mm quality section, browse these and more samples in my Sigma 150-600mm sample images page, or skip straight to my verdict!