Sigma 150-500mm f5-6.3 OS review
Intro
The Sigma 150-500mm f/5-6.3 DG OS HSM is a stabilized super-telephoto zoom lens; indeed it's one of only two stabilized telephoto zoom lenses reaching 500mm focal length, the other being Sigma's own 50-500mm 4.5-6.3 DG OS HSM.
The 150-500mm is available for Canon, Nikon, Sigma, Sony and Pentax mounts. Announced January 2008, it's the longer sibling to the Sigma 120-400mm f/4.5-5.6 DG OS HSM which is very similar in construction. In fact it looks like only the front-end between both lenses is different to accommodate the different focal lengths.
With these three lenses Sigma has covered many bases in its long zoom offerings. So people looking for something to complement their kit lenses or moderate tele-zooms will almost certainly have one of Sigma's zooms on their short-list. As all three offer optical stabilization the choice comes down to maximum focal length and zoom-range. The 50-500mm seems to be the logical choice here as it covers the greatest range. But it also is the most expensive of all three, and a 10x super-zoom represents a much greater challenge for optical construction than the moderate 3.3x zooms covering 120-400mm or 150-500mm. That makes the 150-500mm the best choice for people wanting the longest reach at the most affordable price. Whether Sigma was able to come up with a well performing zoom within these design parameters is subject of my review. To really put this super-telephoto zoom through its paces I got hold of the F-mount version and tested it on a 36 Megapixel full-frame Nikon D800. Read on to discover how it performed.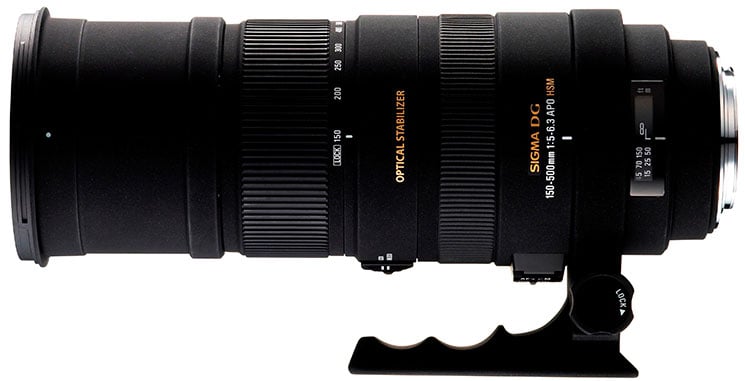 Facts from the catalog
As usual I'll have a look at the technical data first. I've rated the features with a [+] (or [++]), when it's better than average or even state of the art, a [0] if it's standard or just average, and [-] if there's a disadvantage.
Size (diam. x length): 95 x 252 mm (3.7 x 9.9 in). For a lens reaching 500mm focal length it is not too big: at its shortest state it is only 4 cm longer than Nikon's 70-200/2.8. But it extends another 63mm when zoomed to 500mm focal length, plus it has a 100mm deep lens-hood. So all-in-all this lens can be as long as 406mm (16 in, measured from the lens-mount). [0]
Weight: 1780 g (62.8 oz) = not too heavy for its size. But you should definitely not use a strap attached to your DSLR to carry the combo on your shoulder. Better to use the supplied lens-strap fixed to the grip of the lens. [0]
Optics: 21 elements in 15 groups. This is a lot of glass but pretty much standard for modern zooms. The manufacturer has to be extra careful with good lens-coatings to maintain a decent level of contrast and flare-resistance. And the owner should really use the lens-hood. This is also a good protection for the large front-element. The cross-section shows three low dispersion elements. [0]
Closest focus distance/max. magnification: 2.20 m (7.2 ft.) / 1:5.2. I measured this with manual focus to go down to 1:4.7. This is quite useful for moderate close-ups. [+]
Filter-thread: 82mm = bigger and more expensive than the 77mm standard with pro lenses. But to achieve f6.3 at 500mm you cannot stay at 77mm filter thread. [0]
IS: Yes = this is a really critical feature for such long focal lengths. [+]
AF: AF with HSM (hyper sonic motor), means it works on Nikon's D60/3×00/5×00-bodies, plus there's simple manual-focus override by turning the focus ring. [+]
Covers full frame/FX or smaller = very good. [+]
Price: around 890 EUR new (incl. 19% VAT) = the cheapest way to reach 500mm with stabilization! The Tamron 200-500mm (non-stabilized) is 900 EUR and the Sigma 50-500mm at 1300 EUR. Only the Sigma 120-400mm is cheaper at 750 EUR, but of course it doesn't reach 500mm. [+]
Comes with a soft padded case, an extra lens-strap, a reversible lens-shade, and standard lens-caps (Sigma has finally caught up with Nikon in that respect). [+]
Distance information is relayed to the camera, so the latest bodies can do all the advanced exposure-related stuff with this lens. But this is true for most alternatives too. [+]
Aperture ring = no, just like all Nikon G-lenses. [0]
Sealing: no. Better take care in the great wet outdoors! [0]
So the score in the "features-department" is 0[-]/6[0]/7[+]. This lens ticks most important boxes, except perhaps weather sealing for those using this lens extensively outdoors. Sports and wildlife shooters be warned!
Motivation
:
A 150-500mm zoom is clearly for those wanting to grab a subject that is pretty far away. This may be animals in nature or action / sports-shooting. Image stabilization makes it possible to shoot without a tripod or simply relying on a light monopod. And the zoom range makes it easier to adapt to the distance from your target which cannot always be influenced under less than ideal shooting conditions. Just to give you a feeling how far away you can be for capturing the full height of an average person with this lens: from 15m to 50m is the working distance for landscape orientation on an FX-body or portrait-orientation on a DX-body.
Alternatives
:
Current zooms reaching 500mm include only three alternatives:
– Sigma AF 120-400mm f/4.5-5.6 DG OS HSM, 20% shorter and over 100 EUR cheaper but otherwise the same.
– Sigma AF 50-500mm 4.5-6.3 DG OS HSM, for 400 EUR more you get an extension of the short end from 150mm to 50mm.
– There are also some 80/100-400mm lenses on offer of which the venerable Canon EF 100-400mm IS USM and Nikon AF VR 80-400mm 4.5-5.6D ED are the most popular.
You could of course try other lenses with a tele-converter to reach 500mm. E.g. one of the popular stabilized 70-300/4.0-5.6 zooms mounted on a 1.7x converter gives you a 120-510/6.8-9.5. But see the problem? You lose over one stop maximum aperture on the long end compared to the Sigma 150-500 OS. Most AF-systems stop working under these conditions.