Sigma Art lenses transform Lumix S
This page is all about Sigma's Art lenses designed for full-frame mirrorless cameras, specifically the 35mm f1.2 DG DN Art and the 14-24mm f2.8 DG DN Art. Each lens costs around 1400 to 1500 dollars or pounds, making them more affordable than most alternatives for these systems, while in some cases delivering a unique focal range or aperture not yet available. At the time I made this review, they were available in native versions for Sony E-mount or the Leica L-mount, although let's all keep our collective finger's crossed that Sigma also makes versions for Canon and Nikon's full-frame mirrorless cameras in the future too.
I've already tested both lenses and you can see how they performed or download my sample images in my Sigma 35mm f1.2 DG DN Art review and Sigma 14-24mm f2.8 DG DN Art review. But on this page I wanted to try out the L-mount versions on the Panasonic Lumix S1R, as they greatly expand the options available for that system. So in the video below, I filmed my experiences using both lenses on a Lumix S1R body. For more information on the camera, check out my Panasonic Lumix S1R review.
I've said it before and I'll say it again: the Sigma Art lenses transform the L-mount system, particularly for Lumix S owners who now have access to a broad collection of affordable, high-performance lenses. Sure, they've always been able to fit one of Leica's modest collection of existing L-mount lenses, but they're just so expensive I can't imagine anyone doing it. So until the cavalry, I mean Sigma, rode to the rescue, Lumix S owners only realistically had three native lenses to choose from, courtesy of Panasonic itself. Now they're perfectly good options, but it's hard to get excited about – or indeed invest in – a system in its infancy.
But by the time you read this, Sigma will have begun re-releasing all of its Art primes in the native L-mount, hugely expanding the options and overall desirability of the system. In fact it's amazing how much more viable Lumix S becomes with just those first two Art lenses. The 14-24mm f2.8 not only zooms wider than anything in the native L-mount to date, but costs almost one quarter of the Leica 16-35mm while also being around a stop faster. Leica also has a 35mm prime, but at f2, it's over a stop dimmer than the Sigma 35mm f1.2 Art and three times the price too. In fact the Sigma 35mm f1.2 is roughly two thirds the price of the Panasonic 50mm f1.4, while again being a bit brighter, so if you're after a fast prime for relatively standard use, it's a compelling alternative. In fact I'd say both lenses are pretty much no-brainers for Lumix S owners. I know I'd invest in them as soon as I could.
This is the key behind Sigma's deserved success with the Art lenses: to deliver excellent, even aspirational quality at a relatively affordable price, while also having some fun with focal lengths, apertures or ranges that aren't always on offer. Sony's e-mount greatly benefitted from Sigma's native full-frame mirrorless lenses, but while they join an established collection of options for that system, they literally fill crucial gaps for L-mount that previously didn't exist or were out of reach.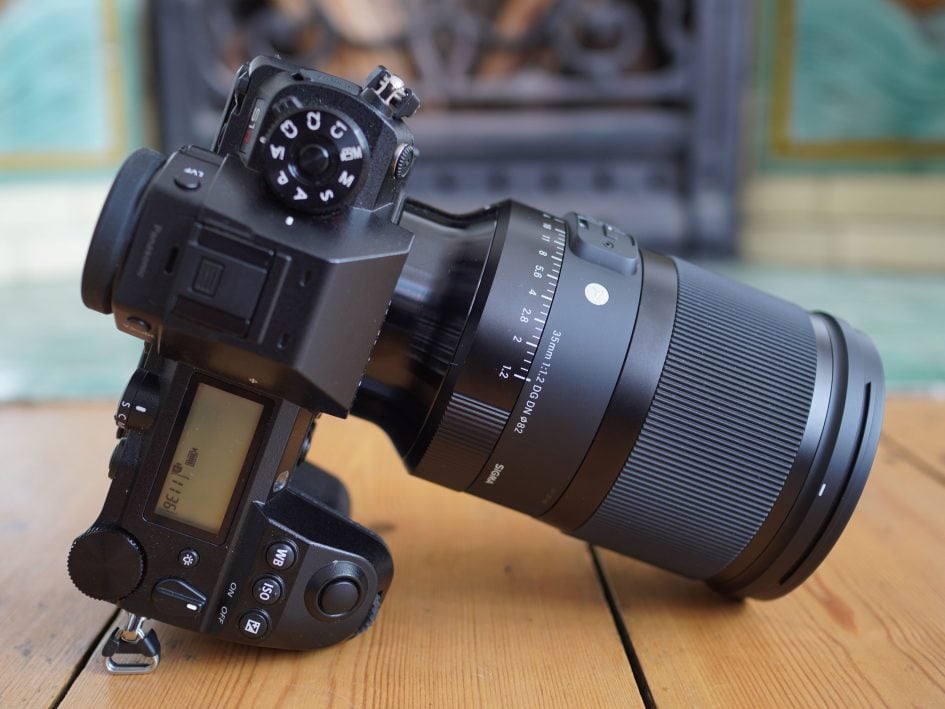 And while I appreciated the quality of the Art lenses on Sony cameras, they make much more physical sense on the more substantial Lumix S bodies. When I first tested the Lumix S cameras, I was struck by their size and heft which was not dissimilar to a semi-pro DSLR like a Canon 5D or Nikon D850. This makes them relatively large for a mirrorless camera, but perfectly suited for balancing large full-frame lenses. The 35mm f1.2 in particular felt front-heavy on a Sony A7 body but perfectly at home on a Lumix S . – see above.
In fact I loved going out shooting with the S1R accompanied by both Sigma Art lenses – at last this is the partnership and potential promised by the L-mount alliance, and it should make you take a very serious second look at the Lumix S bodies. Sigma may have taken its time getting ready, but has now arrived at the party and it's just got a lot more exciting.
PS – Sigma's also released an L-mount camera of its own, the fp which becomes the smallest full-framer to date and crying out to be rigged-up for filming. Check out my Sigma fp review so far.