Sigma 85mm f1.4 DG DN Art review - Verdict
Verdict

The 85mm f1.4 DG DN Art is Sigma's latest 85mm prime lens and its best so far, making it an excellent match for high resolution full-frame mirrorless cameras with E-mount or L-mount. It is extremely sharp at portrait and longer distances and produces a pleasing Bokeh, rendering the background nicely blurred and without longitudinal color aberrations. With its relatively low weight and small size it handles well on a mirrorless camera body and its feature-set checks all the right boxes: thorough weather sealing, de-clickable aperture ring, lockable lens hood, focus-lock button. And the price is absolutely fair for this combination of features and performance.
What's not to like? Well, there was this issue with my test-copy showing a bit of decentering at normal distances. And Adobe's RAW converter does not recognize the distortion compensation from the lens profile at the time of writing. But other than that it's hard to find fault with this lens.
Let's put this into perspective and have a closer look at how the Sigma 85mm f1.4 DG DN Art compares to some alternatives including its older sibling designed for DSLRs.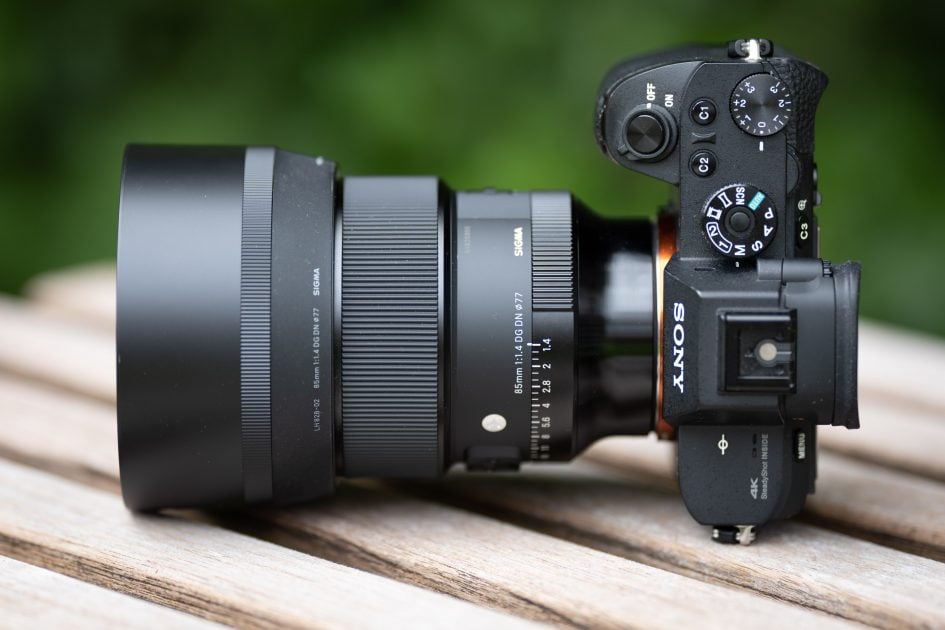 Compared to Sony FE 85mm f1.4 GM
In 2016 the FE 85mm f1.4 GM was one of Sony's first G-Master, or GM, lenses, boasting the company's best optical quality to date. Today it's still a very good choice for Sony's high-resolution mirrorless cameras. But Sigma has advanced the bar even further. While feature-wise both lenses are on a par (if you discount the Sigma's option to swap mounts) the Sony is now a bit behind on several accounts: heavier weight, worse longitudinal color aberrations, less sharp in the corners at normal distances, slower to focus. And then the Sony is 50% more expensive than the Sigma. If you have the Sony already I wouldn't sell it for the Sigma. But if you have a choice between acquiring the Sony or the Sigma, I'd go for the Sigma.
For more details see my Sony FE 85mm f1.4 GM review.

Compared to Sigma 85mm f1.4 DG HSM Art
The 85mm f1.4 DG HSM Art was Sigma's best performing 85mm lens when it was released in 2016. But this DSLR design was bulky and heavy and became even longer and heavier, when Sigma adapted the flange to fit Sony's E-mount in 2018. The new Sigma 85mm f1.4 DG DN Art now remedies these shortcomings and even advances further in optical qualities: The new lens not only cuts weight in half and is considerably shorter but it's sharper too and has the better feature-set. And if you look at the price the new Sigma DN is not even significantly more expensive than the Sigma HSM.
For more details see my Sigma 85mm f1.4 Art review.

Sigma 85mm f1.4 DG DN Art final verdict
Sigma has delivered an excellent example of what you can achieve when designing a new 85mm f1.4 lens for mirrorless cameras: not only is the 85mm f1.4 DG DN smaller and half the weight of the earlier 85mm f1.4 DG HSM but Sigma's also improved optical performance over what was already a very respectable lens. This makes the newer DG DN version optically the best 85mm f1.4 lens I've tested so far. Packed with all the right features and coming at a price that's one third less than the Sony FE 85mm f1.4 G-Master, the Sigma clearly earns a Highly Recommended! Let's hope that Sigma soon is able to offer their new lens with Nikon Z-mount and Canon RF-mount too.
Good points:
Relatively small and light for an f1.4 lens.
Excellent resolution and contrast.
Only little longitudinal colour aberrations.
Weather sealing, de-clickable aperture ring, lockable lens hood, focus-lock button.
Can swap mounts (at a cost) between Sony E and Leica L-mount.
Bad points:
Adobe's RAW converter as of version 12.4 does not recognize distortion compensation from lens profile.
Centering of my test-copy of the lens could have been better.
Check prices on the Sigma 85mm f1.4 DG DN Art at B&H, Adorama, WEX or Calumet.de! Alternatively get yourself a copy of my In Camera book or treat me to a coffee! Thanks!