Sigma 85mm f1.4 Art review
Verdict
The Sigma 85mm f1.4 DG HSM Art is the latest addition to Sigma's hugely successful series of "Art" lenses. My tests show that the new lens delivers excellent optical performance: it's very sharp across a full-frame sensor right up into the corners whether at infinity or normal distances. In fact it produces the sharpest FF/FX-corners of any 85mm I've seen with very low coma. And it has a superbly soft Bokeh which makes for very pleasing out-of-focus rendering. Its focus is fast and quiet plus the lens features sealing at the lens-mount and can be updated and adapted to one's needs from your computer through the separately available USB-dock. Add Sigma's build-quality of the "Art" series and the option to swap the lens-mount should you change your system or mount it on Sony's E-mount via Sigma's MC-11 adapter and you should have a clear winner.
So what's not to like? First the new lens is very big and weighs over 1.1kg. Then there is more longitudinal CAs than I would have liked showing up even in portrait-shots. And finally focus: It needed quite some fine-tuning depending on the shooting distance which can only be done through the USB-dock, not a single fine-tune value in my Nikon D810 camera. And still: even after a lot of optimization repeatability and reliability of AF was not enough to shoot confidently at large apertures and get consistently optimal focus. This was the single most important downside of the tested lens and may be just an individual problem of my copy of the lens. Or a general problem with Nikon bodies as Nikon is known to keep their AF algorithm and lens-body communication under wraps. So, if you go for the Sigma, make sure to have a good hard look at focus reliability of your combo.
Now let's see how the new lens compares to the competition.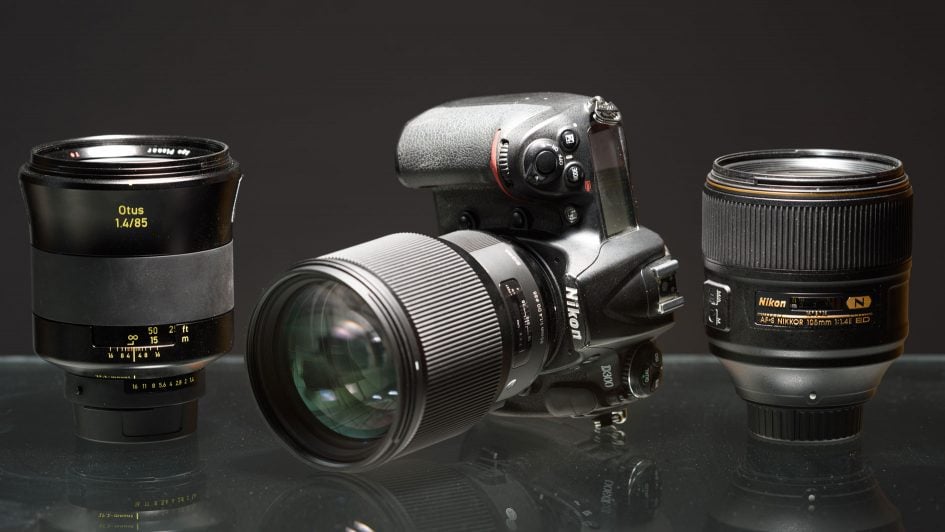 Compared to Sigma AF 85mm f1.4 EX DG HSM
Sigma did the right thing to renovate this lens from 2010. The Sigma 85mm f1.4 EX suffered from very visible longitudinal CAs, coma, and spherical aberrations. And it reportedly had issues with erratic AF behaviour. So it was high time that Sigma launched a new 85mm f1.4 lens with the kind of performance we've come to expect from their highly acclaimed "Art" series. And Sigma delivered – at a price, literally: The new lens is 50% more expensive, almost 60% heavier, and over 40% longer than the Sigma 85mm f1.4 EX. Although to be fair, the difference in price will certainly ease a bit over time. And the optical performance of the 85mm f1.4 Art is much better especially towards the borders. But the essence is this: If you want smaller, lighter and cheaper, and don't worry to much over image quality outside the center, the old 85mm f1.4 EX is still a lens to consider – as long as stock lasts. See my Sigma 85mm f1.4 EX review for more detail.
Compared to Zeiss Otus 85mm f1.4
It's interesting to see how far the design of lenses have come in the last three years: Sigma started to aim at top performance with their "Art" series, Zeiss delivered top-notch optics in their Otus series and Tamron has also entered the fray with unassuming but well performing lenses, trying to differentiate themselves from the pack by adding image stabilization to their 35mm f1.8, 45mm f1.8, and 85mm f1.8 primes. Saying that the Sigma 85mm f1.4 Art beats the Otus in the FF/FX-corner is testament to the extraordinary performance of the Sigma. But in the center the Otus still delivers superior resolution with the APS-C/DX-corner on a par. And it has less longitudinal CAs. But the Sigma can produce the slightly softer Bokeh. Outside the optical performance both the Otus and the Sigma are large and heavy, something that not everybody will welcome. Regarding build quality the Otus seems to have an advantage over the Sigma with its unmatchedly smooth focus-ring and its tank-like build. But the Otus has two big disadvantages: it is manual focus only and it costs three times as much as the new Sigma. That makes the Sigma clearly better value for money. For further information about the Otus have a look at my Zeiss Otus 85mm f1.4 review.
Compared to Nikon AF-S Nikkor 85mm f1.4G ED
The Nikon AF-S 85mm f1.4G generally cannot match the new Sigma in sharpness, clarity and resolution and it has stronger longitudinal CAs. Build-quality is also lower than the new Sigma as the Nikon is mostly made from plastic although it is more expensive than the new Sigma. But the Nikon has the benefit of being much lighter at 595g and smaller (87x84mm). So if you need small and light and are prepared to pay for that, get the Nikon. Otherwise the new Sigma is the better choice. See my Nikon 85mm f/1.4G review for more detail.
Compared to Tamron SP 85mm f1.8 VC
The Tamron 85mm f1.8 VC is a unique lens: It combines optical performance almost matching Sigma's with image stabilization at a reasonable price. In fact it's the only stabilized large aperture 85mm prime for Canon and Nikon users. Its autofocus is reliable (after some tweaking) and the package is not too large or heavy to become intimidating. In direct comparison to the new Sigma the Tamron is a bit softer in the FF/FX-corner but has a little less longitudinal CA. Due to its f1.8 focal ratio the Bokeh of the Tamron is less soft wide open than from the new Sigma at f1.4. And its build feels plasticky compared to the Sigma. If you need the best Bokeh and the shortest possible shutter speed get the new Sigma. If you prefer a smaller and lighter lens and the benefits of image stabilization, the Tamron is a good choice. Head over to my Tamron 85mm f1.8 VC review for further information.
Compared to Nikon AF-S Nikkor 105mm f1.4E ED
Nikon recently launched an f1.4 lens at a unique focal length of 105mm which has a 20% better reach and tighter framing over a 85mm lens and gets you better background isolation. They also endowed their new lens with very good image quality to boot: Easy and reliably to focus, sharp across the full-frame sensor, and with only little CA. You can easily use this lens wide open and get sharp and contrasty shots right into the corners of a high resolution full-frame sensor. As such its optical performance is up there with the Sigma with a better center but a softer corner. Its Bokeh is also less soft than from the Sigma Art although it produces the bigger Bokeh balls in the far distance. Being a grand more expensive than the Sigma reduces its attractiveness but the excellent autofocus might net you more keepers than from the Sigma. See my Nikon 105mm f1.4E review for more detail.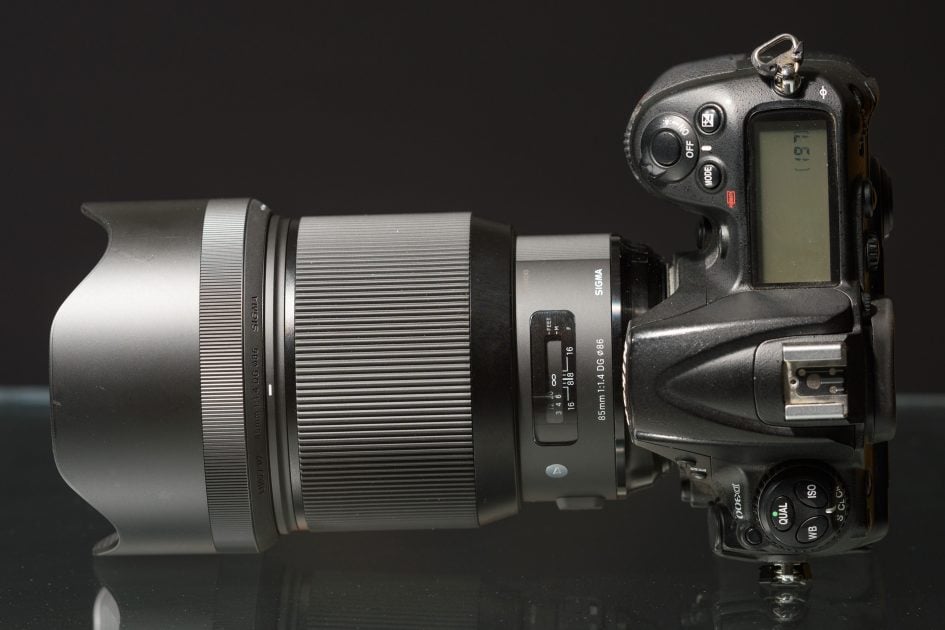 Sigma 85mm f1.4 Art final verdict
The new Sigma 85mm f1.4 Art finally brings Sigma's 85mm prime up to the performance one can expect from a modern lens designed with 36+ MP sensors in mind: It offers the best performing FF/FX-corners and the softest Bokeh of any 85mm lens I know. Plus it is astonishingly resilient against strong contra-light. And although it is not the sharpest in the center, has a little more longitudinal CAs than others, and is a huge and heavy beast of a lens I'd award Sigma's new 85mm f1.4 Art a Highly Recommended. But this is under the caveat that the AF-issues are singular problems with my copy of the lens.
PS – don't forget you can support my work next time you order anything at Amazon, B&H or Adorama by first clicking through to them using the links above and in the sidebar. It works for anything you order at any time – thanks for your support!
Summary
Good points:
Very good image quality across the full-frame area.
Smoothest Bokeh in its class.
Weather sealing at the lens mount.
Quiet and fast AF operation.
Bad points:
AF needs fine-tuning via USB-dock.
AF is not the most accurate.
LoCA could be lower.
No image stabilization.
Check prices on the Sigma 85mm f1.4 Art at Amazon, B&H, Adorama, or Wex. Alternatively get yourself a copy of my In Camera book or treat me to a coffee! Thanks!