Sigma 65mm f2 DG DN review
Intro
The Sigma 65mm f2.0 DG DN is a compact prime lens designed for full-frame mirrorless cameras and, at the time of testing, available in Sony E and Leica L-mounts. The 65mm f2.0 DG DN was launched in December 2020 alongside a 24mm f3.5 DG DN and 35mm f2 DG DN as part of Sigma's new I series, which also includes the existing 45mm f2.8 DG DN. These four lenses are also members of Sigma's Contemporary series, positioned below the flagship Art range, but still capable of very good results. What differentiates the I series from other Contemporary models are their compact sizes and some interesting design ideas.
The 65mm f2.0 DG DN has a full metal body with a metal lens hood, is weather-sealed, measures 72x77mm, weighs 407g, employs 12 elements in nine groups, has a closest focusing distance of 51cm, a 62mm filter thread, and is supplied with two lens caps including one that's held in place magnetically. It is listed at 699 EUR / 699 USD / 649 GBP.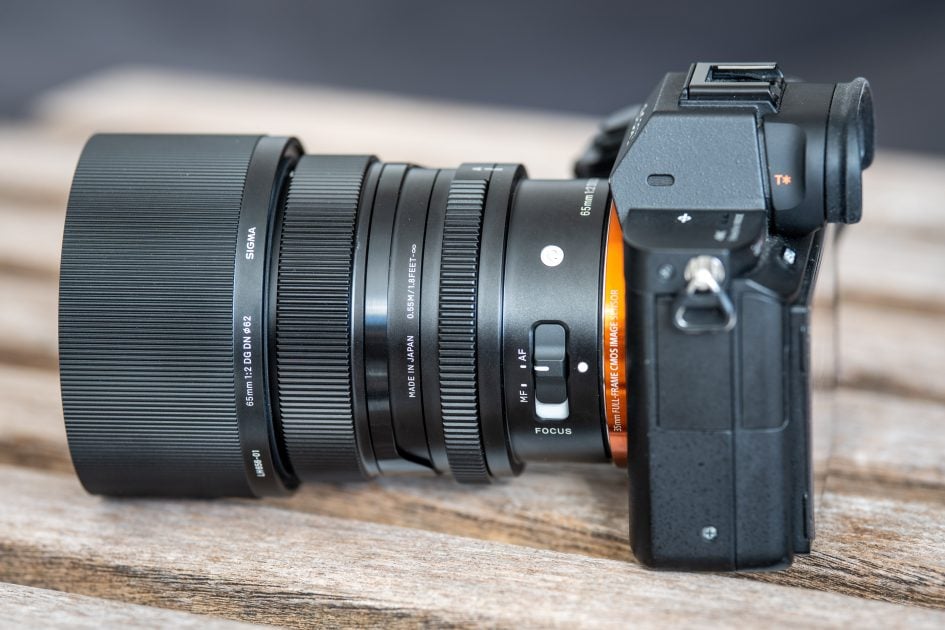 Facts from the catalog
Interestingly the somewhat unusual focal length of 65mm for Sigma's new lens lies exactly "in the middle" between 50mm and 85mm: 65mm is 30% longer than 50mm and 85mm in turn is again 30% longer than 65mm. So let's compare the Sigma 65mm f2.0 DG DN ("Sigma 65mm" for short) to the Sigma 50mm f1.4 DG HSM Art ("Sigma 50mm") which is an older DSLR design and can be used via Sigma's MC-11 mount-converter on a Sony mirrorless camera, and the Sigma 85mm f1.4 DG DN Art ("Sigma 85mm"). As usual I've rated the features with a [+] (or [++]), when it's better than average or even state of the art, a [0] if it's standard or just average, and [-] if there's a disadvantage.
Size (diameter x length): At 72 x 77mm (2.8 x 3.0in.) plus 38mm for the lens hood (80mm diameter) the new Sigma 65mm is much, much smaller than the Sigma 50mm at 85 x 126mm + 47mm lens hood. The Sigma 85mm is 84 x 96mm + 49mm lens hood. So the Sigma 65mm has a clear advantage in size. [+]
Weight: 407g (14 oz.) plus 55g for the metal lens hood. The Sigma 50mm is very heavy at 910g + 43g lens hood, the Sigma 85mm is 625g + 71g lens hood. This makes the Sigma 65mm look quite light-weight. But it saves only half a pound over the much bigger 85mm f1.4 lens. Had Sigma opted for a more conventional plastic housing and lens hood for their 65mm f2.0 lens they should have been able to shave another 100g – at least. [0]
Optics: The Sigma 65mm has 12 elements in 9 groups including two aspherical and one special dispersion element. This is similar to the Sigma 50mm. The Sigma 85mm is a slightly more complex design with 15 elements in 11 groups. [+]
Closest focus distance is 0.51m (1.67ft.) with a magnification of 1:5.7 which is similar to the Sigma 50mm. This results in a working distance of 0.42m (1.4ft.). The Sigma 85mm achieve a maximum magnification of 1:7.0 with a working distance of 0.66m. The Sigma 65mm does not extend while focusing and a magnification of 1:10 is achieved at a distance of 0.79m (2.6ft.) [0]
Use with teleconverters: No [0]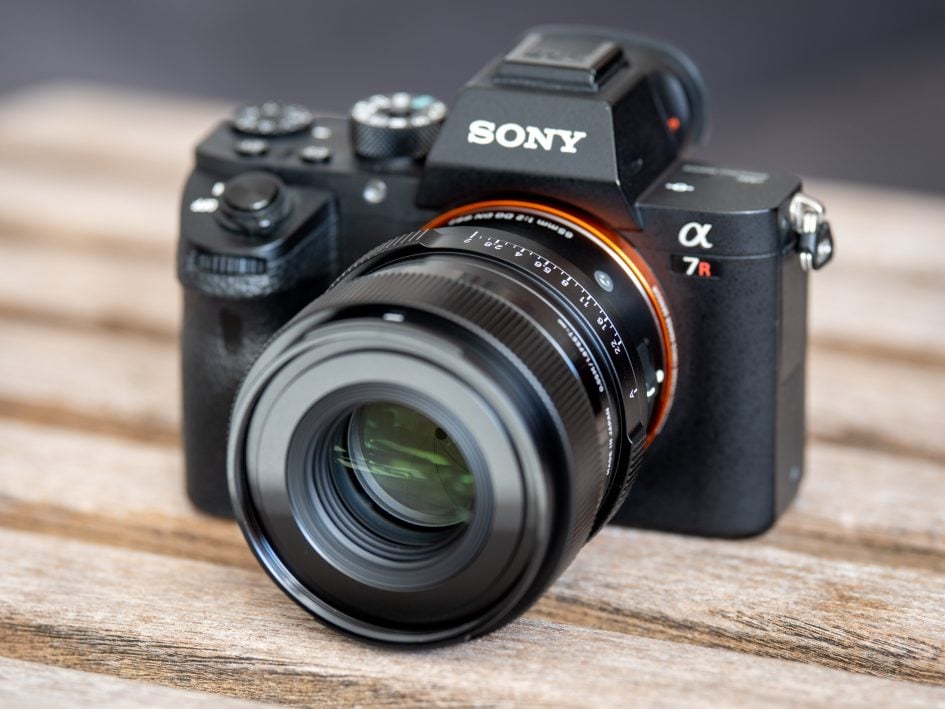 Filter-thread: 62mm. The Sigma 50mm and 85mm need more expensive 77mm filters. [+]
Image stabilization: All three lenses in this comparison have no optical stabilization. But the Sony A7 / A9 / A1 and Panasonic Lumix S series camera bodies provide built-in sensor-shift stabilization. [0]
Auto focus: Built-in AF drive. Manual-focus override is by simply turning the dedicated focus ring – same as with the other two Sigmas. The focus ring of the Sigma 65mm has a variable gearing (like many lenses designed for mirrorless cameras) which allows for very precise manual focus when turned slowly. But it cannot be switched to linear gearing which makes smooth focus pulling for videographers pretty hard. The Sigma 50mm has the usual linear coupling that is typical for lenses designed for DSLRs – and shows the focus distance in a small window. The Sigma 85mm has an extra button on the lens which can be assigned many different functions e.g. AF-lock. [+]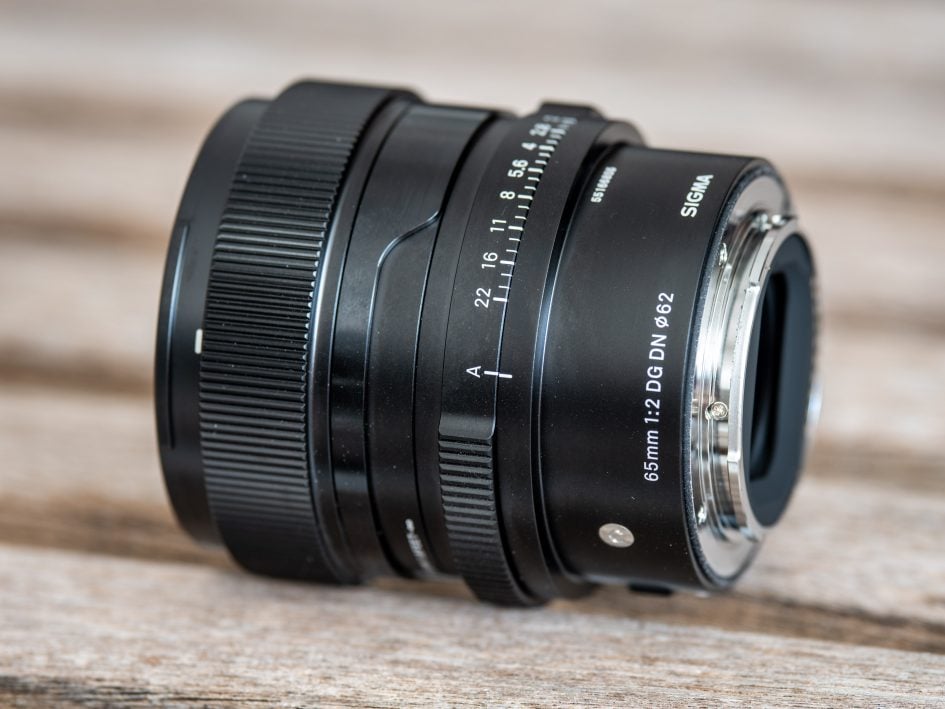 Aperture: The Sigma 65mm has an aperture ring with 1/3 stop clicks. There is no switch to turn the clicks off and it also misses a dedicated lock switch to prevent accidental shifting between aperture control from the ring or the camera which the Sigma 85mm has. The Sigma 50mm has no aperture ring. [+]
Lens profile: The lens comes with a lens profile for vignette-, CA- and distortion-compensation which can be controlled from the camera. That's the same as with the Sigma 85mm. With the Sigma 50mm you have to rely on the profiles supplied e.g. in Adobe's software. [+]
Covers full frame/FX or smaller like all three lenses in this comparison. [+]
Price: 699 EUR (incl. 19% VAT) / 699 USD / 649 GBP. The Sigma 50mm currently goes for 760 EUR / 950 USD / 600 GBP and the Sigma 85mm is 1100 EUR / 1200 USD / 1000 GBP. [0]
The lens comes without a pouch. The lens hood is included, made from metal and is reversible for transport. Sigma also included a magnetic front lens cap in addition to the normal pincer type one. Not sure what the benefit of that is as it alone weighs 30g as opposed to the mere 11g of the normal plastic cap. And it cannot be removed when the lens hood is mounted (see below). Sigma offers an additional "holder" for the magnetic lens cap with a carabiner for about 20 EUR. Well, that's all pretty fancy but I can hardly see a real value in that. [0]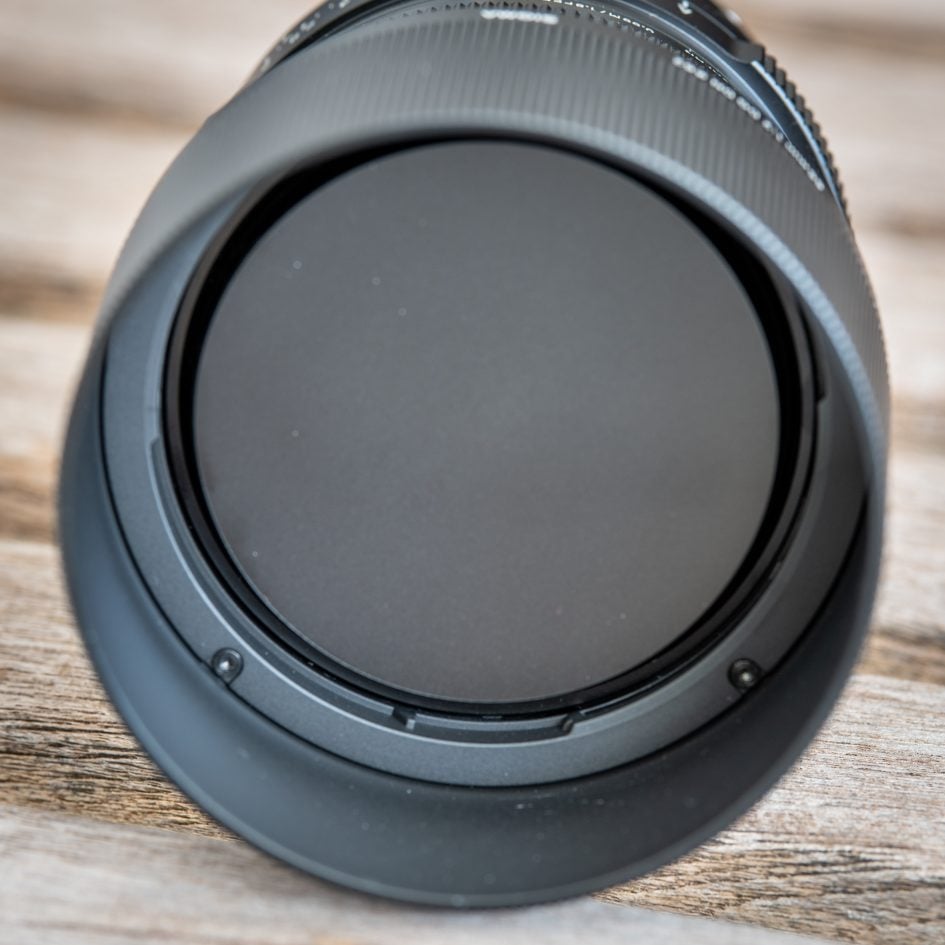 Sigma's service can change the mount of the lens between Sony's E-mount and L-mount (at a cost – probably 280 EUR). This is a unique feature that no other manufacturer offers. [++]
Sealing: yes, a rubber grommet at the lens-mount but no further special weather-sealing throughout the construction, just like the Sigma 50mm. The Sigma 85mm has additional weather sealing. [0]
At a score of 0[-]/6[0]/9[+] the Sigma 65mm f2.0 DG DN offers a nice feature set with its small size, aperture ring and the unique option to get the lens-mount swapped. Only the weight could be lower had Sigma not insisted on using an all metal body.

Alternatives
65mm is not a standard focal length for full-frame cameras. If you want autofocus and a focal ratio of at least f2.0 you have to look for other focal lengths in the 50mm to 85mm range. And while there is a wealth of alternatives at 50mm and 85mm there is really only one alternative which is closer to 65mm focal length:
From Samyang there's the 75mm f1.8 FE, an original mirrorless design from 2020 which is only available for Sony E-mount. It costs 350 EUR / 330 USD / 380 GBP. It's only 230g and at 65 x 69mm even smaller than the Sigma. At 75mm focal length it has a 15% longer reach and its focal ratio of f1.8 captures 1/3 stop more light. The lens looks pretty attractive on paper – but be aware of sample variation that has resulted in reports of decentering and other issues.
If you can cope with manual focus there is another alternative:
The Voigtländer APO-Lanthar 65mm f2.0 Macro is an original mirrorless design from 2017 which is only available for Sony E-mount. It costs 900 EUR / 950 USD / 810 GBP. At 625g and 77 x 99mm it is clearly bigger and heavier than the Sigma. But it has the benefit of going down to a maximum magnification of 1:2 (0.5x) at a focusing distance of 0.31m. Besides being manual focus only the lens also has a purely manual aperture – although EXIF data are being transmitted to the camera.

Focus
Focus accuracy and repeatability is critical to consistently produce sharp shots. Repeatability (the accuracy of focus on the same subject after repeated focus-acquisition) of this lens is pretty good (measured 98.5% in Reikan FoCal) with no outliers over a series of 40 shots. There is some focus variation whether the lens focuses from a closer distance or from infinity and I detected a bit of hunting. The lens focuses in around 0.7 sec from infinity to 0.79m (1:10 magnification), which is OK.
Unfortunately AF consistently failed to nail focus perfectly on my copy of the lens – and it is not possible to use AF Micro Adjustment to remedy that. See below for a comparison of precise manual focus (left) and the result from AF (right). Should your copy of the lens show the same problem you need to send it in to service.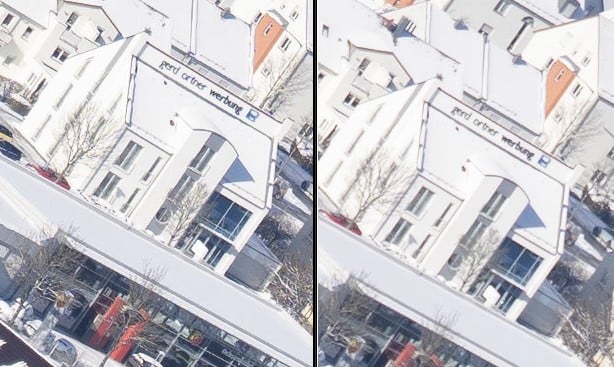 AF-operation of the new lens in photo-mode can hardly be heard from the outside and if you record video with the built-in microphone no focus noise is recorded.

As you pull focus, you'll notice quite some focus breathing: the image became 9% more magnified when I adjusted focus from infinity to 0.79m. This is pretty visible and could be distracting when shooting videos.

Next check out my quality results!

Check prices on the Sigma 65mm f2 DG DN at B&H, Adorama, WEX or Calumet.de. Alternatively get yourself a copy of my In Camera book or treat me to a coffee! Thanks!