Sigma 35mm f2 DG DN review
Intro
The Sigma 35mm f2 DG DN is a compact prime lens designed for full-frame mirrorless cameras and, at the time of testing, available in Sony e and Leica L-mounts. The 35mm f2 DG DN was launched in December 2020 alongside a 24mm f3.5 DG DN and 65mm f2 DG DN as part of Sigma's new I series, which also includes the existing 45mm f2.8 DG DN. These four lenses are also members of Sigma's Contemporary series, positioned below the flagship Art range, but still capable of excellent results. What differentiates the I series from other Contemporary models are their compact sizes and some interesting design ideas.
In this review I'll test the new 35mm which of course delivers mild wide-angle coverage, making it a perfect general-purpose lens. Wide enough to capture larger views or easier group shots than a standard 50mm, but avoiding the distortion of shorter lenses. Some find 35s boring, but others find them hugely flexible. I fall into the latter group and if I only had one lens, it would have to be a 35, so the question then is which one to buy? In my video below I'll show you how the 35mm f2 DG DN measures-up and how you might use it in practice. The video contains all my results and comparisons, but if you prefer a written version of the highlights, keep scrolling!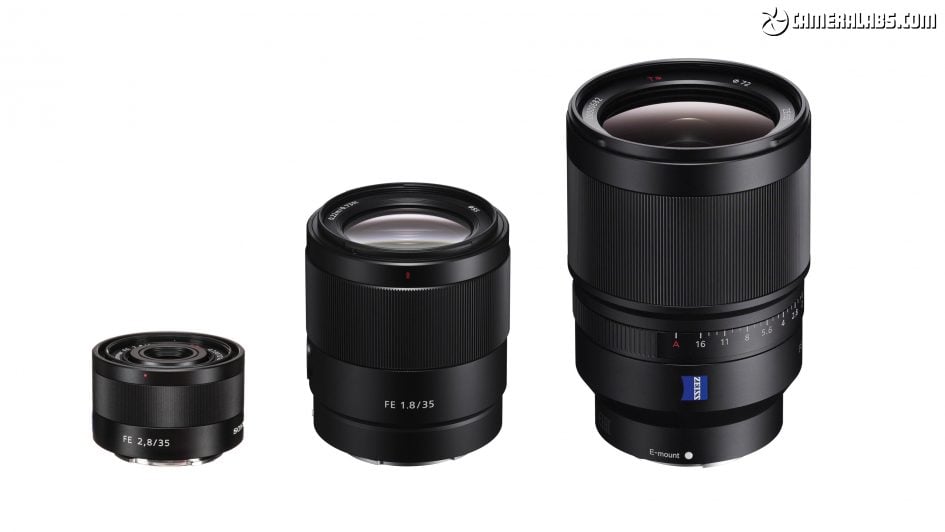 Above: The new Sigma 35mm f2 DG DN joins a crowded market, particularly for Sony e-mount owners. Sigma now has two truly native 35s for mirrorless cameras with the f2 and f1.2 DG DN models, plus an older f1.4 DSLR-design with a built-in adapter. Tamron has a relatively low-cost 35mm f2.8 with 1:2 closeups, Zeiss has the manual focus f2 Loxia, while Samyang has three models, a compact 35 2.8, a fast 35 1.4 and a new 35 1.8; at the time of writing, Viltrox was also rumoured to be launching a 35 f1.8 in the e-mount with autofocus. Meanwhile Sony also has three full-frame 35s pictured above, from the tiny FE 35mm f2.8 that helped launch the A7 series to the high-end FE 35mm f1.4, both coincidentally collaborations with Zeiss. But the new Sigma 35 f2 is closest of all to the Sony FE 35mm f1.8, and while there are minor differences in light-gathering, dimensions and weight, the two are very similar prospects with similar price tags too.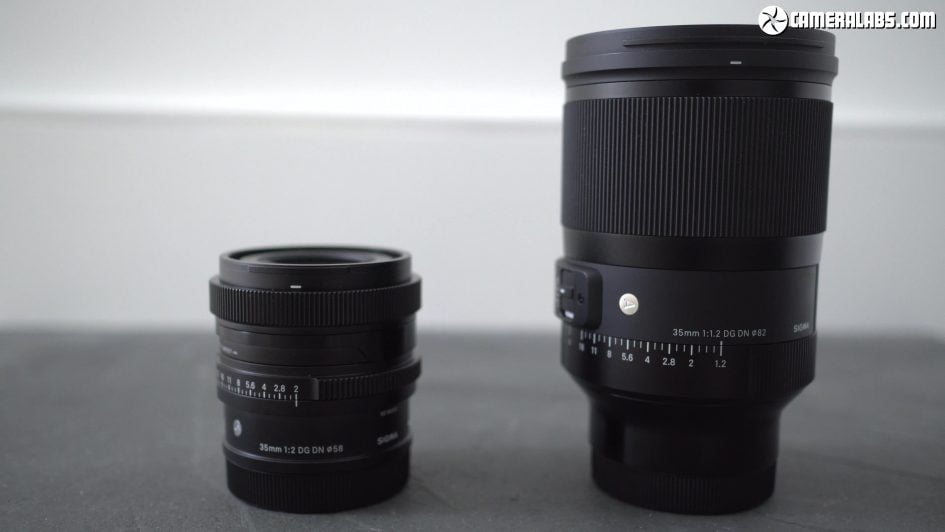 Above: In the L-mount, there's far fewer options as at the time of testing, neither Leica nor Panasonic had released a 35mm prime. As such it's down to Sigma alone for now which, along with the adapted 35 f1.4, now offers two native models: the earlier 35mm f1.2 DG DN, and the latest 35mm f2 DG DN.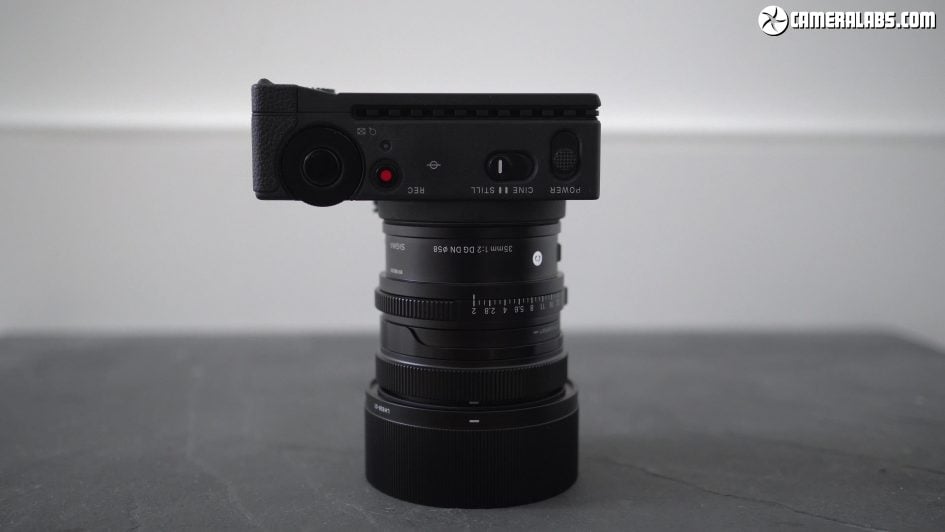 Above: Sigma loaned me the L-mount version for this video, so I'll compare it directly against the f1.2 model and for good measure I tried them on both Sigma's own fp body as well as Panasonic's Lumix S5.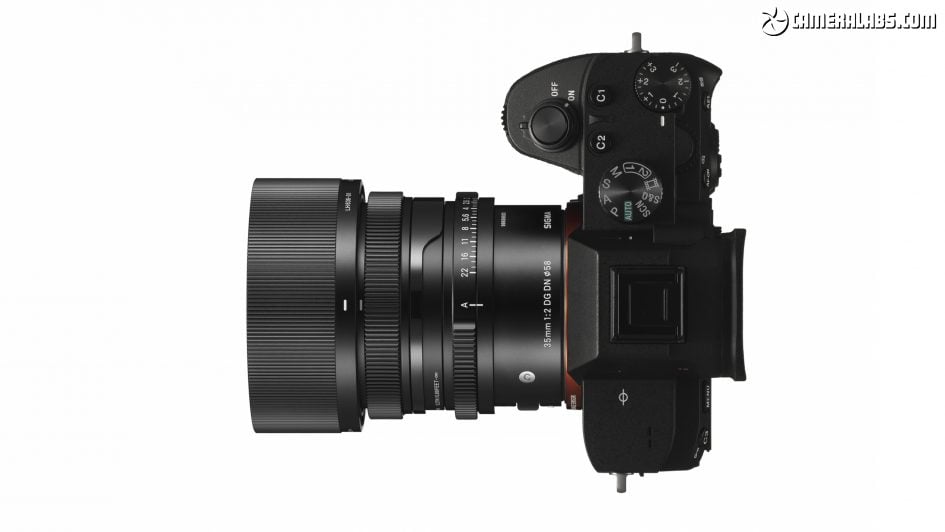 Above: If you're a Sony owner, fear not, for all my optical results here equally apply to the e-mount version, and again as a final production model, we're going to be taking a close look at the quality.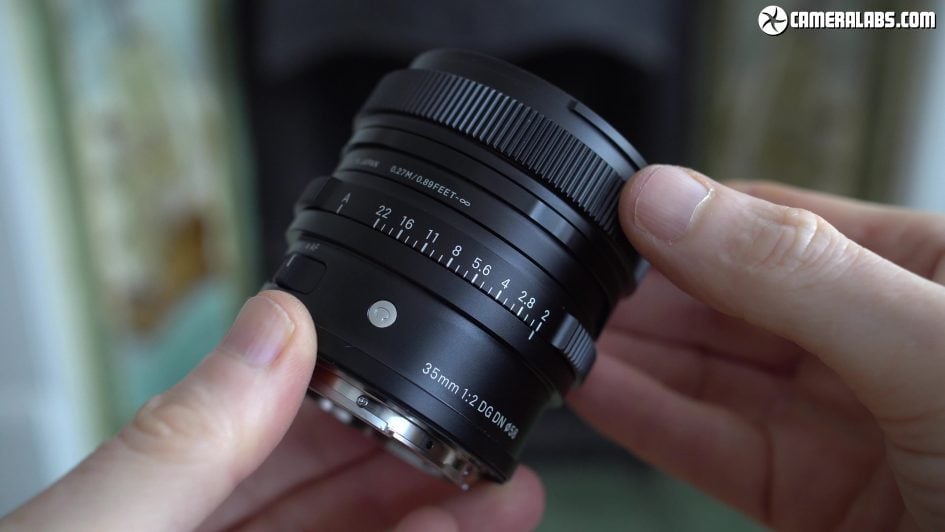 Above: But first the design which represents a departure from most modern mirrorless lenses, especially for the Sony and Leica mounts. For the I series, Sigma's opted for compact barrels with metal construction that are reminiscent of vintage lenses from the outside, but with thoroughly modern optics within. They remind me of a cross between a Zeiss Loxia and one of Leica's classic lenses, which should certainly increase the appeal to owners of Leica L-mount bodies.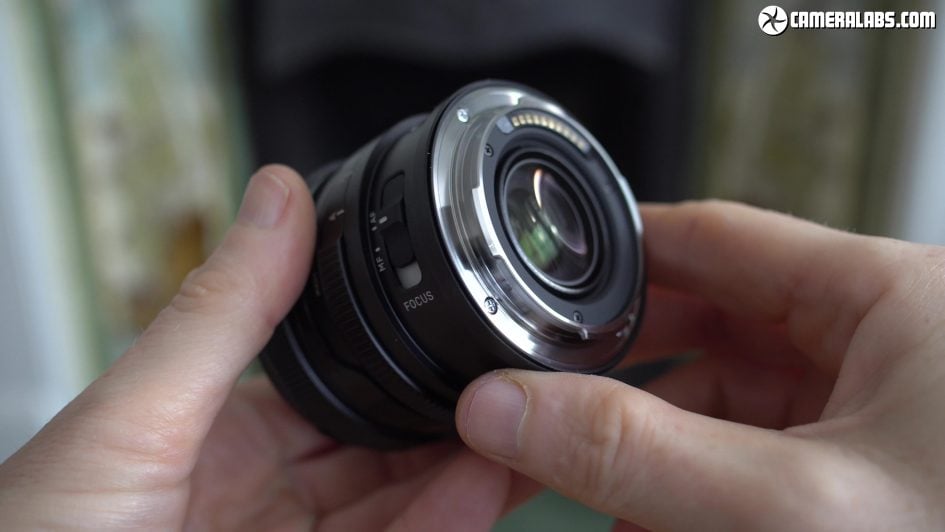 Above: The Sigma 35mm f2 measures just 70mm in diameter, 65mm long and weighs 325g which may be 45g heavier than the Sony 35 f1.8 but both remain small and light lenses that are perfect matches for compact bodies. I personally preferred the metal construction and retro styling of the Sigma, and like the Sony it's also dust and moisture resistant including a rubber grommet on the mount. In terms of controls there's a chunky switch for manual and autofocus, a clicky aperture ring that worked on my fp and S5, and a narrow but very smooth motor-assisted manual focusing ring. Meanwhile the filter thread measures 58mm. I should also mention focusing was essentially silent, and when shooting photos it felt swift and accurate.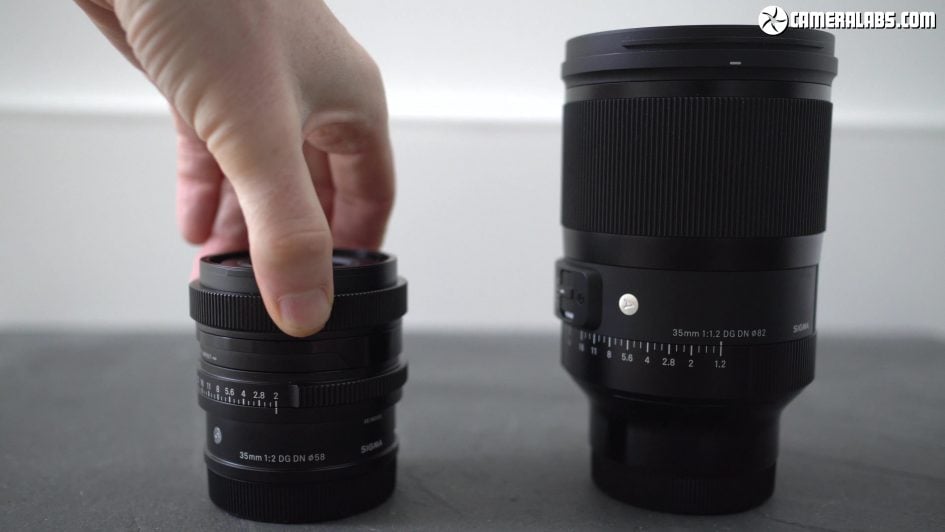 Above: Just compare it to the heft of Sigma's other native 35mm, the mighty f1.2 ART which measures 88x136mm, weighs 1090g and costs around 1500 dollars or pounds. I adore the potential of the 35 1.2, but it's a large lens to accommodate, making the 35 f2 a much more practical, not to mention more affordable walkaround option.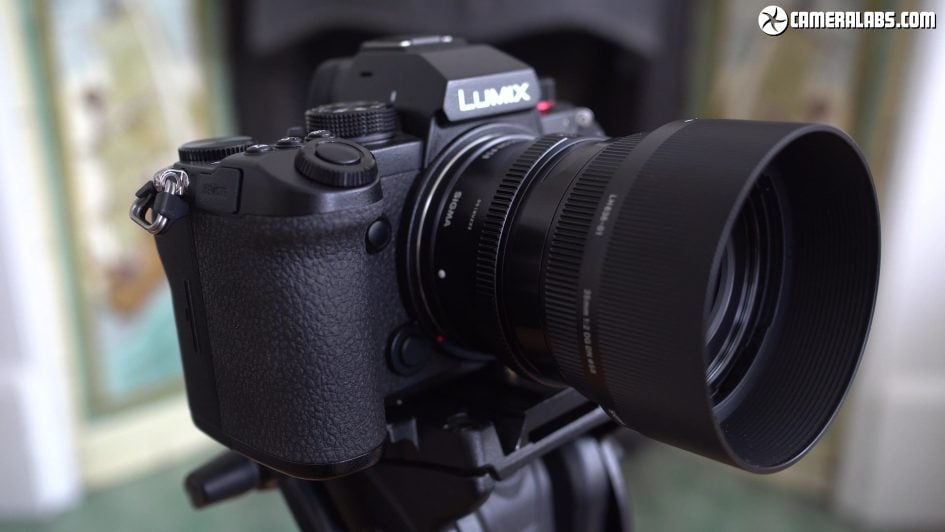 Above: Sigma's also had some fun with the accessories, supplying the 35 f2 with a classy metal lens hood that continues the ribbed styling of the lens.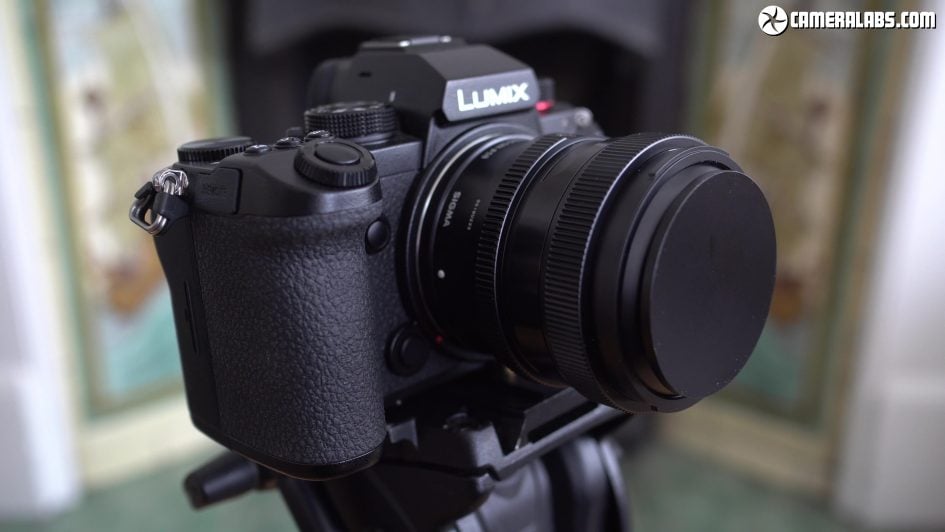 Above: It also comes with not one but two lens caps, a traditional plastic one with the usual pinch spring mechanism and a new metal cap which uses magnets to stay in place. It'll hold firm during transportation, although can't be used with filters nor easily when the hood's attached. It's a fun addition which adds to the personality of the I series, but I mostly stuck with the hood and plastic cap for my time with the lens.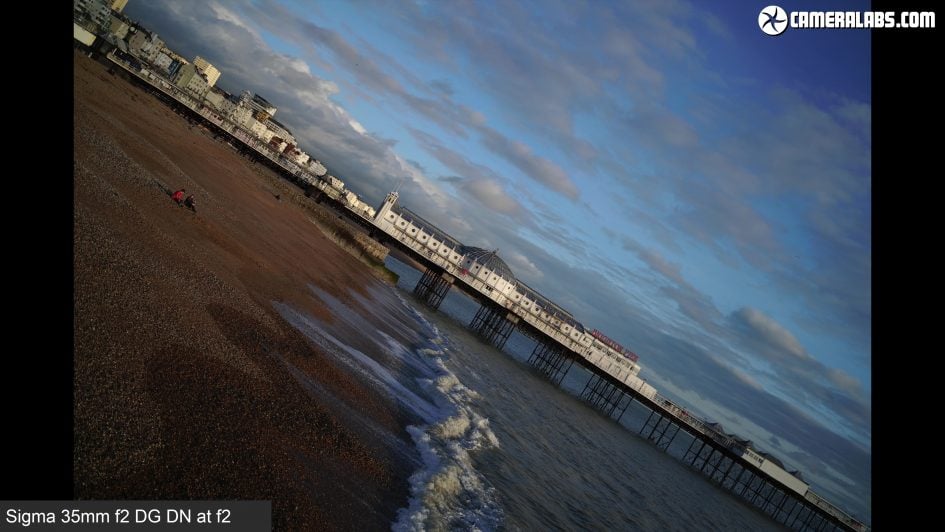 Above: Now let's dive into the optical results which again apply to the Sony version. To test sharpness across the frame I shot this distant scene with the 35 f2 on a Sigma fp with the scene angled so that details ran right into the corners where lenses struggle the most.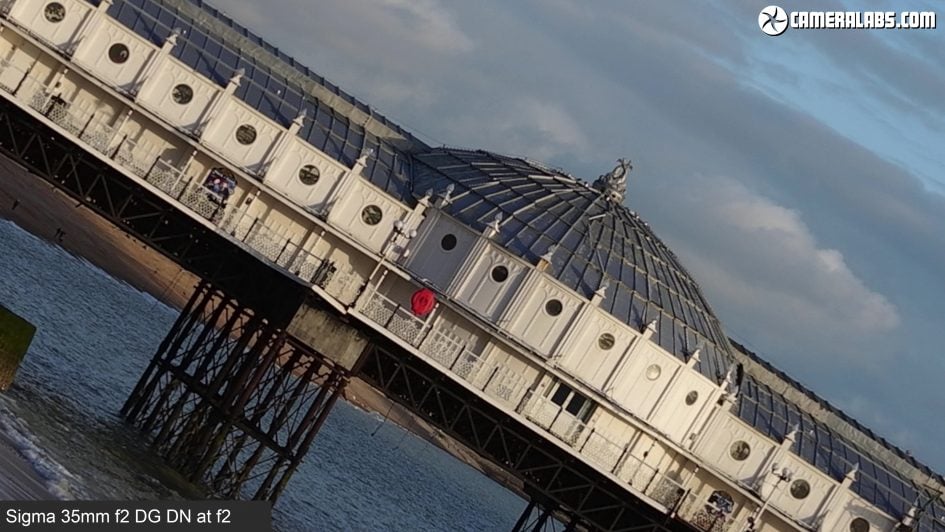 Above: Let's take a closer look at the centre of this image taken with the aperture wide-open at f2 and as you can see there's a lot of fine detail here.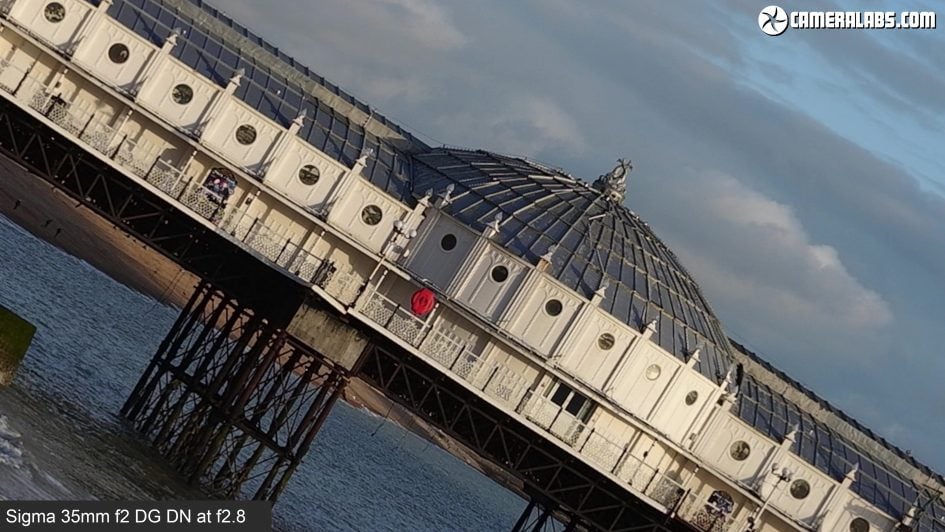 Above: Closing the aperture one stop to f2.8 delivers a small boost in sharpness which doesn't improve any more as you close-down further, but overall I'd be very happy with the centre performance wide-open which you can see again here back to the maximum f2.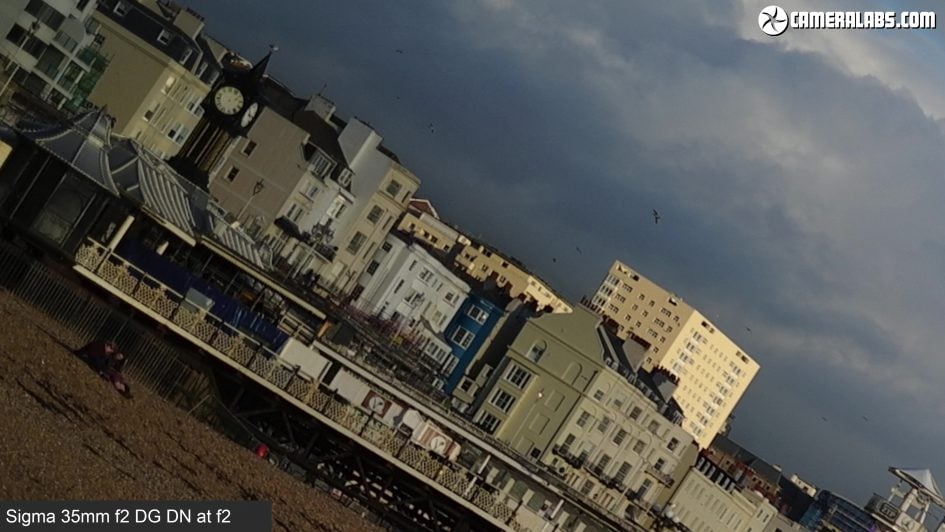 Above: Now moving into the corner, you'll see there's no softness to complain about even at f2 and the biggest difference as I gradually close the aperture is a reduction in corner darkening due to vignetting. As a sidenote, like most compact mirrorless lenses, the I series exploits lens profiles to correct geometric distortion and reduce vignetting, so be sure to have them enabled in the camera or your RAW processing software. I confirmed they were working on my fp and S5 bodies for in-camera JPEGs.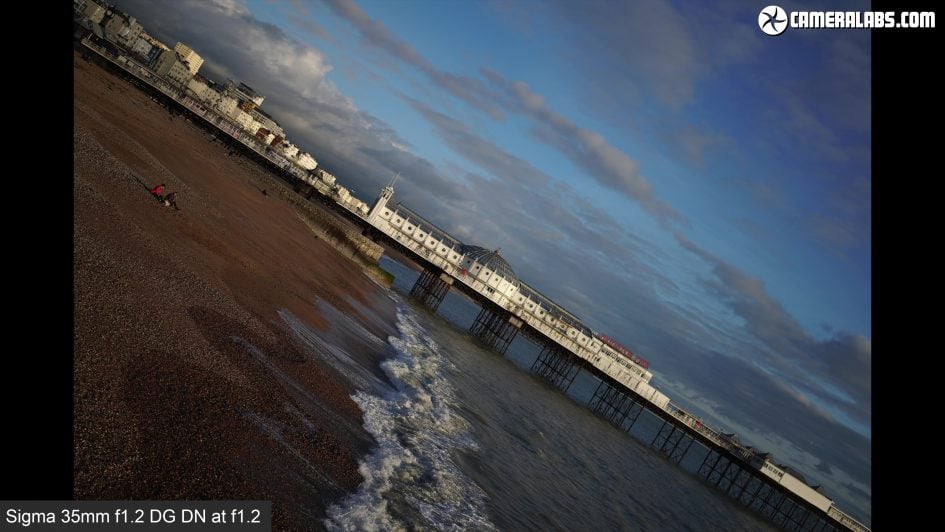 Above: Let's now compare it to the 35mm f1.2 at f1.2 and the first thing you'll notice is how the f1.2 lens is actually delivering a slightly tighter field of view. It's not unusual to find two lenses of the same quoted focal length actually delivering slightly different coverage, and while it's not that important, I always like to include it out of interest.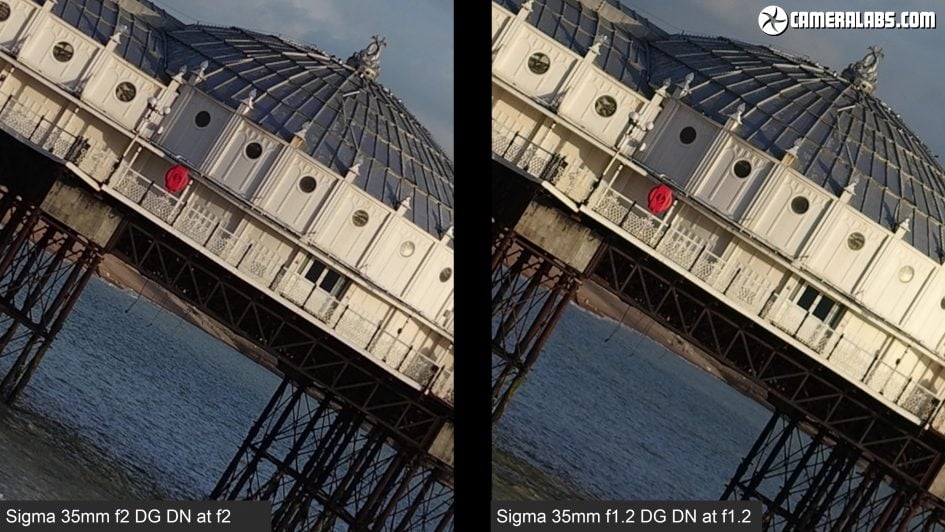 Above: Now here's a close look at the centre of both lenses at their maximum apertures, and I'd say the 35mm f2 on the left is a tad sharper than the 1.2 on the right…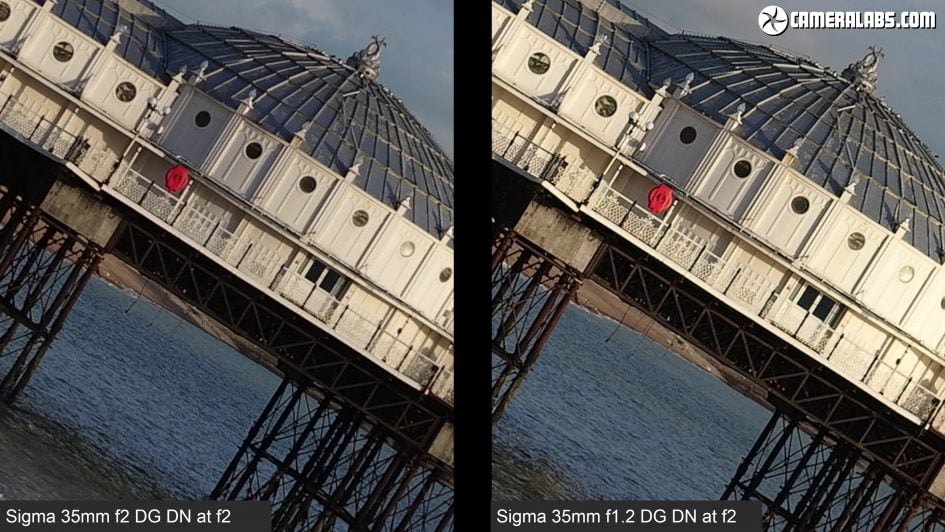 Above: although if you close the f1.2 model to f2, it takes a minor lead. Ultimately though not much to tell them apart here unless you're pixel-peeping.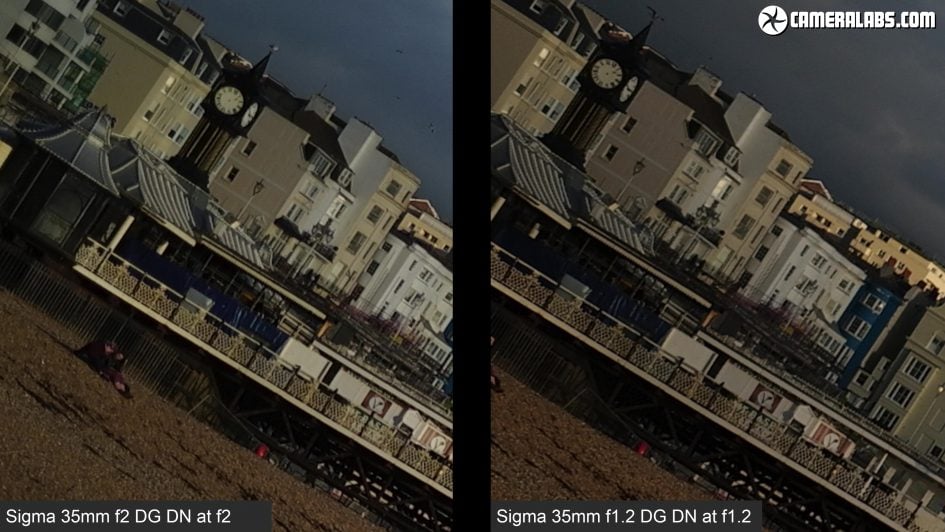 Above: Now for the corners of both lenses again at their maximum apertures, and I've cropped the same area of both images which thanks to the slightly tighter view of the 1.2 lens is showing a slightly different section of the subject. As you can see they're both delivering a decent degree of detail in the corner and again there's little to choose between them. Closing the 1.2 model to f2 reduces the corner darkening due to vignetting, but doesn't bring any boost to detail, so again I'm calling it an approximate draw.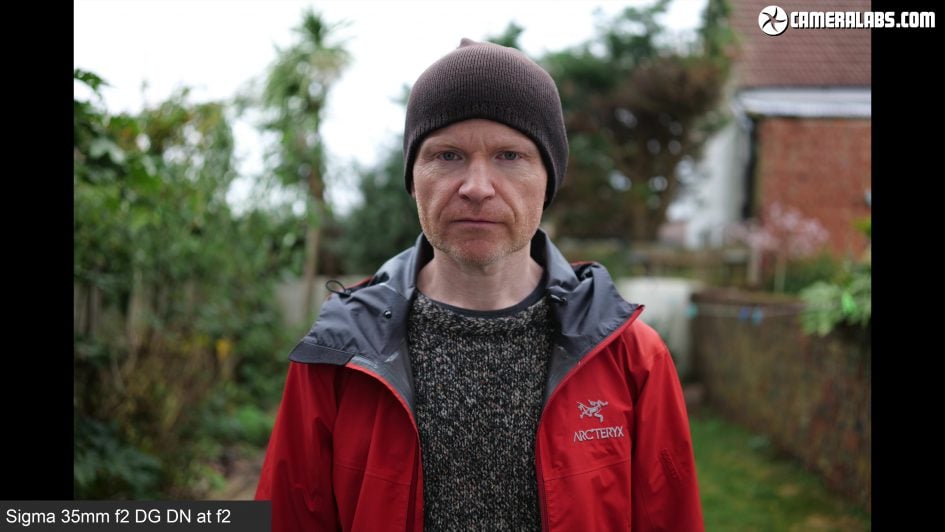 Above: Next here's a portrait shot to test them at a closer distance and to see the potential for blurring in the background. First here's the 35mm f2 at f2.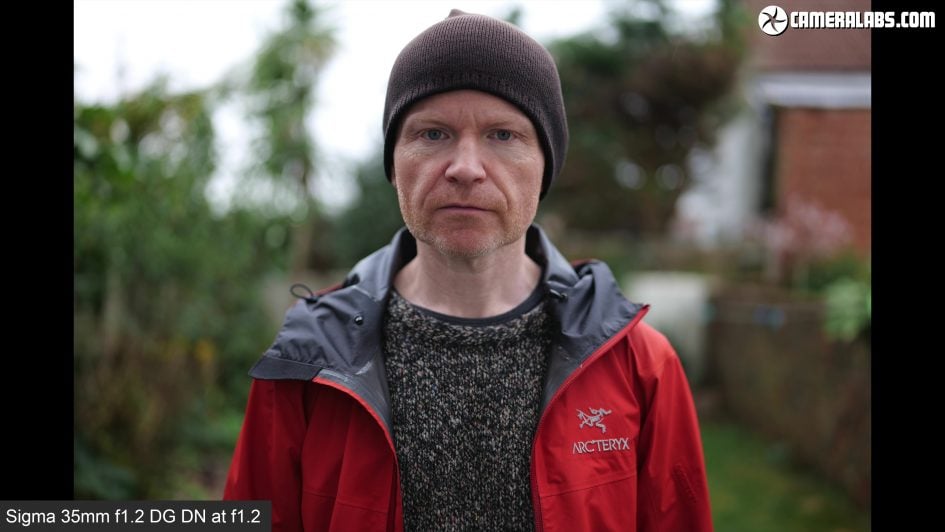 Above: Now for the 35 1.2 at 1.2 which was taken from the same position where again you can see the slightly tighter coverage of this lens. Both were taken with the Lumix S5 using face and eye detection.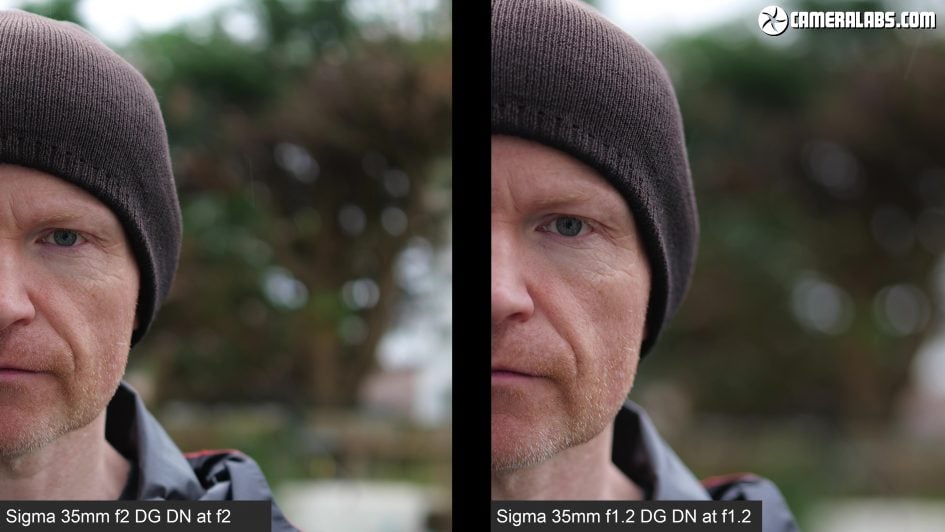 Above: Placing them side-by-side and the benefit of the larger aperture coupled with a slightly higher magnification unsurprisingly gives the 35 1.2 on the right the shallowest depth-of-field. The quality of the blurring, or bokeh, of the 1.2 lens is also more attractive to me, with softer edges and a less busy effect, but the 35 f2 on the left is certainly capable of decent subject separation at this distance and both lenses are also delivering very crisp details on my eyes.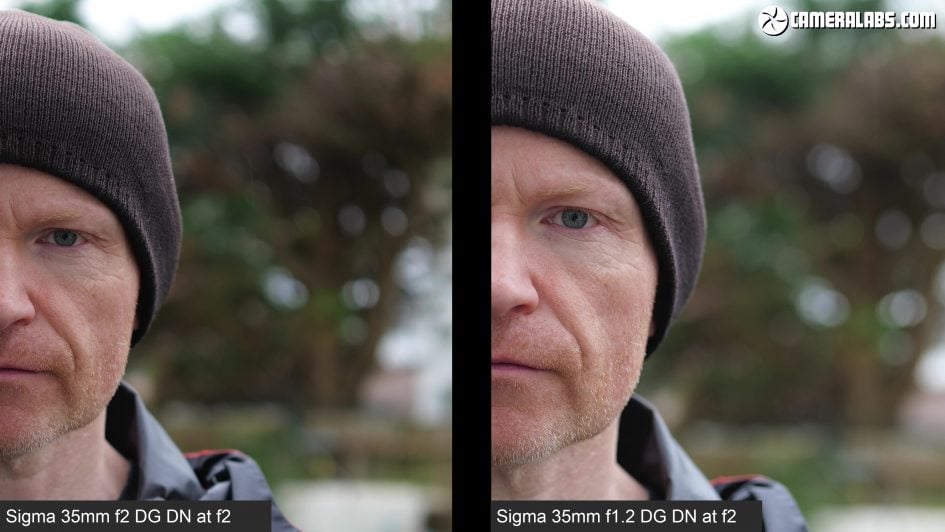 Above: Closing the 1.2 lens on the right to f2 broadens the depth-of-field, bringing more of my face into focus but of course reducing the size of the bokeh blobs. They're still a little larger than the f2 on the left due to its slightly greater magnification, but remain a little softer edged too. The 1.2 remains an amazing lens when shot wide-open, delivering shallower depth-of-field effects than most wide lenses. It really brings something special to events, but for me it's too hefty as a general walkaround lens.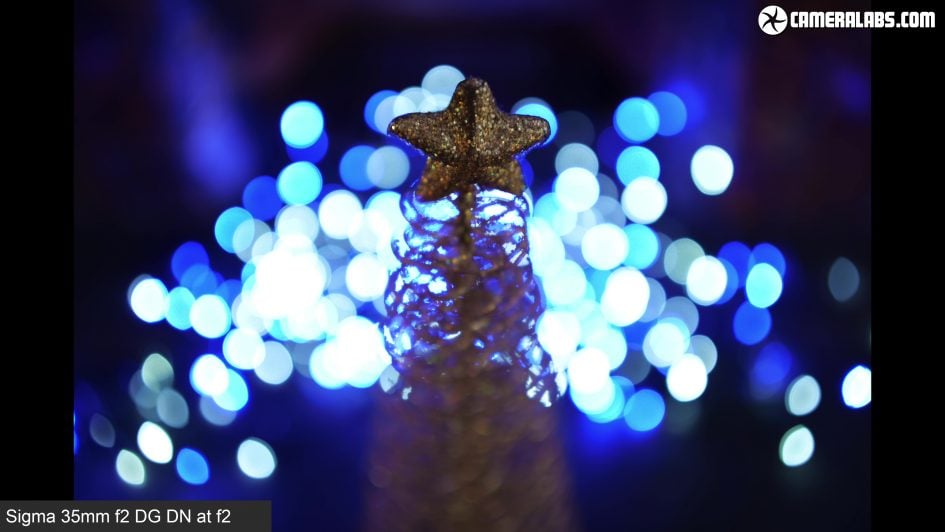 Above: Since the biggest optical difference between the two lenses regards potential for depth-of-field, my third and final comparison concerns bokeh blobs for closeups and right now you're looking at the 35mm f2 at f2. Both lenses gratifyingly allow decent close-focusing, with the f2 model getting as close as 27cm, which while 5cm further than the Sony 35 1.8 is still very useful.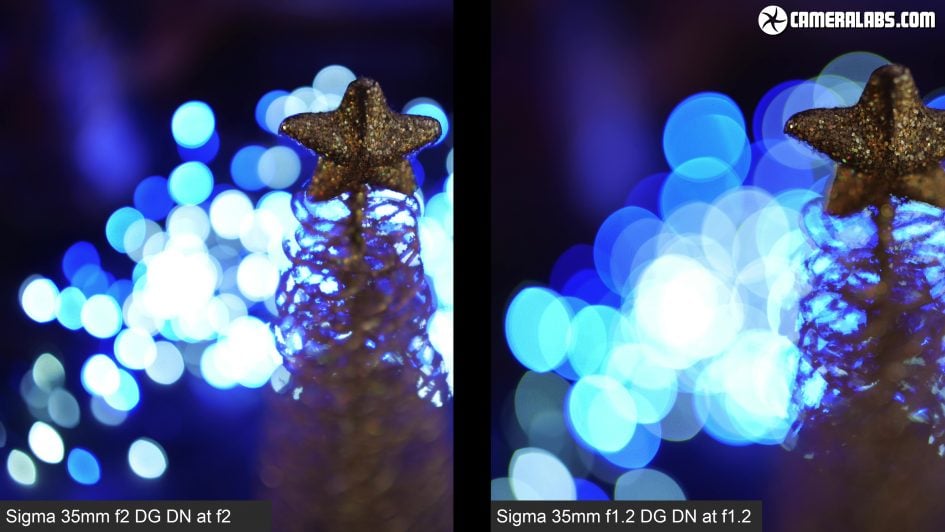 Above: Now for the Sigma 35 f2 on the left and 35 1.2 on the right, both from the same distance where again the 1.2 reveals a slightly greater magnification. But with both lenses set to their maximum apertures, there's no contest for bokeh blob size with the 35 1.2 of course taking a significant lead.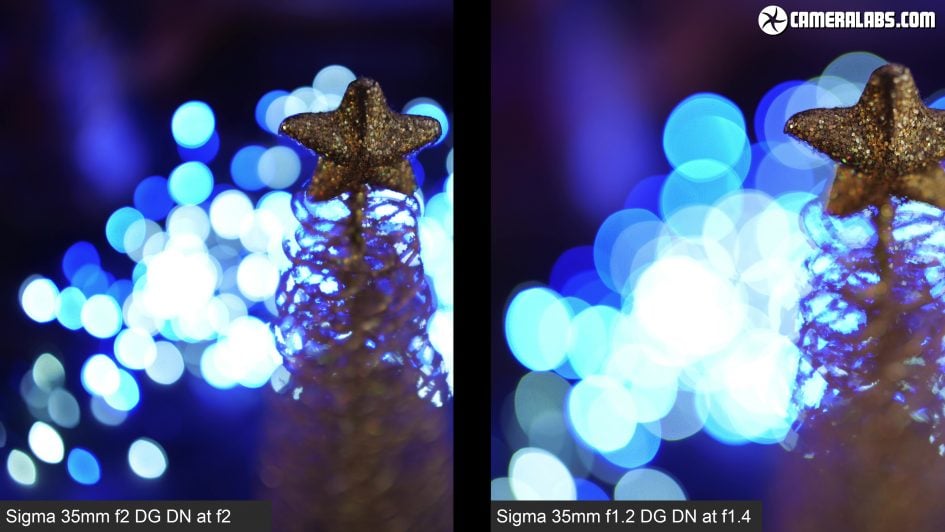 Above: But as I close the apertures on both, keep an eye on the edges and shapes. First with the 1.2 closed to f1.4…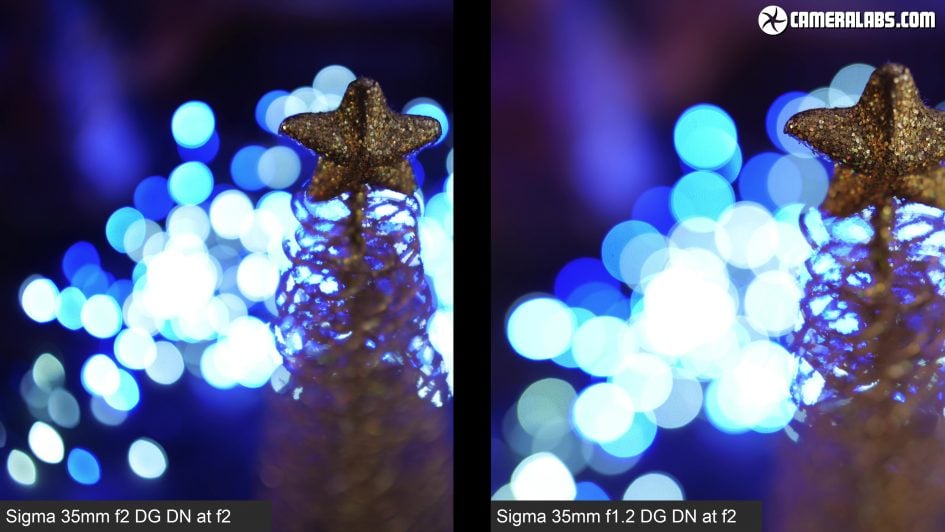 Above: And now with them both at f2. As apertures close, cats-eye shaped blobs generally become smaller and more circular, although can also reveal the geometric shape of the aperture blade system in the lens. These shapes often become more obvious the more the aperture is closed from the maximum value, which can give more modest aperture lenses like the f2 an advantage as at f2.8 for example, it's only closed by one stop compared to more than two stops on the f1.2. Ultimately the Sigma 35 1.2 can of course deliver the shallowest depth-of-field, but the price you pay is heft and a literally higher cost. Bokeh fanatics will find it hard to resist but most of us would be very satisfied by the results from the Sigma 35 f2.

Check prices on the Sigma 35mm f2 DG DN at B&H, Adorama, WEX or Calumet.de. Alternatively get yourself a copy of my In Camera book or treat me to a coffee! Thanks!