Sigma 30mm f1.4 DC DN review
Verdict
The Sigma 30mm f1.4 DC DN is a standard lens designed for mirrorless cameras with 'cropped' sensors. Sigma offers it in Sony E and Canon EF-M mounts, as well as for the smaller Micro Four Thirds format and can convert the mount at a later date for a fee if desired. Mounted on a Sony or Canon APSC body, it delivers fairly standard coverage equivalent to 45mm or 48mm respectively, while on a Micro Four Thirds body it becomes equivalent to 60mm giving a slightly tighter view, albeit one that's still usable for general-use or close-range portraiture.
Whichever body it's mounted on, the Sigma 30mm f1.4 DC DN delivers crisp results across the frame, with smooth and quiet focusing, while the f1.4 focal ratio provides plenty of opportunities for shallow depth-of-field effects. Better still, it's more affordable than most lenses with similar coverage and an f1.4 focal ratio, making it an ideal choice for anyone seeking a high quality standard lens that'll out-perform kit zooms both in terms of subject sharpness and background blur. It's also a great choice for anyone filming pieces to camera from a tripod. The only real downside is a lack of optical stabilisation.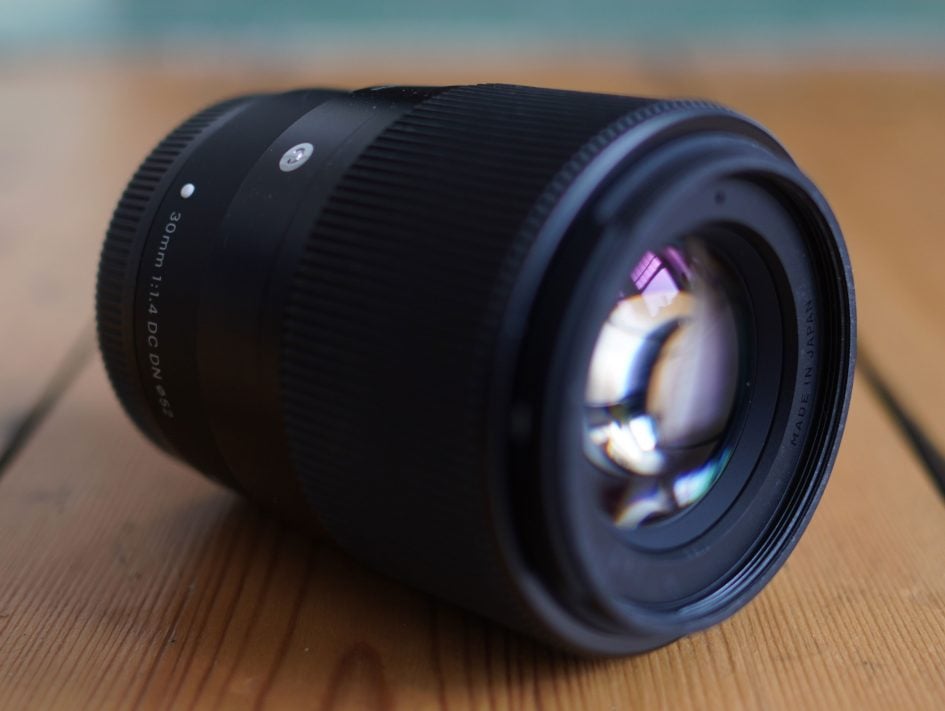 Sigma 30mm f1.4 DC DN for Canon EOS M owners
Canon EOS M owners looking for a prime in the native EF-M mount with standard coverage now have an alternative to the Canon EF-M 32mm f1.4 with the Sigma 30mm f1.4 DC DN that's roughly two thirds of the price too. In my tests the Canon 32mm f1.4 was a little sharper in the corners at the largest apertures, but in typical use, you're unlikely to notice much difference. So unless you demand the greatest sharpness across the frame at f1.4, I'd say go for the Sigma 30mm f1.4 and save yourself some money.

Sigma 30mm f1.4 DC DN for Sony e owners
Owners of cropped-frame Sony mirrorless owners have a number of choices for standard coverage primes in the native e-mount. In Sony's own catalogue, there's the Sony e 35mm f1.8 OSS and Sony e 30mm f3.5 Macro lenses just for starters, both of which offer benefits over the Sigma 30mm. The e 35mm f1.8 OSS may have a slightly dimmer aperture, but includes optical stabilisation, making it preferable for hand-holding slower shutter speeds or filming video on bodies without IBIS, but it costs around 50% more than the Sigma. Meanwhile the e 30mm f3.5 Macro costs roughly the same as the Sigma, but focuses much closer, making it preferable for anyone who's into macro-photography; on the downside, the aperture is considerably dimmer, making it less suitable in low light or for blurring effects at normal distances. So here you have to think carefully about what you want from a standard prime lens. If you can live without optical stabilisation and don't need macro close-ups, then the Sigma 30mm f1.4 DC DN remains an excellent choice.

Sigma 30mm f1.4 DC DN for Micro Four Thirds owners
Owners of Micro Four Thirds bodies from Panasonic or Olympus have a wealth of lenses to choose from, and for standard coverage with a bright aperture, I'd recommend the Panasonic Lumix G 25mm f1.7 as a more practical not to mention more affordable all-round option. The equivalent coverage becomes a more familiar 50mm rather than 60mm and while the aperture isn't quite as bright as the Sigma, the Lumix lens is bright enough for most while also giving you closer focusing capabilities and a more compact barrel that's a better match for the smaller bodies in the system. Sealing the deal is the price which is roughly half that of the Sigma. So while the Sigma 30mm f1.4 DC DN is a fine lens, I'd personally go for the Lumix G 25mm f1.7 if I wanted an affordable standard prime for a Micro Four Thirds body.

Sigma 30mm f1.4 DC DN final verdict
I believe everyone benefits from having a standard lens with a bright aperture in their collection, and the Sigma 30mm f1.4 DC DN is a high quality and relatively affordable option for owners of cropped-frame mirrorless cameras. As noted above, Micro Four Thirds owners have an arguably more compelling alternative with the Lumix G 25mm f1.7, but the Sigma 30mm f1.4 DC DN becomes seriously tempting for Sony e and especially Canon EOS M owners, for whom it comes Highly Recommended.

Check prices on the Sigma 30mm f1.4 DC DN at Amazon, B&H, Adorama, or Wex. Alternatively get yourself a copy of my In Camera book or treat me to a coffee! Thanks!