Sigma 24mm f1.4 DG DN Art review
Intro
The 24mm f1.4 DG DN Art from Sigma is a wide prime lens designed for mirrorless cameras with L-mount or Sony E-mount and corrected for full-frame sensors. 24mm is a popular focal length for architecture, large interiors and landscape photography without being prone to some of the distortions that a 20mm lens can produce. On a cropped sensor the angle of view is equivalent to a 36mm lens which is often used for street photography. The 24mm f1.4 DG DN Art combines this coverage with a bright focal ratio that's ideal for low-light use and can also deliver shallow depth-of-field effects, especially when the subject is positioned close to the minimum focusing distance of 21cm. The Sigma 24mm f1.4 DG DN Art costs 899 EUR / 799 USD / 779 GBP and is made in Japan. It was announced in August 2022 together with he Sigma 20mm f1.4 DG DN Art complementing the Sigma 24mm f2 DG DN and Sigma 20mm f2 DG DN of their Contemporary line. And Sigma still sells the 24mm f1.4 DG HSM Art and 20mm f1.4 DG HSM Art designed for DSLRs which can be used via adapter on a Sony E-mount camera.
For this review I tested the Sigma 24mm f1.4 DG DN Art on the 42MP Sony A7R II camera to judge optical performance against the Sony FE 24mm f1.4 GM, Viltrox AF 24mm f1.8, and Sigma 20mm f1.4 DG DN Art. So if you're interested in which (ultra-)wide prime lens is right for your mirrorless Sony or L-mount camera, you've come to the right place!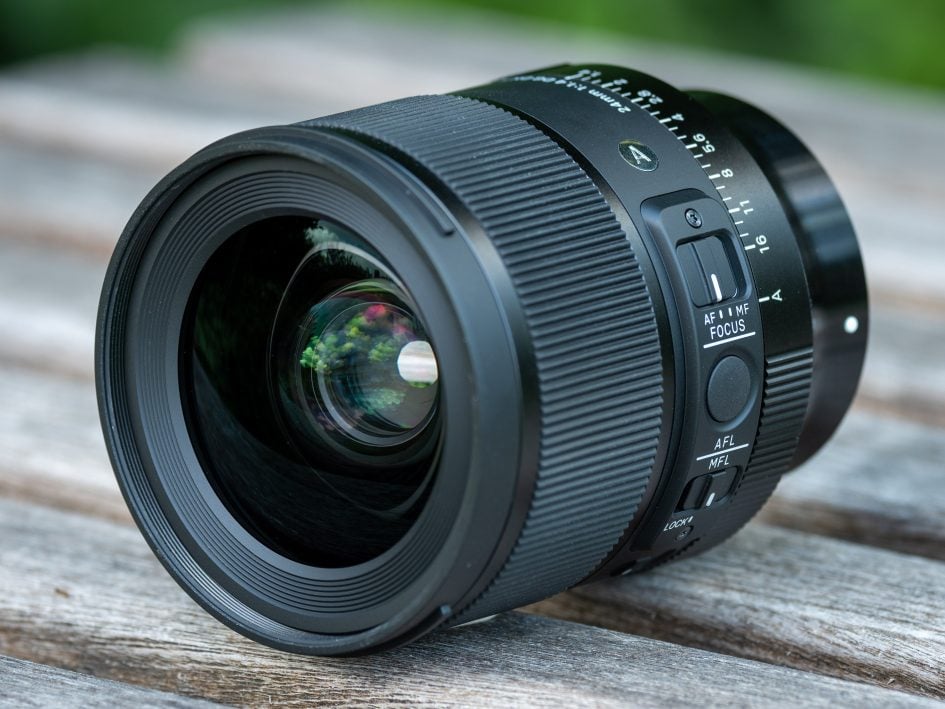 Facts and features
As usual I'll have a look at the technical data of the new Sigma 24mm f1.4 DG DN Art first. I've rated the features with a [+] (or [++]), when it's better than average or even state of the art, a [0] if it's standard or just average, and [-] if there's a disadvantage. For this comparison I use the Sony FE 24mm f1.4 GM ("Sony" for short), Viltrox AF 24mm f1.8 ("Viltrox"), and Sigma 20mm f1.4 DG DN Art.
Size (diameter x length): 78 x 97mm (3.1 x 3.8in.). The lens hood adds 36mm and is 97mm in diameter. That's similar in size to the Sony at 75 x 92mm + 31mm lens hood. The Viltrox is 71 x 82mm + 26mm lens hood, the Sigma 20mm f1.4 DG DN Art is 88 x 113mm + 37mm lens hood. [0]
Weight: 509g (22.2 oz.) plus 48g for the lens hood. The Sony is 445g + 33g lens hood, the Viltrox is 381g + 18g lens hood, the Sigma 20mm f1.4 DG DN Art is 628g + 57g lens hood. [0]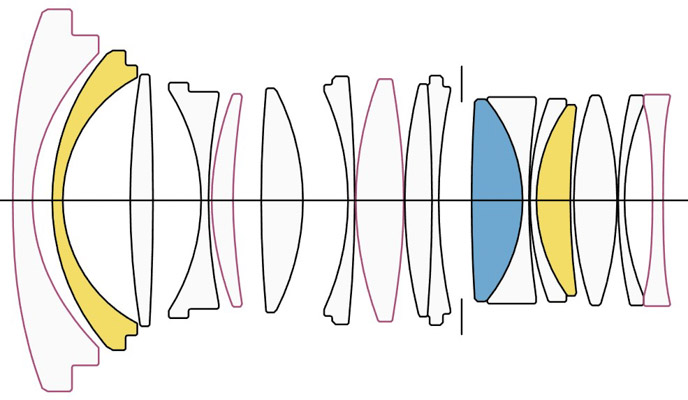 Optics: 17 elements (including 3 special dispersion and 4 aspherical) in 14 groups. The Sony is a 13/10 design, the Viltrox is 11/9, the Sigma 20mm f1.4 DG DN Art is 17/15. All lenses except for the Viltrox employ fluorine coating on the front to repel water, dust, and dirt and should make for easier cleaning. [+]
Closest focus distance in manual focus is 0.21m (0.69ft.) with a working distance of only 10cm and a magnification of 1:5.7. A magnification of 1:10 is achieved at 0.30m giving a working distance of 0.15m with the lens hood attached. The maximum magnification of the Sony is 1:5.4, the Viltrox only goes to 1:8.9, the Sigma 20mm f1.4 DG DN Art achieves 1:5.0. [0]
Image stabilization: None of the lenses in this comparison have optical stabilization. You only get the built-in sensor-shift stabilization which most modern mirrorless camera bodies provide. [0]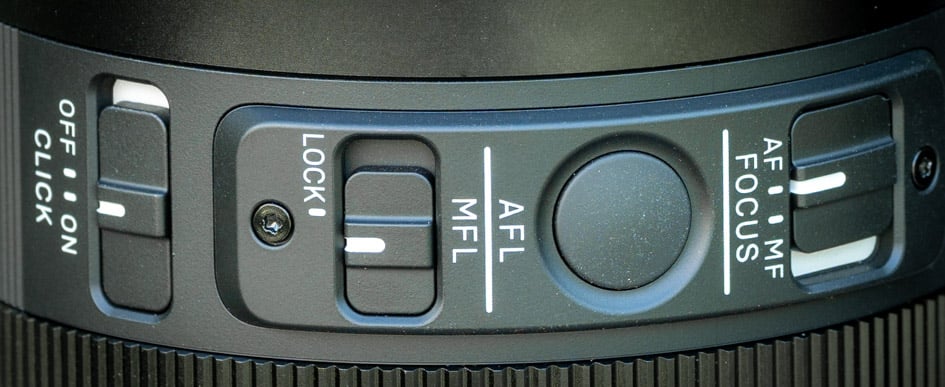 Auto focus: Yes, all lenses in this comparison have autofocus. Manual-focus override is by simply turning the focus ring which offers no distance or dof scale. The focus ring has the usual variable gearing on the Sigmas and the Viltrox while the Sony has linear gearing and all except the Viltrox have an AF-lock button and AF/MF switch. In addition both Sigmas have an MF-lock switch which disables the focus ring. This avoids accidentally moving focus position when handling the lens and is a boon especially once you have established an exact infinity focus for shooting the night-sky. As this is the first time I've seen it on a lens extra kudos to Sigma. [++]
Covers full frame/FX or smaller. Same with the alternatives. [+]
Filter-thread: 72mm on the Sigma 24mm f1.4 DG DN Art, the Sony has 67mm, Viltrox 55mm, the Sigma 20mm f1.4 DG DN Art 82mm. Both Sigma lenses also have a rear filter holder which is a nice addition as it helps avoid stacking multiple filters at the front which might lead to vignetting. But you need different filters for them: The 24mm Sigma can take sheet filters or sturdier rear lens glas filters like those from Haida and has a lever to hold them in place, while the 20mm Sigma only takes sheet filters (with a different outline). Sigma supplies both lenses with a template to cut out sheet filters from plastic film. [+]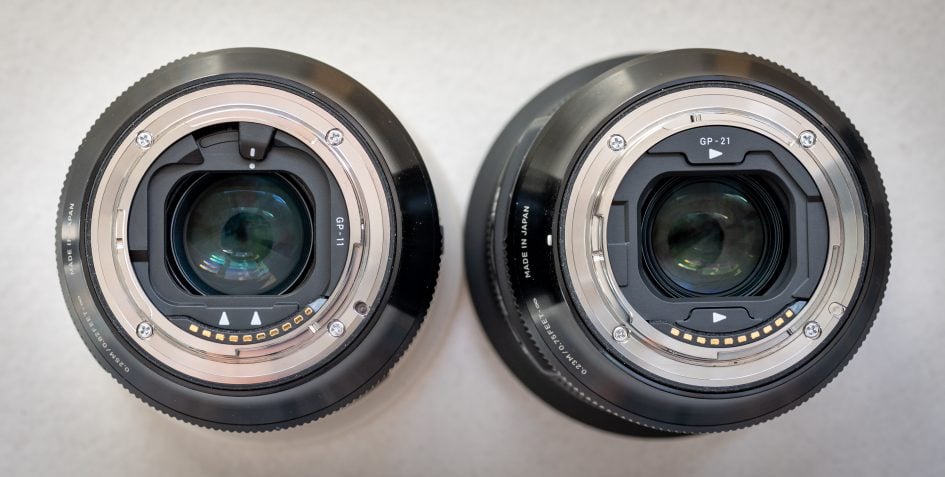 Price: The Sigma 24mm f1.4 DG DN Art is priced at 899 EUR (incl. 19% VAT) / 799 USD / 779 GBP. The Sony currently goes for about 1420 EUR / 1400 USD / 1210 GBP, the Viltrox is the cheapest at about 425 EUR / 380 USD / 375 GBP, the Sigma 20mm f1.4 DG DN Art is at 999 EUR / 899 USD / 859 GBP. [+]
Sigma's service can change the mount of the lens between Sony's E-mount and L-mount (at a cost). This is a unique feature that no other manufacturer offers. [++]
Accessories: Comes with a well padded pouch which has a loop to carry it on the belt (no strap) and the lens hood is included, reversible for transport. The pouches for the Sigma 20mm f1.4 DG DN Art and Sony come with a strap, the Viltrox only has a soft pouch. The lens hood on the Sigmas and Sony has a locking mechanism to prevent it from accidentally falling off. [+]
Aperture ring: Yes, all lenses in this comparison have a dedicated aperture ring with 1/3 stops from wide open to f16 and a position "A" for aperture control from the camera. It can be de-clicked for smooth and noise-free operation (the Viltrox does not have click-stops) and both Sigmas also have a lock to prevent accidentally going from manual aperture control to "A" – or vice versa. [+]
Sealing: Yes, both Sigmas and the Sony have a rubber grommet at the lens-mount plus further special weather-sealing throughout the construction. The Viltrox does not even have a rubber grommet. [+]
The score of 0[-]/4[0]/11[+] shows that the lens has a very good feature set. Aside from its bright f1.4 focal ratio and thorough weather sealing the lens offers some unique features: It has a switch to disable the focus ring, it can take filters at the front and rear and finally you can get the mount changed between E-mount and L-mount. Plus Sigma implemented a fully featured aperture ring: It's de-clickable and you can prevent the ring going accidentally from manual to automatic aperture operation or vice versa. And the Sigma 24mm f1.4 DG DN Art has a much lower price than Sony's FE 24mm f1.4 GM.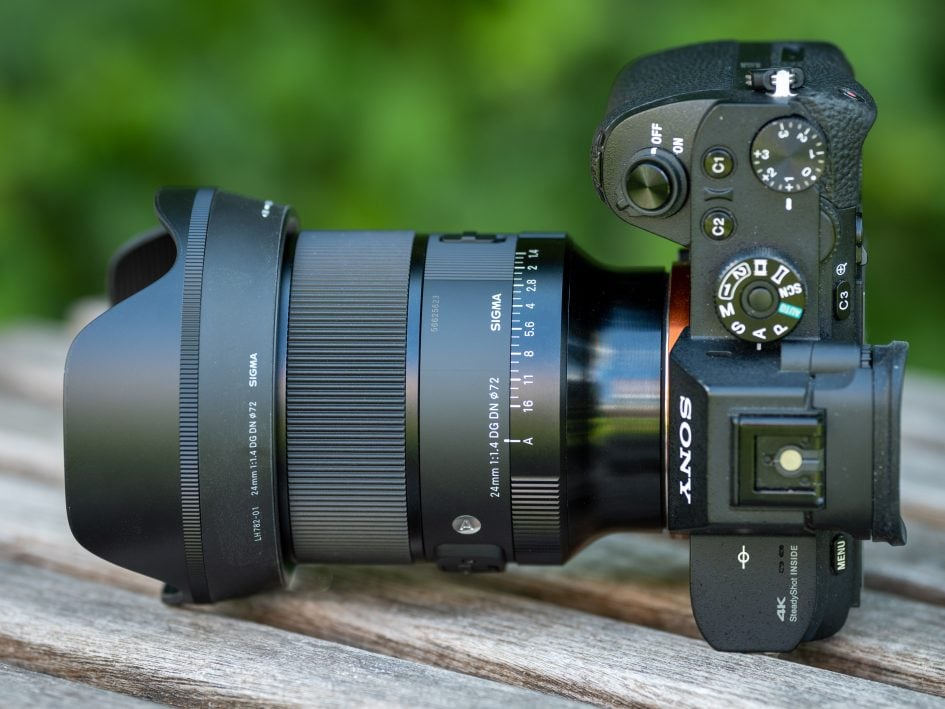 Focus
Focus accuracy and repeatability is critical to consistently produce sharp shots especially with large aperture lenses. Repeatability (the accuracy of focus on the same subject after repeated focus-acquisition) of this lens was measured 97.6% in Reikan FoCal. There was no outlier over a series of 40 shots on the well lit and contrasty focus test target but I found that results depended a bit on whether the lens was coming from infinity or from closer.

Regarding focus speed: The Sigma focuses in around 0.5 sec from infinity to 0.3m (1:10 magnification) – which is pretty fast but comparable to the Sony, Viltrox, and 24mm Sigma. There was no hunting under the well-lit test conditions. The focus ring is 26mm wide and well damped – but still can be turned with one finger. Its surface is rubberized and has a good grip.

AF-operation of the Sigma is barely audible from the outside or if you record video with the built-in microphone. Operating the aperture ring in its de-clicked state only registers as a very low tick as the aperture blades move. As you pull focus, you'll notice some focus breathing: the image became 5% less magnified when I adjusted focus from infinity to 0.3m. This might be visible when shooting videos.

Next check out my quality results!

Check prices on the Sigma 24mm f1.4 DG DN Art at B&H, Adorama, WEX UK or Calumet.de. Alternatively get yourself a copy of my In Camera book, an official Cameralabs T-shirt or mug, or treat me to a coffee! Thanks!