Sigma 24-70mm f2.8 OS Art review
Verdict
The Sigma 24-70mm f2.8 OS Art is an important addition to Sigma's high-performance "Art series. The 24-70mm range with f2.8 aperture has become the go-to general purpose lens for professionals and demanding enthusiasts alike, and the new model finally upgrades its decade-old predecessor with the promise of ART-level quality and optical stabilisation. It also features the unique adaptability to different lens mounts and the multitude of customizing AF via the USB-dock that you can expect from any "Art" lens. Plus it produces a nice Bokeh for a zoom with a focal ratio of f2.8 and has very low longitudinal color aberrations. This should all make for a very compelling package.
But there are also downsides to this lens. First and foremost: Its sharpness is not what I've come to expect from Sigma's latest designs. This shows especially at the short-end with 24mm being the weakest focal length of this lens. Even the APS-C-corners are a bit soft at the short-end, and the FF-corners look outright ugly wide-open throughout the zoom-range and need stopping down to f8 if you need well-balanced sharpness across the sensor. In addition its resistance to flare, glare, and ghosting is not up there with the best.
Let's see how the new lens compares to the alternative from Nikon.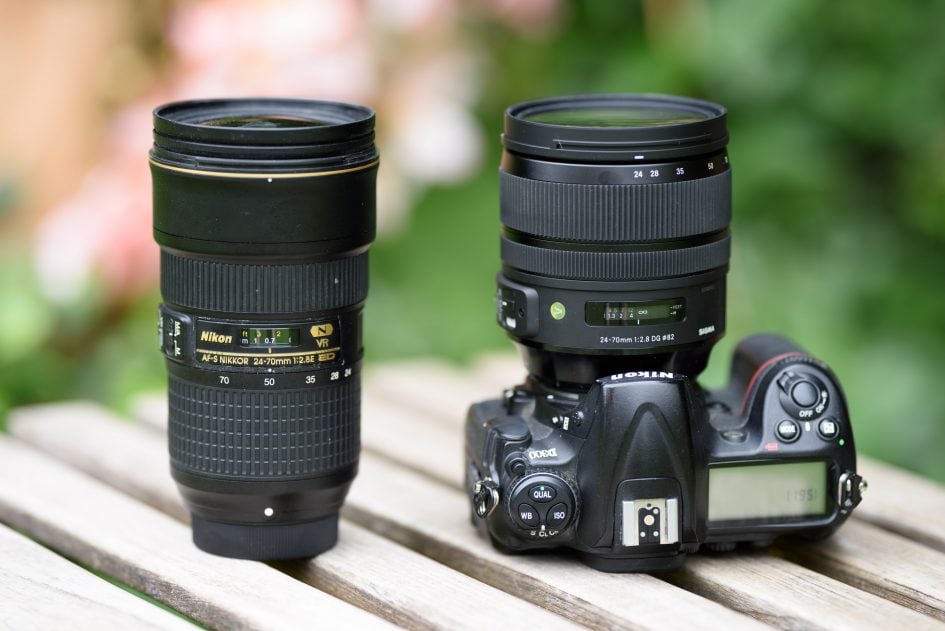 Compared to Nikon 24-70mm f2.8E VR
Nikon endowed their professional f2.8 standard zoom with good to very good image quality across the full-frame sensor and very good stabilization. It has a fast and reliable autofocus and only little CA (albeit a bit higher than from the new Sigma). Plus its resistance to flare, glare, and ghosting is pretty good. But it's longer than the new Sigma, has a less attractive Bokeh, and stronger vignetting. It's also 50% more expensive than the new Sigma. But all-in-all its image quality earned the Nikon 24-70mm f2.8E VR a Highly Recommended. If you want "sharp" this is the lens to get.
For more details see my Nikon 24-70mm f2.8E VR review.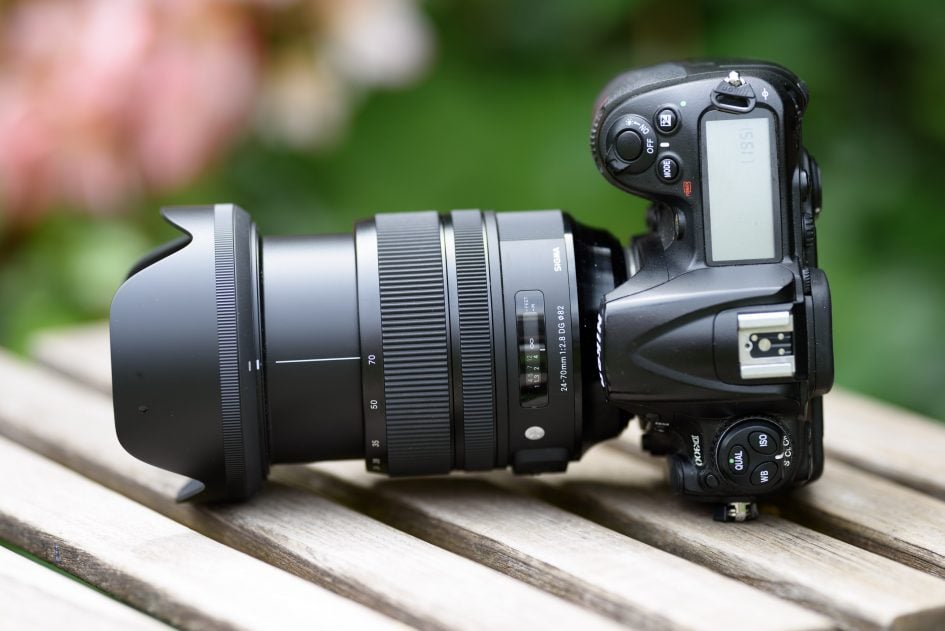 Sigma 24-70mm f2.8 OS Art final verdict
The Sigma 24-70mm f2.8 OS Art is a worthy upgrade over its decade-old predecessor: it has very good image stabilization and is shorter, cheaper, produces less loCA, has a better Bokeh, and shows less vignetting than the reference in its class, the Nikon 24-70/2.8E VR. But its image quality at the short-end and in the outer area of a high resolution full-frame sensor is disappointing considering that this lens is a member of Sigma's well-renowned "Art"-line. So not a slam-dunk, but still the Sigma 24-70mm f2.8 OS Art earns a recommendation.
Good points:
Very good image stabilization for stills.
Nice Bokeh for a f2.8 zoom.
Little longitudinal color aberrations.
Can have the mount changed.
Versatile customization of AF via USB-dock.
Bad points:
Short end and FF/FX-corners are pretty soft.
Resistance against flare/glare/ghosting could be better.
Read on: use the tabs to visit the other pages which include in depth information, full quality test results, and sample images! I also have additional sample images here.

Check prices on the Sigma 24-70mm f2.8 at Amazon, B&H, Adorama, or Wex. Alternatively get yourself a copy of my In Camera book or treat me to a coffee! Thanks!