Sigma 24-35mm f2 Art review - Verdict
Verdict
The Sigma 24-35mm f2.0 DG HSM Art is a one-of-a-kind lens: It simply is the largest aperture full-frame zoom lens around and it also delivers very good image quality. As such the new zoom is a very compelling addition to Sigma's catalogue. Add Sigma's build-quality of the "Art" series and the option to swap the lens-mount should you change your system and you should have a clear winner.
So what's not to like? Well, it is very heavy at almost 1kg and the AF on my copy needed fine-tuning in Sigma's USB-dock before I could use it optimally on my D810 body. It's also one of the two most expensive lenses of Sigma's Art series yet.
But if you want a bright wide-angle lens, what are the alternatives? Let's see how the new lens compares to the competition.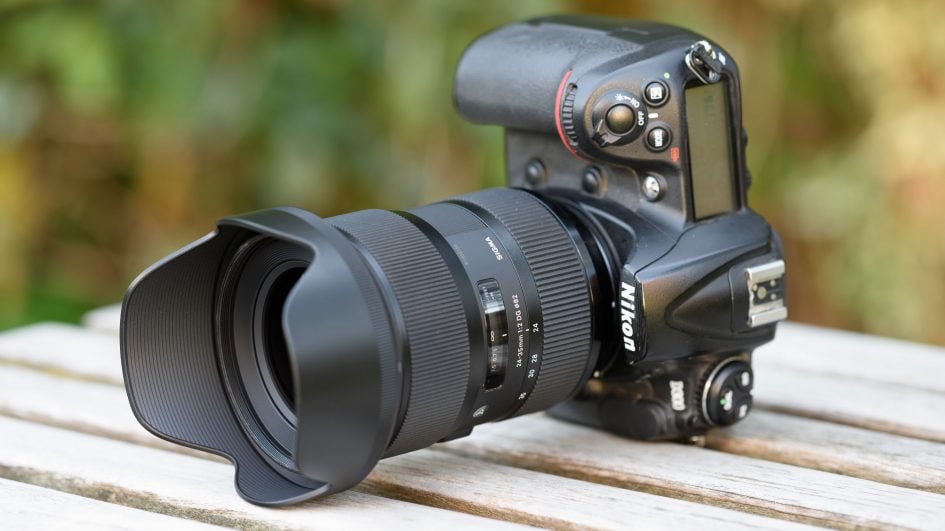 As Sigma is obviously aiming at competing with short prime lenses too, let's have a look at that category first:
Compared to Sigma 24mm f1.4 Art and Sigma 35mm f1.4 Art
Both Sigma primes are winners in Sigma's line-up of wide-angle "Art" lenses. Their performance earned them our Highly Recommended rating (see my Sigma 24/1.4 Art review and my Sigma 35/1.4 Art review). Each single prime is shorter, lighter and cheaper than the Sigma 24-35/2.0 Art and offers a one stop larger aperture which can be used to create a stronger background isolation and a better Bokeh. And not to forget a one stop faster shutter-speed. But if you buy both to cover the focal range of the zoom you end up with a higher investment plus more weight and need more space in your bag. You also run the risk of not having the right lens mounted when the photographic opportunity arises. That clearly favors the zoom which is surprisingly as sharp as the primes and even surpasses the optical performance of both in the APS-C/DX-corner lagging a bit only in the FF/FX-corner at 35mm. Plus it has quite a smooth Bokeh and relatively little longitudinal CA at f2.0. So it boils down to this: If you really need f1.4 on a wide-angle lens for shorter shutter speeds and larger Bokeh balls, get the primes. If you value the flexibility of a zoom get the Sigma 24-35/2.0 Art. You'd be giving up little in comparison to the primes.

Compared to Nikon AF-S 24mm/28mm/35mm f1.8G ED
Nikon's series of wide-angle f1.8 primes offers a good optical performance which earned them a recommendation in my reviews (Nikon 24/1.8G review, Nikon 28/1.8G review, Nikon 35/1.8G review). Each prime is smaller and much lighter than the Sigma 24-35/2.0 Art: You could have all three and carry only little more weight than with the Sigma zoom alone. All three primes offer a 1/3 stop larger aperture over the f2.0 zoom which I wouldn't overrate. And they have weather sealing on the lens-mount but otherwise cannot touch the tank-like build-quality of the Sigma. Optically the Nikon 24/1.8G and the 28/1.8G show a drop in performance at the DX-corner where they lag behind the Sigma zoom but otherwise they are fine performers. The general comments of the advantages of a zoom versus two (or three) fixed focals from above apply here, too. But the Nikon trio has the advantage of offering a 28mm lens whose focal length sits right in the middle between 24mm and 35mm and might be the best compromise prime.
Compared to Tamron SP 35mm f/1.8 Di VC USD
The new Tamron 35/1.8 VC is a very versatile and interesting lens: It offers a fast f1.8 focal ratio combined with image-stabilization that is good for two stops in my tests. That makes this lens hold out longer in dimly lit situations than any of the above mentioned lenses. It produces sharp images right into the corner of a full-frame sensor making it one of the sharpest 35mm primes you can buy. And it can focus close up to a magnification of 1:2.5 which is ideal for capturing small subjects. On top of that it's relatively small and light and offers weather sealing at the lens mount. The only downsides are the color aberrations of this lens which can be pretty nasty at times and the nervous Bokeh (see my Tamron 35/1.8 VC review). If you consider this lens as an alternative to the Sigma zoom you have to keep in mind that you're stuck at the long end (35mm) with the fixed focal. Any architecture, landscape or interior scene will be cropped 1.5x compared to a 24mm lens. That might prevent you from getting the shot that you want – other than with a 24mm fixed focal where you can always crop 1.5x into the shot to achieve the angle of view of a 35mm lens.
Now let's see how alternative zooms compare. As they all offer only a f2.8 focal ratio I've chosen only stabilized zooms to compensate for the disadvantage in light gathering capability. But that doesn't make the Bokeh of f2.8 zooms any better. So as a general rule you have to make do with a less satisfying Bokeh with the following alternatives:

Compared to Tamron SP AF 15-30mm f2.8 Di VC USD
Its image stabilization is good for three stops which lets you shoot in 2EV lower light than the non-stabilized f2.0 Sigma 24-35/2.0 Art. And the image quality of the Tamron is very convincing: In my Tamron 15-30mm f2.8 VC review the lens earned a Highly Recommended and replaced the venerable Nikon AF-S 14-24/2.8G as the reference ultra wide-angle zoom. At 24mm the Tamron zoom is as sharp as the Sigma zoom (at f2.8) and at 30mm it's only slightly behind the Sigma zoom in the FF/FX-corner. It is 15% shorter on the long end (30mm vs. 35mm) but that is certainly no big deal. On the other hand the Tamron zoom goes 9mm shorter on the wide end – and that is really an eye-opener. So if you're into ultra-wide-angle photography the Tamron is much better equipped than the Sigma. The downsides? The Tamron zoom is 1cm wider, 2cm longer and 160g heavier than the Sigma zoom. And you cannot use standard filters on its bulbous front-end. Price-wise both lenses are on the same level. So it comes down to this: If 24mm is wide enough for your purpose the Sigma zoom offers the larger aperture and thus the better Bokeh and reaches up to 35mm. You can also shoot at a 1 stop faster shutter. If you need to go wider than 24mm the Tamron goes down to 15mm on the short end and with its image stabilization lets you shoot 2EV longer under low light or close the aperture 3 stops further for a substantially deeper field of sharp focus.
Compared to Tamron SP AF 24-70mm 2.8 Di VC USD and Nikon AF-S VR 24-70mm 2.8E ED
Both 24-70mm zooms offer 2x the reach on the long end (70mm vs 35mm). This may already be the decisive advantage over the Sigma 24-35/2.0 Art: When traveling you might easily rely on a 24-70mm zoom to adequately capture most scenes. With only a 24-35mm lens my experience suggests to complement this with a longer lens. And the image stabilization of both 24-70mm zooms gives you an advantage of either shooting under darker light (1EV with the Tamron, 2EV with the Nikon) or getting a 2-3 stops deeper field of sharp focus. The quality of both zooms is quite convincing earning them a recommendation (see my Tamron 24-70/2.8 VC review or my Nikon 24-70/2.8E VR review). In direct comparison to the Sigma 24-35/2.0 Art the Tamron has the clearly weaker FF/FX-corner at all focal lengths overlapping with the Sigma while the Nikon fares comparably to the Sigma zoom at 24mm and 35mm but is behind a bit at 28mm focal length. But the Nikon is also 2.5x more expensive plus 32mm longer and 120g heavier than the Sigma zoom while the Tamron is 150 EUR cheaper, 115g lighter, and 14mm shorter than the Sigma zoom (at least when not extended).
Sigma 24-35mm f2.0 Art final verdict
If you're looking for a wide-angle lens on a full-frame body you may consider the Sigma 24-35/2.0 DG HSM Art the ideal candidate: It covers three customary focal lengths (24/28/35mm) in one bright f2.0 zoom that performs as you would expect from a member of Sigma's highly acclaimed "Art" series: It's sharp at all focal lengths, has relatively little vignetting for such a wide-angle lens and shows only little longitudinal CAs and moderate coma. The build-quality supports Sigma's claim to have developed and manufactured a lens to professional standards although there's no weather sealing at the lens-mount. But other than that the Sigma 24-35mm f2.0 DG HSM Art plays on a very high level and as such earns our Highly Recommended rating.
PS – don't forget you can support my work next time you order anything at Amazon, B&H or Adorama by first clicking through to them using the links above and in the sidebar. It works for anything you order at any time – thanks for your support!
Summary
Good points:
Very good image quality across the full-frame area.
It's the only f2.0 zoom for full-frame bodies available.
Quiet, fast and reliable AF operation.
Bad points:
Needed AF fine-tuning in USB dock for my D810 body.
Large and heavy.
Only 1.5x zoom range.
No weather sealing at the lens mount.
No image stabilization.