Sigma 24-35mm f2 Art review
In depth
The Sigma 24-35mm f2.0 DG HSM Art is a unique zoom combining the largest aperture of a full-frame zoom available to-date with a rather short 1.5x range which none-the-less covers most focal-lengths that you would want for wide-angle coverage like 24mm, 28mm, and 35mm. It is the second zoom in Sigma's highly acclaimed "Art" series after the 24-105mm 4.0 DG OS HSM Art. Launched in July 2015 it is available in Canon, Nikon, and Sigma mounts. The 24-35/2.0 Art is also compatible with Sigma's USB dock for fine-tuning or firmware updates, and if you change bodies, you can pay to have the mount swapped for your new system. Although the new zoom does not offer image stabilization it is a large and heavy lens. It leaves the impression that it's built like a tank: Indeed it weighs almost as much as the three f1.8 24mm, 28mm and 35mm fixed focals from Nikon together. Priced at around 950 EUR (incl. VAT) it is also more expensive than Sigma's 24/1.4 Art or 35/1.4 Art. So the big question is whether Sigma's latest Art-zoom can match the image quality of fixed focals while offering the flexibility of a zoom lens.
In this review I'll put Sigma's 24-35mm f2.0 DG HSM Art zoom to the test on a Nikon D810 to see whether the lens is a good match for Nikon's highest resolution 35mm DSLR. PS – don't forget you can support my work next time you order anything at Amazon, B&H or Adorama by first clicking through to them using the following links. It works for anything you order at any time, or alternatively you could treat me to a coffee! Order the Sigma 24-35mm f2.0 DG HSM Art at B&H, Amazon USA, Amazon UK or Amazon DE. Thanks for your support!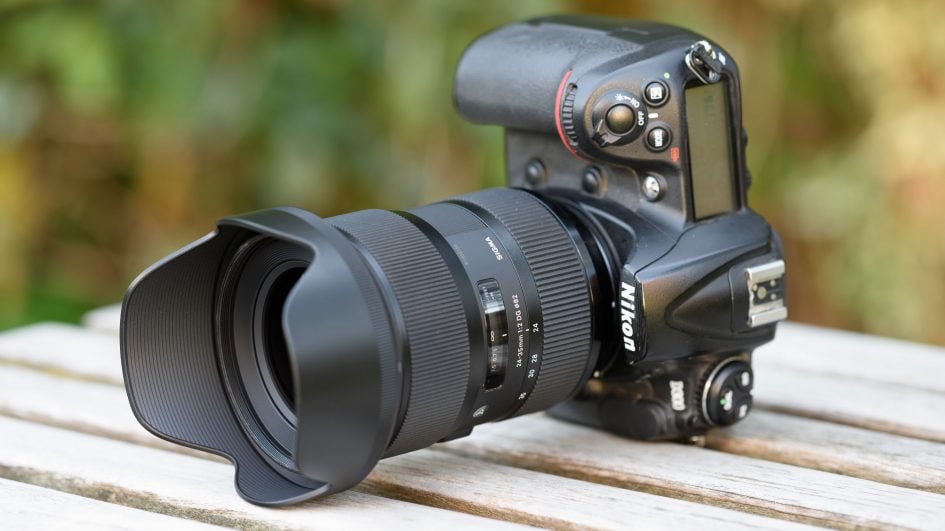 Facts from the catalog
As usual I'll have a look at the technical data first. I've rated the features with a [+] (or [++]), when it's better than average or even state of the art, a [0] if it's standard or just average, and [-] if there's a disadvantage.
Size (diam. x length): 88 x 123mm (3.4 x 4.8 in.) which is longer than any of the fixed-focals in that range albeit still 32mm shorter than the the Nikon 24-70/2.8E VR. The lens-hood adds another 36mm. The length remains constant regardless of focal length. [0]
Weight: 940g (33.2 oz.). Add to that 34g for the lens-hood. The fixed focals are all much lighter e.g. the Nikon 35/1.8G weighs just 305g. And the heaviest lens in this category, the Nikon 24-70/2.8E VR is only 120g heavier. [0]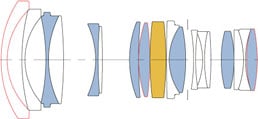 Optics: 18 elements in 13 groups. That's 26 air/glass-surfaces that produce a lot of opportunities for flares and ghosts. Still less than Nikon's new 24-70/2.8E VR with 20 elements in 16 groups. We'll see how well Sigma's coating works out in practice. The cross-section shows a lot of special elements three of which are aspherical. [0]
Closest focus distance/max. magnification: 0.28 m (0.9 ft.) / 1:4.4 on paper. I was able to get down to 1:4.0 magnification with manual focus. That is pretty useful if you can live with a meager 10cm of working distance to the front of the lens (w/o lens hood). [+]
Filter-thread: 82mm. That's larger and more expensive than large-aperture fixed focals at this focal length use. [0]
Image stabilization: No. You might think that's not a big loss at such short focal lengths. But with the ever shrinking pixel-sizes on todays high-resolution sensors you'd be glad to get every support to fight shake/blur. Without it shooting dim interiors or landscapes in fading light hand-held can prove quite a challenge. Competitors are starting to incorporate image stabilization even for "short" lenses: Tamron for its 15-30mm and 24-70mm zooms or its 35/1.8 fixed focal, Nikon in its 24-70mm zoom, Canon in a 24mm lens. [0]
AF: The lens offers silent auto focus with a hypersonic motor (HSM). So it works on bodies without AF-motor like the Nikon D3x00/5×00-bodies. Manual-focus override is simply by turning the focus ring. [+]
Covers full frame/FX or smaller = very good [+]
Price: around 950 EUR new (incl. 19% VAT) = not exactly cheap. Nikon's f1.8 fixed focals or Sigma's f1.4 lenses in this range go for less than 800 EUR. Tamron's stabilized 24-70/2.8 VC zoom comes in at around 800 EUR. [0]
Comes with a well padded semi-soft lens-case (without strap), the lens hood is included and reversible for transport, and the lens-caps are similar to Nikon's. [+]
Distance information is relayed to the camera, so the Nikon body can do all the advanced exposure-related stuff with this lens. But this is true for all alternatives too except for manual focus lenses from Samyang or Zeiss. . [+]
Aperture ring = no, just like all alternatives except for manual focus lenses from Samyang or Zeiss. [0]
Sealing: No. [0]
The score in the "features-department" is 0[-]/8[0]/5[+]. Overall the new Sigma zoom has the unique benefit of offering a constant large f2.0 aperture but has a smaller zoom-range than any other zoom and no image stabilization.
Here is the angle of view that the new Sigma covers with its 1.5x zoom:

Here's what a 24-70mm (2.9x) zoom covers for comparison:

With the limited coverage of the new Sigma zoom you better make sure you have a longer lens in your bag too, should the need arise: A 50mm prime lens would be a nice addition.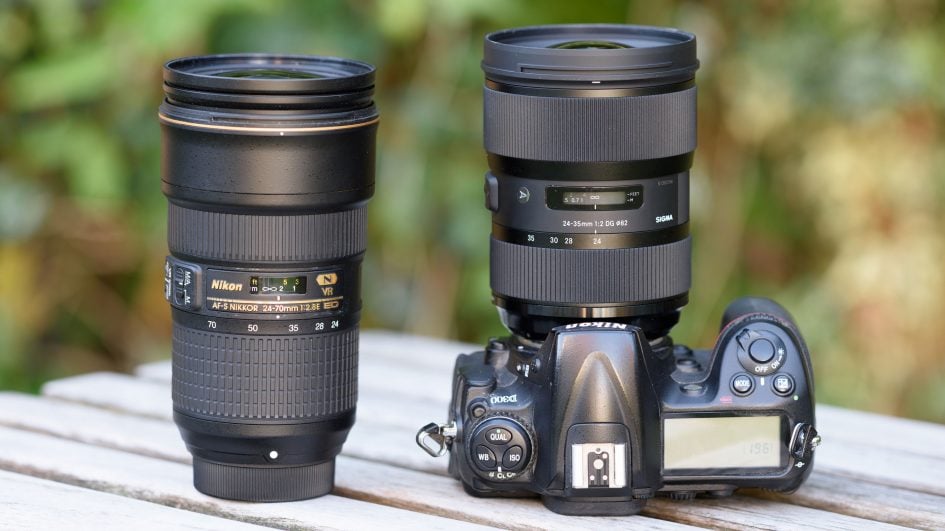 Alternatives:
As a 24-35/2.0 zoom is a unique proposition the list of alternatives is a bit longer than normal. But no single lens in there can be a direct match with Sigma's newest zoom.
If you consider large aperture fixed focals an alternative to Sigma's zoom there are a slew of lenses in that category. The general problem with fixed focal though: You would have to swap lenses if the angle-of-view is not appropriate which might cost you a good shot.
– From Nikon there are the f1.8 fixed focals at 24/28/35mm that are all smaller and much lighter than the 24-35/2.0 Art, each costs less and offers a slightly larger maximum aperture. See my Nikon 24/1.8G review, Nikon 28/1.8G review, Nikon 35/1.8G review where all three earned a recommendation. If you don't want to get all three you might take the middle-route with the 28/1.8G (which is 17% longer than a 24mm and 20% shorter than 35mm) or get the 24/1.8 and crop 1.5x to reach the angle-of-view of a 35mm if need be. But in that case you'd be forfeiting 55% of the pixels of your camera.
– Tamron offers the SP 35mm f1.8 VC which is stabilized. It means you can shoot at 1/8 sec and still get a very high keeper-rate which might be a decisive advantage under low-light shooting conditions. See my Tamron 35/1.8 VC review where the lens earned a Recommended. But a 35mm fixed focal has a seriously narrower angle-of-view than a 24mm lens so may indeed not be a viable alternative to a 24-35mm zoom.
– Sigma itself offers the 24mm f1.4 DG HSM Art and the 35mm f1.4 DG HSM Art lenses which both earned a Highly Recommended (see my Sigma 24/1.4 Art review and Sigma 35/1.4 Art review). With their f1.4 aperture they offer a full stop advantage over the f2.0 zoom with probably better Bokeh to boot. They are not as small or light as the Nikon f1.8 fixed focals: If you get both that would be 1330g together and 50% more expensive than the Sigma 24-35/2.0 Art zoom.
– From Canon there is the stabilized EF 35/2.0 IS USM and the EF 28/1.8 USM both of which are small, lightweight and cost below 500 EUR. Plus Canon offers f1.4 "L" lenses at 24mm and 35mm (as does Nikon) which are more expensive than the Sigma 24-35/2.0 Art: Both their latest "II" versions would set you back by more than 3000 EUR.
Looking at the full-frame zooms there are none that have a larger than f2.8 aperture. But some have image stabilization which lets you shoot in lower light than with the Sigma 24-35/2.0 Art zoom:
– The Tamron SP AF 15-30mm 2.8 Di VC USD (around 1000 EUR). It earned a Highly Recommended in my Tamron 15-30/2.8 VC review. You give up a stop in aperture and 5mm on the long end but could reach into an incredibly wide 15mm on the short, plus you also get image Stabilisation.
– Nikon's new AF-S VR 24-70mm 2.8E ED is the most expensive alternative at 2400 EUR . It reaches two times further with its 70mm focal length at the long end and has a very effective image stabilization, but again it loses out on a stop of aperture. See my Nikon 24-70/2.8E VR review.
– The Tamron SP 24-70mm f/2.8 Di VC USD: At around 800 EUR it's not only cheaper than the Sigma 24-35/2.0 Art but it offers image stabilization too and reaches to 70mm. Plus it offers good overall performance that earned this lens a Recommended rating, as you can read in my Tamron 24-70/2.8 VC review. Like the other two zooms above, it's one stop slower in aperture.
Focus, build quality, and image stabilization
Focus accuracy and repeatability is critical to consistently produce sharp shots. Repeatability (the accuracy of focus on the same subject after repeated focus-acquisition) of this lens is very good (measured 99.6% in FoCal) with no outliers over a series of 40 shots. And there is almost no performance variation whether the lens focuses from infinity or from a closer distance under controlled conditions. But I had to adjust the AF of my copy using the Sigma lens-dock. Without this the AF tuning in-camera with my D810 was not enough to focus optimally. This is now the third case with lenses I tested – and all three were Sigma Art lenses.
At 35mm focal length the lens focuses fast in around 0.5 sec from infinity to 0.35m. The focus ring is 24mm broad and has no slack/play between its movement and the focus-action. But it moves pretty stiff and turns like on a Canon lens which is opposite to what Nikon lenses do. It has a throw of 105 degrees which is good for manual focusing. The 21mm broad zoom-ring is also pretty stiff (at least right out of the factory) and is not prone to creep. It turns the Nikon way – which is opposite to what Canon lenses do.
AF-operation is barely audible from the outside. If you record video with the built-in microphone every focus-movement starts with a "click" but the AF-drive is very quiet.
The lens is made in Japan and the general impression of build quality is that of a pro-level lens: A high quality metal/plastic construction with nine rounded aperture blades and a tight fitting lens hood. But I miss weather sealing on the lens mount.