Sigma 20mm f1.4 Art review
Verdict
The Sigma 20mm f1.4 DG HSM Art is a one-of-a-kind lens: It simply is the widest full-frame f1.4 lens around and it also delivers very good image quality. As such the new Sigma is a very compelling addition to the catalogue of large aperture wide-angle lenses. Add Sigma's build-quality of the "Art" series and the option to swap the lens-mount should you change your system and you should have a clear winner.
So what's not to like? It is very heavy at almost 1kg, it doesn't accept normal filters, and the AF on my copy did produce some outliers, at least when mounted on my D810 body. It's also, understandably, the most expensive of Sigma's Art series yet.
But if you want a bright wide prime, what are the alternatives? Let's see how the new lens compares to the competition.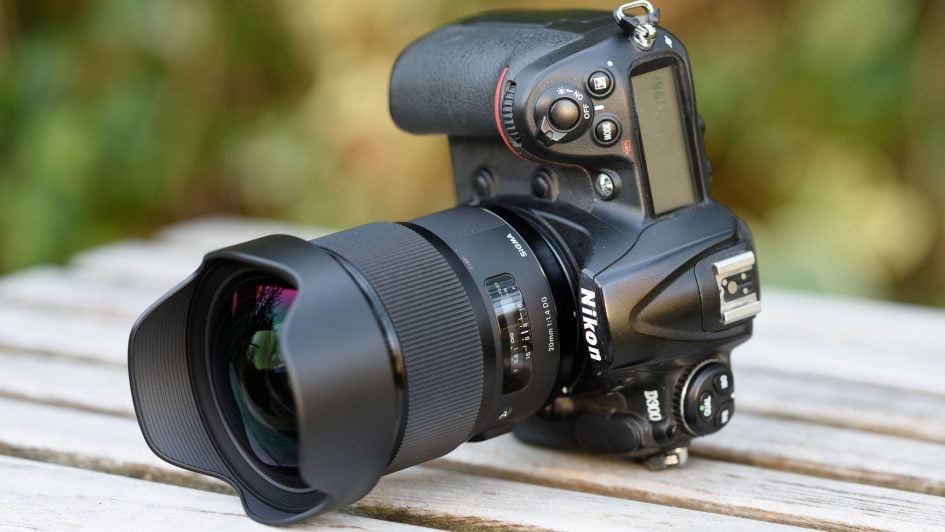 Compared to Nikon AF-S 20mm f1.8G ED
The Nikon 20/1.8G costs only two-thirds of the Sigma, has weather sealing, is smaller and much lighter (355g vs. 944g), and its performance comes pretty close to the Sigma. It earned a Recommended in my Nikon 20mm f1.8G review. But you give up 2/3 of a stop in maximum aperture which also results in a less pleasing Bokeh. So there is a clear trade-off between both lenses.
Compared to Sigma 24mm f1.4 Art
The Sigma 24/1.4 Art is another winner in Sigma's line-up of wide-angle "Art" lenses. It performs very similarly to its shorter sibling with lower distortions and slightly higher coma than the 20/1.4 Art. And the dip in APS-C/DX-corner performance of the 24mm lens is a bit deeper than from the 20mm. Build quality is the same as is the missing weather sealing at the lens-mount. The biggest differences apart from the 4mm in focal length are in price and weight: The 24/1.4 Art is around 280g lighter and 240 EUR cheaper than the 20/1.4 Art. It earned our Highly Recommended rating in my Sigma 24mm f1.4 Art review. So the decision boils down to the focal length: is 24mm short enough for the kind of scenes you shoot or do you really need 20mm focal length?
Compared to Tamron SP AF 15-30mm f2.8 Di VC USD
A f2.8 zoom as an alternative to a f1.4 fixed focal? Well, you lose 2 stops of maximum aperture but you gain much in flexibility regarding the right framing of an image where you cannot or don't want to "zoom with your feet". And the image quality of the Tamron is very convincing: In my Tamron 15-30mm f2.8 VC review the lens earned a Highly Recommended and replaced the venerable Nikon AF-S 14-24/2.8G as the reference ultra wide-angle zoom. Its image stabilization is good for three stops which lets you shoot in 1EV lower light than the non-stabilized f1.4 fixed focal. In comparison to the Sigma 20/1.4 Art the Tamron zoom is comparably sharp in the center and the FX-corner and even slightly better in the DX-corner at f2.8. Naturally it's bigger than the Sigma 20/1.4 but only 150g heavier. Plus its Bokeh cannot compete with the Sigma. So the decision between both lenses comes down to whether you need the isolation and background-blur plus the shorter exposure time of the Sigma at f1.4 and f2.0 or you want/need the flexibility of having a zoom-range going 25% shorter and 50% longer than the 20mm lens at the turn of the zoom-ring. Price-wise both lenses are on the same level.
Sigma 20mm f1.4 Art final verdict
The Sigma 20/1.4G Art is the latest lens in Sigma's line-up of wide-angle "Art" lenses. You can produce shots with image quality that were impossible at a wide open aperture of f1.4 not long ago. It has relatively little vignetting for such a wide-angle lens and shows only little longitudinal CAs and moderate coma. Plus its resistance against flare and glare is pretty good which is quite important for such a wide-angle lens. The build-quality and the new design support Sigma's claim to have developed and manufactured a lens to professional standards. Only the occasional misses of the AF (when using phase-detect autofocus on my D810) made me a bit nervous. But this may be an individual problem of my copy, or an issue when mounted on a D810.
Regardless of the body though, you'll have to make do without a standard filter-thread plus there's no weather sealing at the lens-mount which seems a bit out of place for a lens targeted at professionals. But other than that the Sigma 20mm f1.4 DG HSM Art plays on a very high level and as such earns our Highly Recommended rating.
PS – don't forget you can support my work next time you order anything at Amazon, B&H or Adorama by first clicking through to them using the links above and in the sidebar. It works for anything you order at any time – thanks for your support!
Summary
Good points:
Very good performance across high-resolution full-frame sensor even wide open.
Good build quality.
Flare/glare resistance.
Relatively low longitudinal CA and coma.
Quiet and fast AF operation.
Bad points:
AF occasionally missed its target on D810 test body.
No standard filter-thread.
No weather sealing.