Sigma 20mm f1.4 Art review
In depth
The Sigma 20mm f1.4 DG HSM Art is a wide angle prime lens, available in Canon, Nikon, and Sigma mounts. Announced in October 2015, it's the widest prime lens in Sigma's highly acclaimed Art series which so far have all earned our Highly Recommended award; see my Sigma 24mm f1.4 Art review, my Sigma 35mm f1.4 Art review, or my Sigma 50mm f1.4 Art review. And it's the widest f1.4 lens available for full-frame bodies! The 20mm Art is also compatible with Sigma's USB dock for fine-tuning or firmware updates, and if you change bodies, you can pay to have the mount swapped for your new system.
Shaving off another 4mm (17%) of focal length from its acclaimed 24/1.4 Art Sigma gives landscape-, architecture-, and interior-shooters an extra wide coverage on full-frame bodies and still maintains its large f1.4 aperture. This lets you shoot longer under low light, while also allowing you to isolate closer subjects at least a bit from the background – although don't expect wonders regarding background blur.
In my test I'll be comparing Sigma's newest model to Nikon's AF-S Nikkor 20mm f1.8G from October 2014 to give you an impression on what's the state of the art in large aperture 20mm lenses. I also put in comparisons with the Tamron SP 15-30/2.8 Di VC HSM for good measure. All lenses were tested on a 36MP Nikon D810 body.
PS – don't forget you can support my work next time you order anything at Amazon, B&H or Adorama by first clicking through to them using the links above and in the sidebar. It works for anything you order at any time – thanks for your support!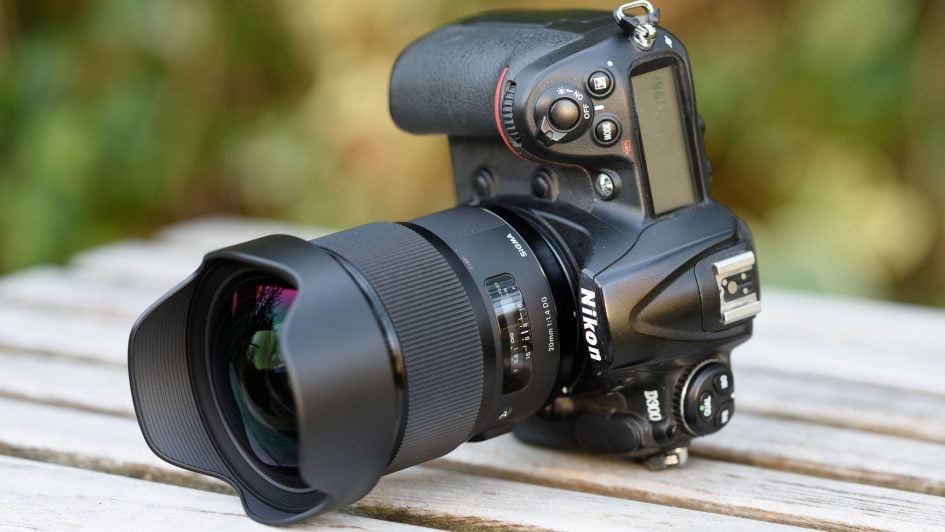 Facts from the catalog
As usual I'll have a look at the technical data first. I've rated the features with a [+] (or [++]), when it's better than average or even state of the art, a [0] if it's standard or just average, and [-] if there's a disadvantage. I'll compare it with the Nikon AF-S 20mm f1.8G ED (the "Nikon" for short).
Size (diameter x length): 91 x 130 mm (3.6 x 5.1 in.). This is pretty large and it's surprising to see a 20mm lens being so long. The Nikon is only 82 x 84mm. [-]
Weight: 944 g (33.3 oz.). Very heavy. It is much heavier even than the 665g of the already heavy 24/1.4 Art. The Nikon is only 355g. [-]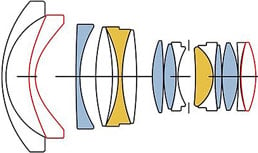 Optics: 15 elements in 11 groups. This is pretty complex design with 22 glass/air-surfaces and a lot of special elements including two aspherical elements. "Super-Multi-Layer" coating should reduce flare and ghosting. The Nikon has 13 lenses in 11 groups. [+]
Closest focus distance/max. magnification: 28cm (0.92ft.) / 1:7.1. With manual focus I was able to get down to 27cm which leaves about 9cm of working distance from the front of the non-detachable lens-hood to the subject. Magnification was then 1:6.5. That's not much. The Nikon offers 1:4.0 magnification at 20cm distance. [0]
Filter-thread: There's no filter-thread. So you need to get some non-standard mounting system and a new set of filters. [-]
Image stabilization: No 20 mm prime lens offers image stabilization except for Canon's EF 20mm 2.8 IS USM. And with the small magnification at a focal length of 20mm it is not a big loss. Still: shooting dim interiors or landscapes in fading light hand-held can prove quite a challenge without stabilization on today's highest resolution bodies. [0]
Auto focus: The lens offers silent auto focus with manual-focus override by turning the focus ring. So it works on bodies without AF-motor like the Nikon D3x00/5×00-bodies. That may sound like a standard feature but you can still find lenses with a less optimal manual override mechanism or even with manual focus only (like from Samyang). [+]
Coverage: covers full frame/FX or smaller = very good. [+]
Price: The Sigma costs around 990 EUR (incl. 19% VAT) which makes it the most expensive of their Art f1.4 lenses. The Nikon costs a third less at around 660 EUR. [0]
Comes with a nice semi-soft lens-case that is well padded but has no strap, the lens hood is built-in, and the rear lens cap is similar to Nikon's. A slight disadvantage is that the front lens-cap does not arrest in place when mounted: It's just a medium-tight fit on the built-in lens hood and can work itself off when it rubs against your clothes. Nikon and Tamron have similar hoods, but Samyang has shown with the 12mm f2.8 fisheye that you still can built a proper locking mechanism for this type of lens cap. Samyang also has a detachable lens hood which makes it far easier to clean the outer parts of the bulbous front element. So here is something the other manufacturers should think about.[0]
Distance information is relayed to the camera, so the Nikon body can do all the advanced exposure-related stuff with this lens. [+]
Aperture ring: No, which is standard. [0]
Sealing: No, not even a rubber grommets at the lens-mount. [0]
The score in the "features-department" is 3[-]/6[0]/4[+]. The main disadvantage of the new Sigma is its size, weight and the missing filter-thread compared to the Nikon 20/1.8G. Its prize is also 50% higher than for the Nikon, but then it offers an f1.4 aperture compared to f1.8. The biggest plus of the Sigma: it is the only f1.4 lens for full-frame bodies wider than 24mm.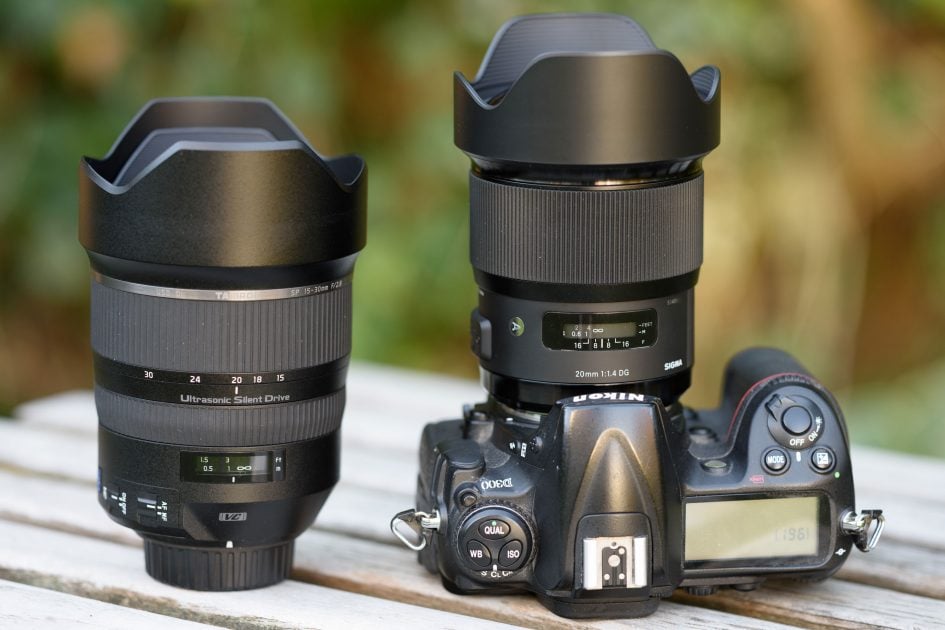 Alternatives:
– Canon offers only the non-stabilized EF 20mm f2.8 USM priced at around 450 EUR (incl. 19% VAT).
– For owners of Nikon DSLRs the gold-ringed AF-S Nikkor 20mm f1.8G from 2014 is Nikon's widest large aperture prime. It costs 660 EUR and earned a Recommended in my Nikon 20/1.8G ED review. But you give up two-thirds of a stop in maximum aperture.
– From Sigma there's the old AF 20mm f1.8 EX DG RF which did not convince in some reviews and is no longer listed at Sigma Germany. Or you go for the longer sibling the new Sigma 24mm f1.4 DG HSM Art which earned a Highly recommended in my Sigma 24/1.4 Art review (around 750 EUR). But then you add 4mm focal length which is like cropping 20% into your image compared to a 20mm lens.
– There are some full-frame wide-angle zooms that cover 20mm at f2.8 plus give you the enormous flexibility to cover more shooting opportunities due to their variable focal length. Only one of them offers image stabilization which can compensate for the slower maximum aperture: The Tamron SP AF 15-30mm 2.8 Di VC USD (around 1000 EUR, see my Tamron 15-30/2.8 VC review). It earned a Highly Recommended due to its optical quality and the image stabilization that proved to be very effective to the equivalent of around 3 stops.
Focus and build quality
Focus accuracy and repeatability is critical to consistently produce sharp shots. Repeatability (the accuracy of focus on the same subject after repeated focus-acquisition) of this lens is good (measured 97.0% in FoCal) with no real outliers over a series of 40 test-shots under controlled conditions. But I had to adjust the AF of my copy using the Sigma lens-dock. Without this the AF tuning in-camera with my D810 was not enough to focus optimally. This is now the third case with lenses I tested – and all three were Sigma Art lenses. In the field I had more occasions where phase-detect AF did not lock correctly on target than I normally encounter. It seemed to be a spurious error and I couldn't find a clear pattern. But it was pretty annoying that I had to check each and every shot for correctly acquired auto-focus. Therefore I did another series of 100 specific test-shots at f1.4 on various natural targets at good light and found 75% to be in very good focus, 20% a bit off visible only at 100% magnification, and 5% real outliers visible even at only 25% magnification. Again this experience was when using the lens on my Nikon D810 – your mileage may vary on other bodies and brands.
The focus ring is 30mm wide and has no slack/play between its movement and the focus-action and a throw of around 95 degrees, which is OK for accurate focus wide open. The focus ring is easy to grip but movement is pretty stiff. The lens focuses fast: around 0.5 sec from infinity to 30cm, which is a very good value. AF-operation is quiet from the outside but if you record video with the built-in microphone the Sigma 20/1.4 Art is louder than the Sigma 24/1.4 Art which has one of the quietest AF-drives around.
The lens is made in Japan and the general impression of build quality is that of a pro-level lens: A high quality metal/plastic construction with nine rounded aperture blades and a tight fitting lens hood. But I miss weather sealing on the lens mount.