Sigma 14-24mm f2.8 ART review - Verdict
Verdict
The Sigma 14-24mm f2.8 Art is the second ultra-wide angle zoom in Sigma's renowned "Art" series. It gives up 2mm at the short end reducing the field of view by 8 degrees but it gains a constant f2.8 focal ratio collecting one stop more of light than its 12-24mm f4.0 sibling. The new Sigma also features the unique adaptability to different lens mounts and the multitude of customizing AF via the USB-dock that you come to expect from any "Art" lens. Plus it is hardened well against the elements including a fluorine coating against moist and dust at the front element but it misses a filter thread and is a hunk of a lens at over 1kg/40oz in weight.
Optically the new Sigma shows very low longitudinal color aberrations as well as low distortions. And it is the sharpest ultra-wide angle zoom I've tested – at least in the center. Unfortunately at the short end my sample developed quite some astigmatism and field curvature in a zone between 4mm and 8mm off the optical axis. This is especially noticeable because of the otherwise excellent performance at 0mm and from 10mm outwards. This might be a problem with my particular sample but I've seen other reported problems using off-center focus points which also is a strong indicator of field curvature: You would need different AF fine-tune values for different focus points. The problem can be solved by stopping down to f5.6 and it gets less pronounced towards the long end of the new Sigma.
Make no mistake though: the lens is no slouch performance-wise as even in the problematic areas it produces pretty sharp results. You also have to keep in mind that we're complaining about 300 pixel wide 100% crops from a 8256 pixel wide sensor. At this magnification the full image would be over 1m on the long side. But it is really the only optical flaw I can find with this lens.
Let's see how the new lens compares to some alternatives.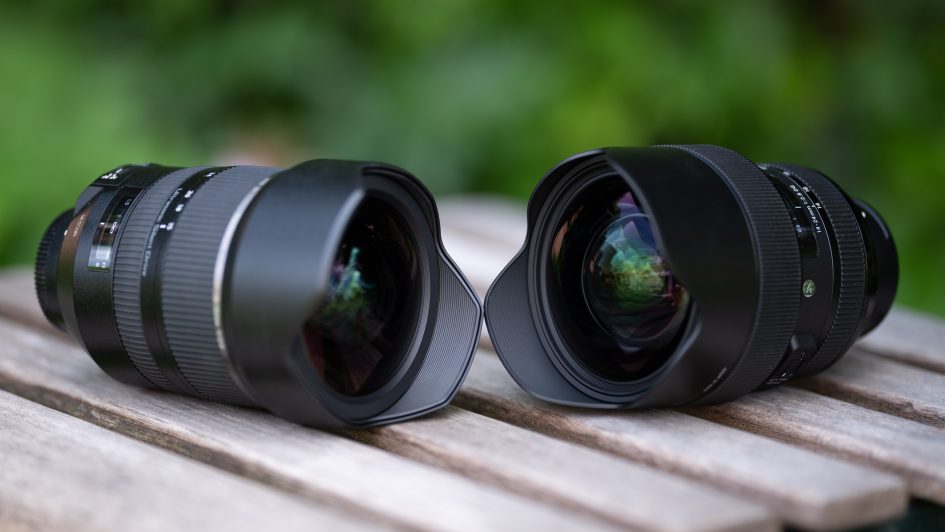 Compared to Tamron 15-30mm f2.8 VC
When Tamron's stabilized 15-30mm zoom came out in 2015 it was the first to beat the venerable Nikon 14-24mm f2.8G from 2007 in image quality and price. And it was the first ultra-wide angle zoom that offers optical image stabilization – and still is. Compared to the new Sigma it offers the same constant focal ratio of f2.8 but has a 25% longer reach with its 30mm focal length. For that it gives up 1mm at the short end over the Sigma, although I seriously doubt that you would often miss the additional 4 degrees field-of-view. The Tamron is also cheaper. Optically the Tamron battles toe to toe with the new Sigma: It's a bit less sharp in the center but suffers from less astigmatism and has almost no field curvature. It's also sharper towards the corners at close distances while in long distance shots the Sigma produces slightly better corners (except at 14mm). The Sigma has the additional advantage of producing much less distortions at the wide end. The Tamron remains a very good and versatile lens for ultra-wide angle photography, offers very good value for money, and deservedly got a Highly Recommended.
For more details see my Tamron 15-30mm f2.8 VC review.
Compared to Sigma 12-24mm f4.0 Art
Sigma's earlier 12-24mm f4.0 zoom is a very competent lens: Its optical performance may not be as bitingly sharp as the Sigma 14-24mm f2.8 can be but is still very good. It has only minor distortions and most importantly it goes down to 12mm focal length offering a whopping 122 degrees angle of view which is only surpassed by Canon's 11-24mm f4.0 lens at almost twice the price. As both Sigma ultra-wide angle zoom lenses are very similar in price, size, weight, and performance you have to decide whether you need the faster zoom (which is the Sigma 14-24mm f2.8 Art) and give up 2mm on the short end or the wider zoom (which is the Sigma 12-24mm f4.0 Art) and give up one stop of focal ratio (plus miss out on the better weather protection of the 14-24mm).
For more details see my Sigma 12-24mm f4.0 Art review where it earned a Highly Recommended rating
Compared to Nikon 14-24mm f2.8G
The Nikon 14-24mm f2.8G ED is the best ultra wide-angle zoom from Nikon and was the reference lens in this category of all DSLR systems for years. It has the same zoom range and focal ratio as the new Sigma. Optically it suffers from some residual spherical aberrations which reduce contrast in the FF/FX-corner at the longer end and it has clearly higher distortions at the short end compared to the new Sigma. But otherwise its performance is still top notch. The handling of the Nikon appeals more to me: Both rings turn their usual way for a Nikon user and the zoom ring is much broader and easier to turn than on the Sigma. Plus it has more clearance between the zoom ring and the flash nose of the body. So you have to decide whether you prefer the professional Nikon lens with better ergonomics (and a higher price tag) or the better optical performance of the Sigma.
For more details see my Nikon 14-24mm f2.8G review.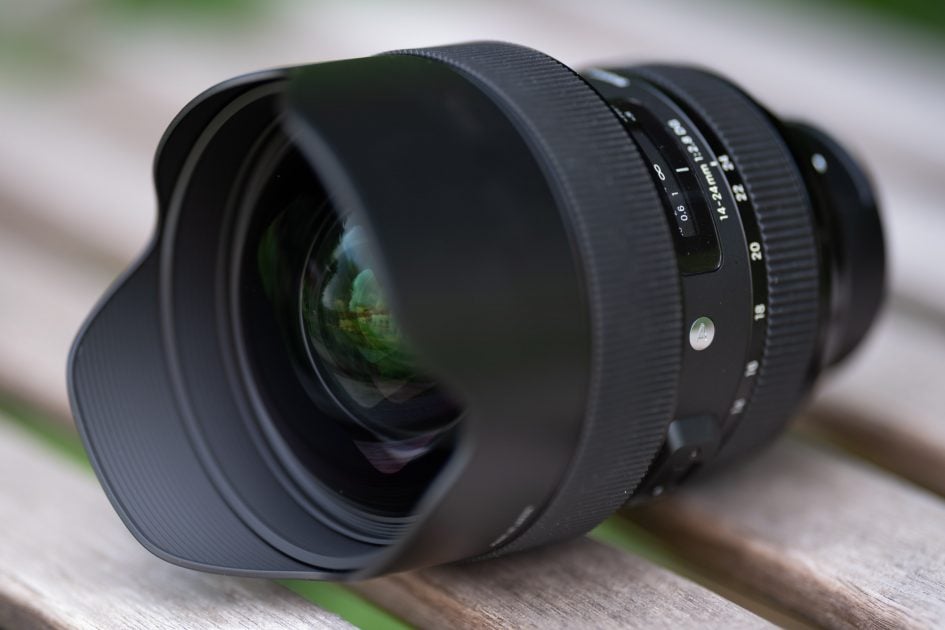 Sigma 14-24mm f2.8 Art final verdict
The Sigma 14-24mm f2.8 Art is one of the best ultra-wide angle zoom lenses around. It can produce some of the sharpest, least distorted images I've seen but you have to stop down on the short end to reduce the effect of astigmatism and field curvature (at least on my copy). It comes with the option to adapt the lens to different mounts plus it has a very thorough weather sealing which is not naturally a hallmark of Sigma's "Art"-line. It is large and heavy and does not offer a filter thread but that is par for the course with all ultra-wide large aperture zooms. So the Sigma 14-24mm f2.8 Art deservedly earns a Highly Recommended rating.
Good points:
Can be bitingly sharp even wide open.
Constant f2.8 focal ratio.
Low distortions for such a wide-angle lens.
Very little longitudinal color aberrations.
Very thorough weather sealing.
Quiet and fast AF operation.
Can have the mount changed or fitted to Sony E-Mount via adapter.
Bad points:
Suffers from astigmatism and field curvature at the short end.
Not the cheapest ultra-wide zoom lens.
Very large and heavy.
No filter thread.
Check prices on the Sigma 14-24mm f2.8 Art at Amazon, B&H, Adorama, or Wex. Alternatively get yourself a copy of my In Camera book or treat me to a coffee! Thanks!