Sigma 14-24mm f2.8 ART review
In depth
The Sigma 14-24mm f2.8 Art is an ultra-wide angle zoom lens with a constant f2.8 focal ratio that's designed for full-frame cameras and available in Canon, Nikon and Sigma mounts. It can also be used with Sony E-Mount bodies using Sigma's MC-11 mount converter.
Announced in February 2018 it complements Sigma's earlier 12-24mm f4.0 Art lens from 2016 and goes directly up against other ultra-wide zooms, most notably Nikon's AF-S 14-24mm f2.8, Canon's EF 11-24mm f4, and Tamron's 15-30mm f2.8 VC models. As you would expect from any new Sigma Art lens it is compatible with their USB-dock to fine tune various characteristics of the AF, plus if you change bodies, you can pay to have the mount swapped for your new system. The inclusion of this lens in Sigma's "Art" line indicates a top-notch optical design with a claim of minimal distortion at 1% or less which also brings with it a list-price of 1300 USD / 1450 EUR.
To find out how the new Sigma 14-24mm f2.8 Art performs I tested it against Tamron's 15-30mm f2.8 VC on the demanding D850 body. So if you're shopping for a large aperture full-frame ultra-wide zoom, you've come to the right place!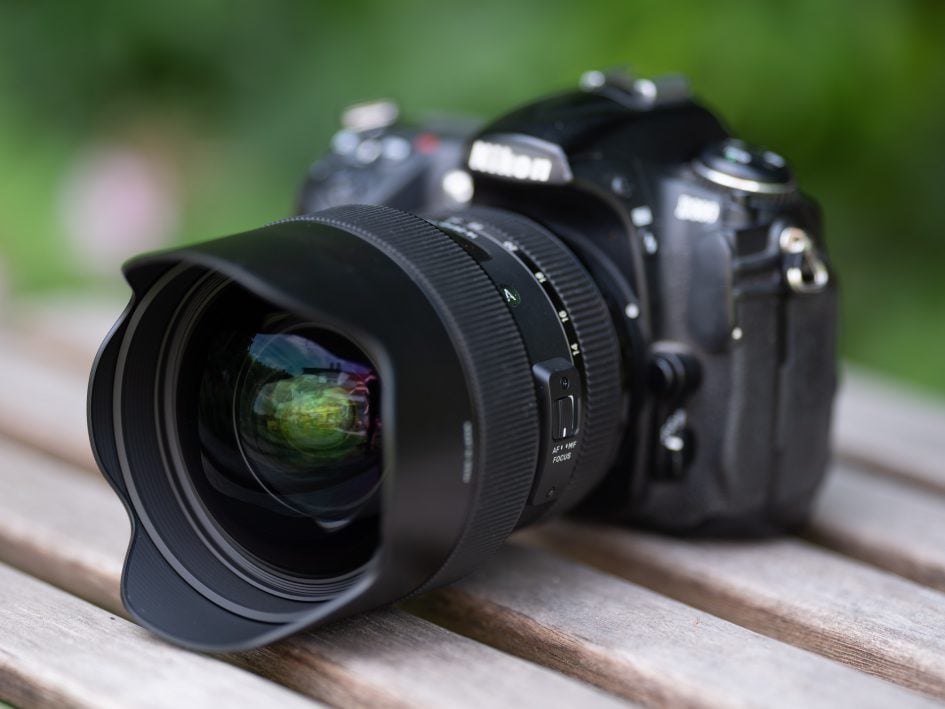 Facts from the catalog
As usual I'll have a look at the technical data of the new Sigma first. I've rated the features with a [+] (or [++]), when it's better than average or even state of the art, a [0] if it's standard or just average, and [-] if there's a disadvantage. For comparison I use the Tamron 15-30mm f2.8 VC ("Tamron" for short) and the Sigma 12-24mm f4.0 Art ("Sigma 12-24").
Size (diameter x length): 96 x 132mm (3.8 x 5.2in.) including the built-in lens hood. Zooming does not change the total length of the lens although the front lens-group moves out when zooming to 14mm focal length (see following image). The Tamron is 98 x 143mm, the Sigma 12-24 is 102 x 130mm. So all lenses in this league are pretty bulky. [0]

Weight: 1122g (39.6 oz.). The Tamron is 1052g and the Sigma 12-24 weighs 1130g. [0]
Optics: 17 elements (including 6 special dispersion and 3 aspherical elements) in 11 groups vs. 18/13 for the Tamron and 16/11 for the Sigma 12-24. Sigma employs fluorine coating on the front of its new lens to repel water, dust, and dirt and should make for easier cleaning. [+]

Closest focus distance is 0.26m (10.2 in.) with a magnification of 1:5.4 at 24mm focal length. In my test I was able to get down to 1:4.8 at 0.24m with manual focus just like with the Sigma 12-24. The magnification of the new Sigma is quite good but you have only 6cm (2.5 in.) of working distance at minimum focus distance. A magnification of 1:10 is achieved at 0.36m giving a working distance of 0.18m. The Tamron achieves a maximum of 1:4.4 magnification at 0.28m distance and 30mm focal length in manual focus. [0]
Filter-thread: None of the ultra-wide angle zooms from Sigma, Tamron, Nikon or Canon offer a filter-thread. Their bulbous front elements prevent that. So you need to get some non-standard mounting system and a new set of filters. There might be a chance to fit Sigma's rear filter holder RFH-11 for the Sigma 14mm f1.8 Art to the lens – but that seems to be for the Canon version only. Better try/ask before you buy! [-]
Image stabilization: No. The only ultra-wide angle zoom that offers optical image stabilization is the Tamron. [0]
Auto focus: HSM (Hyper Sonic Motor), so it also works on camera bodies which don't have an AF-drive built in like Nikon's D3x00/5×00. Manual-focus override is by simply turning the focus ring. Same with the competition. But the new Sigma allows you to alter focus fine-tuning at four focal lengths and four distances with the USB-dock. [+]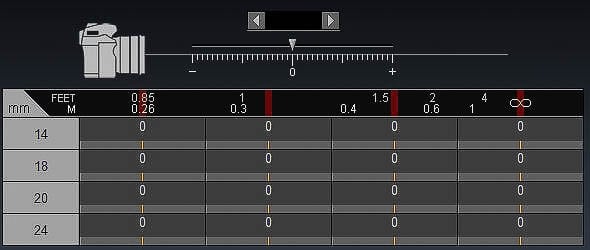 Covers full frame/FX or smaller = very good. Same with the competition. [+]
Price: around 1450 EUR (incl. 19% VAT) / 1300 USD. The Tamron goes for 950 EUR / 1100 USD and the Sigma 12-24 for around 1450 EUR / 1600 USD. [0]
Comes with a nice semi soft lens-case plus strap. Like most ultra-wide lenses, the Sigma 14-24mm f2.8 ART has a built-in petal hood, but uniquely it can be converted by Sigma to a shorter rounded design to prevent or minimize issues with shadows or other lenses in multi-camera VR environments. The lens hood cannot be removed by the user which is less practical for cleaning the bulbous front element. Another slight disadvantage is that the front lens-cap does not securely arrest in place when mounted: it may fit tighter than similar hoods from Nikon or Tamron but can still work itself off when it rubs against your clothes. Samyang has shown with the 12mm f2.8 fisheye that you still can built a proper locking mechanism for this type of lens-cap. Samyang also has a detachable lens hood which makes it far easier to clean the outer parts of the front element. So this is something the other manufacturers should think about. [0]
Distance information is relayed to the camera, so the camera and flashes can do all the advanced exposure-related stuff with this lens. Same for the competition. The Canon version of the lens is also compatible with the lens aberration corrections available in recent bodies to compensate for vignetting, chromatic aberrations and distortion. [+]
Sigma's  service can change the mount of the lens between Nikon, Canon or Sigma (at a cost). Plus you can also buy Sigma's MC-11 Mount Converter for 250 EUR/USD to put the lens on a Sony E-Mount body (only available for adaptation of Sigma lenses with Sigma or Canon mount, not Nikon mount). These are unique feature that no other manufacturer offers. [++]
Aperture ring: no, same as with the competition. The aperture is actuated electromagnetically in the Nikon-version too which makes it the equivalent of a modern E-type Nikon lens and puts away with the mechanical coupling that Nikon uses on all older lenses. [0]
Sealing: yes, a rubber grommet at the lens-mount plus further special weather-sealing throughout the construction. [+]
The score in the "features-department" is 1[-]/7[0]/7[+]. So the lens is well-featured with the unique option to get the lens-mount swapped or use an adapter for Sony's E-Mount which no other manufacturer offers. The only real downside is the need for special filters.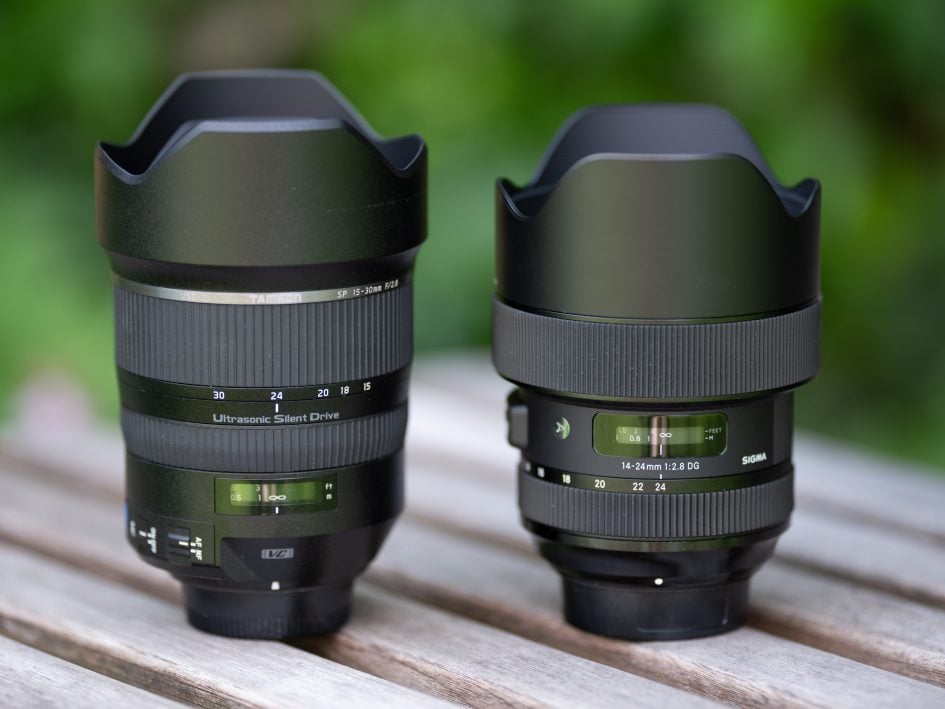 Alternatives:
Here is the angle of view that the new Sigma 14-24mm covers with its 1.7x zoom:

Following is the coverage of the Tamron 15-30mm zoom. This is what the missing 1mm at the short end and the additional 6mm at the long end look like:

Focus and zoom
Focus accuracy and repeatability is critical to consistently produce sharp shots. Repeatability (the accuracy of focus on the same subject after repeated focus-acquisition in phase detect mode) of this lens at standard settings and 24mm focal length is pretty good (measured 97.8% in Reikan FoCal) with no real outliers over a series of 40 shots. There is a higher focus variation when the lens focuses from a closer distance towards a more distant target. This led to some shots being not optimally focused. At 24mm focal length the lens focuses without hunting in around 0.35sec from infinity to 0.36m, which is very fast, faster than the Sigma 12-24. The Tamron is of similar speed, has a better repeatability of 99.5%, and also produced no outliers in 40 shots under the same test conditions.
The focus ring has no slack/play between its movement and the focus-action and a throw of 110 degrees. Its rubberized surface is 22mm wide. The zoom ring turns through 80 degrees and has a 12mm wide rubber surface which is pretty slim especially considering its stiffness. The focus rings turns easier and can be operated with one finger. Both rings turn in the same direction as Canon users are used to but this is the complete reverse of what Nikon does. The focus ring is at the front and the zoom ring closer to the camera. I would have liked the zoom ring to be further away from the body as it is pretty close to the protruding nose where some camera bodies have their built-in flash. Personally I prefer having the zoom ring at the front which is what the Tamron offers.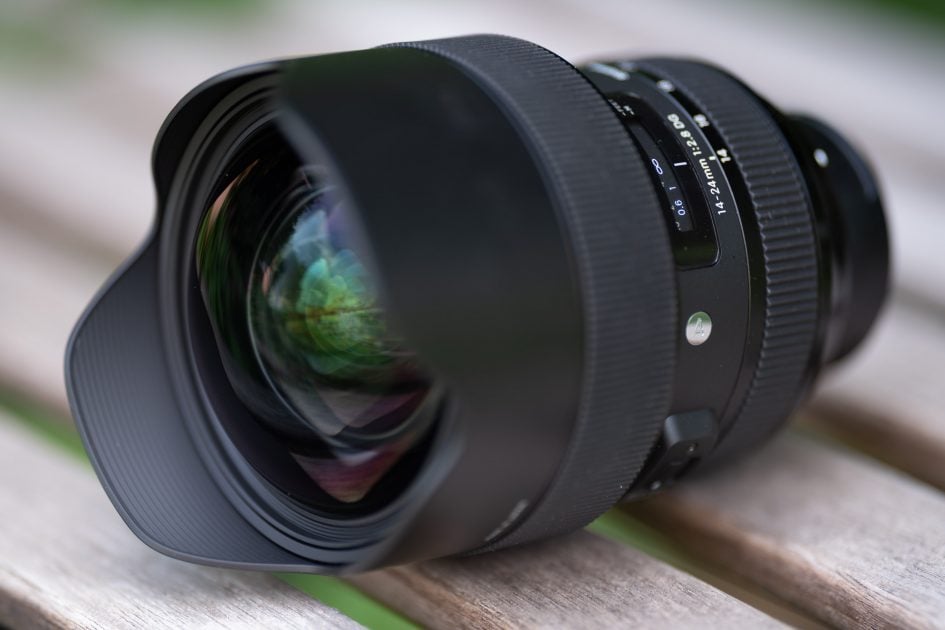 AF-operation is barely audible from the outside, and if you record video with the built-in microphone the AF-drive produces almost no noise while moving with only soft clicks at the start or stop of focus-movements.

As you pull focus, you'll notice some focus breathing: the image becomes less magnified at closer focusing distances. When I adjusted the focus from infinity to 0.36m on the Sigma at 24mm focal length, I measured a 3% decrease in magnification. The Tamron 15-30mm f2.8 VC shows a similar effect. So both lenses should not produce disturbing focus breathing when recording video. Very good!

Next check out my quality results!

Check prices on the Sigma 14-24mm f2.8 Art at Amazon, B&H, Adorama, or Wex. Alternatively get yourself a copy of my In Camera book or treat me to a coffee! Thanks!