Sigma 135mm f1.8 Art review - Verdict
Verdict
The Sigma 135mm f1.8 Art is an excellent lens. It delivers beautiful-looking images with very attractive Bokeh, only minor longitudinal color aberrations, plus very good contrast and sharpness across the full-frame sensor, even with the aperture fully opened to f1.8. Plus it's currently the only widely available f1.8 135mm lens for Canon / Nikon full-frame bodies. Its performance coupled with the build-quality of Sigma's Art line of lenses, its adaptability to different lens mounts, and its fast AF makes for a compelling package. But at 1400 USD / 1480 EUR it's not exactly cheap so before you buy let's consider the downsides of this lens.
Size and weight: Big and heavy large aperture primes seem to be the norm these days – at least for full-frame bodies. And the new Sigma belongs right there with the other heavy-weights like the Otus 85mm f1.4 or the Sigma 85mm f1.4 Art: they are all around 1.2kg (including lens hood). Only the elusive Mitakon 135mm f1.4 is even bigger and heavier.
No image stabilization: Stabilized mid-length telephoto lenses are gaining in importance. With high resolution full-frame sensors reaching 50MP as well as 24MP APS-C/DX sensors it is increasingly hard to achieve really sharp shots devoid of (micro-)blur. The old 1/focal-length rule for shutter-speeds that are on the safe side no longer applies for the pixel-densities of modern sensors: today we're more talking about using 1/250 sec on an unstabilized lens of 135mm focal length. But Tamron has proven that you can build large aperture primes with image stabilization and not compromise image quality. Would be nice to see others follow suit.
Let's see how the new lens compares to some alternatives.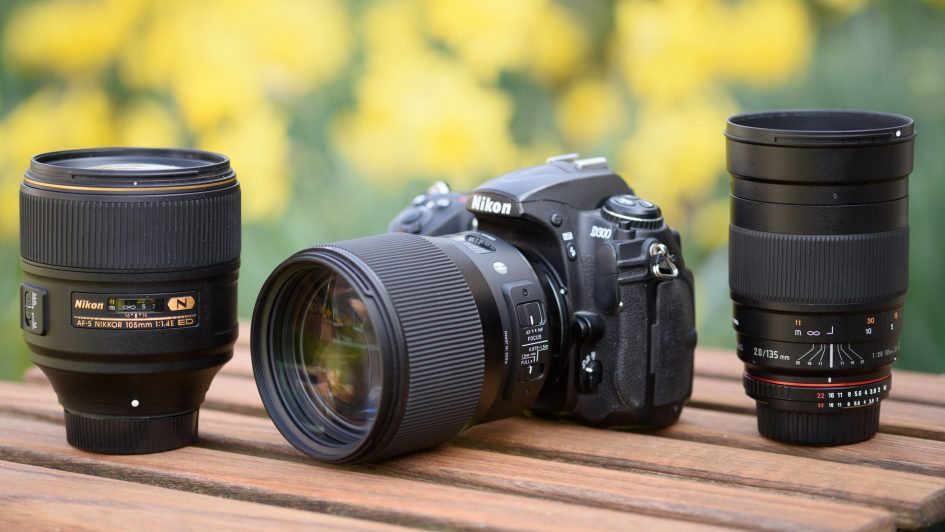 Compared to Nikon 105mm f1.4E
Nikon endowed their longest f1.4 prime with very good image quality: Easy to focus, sharp across the full-frame sensor, and with only little CA. You can easily use this lens wide open and get sharp and contrasty shots right into the corners of a high resolution full-frame sensor. As such its optical performance is almost up there with the Zeiss 85mm f1.4 Otus and it delivers better Bokeh. Compared to the Sigma 135mm f1.8 Art it is shorter and 150g lighter. Its 2/3 larger focal ratio lets you shoot at shorter shutter speeds which combined with the 22% shorter focal length gives you a bit better hand-holding power under low light. You might also find its wider angle of view a bit more accommodating in tight spaces such as a smaller studio. It's 50% more expensive than the new Sigma but all-in-all the Nikon 105mm f1.4E ED earned a Highly Recommended.
For more details see my Nikon 105mm f1.4E ED review.
Compared to Samyang 135mm f2.0 ED UMC
Samyang did an astounding feat when they designed their version of a 135mm f2.0 lens: It's a tad less sharp than the Sigma in the center but has the sharper FF/FX-corner. It also has very little longitudinal CAs plus it produces a similarly good Bokeh in the background. And at only 500 EUR it is so much cheaper, you'll ask yourself how Samyang managed to squeeze this image quality out of the lens. Well: It is manual focus only and the plasticky feeling of the lens is a real let-down. So if you don't want to fiddle with manual focus or want a more robust build quality, the new Sigma would be the better choice. But other than that the Samyang again proved its worth against strongest competition and clearly earned a Highly Recommended.
For more details see my Samyang 135mm f2.0 ED UMC review.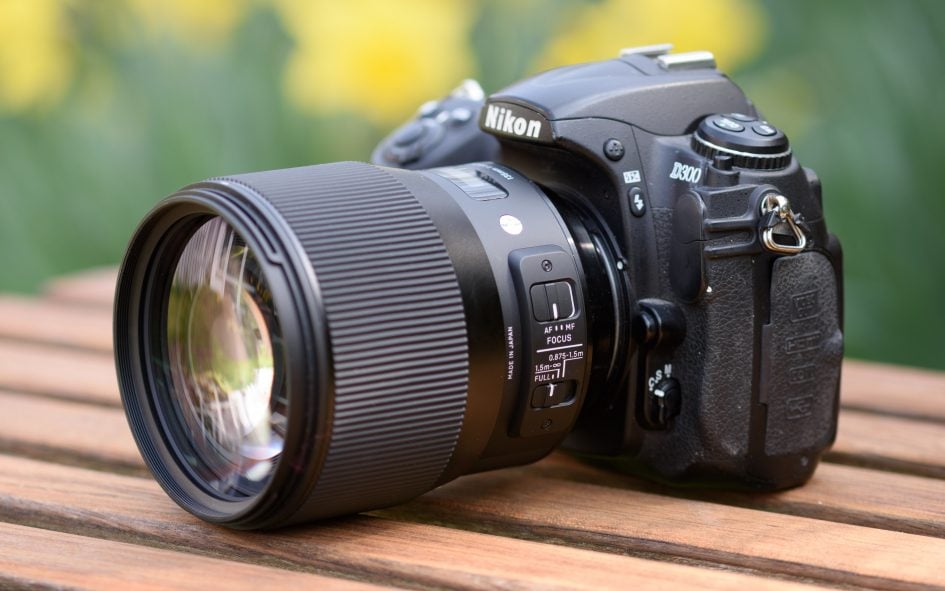 Sigma 135mm f1.8 Art final verdict
I think this lens is Sigma's best yet in their Art line: extra sharp, with only minor color aberrations and a beautiful bokeh. Plus it's the only f1.8 135mm lens you can get for your Canon or Nikon DSLR. It might be on the large and heavy side, has no image stabilization, and it definitively is not cheap but all-in-all the Sigma 135mm f1.8 Art earns a Highly Recommended.
Below I have listed the good and bad points of the Sigma 135mm f/1.8 Art for you. An extensive set of my shots with this lens in full resolution can be found here.
Good points:
Unique combination of f1.8 focal ratio and 135mm length.
Excellent sharpness and contrast across full-frame sensor even wide open.
Only little longitudinal CA.
Fast AF.
Bad points:
High price.
Large and heavy.
No image stabilization.
Resistance against flare/glare/ghosting could be better
Check prices on the Sigma 135mm f1.8 ART at Amazon, B&H, Adorama, or Wex. Alternatively get yourself a copy of my In Camera book or treat me to a coffee! Thanks!