Sigma 12-24mm f4 Art review - Verdict
Verdict
The new Sigma Art AF 12-24/4.0 DG HSM is a worthy successor to Sigma's AF 12-24mm 4.5-5.6 II DG HSM model from 2011. Optical performance is very good and other aspects of the lens are also improved: The focal ratio is now a constant f4.0, AF is faster, and you get compatibility with Sigma's USB dock to fine tune various characteristics of AF plus the option to swap the lens mount should you change your camera system.
What are the downsides? Mainly three things: At 1600 USD / EUR it's quite expensive and it's also a very large and heavy lens. And it does not offer a filter-thread.
Let's see how the new lens compares to some alternatives.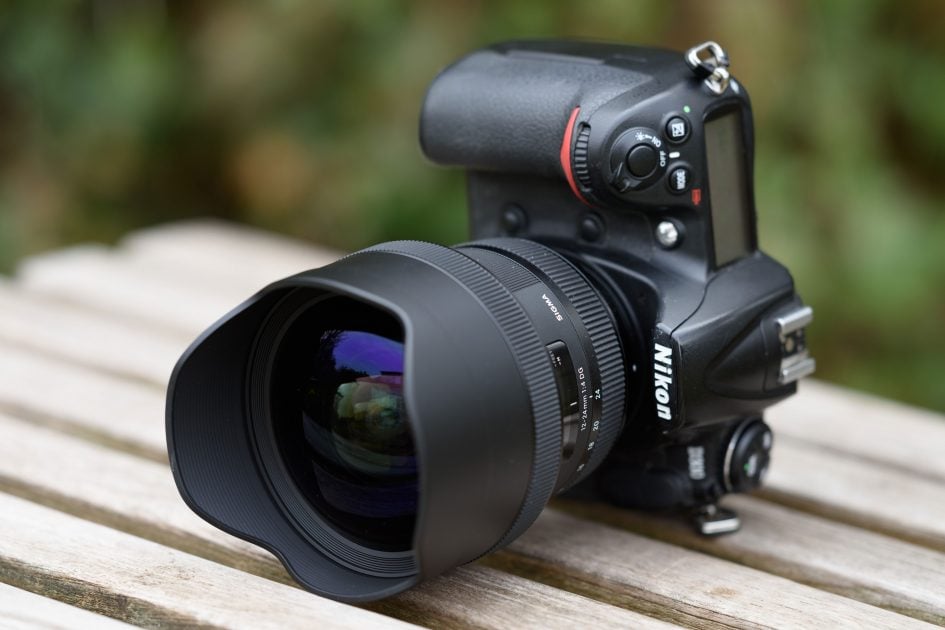 Compared to Tamron SP 15-30mm f/2.8 VC
When Tamron's stabilized 15-30mm zoom came out in 2015 it was the first to beat the Nikon 14-24/2.8G from 2007 in image quality and price. Compared to the new Sigma it offers a constant f2.8 aperture and a very good image stabilization. Both features give you an advantage of 3-4 stops over the Sigma. The Tamron also has the faster and more reliable AF operation, a cheaper price, and reaches up to 30mm focal length. But it does not let you get down to the 12mm focal length of the Sigma which gives you an angle of view of 122 degrees. And although optically both lenses perform pretty similarly the Sigma has the additional advantage of producing less distortions at the wide end. But the most important question is: Would you miss the 3mm at the short end? It depends on the subjects you're shooting: In architecture and landscape shooting you often don't have a chance to step back 25% to compensate for the tighter angle of view that the Tamron has (110 degrees). So if you seriously need the shortest focal length get the Sigma. But I found the Tamron all-in-all the more versatile lens for my photography.
See my Tamron SP 15-30mm f2.8 VC review for more details.
Compared to Nikon 14-24mm f2.8G ED
The 14-24/2.8G ED is the best ultra wide-angle zoom from Nikon and was the reference lens in this category of all DSLR systems for years. It offers a one stop larger focal ratio than the new Sigma but goes only down to 14mm at the short end offering an angle of view of 114 degrees. Optically it's almost as good as the new Sigma but with clearly higher distortions at the short end. The handling of the Nikon appeals more to me: although the zoom ring is behind the focus ring it's much broader and easier to turn than on the Sigma. And you don't accidentally pinch your thumb between the zoom ring and the flash nose of the body. As both lenses have a similar price tag you have to decide whether you need the faster zoom (which is the Nikon) or the wider zoom (which is the Sigma).
See my Nikon 14-24/2.8G review for more details.
Sigma 12-24mm f/4.0 Art final verdict
Sigma's new 12-24/4.0 zoom is a very competent lens: Its optical performance is up there with the reference zoom from Tamron, it has only minor distortions and finally offers a constant f4.0 focal ratio – although f2.8 would have been even nicer. Most importantly it goes down to 12mm focal length offering a whopping 122 degrees angle of view which is only surpassed by Canon's 11-24mm f4.0 lens at almost twice the price. So although the new Sigma is not exactly cheap it earns a Highly Recommended rating.
Good points:
Very good quality over 36Mp full-frame, even wide open.
Constant f/4.0 focal ratio.
Very low distortion for such a wide-angle lens.
Weather sealing.
Quiet and fast AF operation.
Bad points:
100% more expensive than predecessor.
Very large and heavy.
No filter thread.
Focusing had to be adjusted with USB-dock.

Check prices on the Sigma 12-24mm f4 ART at Amazon, B&H, Adorama, or Alternatively get yourself a copy of my In Camera book or treat me to a coffee! Thanks!