Sigma 105mm f1.4 Art review
Verdict
The Sigma 105mm f1.4 Art is an excellent lens. It delivers beautiful-looking images with the best Bokeh I've seen so far. It has very good contrast and sharpness across the full-frame sensor, even with the aperture fully opened to f1.4. Plus it's cheaper than the Nikon 105mm f1.4 and currently the only available f1.4 105mm lens for Canon or Sony full-frame bodies. This performance coupled with the build-quality of Sigma's Art line of lenses, its adaptability to different lens mounts, and its fast AF makes for a compelling package. But at 1400 USD / 1500 EUR it's still a serious investment so before you buy let's consider the downsides of this lens.
Size and weight: Big and heavy large aperture primes seem to be the norm these days – at least for full-frame bodies. But the Sigma 105mm f1.4 sets a new record here with a total weight of over 1.7 kg (including tripod collar). Only the elusive Mitakon 135mm f1.4 is even bigger and heavier. And the large front element means you need to get 105mm diameter filters to use with this lens.
No image stabilization: Stabilized mid-length telephoto lenses are gaining in importance. With high resolution full-frame sensors reaching 50MP as well as 24MP APS-C/DX sensors it is increasingly hard to achieve really sharp shots devoid of (micro-)blur. The old 1/focal-length rule for shutter-speeds that are on the safe side no longer applies for the pixel-densities of modern sensors: today we're more talking about using 1/200 sec on an unstabilized lens of 105mm focal length. But Canon and Tamron have proven you can build large aperture primes with image stabilization and not compromise image quality. It would be nice to see others follow suit, but as it stands at the time of writing, the Sigma 105mm f1.4 ART will only become stabilised when mounted on a Sony mirrorless body with built-in SteadyShot.
And there is a bit more flare/glare than I would have liked. So you have to watch out a bit for bright light sources in high contrast contra-light situations.
Let's see how the new lens compares to some alternatives.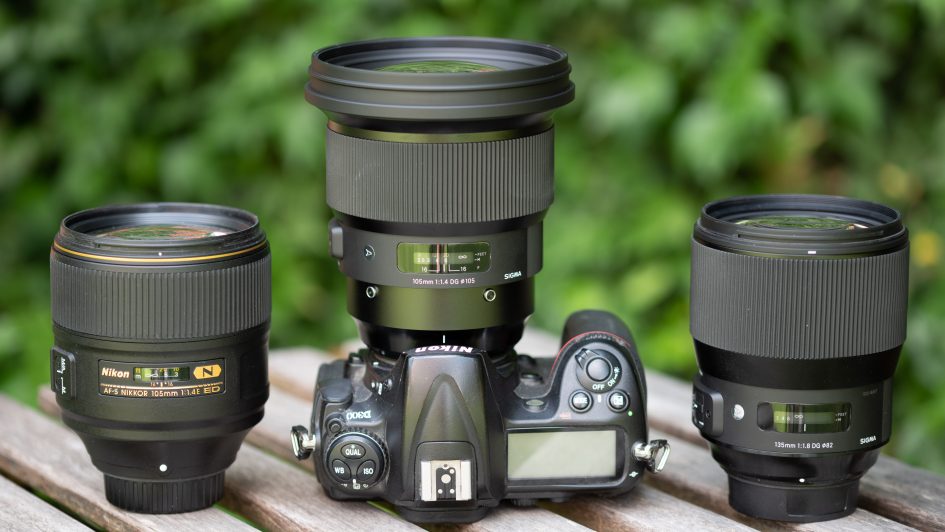 Compared to Nikon 105mm f1.4E
Nikon endowed their longest f1.4 prime with very good image quality: Easy to focus, sharp across the full-frame sensor, and with only little CA. You can easily use this lens wide open and get sharp and contrasty shots right into the corners of a high resolution full-frame sensor. Still its optical performance is not quite up there with Sigma's newest lens. But it has the benefit of a slighter build, needs only 82mm filters, and is 35% lighter than the new Sigma which is quite noticeable when you carry the lens all day. Plus it is somewhat less prone to flare and glare in certain situations. So although it's more expensive than the new Sigma the Nikon 105mm f1.4E ED still earns itself a Highly Recommended.
For more details see my Nikon 105mm f1.4E ED review.
Compared to Sigma 135mm f1.8 Art
I think the 135mm f1.8 Art is Sigma's best in their Art line: extra sharp, with only minor color aberrations, beautiful Bokeh, and fast AF. Plus it's the only f1.8 135mm lens you can get for your Canon or Nikon cameras. It's also slimmer and 400g lighter than it's younger sibling, uses 82mm filters, and offers a very nice maximum magnification of 1:4.6. So the Sigma 135mm f1.8 Art deservedly earned a Highly Recommended. Just keep in mind that it has 30% more reach and a smaller focal ratio (2/3 of a stop) compared to the Sigma 105mm f1.4 Art.
For more details see my Sigma 135mm f1.8 Art review.
Compared to Zeiss 85mm f1.4 Otus
Four years ago Zeiss produced a large aperture prime that still is at the top of its game even with the latest 50MP full frame bodies: Sharpness, contrast, resistance against contra light, coma, loCA, purple fringing, Bokeh are all on a very good to exceptional level even at f1.4. This is a lens that you can use wide open with little to no compromise in optical performance and in that it is a unique short telephoto lens. It produces clearer shots than with any other 85mm lens I've seen. Plus there is its exceptional build: This lens exudes quality in every aspect of its physical presence that even a Sigma Art lens cannot reach. So optical plus mechanical quality make for a very compelling package. The only let-down being that it's a manual focus only lens and its price is eye-watering. Still the Zeiss 85mm f1.4 Otus has well earned a Highly Recommended. But you lose 20% reach with this 85mm lens as compared to 105mm focal length.
For more details see my Zeiss 85mm f1.4 Otus review.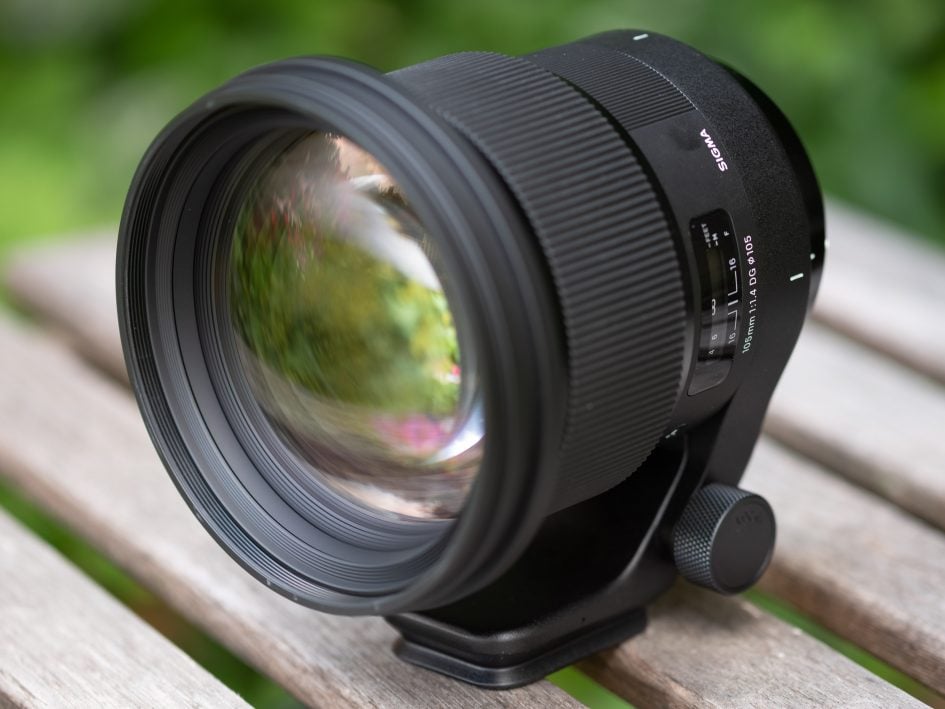 Sigma 105mm f1.4 Art final verdict
With the 105mm f1.4 ART, Sigma has produced one of their finest lenses in their acclaimed Art line: it's extra sharp and has the most beautiful Bokeh I've ever seen. Plus it's the only f1.4 105mm lens you can get for your Canon DSLR or Sony mirrorless camera. It might be on the large and very heavy side and has no optical stabilization but its optical performance makes the new Sigma replace the Nikon 105mm f1.4E as the reference large aperture 105mm lens. Thus the Sigma 105mm f1.4 Art easily earns a Highly Recommended.
Below I have listed the good and bad points of the Sigma 105mm f/1.4 Art for you. An extensive set of my shots with this lens in full resolution can be found here.
Good points:
Attractive combination of f1.4 focal ratio and 105mm length.
Excellent sharpness and contrast across full-frame sensor even wide open.
Best Bokeh I've seen so far.
Fast AF.
Can have the mount changed
Versatile customization of AF via USB-dock.
Bad points:
Large and very heavy.
No image stabilization.
Resistance against flare/glare/ghosting could be better.
Check prices on the Sigma 105mm f1.4 Art at Amazon, B&H, Adorama, or Wex. Alternatively get yourself a copy of my In Camera book or treat me to a coffee! Thanks!