Sigma 100-400mm f5-6.3 OS review - Verdict
Verdict
The Sigma 100-400mm f5-6.3 OS is a very interesting lens for people looking for an affordable small and light long telephoto zoom. For only 900 EUR / 800 USD Sigma built a lens that delivers sharp and contrasty images with only minor color aberrations across the full-frame sensor, and that weighs only 1.2kg / 42oz and measures 24cm / 9.4in (including lens hood). Its performance coupled with its adaptability to different lens mounts and the multitude of customizing AF and OS via the USB-dock make for a compelling package. But there are also downsides to this lens: there's no tripod collar so you need to mount the tripod at the camera body, and the OS is not very effective at 400mm with shutter speeds around 1/100 sec and 1/50 sec.
Let's see how the new lens compares to the alternative from Nikon.
Compared to Nikon 80-400mm f4.5-5.6G VR
Nikon 80-400mm f4.5-5.6G VR endowed their 5x gold-ringed telephoto zoom with very good image quality: Easy to focus, sharp across the full-frame sensor, and with only little CA. It becomes a bit softer at the long end with a slight weakness at 300mm but still delivers pretty high resolution. Its 1/3 larger focal ratio should not be overrated regarding light gathering power, but it makes the Nikon clearly larger and heavier than the new Sigma: Compared to the Sigma 100-400mm f5-6.3 OS the Nikon is almost 5cm longer (with lens hood attached) and 350g heavier (without tripod collar). The major benefit of the Nikon is its 5x zoom range: it is 20% shorter at the wide end which might help you frame the shot when a subject gets too close or you are in a tight place. The Nikon also has the advantage of a tripod collar which lets you mount this 1.6 kg lens with more confidence albeit the tripod collar is not the stiffest construction and occasionally lets mirror-/shutter-slap through. But still: its VR image stabilization is worth 3 stops at 400mm and thus gives much better support when shooting hand-held at speeds around 1/100 sec and 1/50 sec. It's 2.5x more expensive than the new Sigma but all-in-all the Nikon 80-400/4.5-5.6G VR earned a Highly Recommended.
For more details see my Nikon 80-400mm f4.5-5.6G VR review.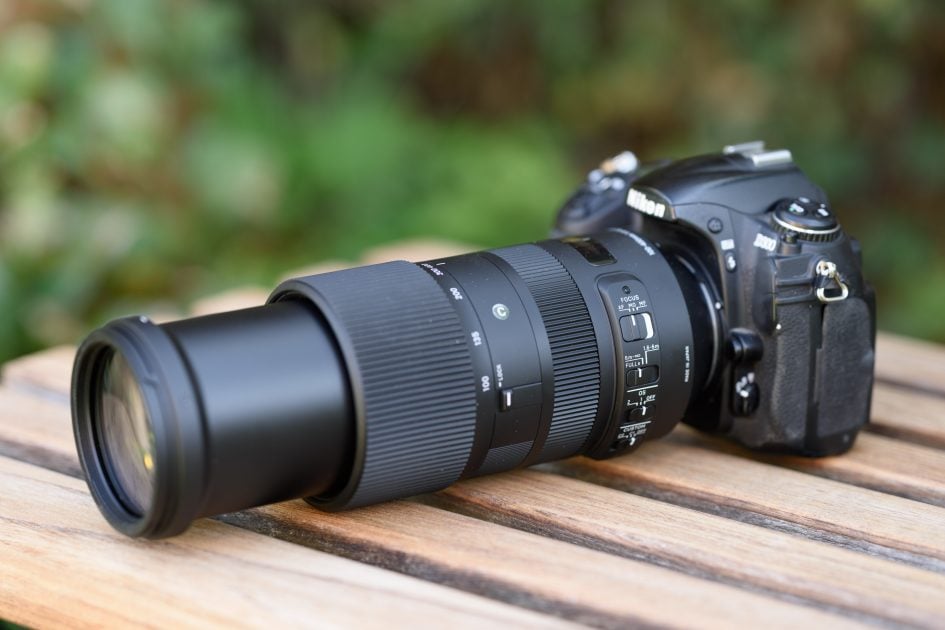 Sigma 100-400/5-6.3 OS final verdict
If you like small and light, have a limited budget, and need the reach of a 400mm telephoto zoom, the new Sigma is your best choice: it is the cheapest, smallest and lightest modern zoom reaching 400mm that is sharp and has only minor color aberrations. Its biggest let-down is the missing tripod collar and most importantly the disappointing OS performance: it is not very effective around 1/100 sec and 1/50 sec which is a critical range of shutter speeds for such a lens. But all-in-all the Sigma 100-400mm f5-6.3 OS certainly earns a recommendation.
Good points:
Small and light.
Very good sharpness and contrast across full-frame sensor even wide open.
Versatile customization of AF and OS via USB-dock.
Low price.
Bad points:
Resistance against flare/glare/ghosting could be better.
No tripod collar.
Image stabilization at 400mm not very effective around 1/100 sec and 1/50 sec.
Check prices on the Sigma 100-400mm OS at Amazon, B&H, Adorama, or Wex. Alternatively get yourself a copy of my In Camera book or treat me to a coffee! Thanks!