SanDisk Extreme Portable SSD review
The SanDisk Extreme Portable SSD is a rugged, pocket-sized drive that connects to new and old USB ports and exploits the size, speed and robustness of solid state storage. It works with Macs and PCs and is available in four models from 250GB to 2TB. I tested the smallest 250GB model, although the performance is essentially the same across all four. At the time I made this review, the 500GB model cost only a little more than the 250GB one at around 99 pounds or dollars, but the 1TB version worked out the best value at around 179 pounds or dollars; I have links to compare the latest prices below.

Portable drives are invaluable for backing-up your data, transferring large files or collections, or simply freeing-up space on a full computer so you can get on with your project. I've long-used a collection of portable drives with traditional mechanical hard disks inside as they offer high capacities at a low price. The Western Digital My Passport 4TB for example costs roughly the same as the 500GB SanDisk Extreme Portable SSD, but gives you around eight times more storage for your money. If you simply want to carry round the most data at the lowest price, you can't beat a hard disk.

But while SSDs are more expensive than hard disks, they offer a number of important benefits. Most obviously they're much smaller and lighter, with the SanDisk Extreme Portable SSD able to fit discreetly into almost any pocket. Secondly with an absence of moving parts, they're more robust and better-equipped to handle knocks or small drops. Third, they're much faster, typically two to four times quicker depending on the task, and when using the latest USB ports. It's the combination of all three factors that makes them more compelling for many jobs and in this review I'll discuss how they fit into my workflow as a photographer and video editor.

Check prices on the SanDisk Extreme Portable SSD at Amazon, B&H or Adorama, or at Amazon.co.uk Alternatively get yourself a copy of my In Camera book or treat me to a coffee! Thanks!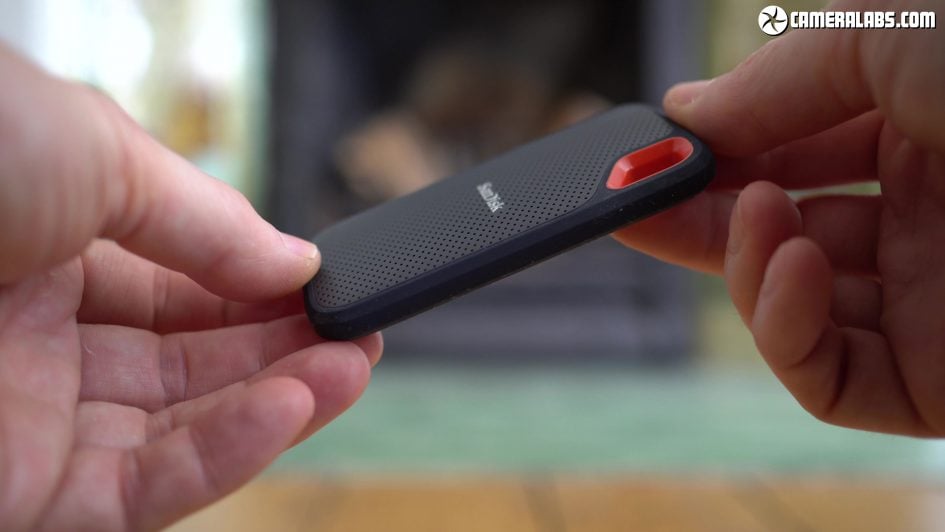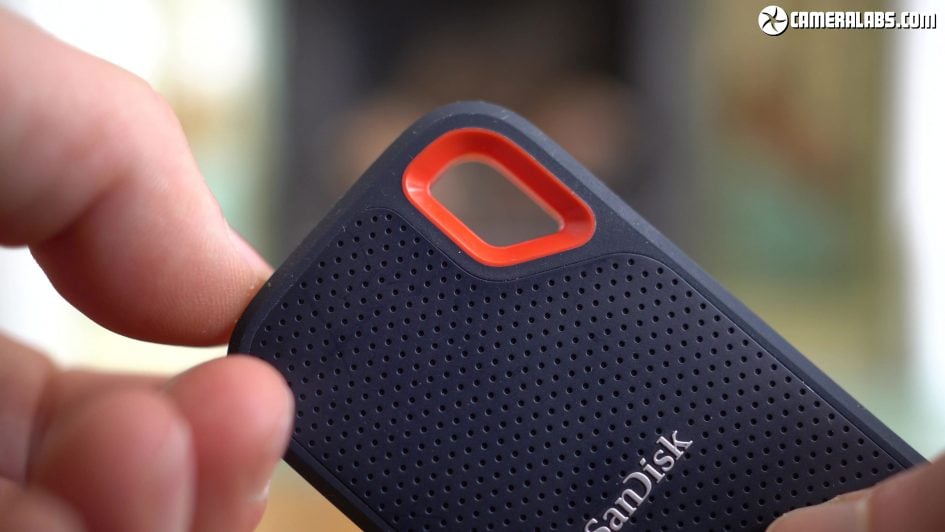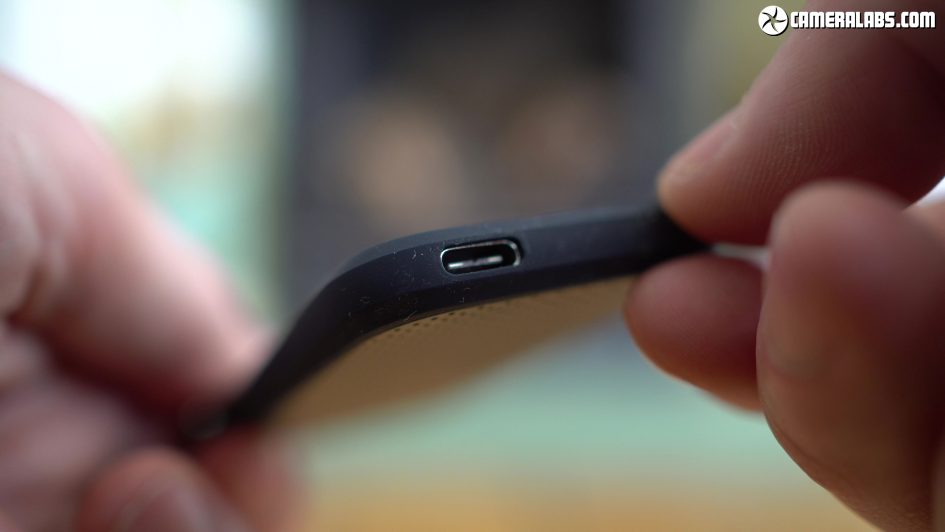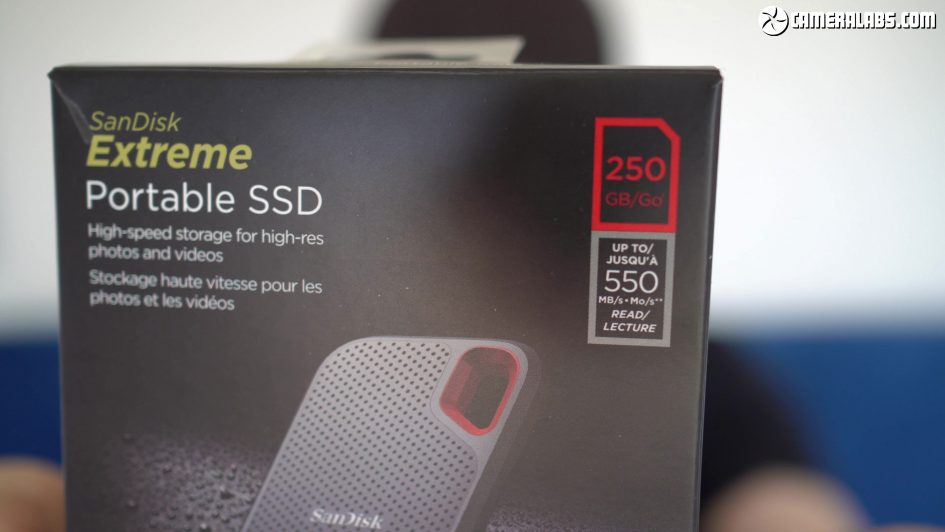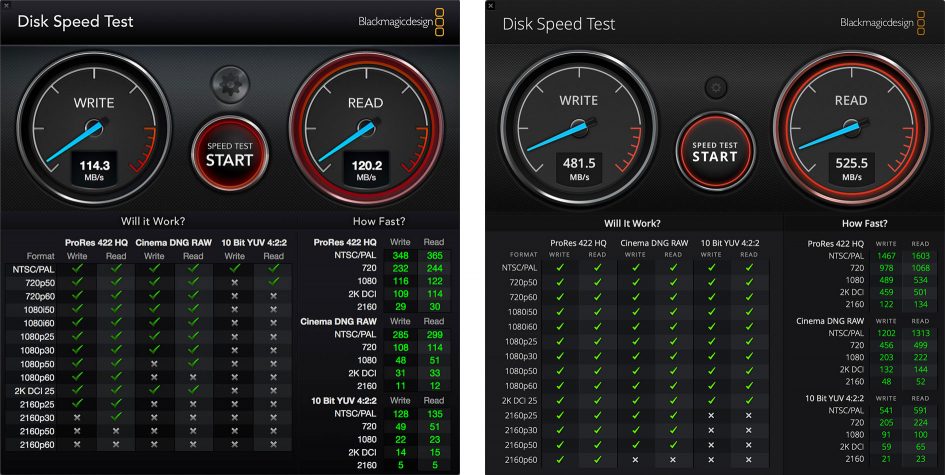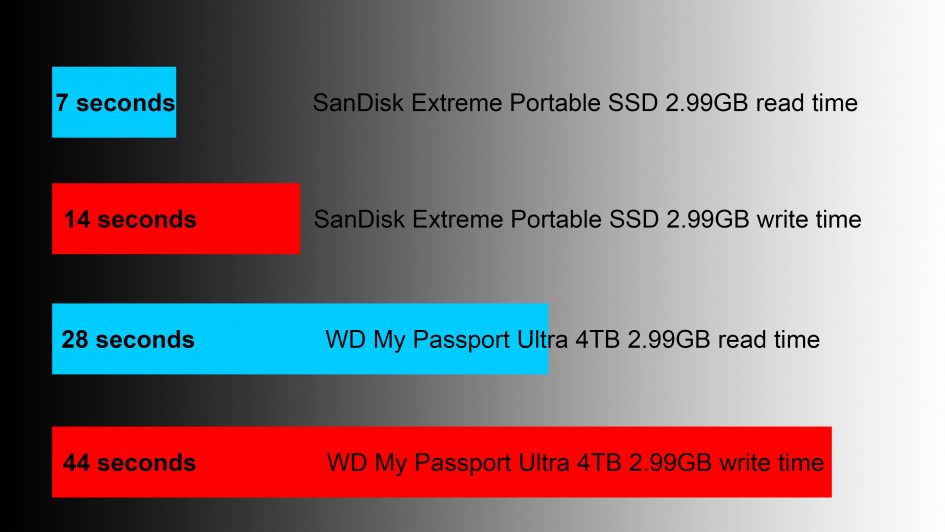 As a photographer, I loved using the Extreme Portable SSD as a quick, compact and robust backup drive. At the end of a day's shooting, I'd copy the card onto my laptop, then duplicate it onto the SSD. I'd then keep the SSD in a separate location to my computer, such as in a hotel safe when I was out with the laptop. The speed of the drive means you'll never neglect performing backups, the size means you'll always have it with you when you need it, and the robustness means you don't need to treat it with kid gloves. I can literally throw it into a bag or slip it in a pocket and not worry.
As a video editor, I often find myself with giant folders of footage quickly consuming the internal drive on my laptop. Previously I'd free-up space by copying projects I wasn't currently working on to portable drives or network storage, but the slow speed meant a huge folder could take so long to copy, it felt more like archiving. But with the SSD I can rapidly transfer huge folders back and forth – a recent 91GB project folder was copied from the drive to my Mac in just under three minutes, again confirming a speed close to 550Mbyte/s. It's so fast it's more like expanding your internal storage than connecting an external drive. I can even work directly from the drive whether it's storing regular assets, an output render or even an entire project. Now the low disk space warning no longer means I'm out of action.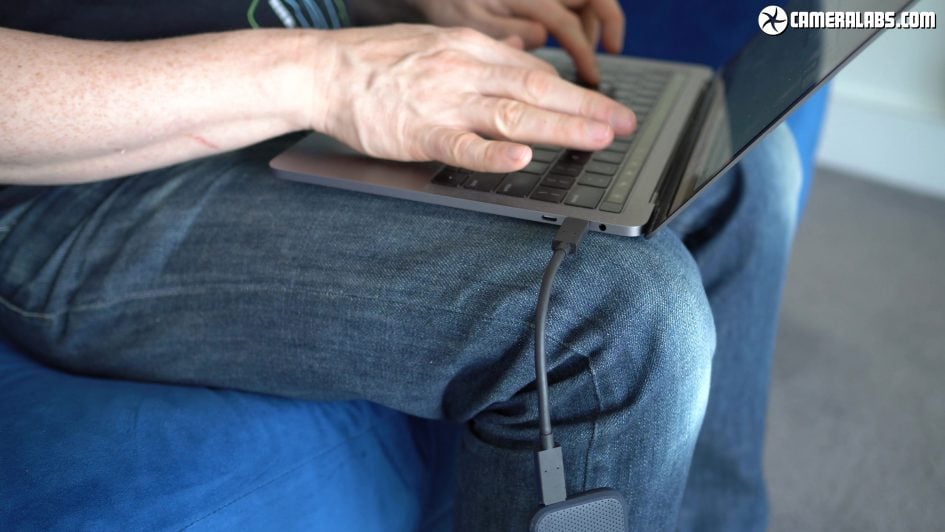 Verdict
Backing up your data, whether it's photos, videos, music or plain old documents, is critically important, and a crucial part of the process is transporting the backup to a different location – after all, fire, flood and theft will rarely take one drive but leave the backup next to it unharmed. This is why portable drives are so useful. They can store and transport a large quantity of data quickly and easily – just one USB cable will transfer the data and power the drive, and once complete, they're small enough to slip into a jacket or even trouser pocket. Their portability also makes them great for providing more storage for laptop owners who have filled their internal drives, but aren't ready for a system upgrade quite yet.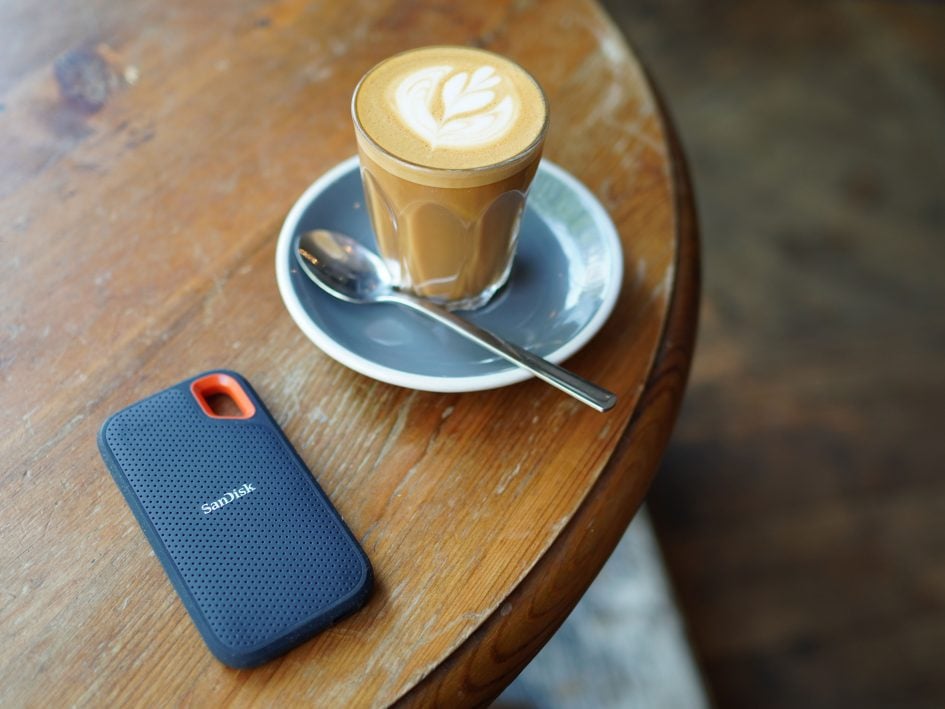 The SanDisk Extreme Portable SSD quickly found itself part of my workflow thanks to its speed, size and robustness, all of which meant I never had an excuse not to use it. In fact when connected to a fast USB C port, it feels more like expanding internal storage than plugging in an external drive; you can quite happily use it as a temporary boost in workspace for a big project rather than just considering it a backup device.

That said, I haven't retired my old slower portable hard drives just yet. My 4TB Passport drives remain in service at home, backing-up larger amounts of data before relocating to different locations, but I no longer travel with them. The more compact, tougher and faster Extreme Portable SSD has become my go-to backup when I'm out and about, not to mention a convenient way to boost the storage on my laptop when working on big video projects. Highly recommended!

Check prices on the SanDisk Extreme Portable SSD at Amazon, B&H or Adorama, or at Amazon.co.uk Alternatively get yourself a copy of my In Camera book or treat me to a coffee! Thanks!