Verdict
The Samyang 24mm f1.4 ED is a mixed bag: It can deliver resolution right up there with the best, it has little coma and low longitudinal CAs plus a smooth Bokeh – albeit with freckled specular highlights. But on the other side it offers no auto-focus and in all but the Nikon version it has no communication with the camera body which prevents modern cameras from doing advanced exposure calculations. Looking closer at the optical performance the lens has pretty low contrast at f1.4 especially in the center and the performance on distant landscapes is not as good as subjects at closer range.
Let's compare the Samyang to the competition to put this all in perspective.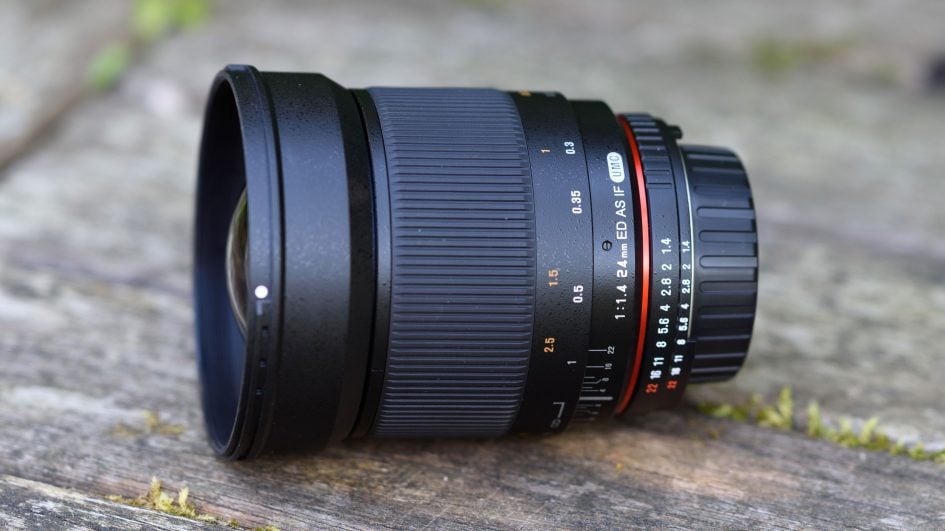 Compared to Sigma 24mm f1.4 "Art"
The Sigma 24/1.4 Art is another winner in Sigma's line-up of wide-angle "Art" lenses. It has better contrast wide open, lower distortions, and better sharpness at long-distance shots – although coma is better controlled with the Samyang. Vignetting and longitudinal CAs is comparable on both lenses. The Sigma also offers a fast and reliable AF (after some tuning with the USB-dock), full data communication including focus-distance with the body, plus its build-quality is in another league from the Samyang – although the Sigma lacks weather sealing too. The only gripe I have with the Sigma is a pronounced dip in DX corner performance at close distances. But other than that the Sigma 24mm f1.4 DG HSM Art plays on a very high level – and it delivers this impressive performance at a price that is only 200 EUR higher than the Samyang. This earned the new Sigma lens our Highly Recommended rating (see my Sigma 24/1.4 Art review) and I'd honestly recommend the Sigma over the Samyang despite its higher price.
Compared to Nikon 24mm f1.4G ED
The Nikon AF-S 24/1.4G ED is a worthy member of Nikon's professional line of f1.4 primes. Wide-open it exhibits a soft degradation of sharpness towards the corners of a full-frame sensor without the pronounced dip at the DX-corners that some more modern designs display. And it needs only little stopping down to produce very good results across a 36MP sensor. It has autofocus, full camera-lens communication, and weather sealing. The Nikon delivers impressive performance and could have an advantage regarding serviceability over the long run which may be a decisive factor for professionals. This, along with the uniform performance earns the "old" Nikon lens a Highly Recommended rating in my Nikon 24/1.4G review, although if you don't need weather-sealing, the Sigma 24mm f1.4 ART delivers excellent results and represents great value.
Compared to Nikon AF-S 24mm f1.8G ED
The Nikon 24/1.8G is perhaps another alternative. It costs 300 EUR more than the Samyang, has autofocus, full camera-lens communication, weather sealing, is smaller and lighter, and performs pretty well. It earned a Recommended in my Nikon 24/1.8G review. Optically the Nikon 24/1.8G has a dip in performance at the borders of the DX image-circle but it still bests the Samyang with much better contrast wide open near and far plus better flare-resistance. It has a two thirds smaller aperture than the Samyang which also results in a weaker Bokeh. All-in-all this would lead me to recommend the Sigma 24/1.4 Art over the Nikon 24/1.8G as an alternative to the Samyang.
Samyang 24mm f1.4 ED AS IF UMC final verdict
The Samyang 24/1.4 ED is the cheapest alternative to get a 24/1.4 full-frame lens. But don't forget that you give up the support of autofocus for the discount. And exact focus is critical for achieving optimal sharpness even at only 24mm focal length and the resulting large(r) depth of field. Plus you have to cope with limited lens to body communication on the Nikon version or none at all on the other versions which cripples some of the more advanced exposure related functions of modern bodies. Is that really worth it? Optically the Samyang is not bad: It has the least coma of all three lenses and produces quite soft Bokeh. At close range its resolution can keep up with the other lenses although at a lower contrast wide open especially in the center. But at infinity it is less sharp than the Sigma or the Nikon, so if you're a landscape or even architectural shooter, be warned. It also shows the strongest distortions of the trio. The lens has its merits but I'd hesitate to recommend it. The Sigma 24mm f1.4 ART is simply a better alternative and worth spending the extra on.
PS – don't forget you can support my work next time you order anything at Amazon, B&H or Adorama by first clicking through to them using the links above and in the sidebar. It works for anything you order at any time – thanks for your support!
Summary
Good points:
Good to very good performance across the frame of a high-resolution full-frame sensor at close range.
Lowest price for a full-frame 24mm f1.4 lens.
Soft Bokeh.
Low coma and loCA.
Bad points:
Low contrast wide open in the center.
Needs stopping down to f5.6 for optimum landscape performance.
No autofocus.
No weather sealing.
Reduced / no communication between lens and body.
Read on, there's much more to this review: use the tabs to visit the other pages which include more in depth information, full quality test results, and sample images!