Samyang AF 35mm f1.4 FE review
Verdict
The Samyang AF 35mm f1.4 FE is a mild wide-angle prime lens for Sony's Alpha mirrorless cameras, offering a bright aperture and autofocus at an affordable price below Sony's existing trio of 35mm lenses. In my tests the Samyang AF 35mm f1.4 FE left a mixed impression: The lens is pretty sharp but suffers from field curvature and the close-up performance needs stopping down to at least f5.6 to look good. Its Bokeh balls are big but the rendering is nervous. Longitudinal color aberrations are low but there's flare and ghosting in contra light. It does not have weather sealing but the lens is pretty cheap. Plus I had issues with focusing: AF performance was less reliable than with the other lenses in this test and manual focus was erratic. That may be individual problems with my copy of the lens but still it left a bad taste. Better make sure your copy's focus performance is up to scratch.
Let's put this into perspective and have a closer look at how the Samyang AF 35mm f1.4 FE compares to some alternatives.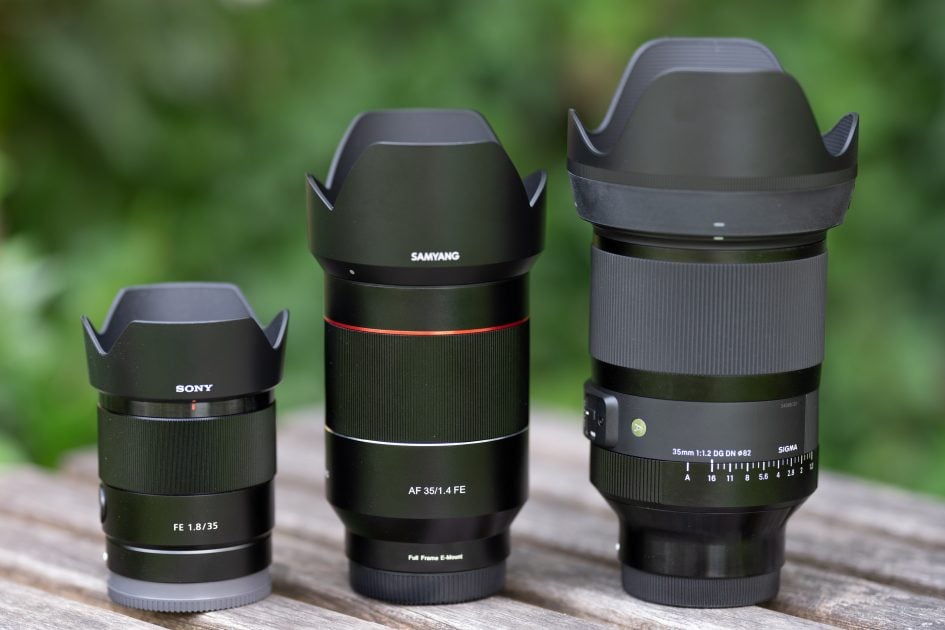 Compared to Sony FE 35mm f1.4 ZA
Optically Sony's FE 35mm f1.4 ZA is pretty close to the Samyang: The Sony has the better Bokeh and close-up performance but the Samyang can be sharper on the full-frame corners and has less loCA and coma. Both lenses are also of similar size and weight. What really distinguishes the Sony from the Samyang is price and features: The Sony is extensively weather sealed and offers a de-clickable aperture-ring for continuous and noise-free operation but it costs almost three times as much as the Samyang. The difference in price probably also reflects differences in build-quality and quality control: My impression was that the Sony is superior in this respect to the Samyang. My problems with focus-performance on the Samyang may be testament to that. So if you lean towards the Samyang to get more bang for the buck over the Sony make sure you get a good copy.
For more details see my Sony FE 35mm f1.4 ZA review where it earned a recommendation.
Compared to Sigma 35mm f1.2 DG DN Art
Sigma's latest 35mm lens has the largest focal ratio of any autofocus full-frame 35mm lens available. That bodes well for a nice Bokeh – and the lens delivers: its Bokeh is probably as good as it gets on a 35mm lens. Add to that the light gathering power that is a half stop ahead of lenses with a focal ratio of f1.4 and an optical performance that is always a bit better and you have the best 35mm I've tested so far. Add in thorough weather sealing with fluorine coating on the front lens, a de-clickable aperture ring, the focus hold button, and a well padded lens case plus strap and you get a well-rounded package that should leave little open to wishes. Unfortunately it is also the largest and heaviest lens compared here. Regarding sharpness the Samyang AF 35mm f1.4 FE is pretty close but its field-curvature prevents it from rendering flat subjects like distant landscapes with the same precision as the Sigma. The Samyang also has the less desirable Bokeh. But then the Samyang costs only one third of the Sigma and is also 400g / 14oz. lighter.
For more details see my Sigma 35mm f1.2 Art review where it earned a Highly Recommended.
Compared to Sony FE 35mm f1.8
The Sony FE 35mm f1.8 is a very good addition to Sony's 35mm full-frame lenses: It surpasses both its 35mm ZA siblings in optical performance but stays small and light, and has a reasonable price tag. But it has 2/3 of a stop slower focal ratio than the Samyang resulting in less background blur. Its field-curvature around the APS-C-corner is a bit better than from the Samyang AF 35mm f1.4 FE resulting in sharper landscape shots right into the corners of a full-frame sensor although coma of the Sony is clearly worse. Add to that the nice magnification with very usable quality in close-up shooting and the multi-function focus hold button and you get an attractive package which is almost 400g / 14 oz. lighter than the Samyang. So if you want to travel light and not make many compromises in optical performance I can fully recommend the Sony FE 35mm f1.8.
For more details see my Sony FE 35mm f1.8 review.
Compared to Sigma 35mm f1.4 Art
The Sigma 35mm f1.4 Art has been available for Sony E-mount since 2018. But it's still a DSLR design from 2012 – and its age shows. In size and weight it's similar to the Samyang and its price of around 700 EUR/USD together with its focal ratio of f1.4 makes it look attractive. The lens produces a sharp center and quite a good FF-corner. But the APS-C-corner is soft and color aberrations are high. Personally I'd prefer the Samyang AF 35mm f1.4 FE over the Sigma 35mm f1.4 Art.
For more details see my  Sigma 35mm f1.4 Art review.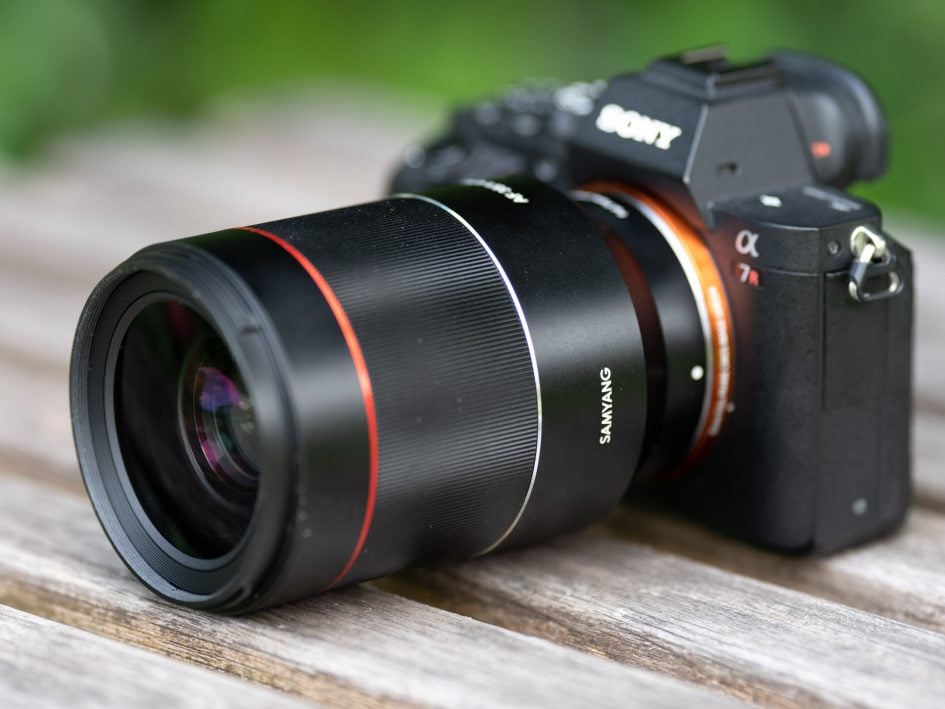 Samyang AF 35mm f1.4 FE final verdict
As I said at the top, the Sigma AF 35mm f1.4 FE left me with mixed feelings. There's no denying it gives you a lot of bang for the buck: good to very good resolution with little longitudinal CAs or color fringing in a package that is neither too large, heavy nor expensive for its bright f1.4 focal ratio. The Bokeh may not be the smoothest but still has the characteristic of f1.4 lenses, which simply produce bigger Bokeh balls and shallower depth-of-field than lenses with smaller focal ratios. My biggest frustration with my test sample regarded focusing: the autofocus was less reliable than the other lenses I compared it against and the manual focus proved erratic. Again this may have been an issue with my particular sample (and if I get a chance to retest another I'll update my review), but if you do go for it, make sure the focus-performance of your copy is up to scratch because you're probably not going to be happy with it if it has the same problems as mine did. But provided the lens focuses correctly I can still recommend it. The optical performance combined with a relatively light weight and low price makes it an attractive option for those seeking an affordable large aperture wide-angle prime.
Good points:
Very good resolution.
Good resistance against glare.
Longitudinal CAs pretty well controlled.
Low price.
Bad points:
No weather sealing.
Resistance against flare and ghosting could be better.
Field curvature plagues APS-C corner e.g. in landscape shots.
Weak close-up performance.
Unreliable focus performance of my copy.
Check prices on the Samyang AF 35mm f1.4 FE at Amazon, B&H, Adorama, or Wex. Alternatively get yourself a copy of my In Camera book or treat me to a coffee! Thanks!