Samyang 800mm f8.0 review
Verdict
The Samyang/Rokinon/Walimex 800mm f8.0 is a long telephoto prime lens which at only 172mm is extremely short and at 1kg also very light. Plus its extraordinarily low price of around 250 EUR/USD/GBP makes it look like a photographers dream come true. Unfortunately the old adage of "you get what you pay for" is still true: the lens is manual focus only, does not transmit EXIF data, and has a fixed aperture. Plus the catadioptric design of the lens produces donut shaped Bokeh balls and relatively low overall contrast. But the worst thing about this lens is the dismal sharpness: try as I might I couldn't take sharp picture with two copies of the lens.
This could be down to sample variations – but as both samples performed like (optical) twins I'd rather suppose that there's a design flaw or a problem with the production batch. That the lens is no longer sold under the Samyang label nor is available from the big retailers in the US might also be indicative of a problem which runs deeper than just sample variations.
But make no mistake: catadioptric designs have unique advantages and can produce (very) sharp images too – as my old Tamron 500mm f8.0 mirror lens was proof of. So don't let my findings from the Samyang 800mm f8.0 discourage you to try (before you buy) other catadioptric lenses. And for Canon RF users there's always a highly recommended alternative: see Gordon's Canon RF 600mm / 800mm f11 review. It's also worth considering a super-zoom compact camera, which can deliver similar or longer reach with sharper results in good light.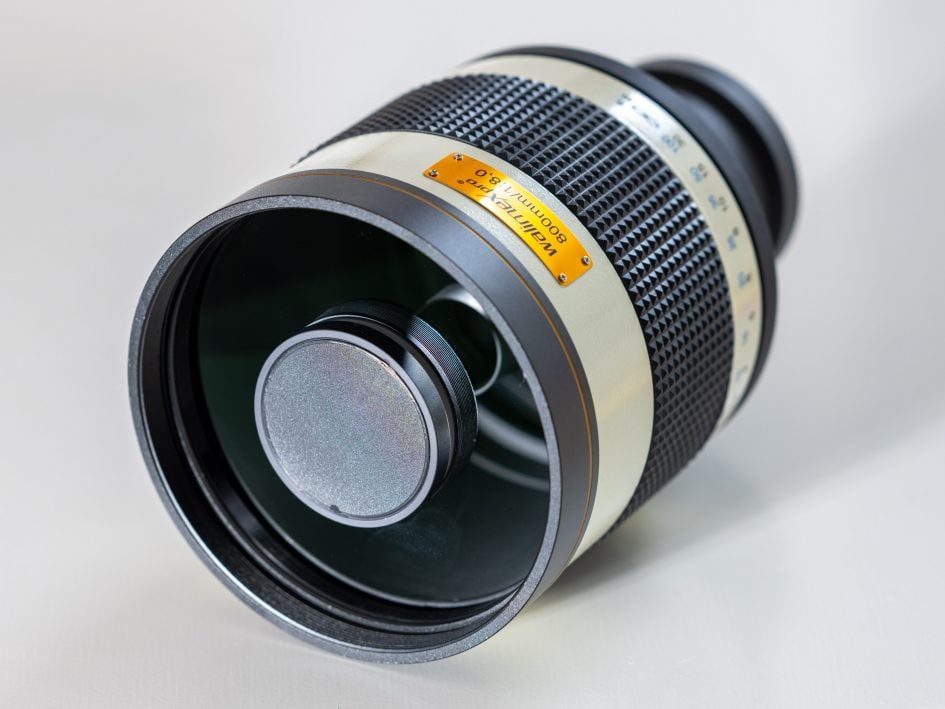 Good points:
Extremely small and light 800mm lens.
Cheap.
Good minimum object distance and maximum magnification.
Practically no longitudinal colour aberrations or purple fringing.
Only little vignetting and no distortions.
Very little field-curvature.
Bad points:
Dismal sharpness.
Donut shaped Bokeh.
Focus throw too short.
Focus action too sticky.
Check prices at Amazon, B&H, Adorama, eBay or Wex. Alternatively get yourself a copy of my In Camera book, an official Cameralabs T-shirt or mug, or treat me to a coffee! Thanks!