Samyang 800mm f8.0 review
Intro
The Samyang 800mm f8.0 mirror lens is a very compact, light, and cheap long telephoto prime lens also sold under the Walimex / Rokinon brand. It employs a Catadioptric optical design that works differently to traditional lenses: so rather than exclusively using refractive elements, two mirrors do most of the heavy (optical) lifting, in a similar way to many popular telescopes. In theory this optical construction is relatively free of coma, astigmatism and color aberrations. And with the optical path folded two times between the primary mirror at the back and secondary mirror at the front, even an 800mm focal length can be achieved in a barrel that's only 113mm long (without mount adapter). This compact design also results in a weight of barely 1kg. The major downsides from the special optical construction are a relatively low overall contrast and donut-shaped Bokeh.
The lens costs only 250 EUR / 220 GBP and there are adapters for almost any camera mount. But there are no electrical contacts to transmit EXIF-data to the camera, and the lens is manual focus only. This certainly precludes shooting birds in flight and makes the lens more appropriate for astrophotography of bright objects like the Moon and planets – where the donut Bokeh also becomes irrelevant. As an older lens, it can also be hard to track down, but we thought it would be interesting to test anyway.
Still the Samyang 800mm f8.0 is an interesting proposition for shooting more or less stationary subjects at a distance and there is hardly any alternative from the big camera makers if you're looking for an affordable way to reach 800mm focal length on a full-frame camera. Only Canon offers an alternative to its extremely large and expensive 800mm f5.6 lenses: The Canon RF 800mm f11 IS STM. It's a traditional refractive design and costs around 1000 EUR/USD/GBP. For more information have a look at Gordon's Canon RF 600mm / 800mm f11 review where both lenses came Highly Recommended.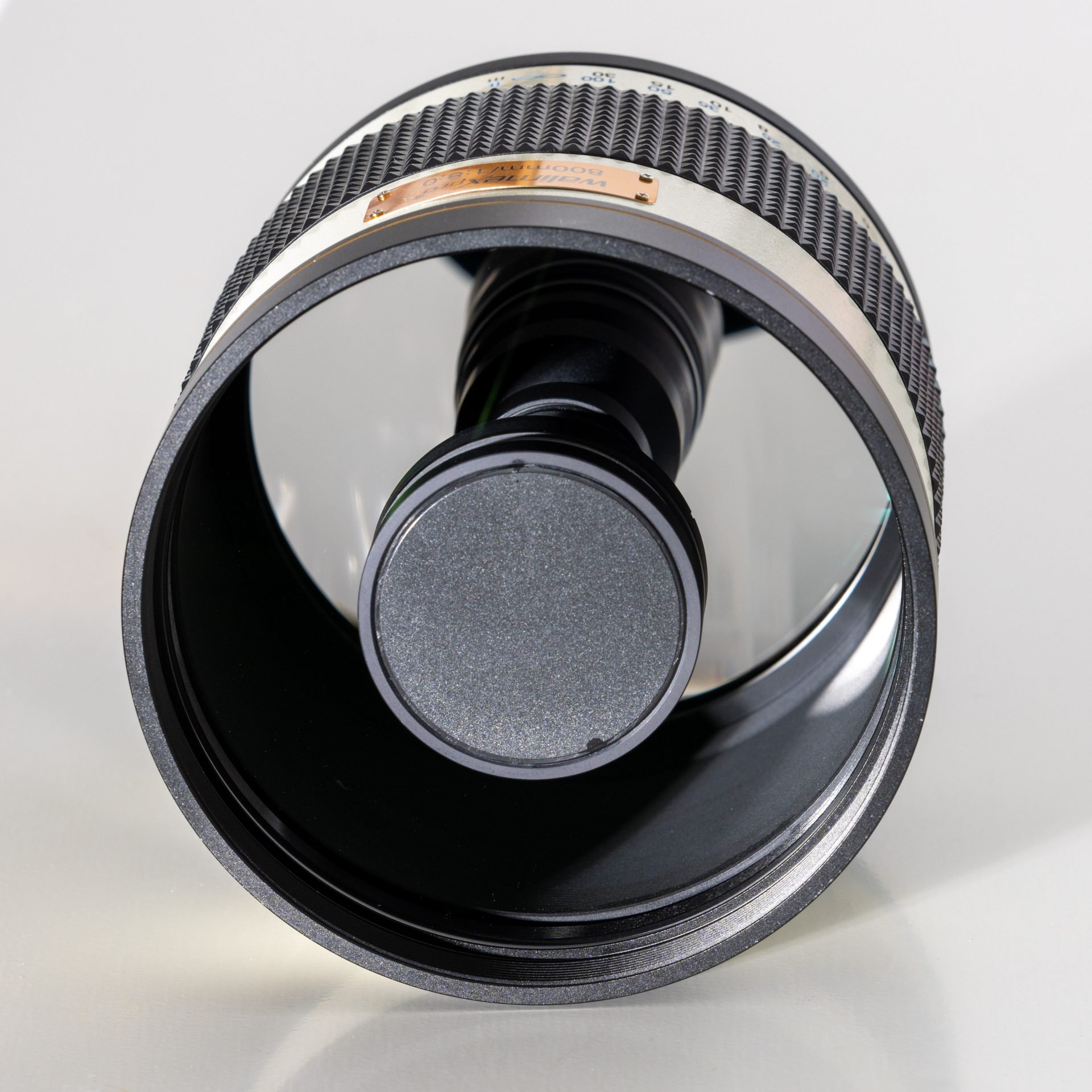 Facts and features
Let's compare the Samyang 800mm f8.0 ("Samyang" for short) to the Canon RF 800mm f11 IS STM ("Canon RF") as Sony and Nikon do not offer compact and affordable 800mm lenses. As usual I've rated the features with a [+] (or [++]), when it's better than average or even state of the art, a [0] if it's standard or just average, and [-] if there's a disadvantage.
Size (diameter x length): 111 x 172mm (4.4 x 6.8in.) including 39mm for the Z-mount adapter for testing on my camera. The lens hood (not included) adds another 83mm. The Canon RF is 102 x 282mm in its retracted state. Ready to shoot it extends to 352mm and the lens hood (not included) probably adds another 10cm. So the doubly folded optical path of Samyang's catadioptric design is hard to beat when it comes to length. [++]
Weight: 907g (2.0 lb.) including 121g for the Z-mount adapter plus 130g for the lens hood. The Canon RF is 1260g without lens hood. When comparing weights remember that the Canon has a focal ratio of only f11 – one stop slower than the Samyang. [+]
Mount adapter: The lens has a T2 mount thread and there are a great number of mount adapters available including Nikon F/Z, Canon EF/M, Sony A/E, MFT, Fuji X. The Z-mount adapter from Kipon which came with my copy of the Samyang has three screws which allow the inner tube of the adapter to be rotated so that the top of the lens indeed faces upwards when mounted on the camera. [0]
Optics: 8 elements including 2 mirrors. The Canon RF has 11 elements in 8 groups. [+]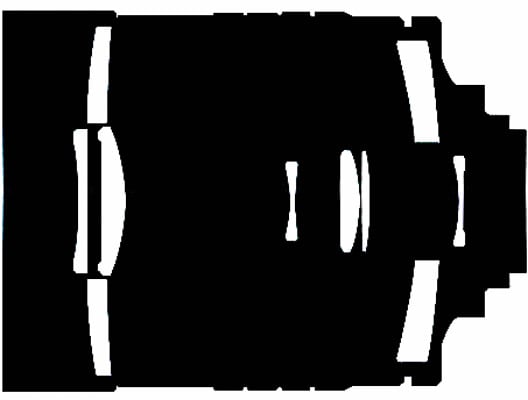 Closest focus distance is 3.18m (10.4ft.) with a maximum magnification of 1:3.4 which is quite good. The lens extends 8mm while focusing close. A magnification of 1:10 is achieved at 8.43m object distance. The Canon RF goes down to 6.0m offering a maximum magnification of around 1:7. [+]
Image stabilization: The Samyang has no optical stabilization. You only get the built-in sensor-shift stabilization which most modern mirrorless camera bodies provide. As the lens does not provide EXIF data to the camera you should input the focal length in the camera menu (on a Nikon Z under "Non-CPU lens data") which makes the camera stabilization work best. The Canon RF has IS claiming 4 stops of stabilization. [0]
Filter-thread: The Samyang has a 105mm filter thread at the front but you can also use 30.5mm filters which are screwed to the back of the lens (before attaching the mount adapter). The Canon RF uses filters of 95mm size. [+]
Autofocus: No, the Samyang is manual focus only. The rubberized portion of the focus ring is 40mm wide, but the whole barrel rotates with it. It turns the way Canon and Sony users are used to which is the reverse of what a Nikon user expects. Operation of the focus ring is smooth but requires quite some force – which might result in the lens turning loose in its mount adapter. The focus ring has a very short throw of only 90 degrees from infinity to minimum object distance which makes it pretty hard to focus precisely even at longer distances. This is not good but not an inherent problem of catadioptric designs: I once had a Tamron 500mm f8.0 mirror lens with an extremely smooth and soft focus action and a throw of almost 340 degrees. The Canon RF has the typical focus-by-wire AF you've come to expect from lenses designed for mirrorless cameras. [-]
Aperture: Both the Samyang and Canon RF don't have a variable aperture. They are both fixed at their focal ratio of f8.0 resp. f11. So exposure can only be controlled by shutter speed, ISO sensitivity, or the use of neutral density filters. [-]
Lens profile: The Samyang does not come with a lens profile nor does Lightroom or Photoshop provide one. So for correcting vignetting and distortions you have to rely on manual settings in post-processing. [0]
Both lenses cover full frame/FX or smaller sensors. [+]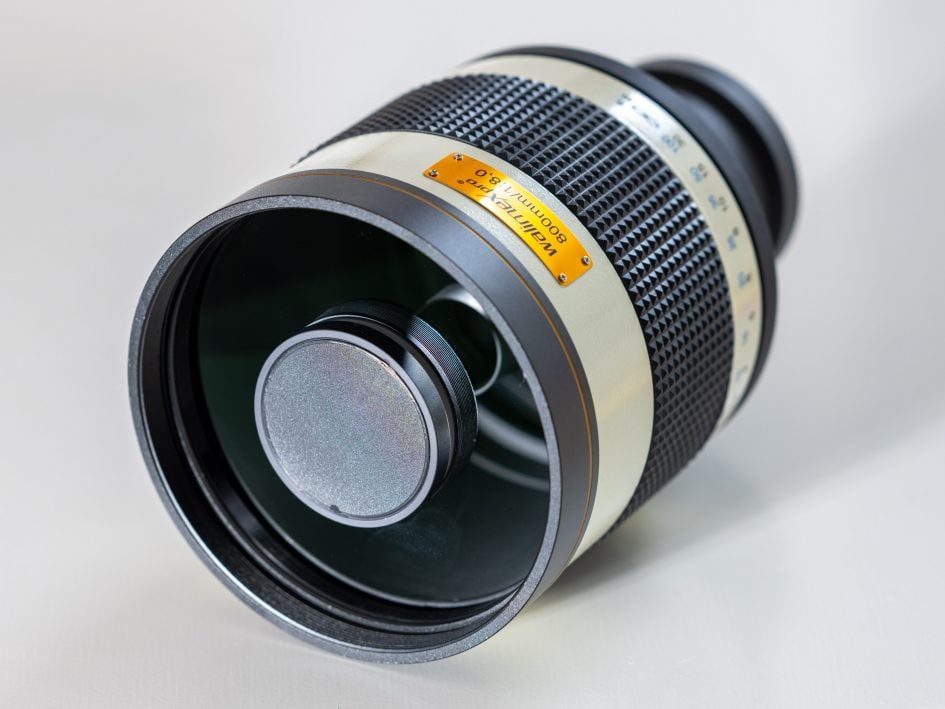 Price: 250 EUR (incl. 19% VAT) / 220 GBP which is extremely cheap. Canon's RF 800mm f11 IS STM is 1000 EUR / 1000 USD / 1100 GBP – which still is much, much lower than the alternative 800mm lenses from Canon (or Nikon). Both lenses come without lens hood. [++]
Use with teleconverters: Nikon's teleconverters cannot be used with the Samyang (neither in Z-mount nor F-mount version). But there is a special 2x teleconverter available – at least under the Walimex brand. The Canon RF can be used with Canon's RF 1.4x and RF 2x extenders converting it into a 1120mm f16 or 1600mm f22 lens. [0]
Tripod mount: The Samyang has no tripod collar or foot. But it's so light that you can easily put the camera on a tripod without risking the mount to bend. The Canon RF has a tripod mounting foot/plate but no rotating collar – which makes using it in portrait orientation a bit awkward. [0]
Sealing: no. But as far as I know the inner barrel of the Samyang is completely closed off. The Canon RF does not have weather sealing, not even on the lens mount. [0]
At a score of 2[-]/6[0]/9[+] the Samyang 800mm f8.0 turns out to be a mixed bag feature-wise: It is extremely compact and cheap and comes at a very low weight especially considering its focal ratio of f8.0. On the other hand it's manual focus only, does not transmit EXIF data, and has a fixed aperture.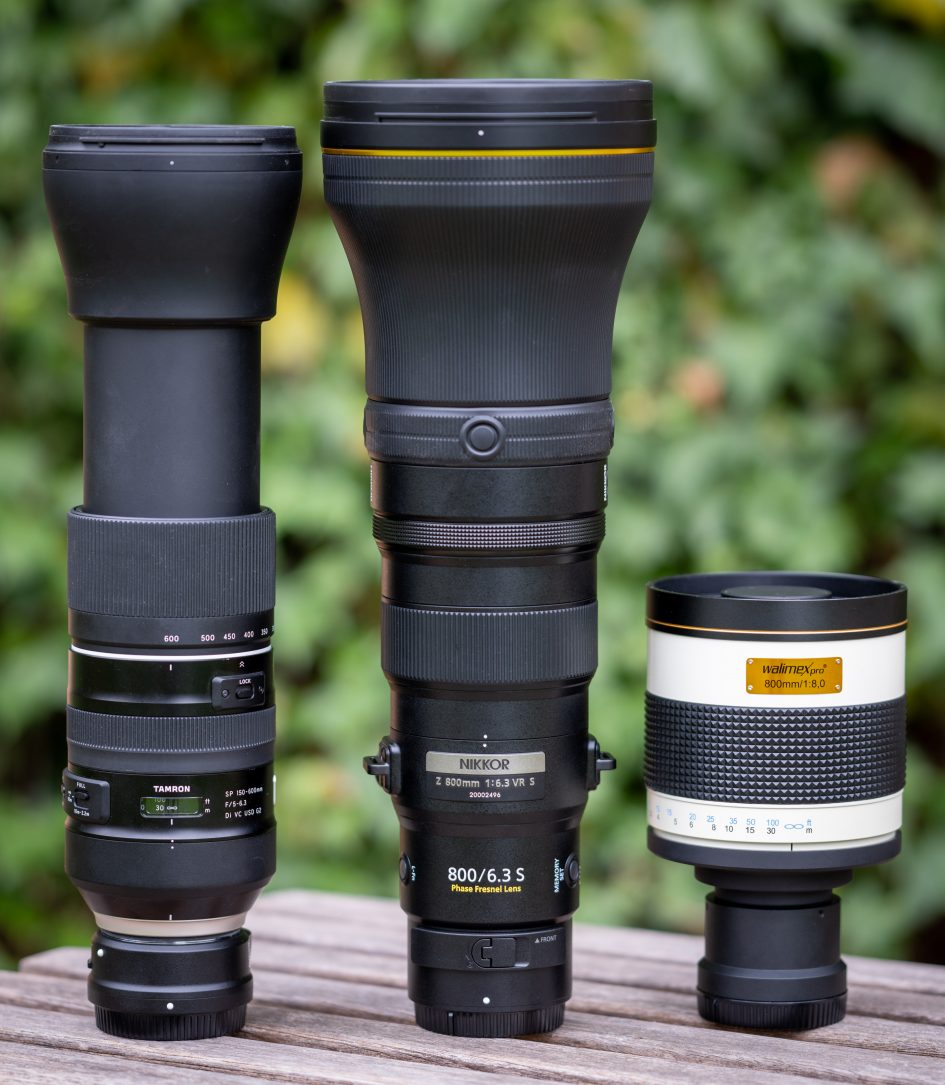 Next check out my quality results!

Check prices at Amazon, B&H, Adorama, eBay or Wex. Alternatively get yourself a copy of my In Camera book, an official Cameralabs T-shirt or mug, or treat me to a coffee! Thanks!