Intro
Samsung's NX3000 is an entry-level mirrorless system camera that combines ease of use and consumer-friendly features with an advanced specification. Its 21.6 Megapixel APSC sized sensor promises big images with decent low light performance and the NX mount accommodates a growing choice of lenses.
The NX3000 features a 3 inch flip-up screen that can face forwards for selfie-shooting and there are smile and wink modes to automatically fire the shutter. There's Wifi with NFC for quick connection to your phone and 1080p HD video at 25 and 30fps. The NX3000 of course features PASM exposure control and also offers a range of scene modes and a panorama mode in addition to fully auto exposure with scene detection. Samsung doesn't go in for filters in a big way but there's a limited selection of effects, all of which can be applied to low resolution video.
As a first time camera the NX3000 has a lot to offer with a specification that you're not likely to outgrow too quickly – and the price is tempting too. But getting the balance between fun features, fashionable good looks and sophistication isn't easy and it's something Samsung's competitors have put a lot of effort into. So has the NX3000 got what it takes to steal the limelight from the market leaders Olympus and Panasonic? To find out I tested the NX3000 alongside two other selfie shooters, the Olympus PEN E-PL7 and Panasonic's Lumix GF7.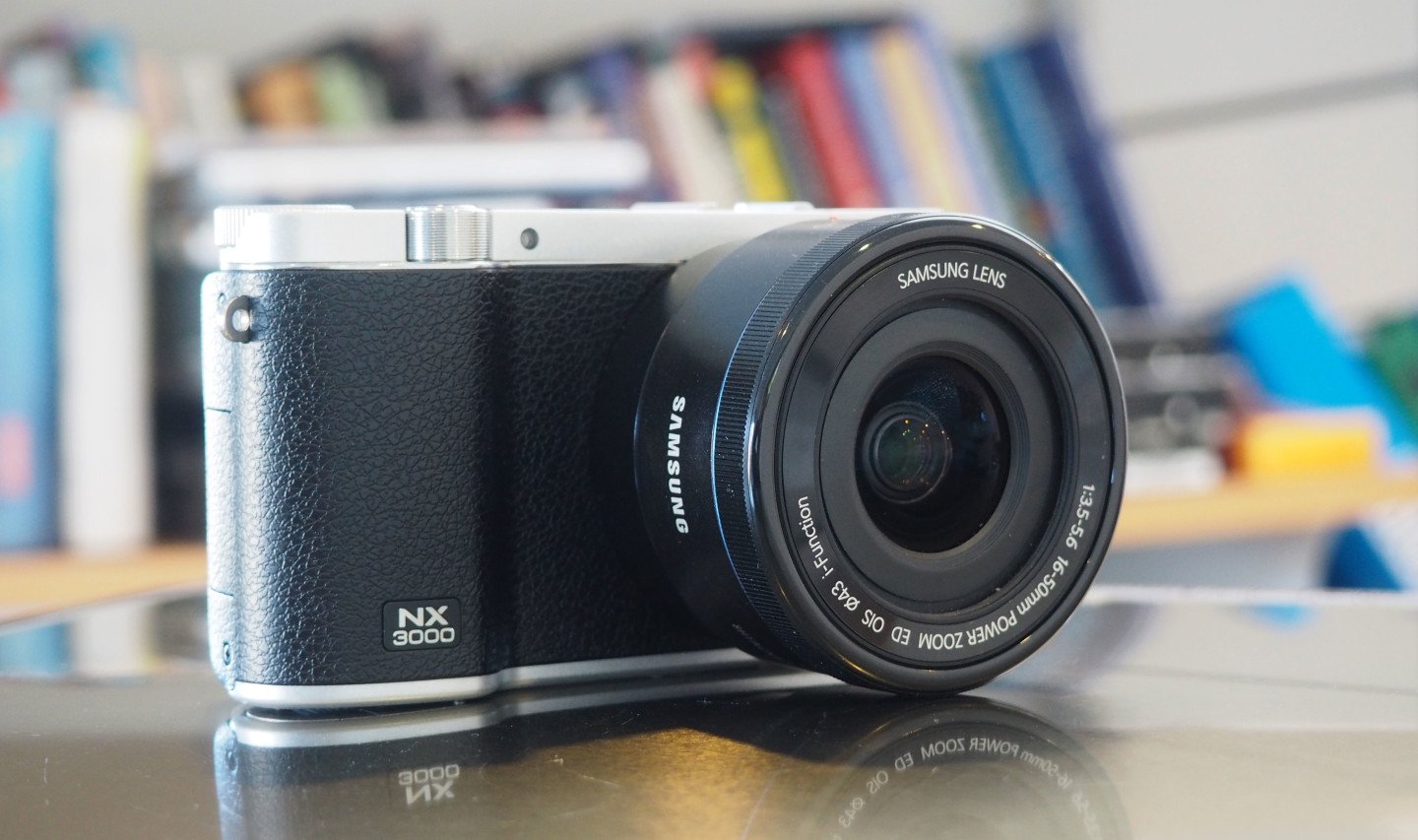 Samsung NX3000 design and controls
The NX3000 is compact compared with DSLRs that share the same sized sensor and its plastic body ensures that weight is kept to a minimum, but it is more of a handful than the smaller Micro Four Thirds compact system cameras. Compare its 117x66x39mm dimensions with those of the relatively chunky PEN E-PL7 at 115x67x38mm and you might think there's not a great deal in it, particularly as the Olympus body is significantly heavier.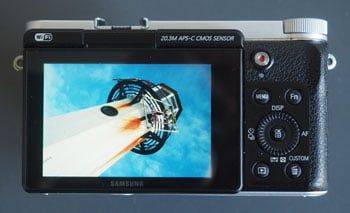 But add a lens and things begin to look different. The NX3000 is supplied as a kit with the Samsung 16-50mm f3.5-5.6 Power Zoom ED OIS lens. This is a new lens which is more compact than earlier Samsung NX kit zooms, but nonethless is bulkier than the 14-42mm powered kit zoom on the Olympus E-PL7 – and lest we forget, the Olympus body also sports built-in stabilisation that works with any lens you attach. Compare the overall size and weight of the NX3000 with its kit lens attached – 117x66x70 and 380g – to the Lumix GF7 with its kit lens 107x65x57 and 366g and you can see a more substantial difference. Of course the Samsung has a slightly larger sensor than the Panasonic or Olympus cameras, and you can see what difference that makes in my results, but size and weight at this end of the market is also a critical factor.
The slightly larger body does have one advantage, the NX3000 is easier to hold comfortably and securely and the controls are easier to get to. Although it's only a couple of millimeters wider than the PEN E-PL7 and the screens are the same size, the NX3000's rear controls appear to have a lot more room. But despite the extra space the NX3000 sticks to a minimal control layout with a rear control wheel as the sole physical means of changing exposure in the PASM modes. In that respect the PEN E-PL7 has the advantage over both the GF7 and NX3000, with a control dial surrounding the shutter release.
The screen is a 3 inch panel with a resolution of 460 thousand dots providing a 320 x 480 pixel 3:2 proportioned image. The NX3000's screen may not be quite as detailed as the 1040k dot screens of the Lumix GF7 and PEN E-PL7, but its 3:2 proportioned photos fit the screen, whereas the Micro Four Thirds models present their native 4:3 shaped photos on a wider 3:2 screen resulting in a smaller image with black bands down either side.
On the other hand, both the PEN E-PL7 and Lumix GF7 feature touch screens,. In my view, a touch screen is a plus on pretty much any camera, but on cameras that put a big emphasis on selfie shooting and ease of use, it's a massive advantage. I'll talk about the Samsung NX3000's self-shooting features and how they compare with those of the Olympus PEN E-PL7 and Panasonic Lumix GF7 a little later in the Shooting experience section of my review.
The NX3000 features a hot shoe and in the box there's a small plug in flash that fits into it. It's plenty powerful enough for close subjects and selfies but, as on the E-PL7 if you need more power you can fit a larger accessory flash unit. Sadly, the NX3000 isn't compatible with other Samsung accessories like the EM10 external microphone which features adjustable levels and has a built-in headphone jack. And unlike the PEN E-PL7 there's no accessory electronic viewfinder available for the NX3000.
The NX3000 takes a 3.8v lithium ion battery with a rating of 8.85Wh which provides enough power on a full charge for a comparitively generous 370 shots. Generous, that is, by comparison with the Lumix GF7 which offers only 230 shots on a full charge, the PEN E-PL7 manages a respectable 350 shots. Physically, the NX3000's battery is large, but slim, so Samsung has managed to provide an adequate power supply whilst keeping a slim camera body profile.
The other thing it has going for it is you can charge it in the camera from a USB power source with the cable provided, so you can plug it into your notebook, a car power adaptor, or whatever source is available. It also comes with a mains adaptor which charges the battery in the camera via the USB cable. Both the PEN E-PL7 and Lumix GF7 charge their batteries externally in a mains charger. That has the advantage that you can still use the camera while charging a spare, but I don't think that's something many people in this market will take advantage of and it's a lot less convenient in other respects.
The battery compartment also houses the memory card, which is a conventional arrangement, but less conventionally, the NX3000 uses a micro SD card. This is another space saving effort on Samsung's part, but it does mean any SD cards you already own will be useless and you'll have to invest in new storage. The USB port is located behind a door on the right of the body and below it there's a mini HDMI port for connection to a TV.
Samsung NX3000 lens and stabilisation
Samsung's NX mount was introduced with the NX5 in early 2010. Then consisting of just three lenses it has since expanded to twelve including six zooms and four primes. The range includes the 50-200mm f4-5.6 ED OIS II zoom, a 16mm f2.4 pancake prime and a bright 30mm f2.0. The NX format means all lenses have their field of view reduced by approximately 1.5 times.
| | | |
| --- | --- | --- |
| Samsung NX3000 with 16-50mm wide | | Samsung NX3000 with 16-50mm tele |
| | | |
| 16-50mm at 16mm (24mm equiv) | | 16-50mm at 50mm (75mm equiv) |
The NX3000 is available as a kit with the 16-50mm f3.5-5.6 PowerZoom ED OIS lens. This lens was launched four months before the NX3000 and features a number of improvements over the earlier 18-55mm f3.5-5.6 OIS lens. It's more compact and it has a powered zoom which can be operated either using the front ring or a rocker switch mounted on the side. The ring is electronically coupled to the zoom motor but has a manual feel, the rocker has a much smoother and quieter zoom action and is therefore better suited to movies.
The front focussing ring can be used to manually focus and in PASM exposure modes the iFn button on the left side of the lens barrel can be assigned to one of a number of exposure controls including aperture, shutter speed, ISO sensitivity, White Balance and exposure compensation. Samsung calls this i-function and it's activated by pressing the iFn button on any suitably equipped lenses.
I-function adds an additional control option to the NX3000's array without the need for more physical buttons on the camera body, I'll go into more detail about how i-Function works in the Shooting experience section below.
With a crop factor, the 16-50mm kit lens provides a 35mm equivalent range of 24-75mm. That compares with a slightly shorter 24-64mm equivalent reach on the GF7 and a slightly longer 28-84mm on the PEN E-PL7. Of course you're not stuck with these kit lenses and the whole point of a system camera is it offers you the option of interchangeable lenses. If you plan to take advantage of it, it's worth considering that Micro Four Thirds has a big head start over Samsung as well as two manufacturers contributing to what is now a much more substantial lens catalogue.
As well as the kit lens, Samsung supplied me with the 16-50mm F2-2.8 Premium S lens for my tests. This is a higher quality lens with a much brighter f2-2.8 focal ratio but it's also a lot heftier, weighing in at 622g and with a price tag to match. It may not be for you, but it does at least show that Samsung is committed to producing professional quality lenses for the NX mount. You can see some images I shot with it on the samples page.
Samsung NX3000 OIS: Off / Mode 1

100% crop, 16-50mm at 50mm, 100 ISO, 1/8, OIS off.

100% crop, 12-32mm at 32mm, 200 ISO, 1/8, O.I.S Mode 1.
Unlike Olympus, Samsung doesn't build stabilisation into its camera bodies but instead includes optical stabilisation in some of its lenses. With a stabilised lens like the 16-50mm f3.5-5.6 PowerZoom ED OIS attached you can select one of three modes from the menu – off, Mode 1 and Mode 2. In mode 1 the stabilsation kicks in when you half press on the shutter release and is the most efficient in terms of power. Mode 2 has the stabilisation on all the time which will run the battery down faster, but is handy for framing up your shot, particularly at longer focal lengths.
I tested the NX3000's stabilisation by zooming the lens all the way in and taking a series of shots in at progressively slower shutter speeds with the stabilisation enabled and turned off. As you can see from the crops above with stabilisation the NX3000 can be safely hand held at 1/8th when zoomed all the way in. That's a pretty respectable three stops slower than you'd expect to manage without stabilisation so useful to have. It's the same result I got with the Lumix GF7 (albeit at a 64mm equivalent compared with 75mm here), although I managed to squeeze one quarter of a second from the PEN E-PL7.
Samsung NX3000 movie modes
The NX3000 can shoot full HD video with a best quality of 1080p30 or 1080p25. The frame rate isn't region dependent but is determined by whether you choose NTSC or PAL video modes. Movie files are encoded using the H.264 codec and saved as .mp4 files. There's also a 720p HD mode, again at 30 or 25fps depending on the mode as well as 640×480 and 320×240. All of these modes have two quality options, Normal and HQ.
The NX3000's multi motion feature provides the option to record video for playback at speeds from 0.25x to 20x real time, but disappointingly The quarter speed option is only available for the 640×480 mode.
The NX3000 has a dedicated video button, and pressing this starts recording immediately. The exposure mode is set by the mode dial in the same way as for stills shooting. You can set the exposure in any of the PASM modes for movie shooting but you can't adjust it once recording has started.
You can manually focus during video recording, but there's no focus peaking and the MF Assist feature doesn't work, so it can be a challenge. If it all gets too much though you can press the right position on the rear controller to switch to continuous AF. It's better than nothing, but it falls a long way short of the touch to focus simplicity of the PEN E-PL7 and Lumix GF7.
The NX3000's 'Picture Wizard' custom settings for colour, saturation, sharpness and contrast can be applied for movies as can the Smart filters including miniature. Rather disappointingly, though, if you record a movie using a Smart filter the resolution is automatically dropped to 640 x 480 and you can't use Smart filters in combination with Picture wizard settings. The NX3000 does have one useful feature that both the Micro Four Thirds models lack – an optional built-in fader, which automatically adds a fade in/out at either end of your clip.
The NX3000's built in stereo mics do a good job of picking up ambient sound and voices within a reasonable range, but, like all built-in microphones, are a little susceptible to wind noise. As I've mentioned, the NX3000 isn't compatible with Samsung's external EM10 microphone, so like the Lumix GF7 you're stuck with the built-in mics. The PEN-E-PL7 is the most versatile in this respect as its hot shoe / accessory port can take a range of add-ons including an external mic and electronic viewfinder.
Samsung NX3000sample video 1: outdoors, cloudy bright, handheld pan
This clip, like the others below was shot using the NX3000's best quality 1080p25 HD video mode which is encoded at 15 Mbit/s. The quality of the video is good and the stabilisation does a good job, but the AF wanders a little during the zoom and takes a bit of time to sort itself out once fully zoomed in. For this clip I used the zoom ring on the front of the lens which gives quite a smooth result, but you also have the option of the motorised zoom rocker switch on the side which you can see in the next clip.
Samsung NX3000sample video 2: outdoors, cloudy bright, tripod pan
For this tripod mounted pan I disabled the NX3000's stabilisation. The NX3000 has done a good job with the exposure, especially in the tricky first part of this clip. This time I used the rocker switch mounted on the side of the lens barrel to control the zoom. It has three menu-selectable speed settings and this is the slowest. Interestingly, the zoom motor is inaudible in this clip whereas you can hear a slight noise in the earlier one. So the rocker control is without doubt the best option for video zooming.
Samsung NX3000sample video 3: indoors, low-light, handheld pan
The NX3000's continuous AF is a little bit jittery on this indoor low-light pan, but it's not too bad. The video quality is good, with low noise levels and good white balance, but the exposure over-reacts a little at the window light in the middle of the pan.
Samsung NX3000sample video 4: Miniature effect
Finally, here's a short sample of the NX3000's Miniature effect on video. Though the NX3000 lets you use the Miniature Smart filter for video you're resticted to VGA 640 x 480 which is pretty disappointing. Not only that but the focus zone is fixed and can't be adjusted.
Samsung NX3000 shooting Experience
The NX3000's contrast detect AF system is on a par in terms of speed and accuracy with what you'll find on the Olympus PEN E-PL7 and Lumix GF7. In other words, it's very good, at least for single AF performance. With a single area in AF-S mode it locks onto subjects almost the instant you half-press the shutter release and indoor and in low light, though it's a little slower, it remains reliable.
In multi detect AF mode the NX3000 chooses from any of 21 AF areas located in the middle of the frame. In single AF mode you can select an individual area using the rear dial, which is great, thought not as convenient as the touch AF option offered by the PEN E-PL7 and Lumix GF7.
When it comes to manual focussing MF assist magnification means that in good light with a static subject it's manageable. But in any other situation it becomes a lot trickier and here again the two Micro Four Thirds models score over the NX3000 with focus peaking. The NX3000 also has face detect AF which is automatically activated when you flip the screen forward. Doing this enters Self shot mode which additionally sets self-timer options and the Beauty face feature.
Face AF can detect up to ten faces in the frame and locks focus on the closest one. For selfies, it works pretty well and in fact was consistently better at detecting faces than either the PEN E-PL7 or the Lumix GF7. It wasn't fazed by the usual things that can upset Face AF like glasses or strong backlighting.
But what sets the NX3000, apart from many other compact system cameras is its self shot modes. Like the Lumix GF7 and PEN E-PL7 flipping the screen into the forward-facing position sets it up for sefie shooting with a number of special features. In the NX3000's case, you don't even have to turn the camera on, flipping the screen automatically does that for you, which is a nice touch.
As well as flipping the screen image so you get a right-way up mirror view, the NX3000 provides two auto shot modes – Smile shot and Wink shot, as well as an optional skin smoothing filter. Unlike both the PEN E-PL7 and Lumix GF7, though, there's no touch screen, so to set these options you need to press buttons on the back of the camera. It's something you quickly become accustomed to, but there really is no substitute for a touch screen for this kind of thing.
For obvious reasons, wink detection automatically operates with a two-second delay – a countdown appears on the screen. Smile shutter fires instantly a smile is detected, but it needs to be a full on grin and there's no option to set a timer so you have a chance to tone it down a bit.
Wink shot is a bit of a hit and miss affair with no option to set the sensitivity. I found it worked about a third of the time, provided you're very obvious with your wink. That's all very well if there's no one else around, but if you're in a public place or with friends you can get a bit self conscious constantly winking like a mad person. If doesn't work first time most of the time, you have to wonder who will bother with it.
Chris, pictured below, very sportingly perservered with wink detection until it finally snapped him. With practice, you can probably learn to avoid the look of mild surprise at the fact that the countdown timer has fired up and appears to be actually working on the third attempt.
1/50, f/4.5, 1600 ISO, 16-50mm at 27mm (41mm equiv) Wink shot.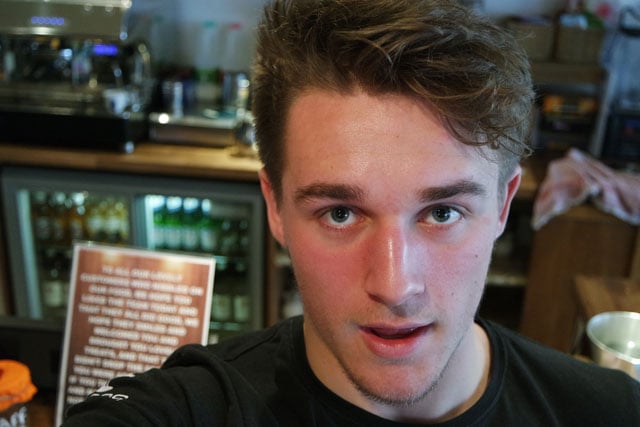 Click image to access original at Flickr
Smile shot is a little more reliable, though in poor light, like Wink shot it struggles. As I've mentioned, there's no countdown with smile shot, the shutter fires the instant the NX3000 detects a grin, but in both the examples below it's done a pretty good job of capturing the moment.
1/30, f/3.5, 3200 ISO, 16-50mm at 16mm (25mm equiv) Smile shot.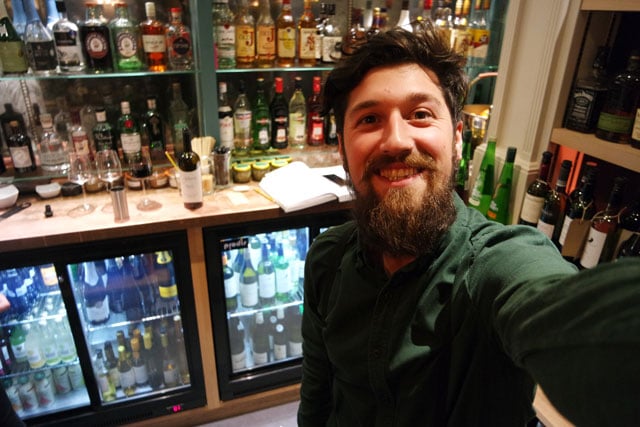 Click image to access original at Flickr
 Finally, there's also a beauty face option which applies a slight skin softening filter. All in all, the Self shot features on the NX3000 are certainly worth having and I particularly like the way flipping the screen up turns on the camera, it's a great idea and makes grabbing a quick selfie that much easier. While it's more intuitive than the Olympus E-PL7 for selfies, it falls a long way shot of the fun and simplicity on offer with the Lumix GF7. Samsung is on the right track, but there's plenty of room for improvement. For example it would be nice to have the ability to choose more than one exposure, like on the Lumix GF7 and PEN E-PL7 timers.

1/40, f/4, 1600 ISO, 16-50mm at 21mm (32mm equiv) Smile shot.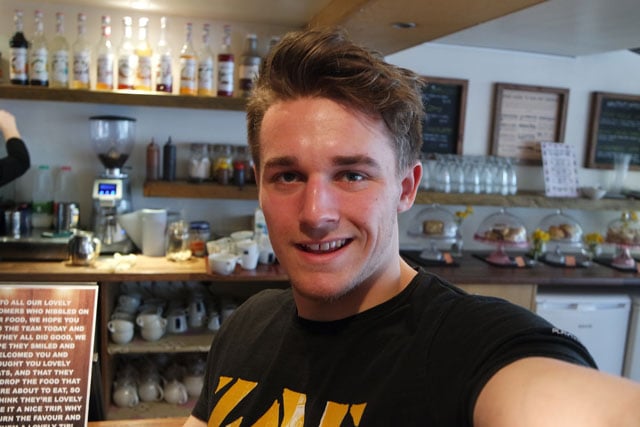 Click image to access original at Flickr
The NX3000 has one continuous shooting mode which operates at 6 frames per second in SAF mode. You can set the AF mode to continuous, but the frame rate drops to a snail's pace – slower than 1fps. In either case the exposure is set on the first frame. I tested it by selecting full resoution Super Fine image quality and choosing the Continuous drive mode. I held down the shutter release and the NX3000 shot a burst of 13 images before stalling and slowing to around a frame per second. I timed the 13 frame burst at exactly five frames per second.
While it's quite useful to be able to capture nearly three seconds of action at 5fps, I was a little disappointed that the NX3000 doesn't provide any other burst shooting options. The Lumix GF7 can shoot at 5fps with continuous AF and its electronic shutter allows it to shoot at a nifty 40fps. And the PEN E-PL7 can shoot indefinitely at 8fps. So if you like to shoot action sequences the NX3000 isn't really your best bet.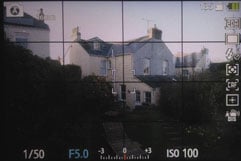 More generally, I quite liked shooting with the NX3000 and found its controls and interface easy to get on with. Pressing the Fn button displays a quick menu that works a little like the Super control panel on the Olympus models. You can see all the important settings at a glance and select and adjust exposure settings, white balance, metering mode, AF mode and area, and drive mode, among other things, using the rear dial. And though the NX3000 lacks a second dial, the iFn button on the lens is the next best thing, providing quick access to exposure settings in PASM modes. It would have been even better if, like on the NX200 you were able to reassign the zoom/focus ring to another function, for example the aperture setting in Aperture priority mode.
The NX3000 has built-in Wifi with NFC for making a quick connection with a suitably equipped phone. If you don't have an NFC equipped phone you can simply connect to the camera's SSID from the Wifi settings on your phone before launching the free Samsung Smart Camera app.
Wifi has been a feature of all kinds of cameras for a while now and although it was a bit hit and miss in the early days manuafacturers, like Olympus and Panasonic, now offer apps with lots of features and mature, well desiged user interfaces.
Samsung isn't quite there yet though. I tested the NX3000's Wifi features with my iPhone 4S. At first, the NX3000 wasn't happy with connection, telling me that the iPhone's NFC was for Apple Pay only and couldn't be used with the camera, (even though my iPhone 4S doesn't have NFC), then dropping the connection immediately it was made. I got around that by making sure I connected over Wifi before launching the app (which is what the app instructions tell you to do, but hey), but even then, connecting with the NX3000 proved to be a very hit and miss affair, with the connection failing more than half of the time. I expect owners of Android handsets will enjoy greater success given Samsung's experience with this platform.
The camera initially presents you with three choices: MobileLink lets you preview images on the camera and download them to your phone, Remote Viewfinder is for controlling the camera remotely and AutoShare automatically downloads photos to you phone as you take them. You have to choose what you want to do before the Wifi connection is initiated.
Once connected, I managed to preview images from the camera's card on my phone and download photos as well as video files. With the phone and camera within a metre of each other it took around one second per MB of data, so an 8MB photo took around 8 seconds to transfer.
The full resolution original image is downloaded but there's no option to send a smaller version for sharing so you're moving around a lot of data for an image that will most likely end up much smaller on a sharing site. You can see a slightly larger preview by tapping and hoding a thumbnail, but all this in fact does is enlarge the tiny thumbnail you were originally viewing, which looks very pixellated.
Once you're done browsing and copying photos to your phone there's no way to switch modes, so if you want to remote control the camera you've got to start all over again. To do that you must reconnect then select the Remote viewfinder mode on the camera. It's all a bit of an effort, but it turns out to be one worth making, the remote viewfinder app is actually very good and provides a high degree of control. You can select the shooting mode regardless of the position of the mode dial, have full control of exposure, adjust the zoom, tap to focus and access a multitude of other settings including sensitivity, white balance, metering mode, image size and quality settings. You can even record video to the card in the camera.
So the NX3000's Wifi features are a bit of a mixed bag. Making a connection and using the clunky interface can be frustrating, but on the plus side the remote shooting features are excellent. The only other thing to say is that I think Samsung could have made a little more of the remote shooting for selfies. Though you can use your phone to trigger the shutter when the screen is facing forward, (providing you can cope with setting up a connection) there's nothing like the Lumix GF7's Jump snap feature.
Where Olympus and Panasonic put filter effects front and centre, with a special setting on the mode dial, on the Samsung NX3000 the small selection of filter effects is relegated to menu. You can choose from Vignette, Miniature, Sketch and Fisheye, with some further options available if you apply the filters in playback mode after you've taken the shot. Above you can see Vignette, Sketch and Fish-eye. They're one-shot filters with no variations or settings, so they're easy to apply if rather limited. Most frustrating is that you can't change the orientation or size of the in-focus area for the Miniature one, so it's really only useful for landscape format shots.
Aside from that there are also the so-called 'Picture wizard' setting that I mentioned briefly in the Movies section above. These provide custom settings for colour, saturation, sharpness and contrast as well as a couple of custom settings that you can define yourself. Using these you can create black and white as well as retro colour looks, so, with a little effort you can squeeze a good few effects out of the NX3000, but it lacks the scope and accessibility of what's on offer from Olympus and Panasonic.
To see how the quality of the Samsung NX3000 measures-up in practice, take a look at my Samsung NX3000 quality and Samsung NX3000 noise results pages, browse my Samsung NX3000 sample images, or skip to the chase and head straight for my verdict.