Intro
Announced in September 2011, the Samsung NX200 is Samsung's fifth compact system camera in the NX range. It replaces the NX100 with a radically new design which substitutes a metal body for the plastic of earlier models. Inside the camera you'll still find a large APS-C sensor – the same size as used by Sony NEX models – but Samsung has boosted the resolution of earlier models from 14.6 to 20.3 Megapixels here. Other components including the colour filter array, micro lenses and anti-aliasing filter, have also been upgraded.
The NX200 can shoot 1080p30 full HD movies and now has a dedicated movie button, so you don't have to switch the mode dial to the movie position to start recording. It retains the same 3 inch, 614,000 dot OLED screen with a 4:3 aspect ratio, but there's no built-in electronic viewfinder and no accessory port, so you can't plug-in an optional EVF as you can on the Sony NEX-5N and Olympus PEN compact system cameras. There's a clip-on accessory flash which fits into the hotshoe and built-in stereo mics, though no external mic socket. The NX200 also gets a new stabilised kit lens, the 18-55mm f3.5-5.6 OIS II. This lens can be manually focussed and the focus ring can also double up as an additional custom exposure control using Samsung's iFn feature.
The NX200 improves considerably on its predecessor's continuous shooting capabilities with 7 frames per second at full resolution. Though not quite up to the 10fps of the NEX-7 and NEX-5N, this is nonetheless impressive. In addition to PASM exposure modes, the NX200 offers many consumer-friendly features of the kind typically found on point-and-shoot compacts including filters and frame effects, panoramic and 3D panoramic shooting.
With its all metal construction, a reasonable choice of NX mount lenses, large sensor and full PASM exposure control available for both stills and movie shooting, the NX200 looks to be an attractive alternative to Sony's NEX compact system cameras and in particular the similarly priced NEX-5N – on paper at least. But can Samsung's NX200 match the NEX-5N where it matters in this market – build quality, performance, handling and image quality? Read on to find out.
Samsung NX200 Design and controls
The Samsung NX200 looks quite similar to Sony's NEX-5N, though in design terms there's a multitude of differences. The NX200 shares the NEX-5N's broad outlines, with a bulging handgrip on the right side of the body and a protruding lens mount. The NX200 measures 117x63x37mm and weighs 285g with battery and card. Add the 18-55mm kit lens and the weight comes up to 483g, all round that makes it just a little bigger and heavier than the 5N, but not noticeably so, either to look at or to hold in your hand.
The design has moved away form the organic form of the NX100 which lacked anything approaching a straight edge to something that looks much more engineered with clean 90 degree horizontal edges complementing the curved slope of the handgrip. The top, bottom and front panel are finished in matt black paint and the grip and rear panel have a textured plastic coating. It all adds up to a professional quality finish that's also practical, though I did notice that on the review model the hard edges were already beginning to show signs of use with the paint wearing to reveal the shiny metal beneath.

The on/off switch is on a collar surrounding the smallish shutter release and the knurled mode dial has been relocated to the rear right edge where it can be thumb operated with a positive action that rules out accidental movement. To the right of the mode dial there's a top-facing control or 'jog' dial used for exposure control and menu navigation in conjunction with a control wheel on the rear. If you count the lens focus ring in iFN mode, that gives the NX200 three separate physical exposure controls, something that will not be overlooked by those looking for an SLR replacement that handles well in PASM exposure modes. Apart from the hotshoe the only other blot on the otherwise uninterrupted landscape of the top panel are the slots for the twin stereo mics and the built-in speaker.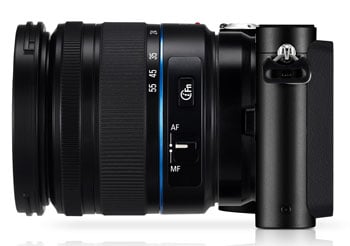 The NX200 has a conventional hotshoe with additional connectors at the rear for the supplied accessory flash. The hotshoe is also used to connect the optional GPS10 receiver which automatically adds geopositional data to images.
The rear panel is dominated by the fixed 3 inch OLED screen to the right of which are arrayed a four-way control wheel plus six small buttons. In the thumb position, just to the right of a rather small raised and dimpled thumb rest pad, is the dedicated record button. This can't be assigned to any other function or switched off and I managed to accidentally activate it more than once. Below that is an exposure compensation button and then there are a further four buttons arranged at the four 'corners' of the control wheel. The first of these activates the menu system, then there's a 'Fn button which activates the NX200's quick menu or 'Smart panel' screen providing access to a range of frequently used controls; more about that later. At the very bottom of the rear panel under the control wheel are a playback button and a delete button which also functions as a custom button during shooting.
The bottom panel has a centrally located metal tripod bush and a door on the bottom of the handgrip opens to reveal the combined SD card and battery compartment which, incidentally, can't be opened when the camera is mounted on a tripod; it would have been possible had the the tripod bush been positioned directly under the lens flange as it is on the NEX-5N. The NX200 is compatible with SD, SDHC and SDXC cards – you can use UHS-1 cards, but you won't gain any performance advantage from them, see the continuous shooting sections for more details about that.
A door on the right side of the body provides access to a mini HDMI port and a USB port for connecting the camera to a TV and a PC respectively. As I've already mentioned there's no socket for an external microphone and the NX200 lacks an input for a cabled remote or, come to that, a wireless one.
The NX200's BP1030 Lithium Ion battery pack provides enough power for 320 shots under CIPA (Camera Imaging Products Association) standard conditions. That's fairly average for its class and although it looks a bit dismal compared with 410 shots on the NEX-5N, it's more in line with the Panasonic Lumix GX1's 310 shots or the Olympus E-P3's 330.
Like the Sony NEX-5N the Samsung NX200 is supplied with an accessory flash unit, but with its conventional hotshoe, fitting the NX200's flash is a much simpler operation than the fiddly screw-in affair on the 5N. The flash unit just slides in and is secured with a large locking wheel. It's flipped up for operation and can be flipped down and left in position when not in use.
When the flash is flipped up, the NX200 automatically enters the last set flash mode, either Fill-in, Fill-in with red-eye reduction, 1st curtain or 2nd curtain sync. The flash has a guide number of 8 in Metres at 100 ISO which gives it a range at that sensitivity setting of just over 2 metres – a little bit more powerful than the NEX-5Ns accessory flash.
The fastest flash sync shutter speed is 1/180th and flash exposure compensation is available in 0.5 EV steps up to +-2EV. While it's adequate as a fill-in, for serious flash work you'll want to use a more powerful unit and the NX200's hotshoe will allow you to do that. There are three Samsung branded external flash units available the most powerful being the GN20 with a guide number of 20.
Samsung NX200 Screen
The NX200's active matrix OLED screen has 614,000 dots with a resolution of 640×480 and a 4:3 aspect ratio. In stills shooting modes it provides a 100 percent view with a black bar at the bottom providing an overlay for some of the more important icons relating to shooting mode, exposure settings and battery life. In 16:9 HD movie modes the bottom bar thickens and is joined by one at the top.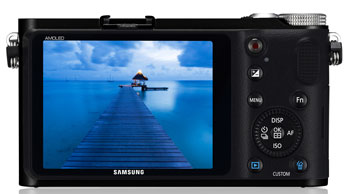 The screen adjusts automatically to ambient light levels and you can adjust the brightness and white balance manually (though of course these changes don't affect the image quality). In general use the screen display is bright and contrasty and provides a good view in most conditions. Like all screens though, in bright sunlight it can be a struggle to see clearly and here the NX200 loses out to the NEX-5N in three respects. First you can't adjust the angle of the screen, either to avoid light falling on it or provide a more comfortable viewing position when shooting at low or high angles. Secondly, the NX200 lacks the touch-sensitivity of the 5N's screen, which is not only useful for control, but also adjusting focus during movies. And Third, unlike the NX100 before it and Sony's NEX-5N as well as the Olympus PEN range and Panasonic's GX1, you can't plug in an electronic viewfinder accessory.
Arguably, dropping the accessory port could turn out to be a big vote loser for the Samsung NX200. The OLED screen is excellent as far as it goes, but the lack of a viewfinder option may prove to be a deal breaker for anyone looking for SLR performance and handling in a more compact format. Electronic viewfinders are expensive and not to everyone's liking, but you only have to look at models like those I've already mentioned as well as the built-in EVF's of the Nikon V1 and Sony NEX-7 system cameras to see the direction of travel here; all these manufacturers think that in this market customers want a good quality built-in EVF or the option to add one.
Samsung NX200 lens and stabilisation
Samsung's NX mount was introduced with the NX5 in early 2010. Then consisting of just three lenses it has since expanded to eight including four zooms, three of which are stabilised and four primes one of which – the 60mm f2.8 ED OSS SSA has stabilisation. The range includes the 50-200mm f4-5.6 ED OIS II zoom, a 16mm f2.4 pancake prime and a bright 30mm f2.0. Like all cameras equipped with APS-C sensors (excluding Canon), the NX format means all lenses have their field of view reduced by approximately 1.5 times.
The NX200's 18-55mm f3.5-5.6 OIS lens is large in comparison to similar zooms of Micro Four Thirds systems and other cameras with smaller sensors like the Nikon 1 models, but it is similar in size and weight to the Sony 18-55mm f3.5-5.6 kit lens for NEX models. The front focussing ring can be used to manually focus with the AF/MF switch set to MF, while MF Assist magnifies the view by 5 or 8x. There's also a 'focus bar' option with a green column that rises as the subject comes into focus, but this is no real match for the focus peaking feature on Sony's NEX range.
The NX lenses do have something else to offer though; in PASM exposure modes the focus ring can be assigned to one of a number of exposure controls including aperture, shutter speed, ISO sensitivity, White Balance and exposure compensation. Samsung calls this i-function and it's activated by pressing the iFn button on suitably equipped lenses. It can also be used to activate the i-Zoom feature which automatically crops the central portion of the image to produce a lower resolution version with no interpolation.
I-function adds an additional control option to the NX200's array without the need for more physical buttons on the camera body and using the focus ring in this way is a great idea if, in practice, it's not quite as ideal as it sounds. I'll go into more detail about how i-Function works in the handling section.
With a crop factor of just over 1.5x, the 18-55mm kit lens provides a 35mm equivalent range of 28-85mm. So although the sensor size and focal range is nominally the same as the NEX-5N with the SEL 18-55mm kit lens, the vertical angle of view is slightly narrower.
| | | |
| --- | --- | --- |
| Samsung NX200 18-55mm f3.5-5.6 coverage wide | | Samsung NX200 18-55mm f3.5-5.6 coverage tele |
| | | |
| 18-55mm at 18mm (28mm equivalent) | | 18-55mm at 55mm (85mm equivalent) |
With a stabilised lens attached, the NX200 offers three stabilisation options: off, mode 1, in which stabilisation is activated when you half-press the shutter release, and Mode 2 which is on all the time and provides a stabilised live view on the screen. There are no panning modes to confine stabilisation to one plane, so if you're following fast action the best option is probably to disable it. In fact to preserve battery life you might want to think about using off as the default setting and only activating it when you really need it, which is easy enough form the Smart Panel.
To test the stabilisation with the 18-55mm kit lens attached and set to its maximum 55mm focal length (85mm equivalent) I took a series of shots in shutter priority mode at a range of progressively slower shutter speeds with the stabilisation disabled and set to Mode 2 (continuous)
As you can see from the crops below, the NX200 with the 18-55mm OIS kit lens manages to eliminate camera shake at shutter speeds down to 1/10th of a second, giving it around three stops advantage on what the conventional wisdom dictates is possible with an unstabilised lens.
Samsung NX200 with 18-55 f3.5-5.6 OIS Stabilisation Off/On

100% crop, 18-55mm at 55mm, 100 ISO 1/10th, OIS off.

100% crop, 18-55mm at 55mm, 100 ISO 1/10th, OIS on
Samsung NX200 shooting modes
As an enthusiast model, the NX200 of course offers PASM exposure modes and for most people that's the most important thing. But with other manufacturers going beyond the conventional exposure modes with creative filters, dynamic range extension and stacking modes for improved results in low light what does the NX200 have to offer?
Surprisingly, given its fast continuous shooting performance, the NX200 doesn't provide any stacking modes, either as a noise reduction or extended dynamic range feature. It does, however offer dynamic range extension – Samsung calls it Smart Range. Enabling Smart Range produces a single shot that's post processed to produce more detail in the shadows and highlights. The difference isn't dramatic and there isn't the degree of control you get with Sony's DRO. Another drawback is that you don't get the 'straight' shot along with the Smart Range version, so if you want both you have to shoot twice changing the settings.
The NX200 isn't short of creative options with a 'Magic' position on the mode dial offering a choice between a wide range of 'Smart' filters and 'Magic' frames. But while quantity is not lacking, the quality of some of the frames may not be to everyone's taste. The Smart filters include Vignetting, Miniature, Fish-eye, Sketch, Half-tone dots and soft focus. There are also a couple of cludgy old film effects. Some examples of the Smart Filters and Magic Frames are shown above – on the top row Smart Filters Vignette, Sketch and Fisheye and bottom row Magic Frames Old Album, Full Moon and Magazine.
The frames provide a, let's call it quirky, mix of overlays that superimpose your shot on anything from a retro TV in a 50's living room to a magazine cover on a desktop. These effects are the kind of thing that used to be popular in budget image editing applications from the 90's and their presence here doesn't really add much of value to the NX200.
The NX200 has a panorama feature that looks very similar to the Sweep panorama offered on various Sony models including the NEX range, it even has a 3D option. In practice though, it's not quite as smooth as Sony's sweep panorama and when viewed at 100 percent, the image quality doesn't quite match up either. One advantage it does have though is that you don't have to set the pan direction before shooting – you just press the shutter button and turn whichever way you want. Samsung doesn't publish details for the panorama image size but I shot test panoramas in landscape and portrait formats with sizes of 6366×1088 and 4384×1648.
The NX200 has a Smart auto exposure mode with automatic scene detection and face detection AF. Eight scene type icons are displayed in a row at the bottom of the frame and light up when the NX200 thinks it has correctly identified the scene. In practice it works pretty well, though the sports scene icon had a tendency to illuminate with the slightest movement of the camera.
In Smart auto exposure mode the iFn button on the lens is disabled, but there's a dedicated position on the mode dial with an I badge called Lens Priority mode. This lets you use the focus ring to select from a range of scene modes or Smart filters and use the i-Zoom digital zoom function at the same time.
Samsung NX200 Panorama mode with 18-55mm f3.5-5.6 OIS II

Click to access original image at flickr
Samsung NX200 movie modes
The NX200 can shoot full HD video with a best quality of 1080p30. Movie files are encoded using the H.264 codec and saved as .mp4 files. 60fps recording is possible, but you need to drop to 720p. There are also standard resolution modes of 640×480 and 320×240. All of these modes have two quality options, Normal and HQ.
The NX200's multi motion feature provides the option to record video for playback at speeds from 0.25x to 20x real time. The 0.25 (quarter speed option is only available for the standard resolution formats, but there is a half-speed slow motion option at 720p30.
As I've mentioned, the NX200 has a dedicated video button, and pressing this starts recording immediately when in Program mode, but if you switch the dial to the movie position the NX200 provides full manual exposure control as well as Aperture Priority and Shutter Priority modes. What's more, you can change the exposure settings in any of these manual and semi auto modes during recording. In movie mode the NX200 automatically switches to continuous AF unless you have the lens set to manual focus, but I was pleasantly surprised to discover you can switch between MF and AF during shooting, so you can set up your shot manually focussed, then switch to AF part way through.
The NX200's 'Picture Wizard' custom settings for colour, saturation, sharpness and contrast can be applied for movies and you can use the Smart filters but only at 640 x 480 resolution. One other nice touch is there's a built-in fader, which automatically adds a fade in/out at either end of your clip.
The NX200's built in stereo mics do a good job of picking up ambient sound and voices within a reasonable range, but are a little susceptible to wind noise and the lack of an external microphone jack rules out the NX200 for serious video work.
Samsung doesn't specify a maximum recording time, but there is a 4GB file size limit.
Samsung NX200 sample video 1: outdoors, sunny, handheld pan with optical zoom
The NX200 1080p30 video quality is good, but the stabilisation isn't as effective as it might be. Focus wavers a little too, but eventually comes good.
Samsung NX200 sample video 2: outdoors, sunny, tripod pan with optical zoom
For this tripod mounted panning shot the NX200 could have made a better job of the exposure. Again, the focus wavers a little on the zoom in, but corrects nicely.
Samsung NX200 sample video 3: indoors, low-light, handheld pan
For this low light interior hand held panning shot the NX200's exposure control in Program Auto mode isn't very responsive. It's changing, but not enough to compensate for the changing light levels
Samsung NX200 sample video 4: Focus
This clip shows the NX200's continuous focus in action. There's a little bit of 'hunting' during the pan from the coffee cup to the bar, but eventually it settles down. In the reverse direction it taks the AF a while to refocus on the cup but when it happens it's pretty decisive.
Samsung NX200 sample video 5: 720p30 Multi Motion x0.5
This clip shows the NX200's multi motion video feature at 720p30 half speed.
Samsung NX200
handling
The NX200's combination of clear well-organised menus and functional control layout makes for quite an enjoyable handling experience. After just a short while using it I was confident that if I didn't know exactly where something was located I'd be able to find it without having to look too hard. Mostly this is down to the menu system which places everything onto a set of four tabs – Camera, Movie, Custom and Settings. Although some of the tabs have more than one panel, none of them contains more than a handful of settings so there's no need for scrolling and you can see everything at a glance. This sort of simplicity is quite a relief compared with the interminably long menus of Sony's NEX models.
Thanks to the Fn button and the Smart Panel it displays, you don't need to access the full menu all that often. The closest thing to the NX200's Smart Panel is the Super Control Panel on Olympus PEN models. What you'll see on the Smart Panel depends on the shooting mode but in PASM modes in addition to the appropriate exposure controls (e.g aperture in Aperture priority mode) you'll see Exposure compensation, ISO sensitivity, Picture wizard, White balance, Metering mode, Quality, Size, Drive mode and Stabilisation as well as a few others. You navigate between these options with the rear control wheel and change individual settings using the top jog dial.
Up to a point, the NX200 handles well in the PASM modes. In Aperture and Shutter priority modes either the jog dial or the control wheel is used to change the selected exposure control and in manual the jog wheel controls shutter speed and the control wheel aperture. There are a number of routes to exposure compensation, the most obvious one being to press the dedicated button on the rear panel, but this has to be held down with your thumb while you change the EV value using the jog wheel. Granted, there's no chance of accidental operation, but it feels overly belt-and-braces.
If you have the iFn lens button set for EV operation you can do the same thing without having to hold a button down by first pressing the lens iFn button, then rotating the focus ring, but it still feels like there's unnecessary button pressing involved. I appreciate that there's a fine line between smooth operation and prevention of accidents, but the answer to that is to provide better customisation options and it feels like Samsung is playing it just a little too safe here.
This leads on to a more general problem with way the the iFn idea, a great one in principle, has been implemented. Having to press a button to assign the focus ring to a secondary function shouldn't really be necessary if the lens is in AF mode, and effectively rendering the ring redundant. If the lens is in AF mode, why not have the focus ring automatically assigned to the iFn function? And once iFn mode is entered, the other controls become its slave, so you can't for example use the focus ring to change aperture while using the jog dial for shutter speed and the control wheel to change the ISO sensitivity. Once you're in iFn mode the jog wheel emulates the focus ring and the control wheel switches between iFn options.
The delete button on the rear panel doubles up as a custom button which you can be assigned to an optical preview, one touch White balance, or one touch RAW+ shooting. Despite the addition of AEL in the 01.04 firmware update released in March 2012, that's quite a short list and as well as including more options it would be nice to be able to re-assign the exposure compensation and/or the dedicated video button, both of which are much better positioned for an AEL button.
All of which is not to say that the NX200 is a handful, quite the opposite. It's just a little frustrating that Samsung hasn't made more of the potential for customisation that it's numerous physical controls have to offer.
Samsung NX200 Continuous shooting
The NX200 has two full resolution continuous shooting modes: Continuous Low shoots at 3fps and Continuous High at 7fps. Burst mode shoots a burst of 5 Megapixel images at 10, 15 or 30fps and there's also a self-timer setting with a delay adjustable in one second increments between 2 and 30 seconds. In the continuous shooting modes focus is locked on the first frame.
The NX200 provides fairly good bracketing control with options to bracket exposure, white balance and even Picture Wizard settings. Exposure bracketing is limited to three shots, but you can select up to plus or minus three stops in 1/3 EV increments.
To test the NX200's continuous shooting performance I fitted it with a freshly formatted Sandisk Extreme Pro 8GB UHS-1 SDHC card. I selected Superfine JPEG image quality and set the drive mode to Continuous High. With my finger held on the shutter release the NX200 managed a burst of 11 shots at a rate of 6.7fps.
Once the burst is completed the camera stops shooting even if you keep the shutter depressed. Unlike some cameras – the Sony NEX-5N being one – you can't fire off another short burst once the buffer has partially emptied, you have to wait just over 11 seconds for the entire buffer to write to the card.
The sequence above shows the first ten frames of an 11-shot burst in Continuous High mode and illustrates one of the main difficulties of high speed continuous shooting with a live view camera – keeping a fast moving subject centred in the frame when you can't see it, only the previous frame.
Switch to RAW+ Super Fine JPEG and the NX200 maintains its 6.7fps rate, but the burst drops to eight frames, so you can record a fraction over a second of action. But the penalty for shooting RAW is a much longer wait for the buffer to write to the SD card. And when I say long, I mean an age – the NX200 took 34.5 seconds to write the eight RAW and eight JPEG files from my (slightly over) one second burst to the Sandisk UHS-1 SDXC card.
While the NX200 is compatible with UHS-1 SDXC cards it can't take advantage of their faster write speeds. Fitted with a Class 10 speed Sandisk Extreme card the results were almost exactly the same. While it's great to be able to shoot at 7fps, in practice, the waiting times involved make the NX200 less of a speed machine than its specification suggests.
And the NX200's slow write times aren't just a problem for continuous shooting. In single image drive mode, particularly when shooting Raw, I frequently found myself caught out by the 'processing' message when attempting to take shots in quick succession or change settings just after having taken a shot. The timings above were achieved with the 01.04 firmware update I mentioned earlier, which reduces the NX200's RAW file size from around 50MB to around 33MB and result in a small improvement in write times for RAW shooting. Practically speaking, though, this makes little difference to the NX200's poor buffer writing performance.
The NX200 has an APS-C sized sensor which measures 23.5 x 15.7mm and applies a 1.57x field reduction to all lenses. This is essentially the same size as the sensor used in Sony's NEX compact system camera range and indeed many consumer DSLRs. It's subsequently larger than the Micro Four Thirds sensors used in Olympus PEN and Panasonic mirrorless models and larger still than the CX format sensor used in the Nikon V1 and J1.
With a resolution of 20.3 Megapixels it produces still images with a maximum size of 5472 x 3648 pixels. There are three quality/compression settings the best of which, Superfine produces JPEG files of 8 to 10MB in size. It can output RAW data files in Samsung's SRW format and these are around 45-50MB in size. The Sensitivity range is 100 to 12800 and the shutter speed range is 1/4000 to 30 seconds plus Bulb which has a 4 minute limit. The fastest flash sync speed is 1/180.
To see how the quality of the Samsung NX200 measures-up in practice, take a look at my NX200 quality and NX200 noise results pages, browse my NX200 sample images, or skip to the chase and head straight for my verdict.