Samsung Galaxy S20 review so far
The Galaxy S20 is the new flagship phone from Samsung and its best yet for photography; announced in February 2020, it follows last year's S10, but Samsung's rebranded the series, so instead of S11 we're skipping straight to the S20. I had a brief chance to try it out at an official Samsung press event and in my first-looks video below I'll show you what's new, concentrating on the camera side – as always, this is an early video that will be followed-up by an in-depth review, so look out for that along with sample images. Right, let's get on with it! PS – if you prefer a written version, you'll find the text below the video!
Like previous generations, the S20 comes in several flavours, differentiated mostly by screen size, battery and camera specs: there's three models at launch, starting with the base S20 which has a 6.2in screen and 4000mAh battery, followed by the S20+ with a 6.7in screen and 4500mAh battery, while the top-end S20 Ultra boasts a 6.9in screen and 5000mAh battery. So all the screens and batteries are larger than the previous generation.
All three screens also share the same Quad HD+ resolution of the S10 with AMOLED panels and Infinity O styling, which is Samsung's way of saying pretty much the entire front surface is the display; they all support HDR 10+, while the refresh rate has now been doubled to 120Hz and the touch sensitivity to 240Hz, making them more responsive for gaming. They also all support 5G as standard, although a slightly cheaper version of the S20 base model will be available with 4G at best. All three share the same 64 bit Octa core processor running up to 2.73GHz, and the base memory for the 5G models is 12GB of RAM with 128GB of storage, although the Plus and Ultra models will also be available in 512GB, and the Ultra with up to 16GB of RAM; meanwhile all three have a Micro SD slot that can support 1TB cards, but no analogue headphone jack.
SIM-free pricing is similar to the S10, so in the UK you're looking at 899 pounds for the S20 (or 799 if you go for the 4G only version), 999 pounds for the S20+, 1199 pounds for the S20 Ultra. Obviously there'll be cheaper deals with a network contract.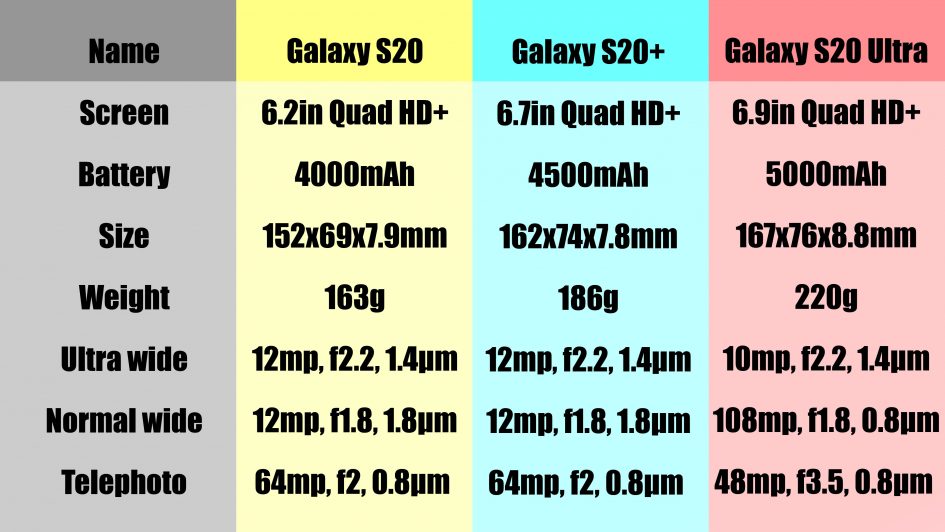 Right, now onto the cameras which is what I'm really interested in – and apparently also the number one reason most people upgrade their phones.
I'll start with the most affordable S20, which has a triple camera system, now arranged in a vertical line. The main wide camera shoots at 12 Megapixels with an f1.8 lens and optical stabilisation – the 1.8 micrometer pixels here are a little bigger than the S10's main camera, but the lens a little dimmer. This is joined by an ultra wide camera, capturing twice the field of view with 12 Megapixels using an f2.2 lens – so it's a little lower resolution than the 16 Megapixel ultra wide camera on the S10, but this in turn makes the 1.4 micrometer pixels fatter and more sensitive. Meanwhile for longer shots, there's the telephoto camera that grabs 64 Megapixel photos using an f2 lens with optical stabilisation. The 0.8 micrometer pixels are smaller than the S10's telephoto camera, but there's a lot more of them and the lens is a bit brighter too. The key difference though, is that the S20's telephoto camera now sports a 3x optical zoom, which thanks to the higher resolution sensor, can work together to deliver a 30x total digital range.
Moving on, the S20+ with its bigger screen and battery, has a quad camera system, sharing the same three cameras for imaging as the base S20, but adding a fourth DepthVision camera for generating more realistic shallow depth of field or blurring effects. Meanwhile the S20 and S20+ also share the same front-facing camera built-into the display which takes 10 Megapixel selfies using an f2.2 lens and 1.22 micrometer pitch; so that's the same sensor spec as the S10, but with a slightly dimmer lens.
The flagship S20 Ultra is where things really start to get interesting and the clue lies within the chunkier panel on the rear. First things first: the S20 Ultra shares the same ultra wide camera as the S20 and S20+, and also includes the DepthVision camera of the Plus. The front-facing camera also has an f2.2 lens but now shoots higher res selfies at up to 40 Megapixels; set it to shoot at 10 Megapixels and it'll sport slightly fatter 1.4 micrometer pixels than the first two models, so the sensor's a little bigger.
But the S20 Ultra does things very differently for its standard and telephoto cameras. The S20 Ultra's standard camera now sports a larger 1 / 1.33in sensor with an ambitious 108 Megapixel resolution using an f1.8 lens with optical stabilisation. The huge resolution results in 0.8 micrometer pixels, but cunningly it can combine a three-by-three square of them into make one extra-fat pixel – this reduces the photo resolution to 12 Megapixels, but increases the pixel size to a generous 2.4 micrometers. So the resolution would now match the S10, but the pixels would boast three times the surface area, making them much more sensitive in low light; this is a really big deal for quality.
But the S20 Ultra's telephoto camera raises the photography game even further, squeezing-in a 10x optical zoom using folded optics on their side. The resolution's 48 Megapixels with 0.8 micrometer pixels, downsizing to 12 Megapixels with fatter 1.6 micrometer pixels, while the lens is f3.5 with optical stabilisation. The Ultra's two new cameras by default operate at 12 Megapixels to perform better in low light, but use their extra pixels to deliver more reach with a digital zoom, or you can force the main camera to shoot at its full 108 Megapixel resolution if preferred.
As the Ultra zooms from 0.5x to 100x, it sometimes uses just one camera, but more commonly a combination of the lenses and pixels at its disposal. Longer zooms show your position in relation to a bigger image in a thumbnail in the corner. Unsurprisingly the quality suffers at the longer end, but keep your zooming modest – say up to 10x – and you'll enjoy respectable results and a range that's still impressive for any phone; the final photos in playback can also look better than the live preview. As soon as I get a final production sample, I'll be posting sample images here.
Beyond longer zoom power, the S20 models also aim to deliver better quality in low light with their Bright Night mode. First here's a normal photo taken with the S20 Ultra, and now one taken with Bright Night that captures a burst of 30 images, some with high ISOs, some with different exposures, which are then combined into an image that should deliver brighter details with better detail and lower noise.
Meanwhile for photographers who can't decide how best to take a shot, the Single Take mode grabs a mix of stills and video, while encouraging you to adjust the composition, before then showing a bunch of different approaches to the same scene. You'll see wide shots, long shots, videos in forward and reverse, effects and more, so there should be something that appeals or at least surprises.
Like most modern phones, you can choose whether to record images in standard JPEG or HEIF formats, the latter using more efficient compression to produce smaller file sizes. Alternatively if you'd like to adjust your images later, recording in RAW will give you more flexibility. I'm confirming with Samsung about bit depths for the HEIF and RAW modes, but I believe HEIF is only used for smaller sizes rather than greater tonal range.
All three Galaxy S20 phones can film 8k video at 24p, as well as 4k or 1080 at 30 or 60p; I'd prefer there to be more frame rates available, especially 24 or 25p for 1080 and 4k, but let's not let that ruin the fact the S20 phones can now actually film 8k seemingly without compromise, with no apparent crop or time limit beyond memory as far as I could see. Yeah, this is it recording 8k and nothing appears to be melting so far.
While you can cast 8k video to compatible Samsung TVs, most of us will use it for video-grabbing frames at a considerable 33 Megapixels. The S20's 8k Video Snap function is designed to do just that, and here you can see a frame grabbed from a promotional video and the detail it contains.
Samsung's also aware that shakiness spoils many videos, so has improved its stabilisation. I wanted to try it for vlogging, but wasn't allowed to bring any files home from these early samples, so until I can do my own tests here's one of Samsung's own demos showing it in action while the videographer was running; the unstabilised footage is on the left and the stabilised version on the right. It's pretty impressive stuff,, but again I really want to test all of this myself before casting judgment.
What's definitely welcome though, is the addition of a Pro mode for video that unlocks full exposure control for movies, and it's also possible to film in high resolutions and downconvert if desired. Since 8k is only available in 24p, this hopefully should allow you to generate lower res versions also in 24p, but again I'll need to test this for my full review.
That's all I can say for now, based on my brief time with the phone. The Galaxy S20 certainly feels like a big jump forward in the series, especially for photographers, and particularly with the flagship Ultra model. Rivals had previously taken a lead in low light or zooming capabilities, but the S20 Ultra fights back with not just a larger than average sensor with an ultra high res mode for the main camera, but also by squeezing-in a 10x optical zoom for the telephoto camera. These two features alone will make the S20 Ultra a very tempting phone for photographers, while the addition of 8k video grabs and a bunch of cunning software modes could seal the deal. The beefed-up camera spec of the Ultra has resulted in a chunkier than normal panel on the rear, but it wasn't noticeable in my pocket and a case would create a more flush rear surface if preferred.