Rode Wireless Go review - Verdict
Verdict
The Rode Wireless Go brings wireless audio to mainstream video creators: smaller, lighter, cheaper and easier to use than any decent wireless system to date, it's one of the most exciting accessories I've tested. Like all wireless systems, it gives you the freedom to walk around, unencumbered by cables or directional microphones, and in my tests it achieved the quoted maximum operating distance of 70m given line-of-sight. It's easy to use too: just switch on the transmitter and receiver and seconds later they're connected and good to go, with a helpful display on the latter indicating signal strength and battery life on both units. Cleverly the clips on each unit are also the width of a coldshoe accessory, allowing you to slide them onto a camera hotshoe without any screws or accessories.
But the real genius is the compact size coupled with the decision to fit the transmitter with a built-in microphone – sure there's jack on there to connect your own lav mic if you like, but the transmitter is sufficiently small and light for it to be clipped directly onto a collar or lapel and be good to go without the inconvenience of threading a cable from a lav under your shirt to your back pocket. In my tests the audio quality was good too, beating similarly-priced shotguns when used more than a couple of meters from the camera, especially outdoors. The relatively hot or loud output means you'll need to be careful with your camera's audio levels when setting up and the built-in antennas mean the range is significantly lower when you're turned away or don't have line-of-sight, so be warned if you have the transmitter in a back pocket. At longer distances the sound could become a little harsh and while those cute wind mufflers may have been effective at reducing wind noise, they could come loose quite easily. In short, this isn't pro broadcast gear but it's not pretending to be either, and for the target audience the Wireless Go still remains extremely attractive.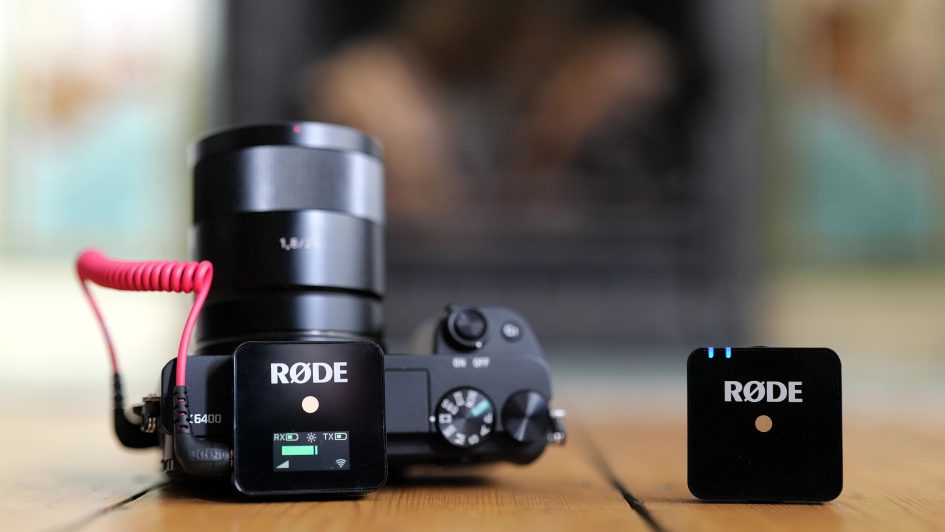 If you're a studio-bound presenter doing voiceovers and don't mind staying very close to a mic and syncing audio afterwards, then I'd recommend Rode's NT-USB, while shotguns like the Rode VideoMic Pro remain a tempting option when filming pieces to camera within around 2m, especially indoors. But if you want more freedom to move around while you talk, not to mention greater resistance to echoey rooms or noisy exteriors, then you simply can't beat a lav mic with a wireless connection – and the bottom line is the Rode Wireless Go gives it to you in a smaller, lighter and cheaper package than ever before, opening it up to a whole new audience. I can Highly Recommended it to any video creators taking their first steps into wireless audio.

Check prices on the Rode Wireless Go at B&H, Adorama or WEX!