Rode Wireless Go II review
The Rode Wireless Go II is a compact wireless microphone system that supports two transmitters, internal recording and connections to cameras, phones and computers. Announced in February 2021, it arrives roughly two years after the original Wireless Go and builds-upon its concept of bringing easy wireless audio to mainstream creators.
Like its predecessor, the Wireless Go II employs very compact transmitter and receiver modules, with the former including a built-in microphone in addition to an analogue input for an external mic. This means you can use the transmitter as a traditional pack with a separate lav mic, or actually clip the transmitter directly to your collar and use it as the mic as well.
The Wireless Go II addresses a number criticisms and requests by allowing two transmitters to connect to a single receiver to record two subjects at the same time, while also supporting longer distances up to 200m line-of-sight. The Go II can now work as both an analogue mic for typical cameras or as a USB mic, connecting directly to compatible computers, tablets or phones; an optional Lightning cable also connects to older iPhones. The Go II now supports Rode's safety channel feature where a much quieter version is recorded to a separate channel, protecting you from unexpected loud sounds or incorrectly set levels. The transmitters can now also record audio internally (exported in either compressed MP3 or uncompressed 24 bit WAV) as additional protection from dropouts, while the highly frustrating windshield of the original has been redesigned with a robust bayonet mount, preventing it from falling off. Best of all the Wireless Go II comes with a pair of transmitters for only 50% more than the old version which only supported – and came with – one.
I really enjoyed the original Wireless Go and use it on a lot of my videos, so with the new version claiming to address most of my issues, I couldn't wait to try it out! In the video below you'll see and hear demonstrations of all the new features in practice!
Arriving two years after the original Wireless Go, the Mark II version shares the same size transmitter and receiver modules, with the transmitter still including a built-in microphone as well as an analogue input for an external mic. This means you can either use the transmitter as a traditional wireless pack with a separate lav mic, or actually clip the transmitter directly to your collar and use it as the lav mic as well, as I'm doing here.
So far so similar, but in a major upgrade, the Go II now comes with two transmitter units, allowing you to easily mic-up and record two people at once, making it perfect for interviews. The new receiver links to both transmitters at the same time, and displays the status of both separately, including their output levels, battery, signal strength and recording mode. Note the new transmitters and receiver are not compatible with the old ones.
As before the units are powered by internal batteries that are charged over USB C, but in a nice upgrade you can now use the USB port on the receiver as an audio output. This means you can connect it to computers, tablets or phones as a standard USB mic that you can use with any software for video calls, live streaming, or even recording a podcast, and a lightning cable is also available for iPhones. The old 3.5mm analogue output remains for connecting to cameras, but when the receiver's connected over USB instead, this port doubles as a headphone jack.
In a huge usability upgrade, the highly frustrating windshield of the original model has been redesigned with a robust bayonet mount, preventing it from falling off. Rode supplies three mufflers in the box, and while they're still quite large on-camera, you can always use a more discrete separate lav mic instead if preferred.
In line with recent Rode shotguns, the Go II now includes a safety channel option which records the normal level to one channel alongside a much quieter version on the other, thereby protecting you from accidentally high levels.
In a pleasant but unexpected upgrade, the transmitters can now also record audio internally as additional protection from wireless dropouts. Dropouts may however occur less often now since Rode has also increased the maximum line-of-sight range from 70m to 200m.
Best of all the Wireless Go II comes with a receiver and a pair of transmitters for only 50% more than the old version which only supported one.
Internal recording
One of the biggest and perhaps most unexpected new features of the Go II is internal recording, and you're actually hearing it in action right now. The audio I'm using for this section was recorded by the transmitter and exported as an uncompressed WAV. Pretty neat, but while it can be genuinely useful, don't assume you're getting a pair of tiny independent field recorders.
Each transmitter can certainly record its audio internally, providing redundancy from wireless dropouts or even issues with whatever the receiver's plugged into, and there's enough built-in memory to store around seven hours of uncompressed audio or over 40 in a compressed format. But unlike traditional field recorders, there's no physical controls to activate recordings, no removable storage, nor even the ability to simply drag WAVs or MP3s out of them.
Instead, everything relies on the Rode Central app which, at the time of reviewing, was only available for Mac and Windows systems. Once a transmitter is connected over USB, the Central app installs any new firmware updates, then lets you set the option to record, along with choosing between compressed or uncompressed formats, but the actual recording itself won't start until the transmitter and receiver are powered-up and connected and won't stop again until you switch one or both of them off. This means you'll need the receiver present and connected even if it's not plugged into a camera or other device, although the receiver's screen is still handy for checking levels, while a red dot above each channel indicates which transmitters are currently recording.
This unattended process may prevent accidental stops and starts, but means you'll also end up with lots of redundant audio, plus once the unit is full, it'll start deleting the oldest recordings in a rolling process. But again with 7hrs of uncompressed or over 40 of compressed audio, you've got plenty of breathing space. Just remember to extract those files at the end of each day.
When you want to access the recordings though, you can't just connect the transmitter to your computer over USB and simply drag-out usable WAVs or MP3s. Instead you'll need to use the Rode Central app once more to select a recording – at which point you can preview it with handy markers indicating moments of dropouts – before then choosing to export it. You can export uncompressed audio as a WAV in either the native 24 bit or an interpolated 32-bit format, although this doesn't appear to be true 32-bit float, so you'll still need to take care over setting levels. Meanwhile compressed audio is exported as an MP3 in a variety of bit rates up to 320kbps. As for the original format of the recordings, that's harder to tell as checking the storage volumes just revealed a load of .ugg and .egg files.
Once you've accessed and exported the desired files and found the sections you want, everything's fine, but I think it could have been so much better if each transmitter simply worked as standalone field recorders with start and stop buttons, along with the ability to simply drag out usable MP3 or WAV files once connected to a computer. Instead there's too much reliance on the Rode Central app which at the time I made this review wasn't available on mobile, so many of us will need to configure the internal recording settings when back at home.
I should also mention the internal recordings had no levels to adjust but haven't saturated in my tests so far. Rode explained the recording level had been preset for the built-in or a lav mic for normal voice use, but I'm hoping it hints at a broad dynamic range behind the scenes. Who knows, maybe native 32-bit floating point may be possible in a future update.
But while I find the workflow unnecessarily convoluted, ironically in an attempt to be simple, it's arguably a bonus feature you wouldn't expect to find on a wireless mic. As such while the Go II could be improved to the point of becoming an effective field recorder, it's still ultimately a wireless microphone system which considerately also provides some internal protection against dropouts.
Rode Wireless Go II verdict
With the Wireless Go II, Rode has made significant upgrades over the original model, fixing a number of issues but also adding some unexpected features, and greatly increasing its appeal as a result. Most obviously the dual transmitters now make recording interviews, whether on-camera or for audio podcasts so much easier than before, and from a practical aspect the frustrating windshields of the original now twist-on and stay-put securely. Personally I'd have been satisfied by these two upgrades alone, but the Go II also increases the operating distance, broadens the connectivity to include phones, tablets and computers, and includes an internal recording option for backup as well as an optional safety channel for protection against unexpected loud sounds or badly-set levels.
In use the range is genuinely longer, the wind shields no longer fall off, and the internal recording and safety channel protect from both dropouts and saturation, while it's never been quicker or easier to mic-up two people for an interview or vlog. I also enjoyed the option of using a wireless mic on my computer or phone over USB C for all those Zoom and Skype meetings.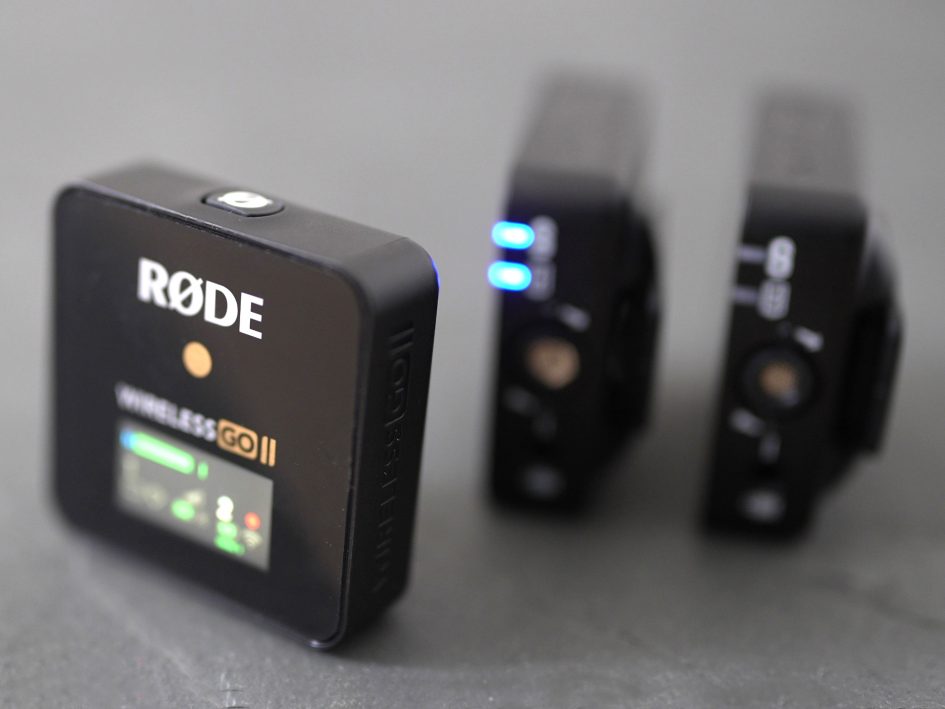 As someone who mostly uses the built-in mic though, I remain a little frustrated by Rode's physical design. The transmitter unit is still distractingly shiny when facing forward, and even if you reverse it behind a collar, there's still those blue status lights illuminating your neck. I reached out to Rode and asked if a future firmware update could optionally disable the transmitter lights for discretion, as the receiver display already indicates if they're actually working. But to be fair, some tape can provide stealth if preferred and if you're using the transmitter with a separate lav mic, then the design of the unit, the lights and even the windshield all become non-issues.

Beyond this, there's the unnecessary reliance on the Rode app for configuring and accessing internal recordings which I detailed earlier. I'm hoping Rode's sly mention of an interpolated 32-bit export in the application means we may see a firmware update in the future that enables true 32-bit float on the Wireless Go II, but for now you'll still need to set your levels carefully or trade the ability to mix the microphones for that safety channel.

But it seems churlish to complain, as had internal recording been left out of the Go II altogether, I really wouldn't have any issues with the product at all, other than an overly shiny transmitter unit. The fact is it's already sufficiently compelling without internal recording, so I'd view this feature as bonus icing on the cake.

Since its launch I've come to rely on the Wireless Go for my outside recordings, but with the upgrades the Go II becomes a compelling option indoors too, while the dual transmitters make interviews a doddle to record. It's this sheer flexibility that makes the Wireless Go II a no-brainer for anyone who wants to upgrade their microphone audio wherever they are without worrying about wires or complex setups. It's no exaggeration to say I love it and I reckon most of you will too.

Check prices on the Rode Wireless Go II at B&H, Adorama or WEX. Alternatively get yourself a copy of my In Camera book or treat me to a coffee! Thanks!