Rode VideoMic Me-L review
The Rode VideoMic ME-L is a small microphone designed for iPhones with Lightning ports. It's aimed at vloggers, interviewers and musicians who want to capture higher quality audio than the phone's built-in microphone. The VideoMic Me-L sits alongside Rode's existing VideoMic Me, which connects via a traditional analogue jack plug, now absent from the latest iPhone models.
Rode describes the VideoMic Me and Me-L as sharing the same microphone capsule but that the newer Me-L version has the potential for better sound quality as it uses its own built-in pre-amp and analogue to digital converter as oppose to the Me model which relies on the phone's own electronics. In the box you'll find the microphone, a windshield for reducing wind noise and a clip for additional fixing support. It's certainly simple to use: just plug it in, facing either you or your subject, and it's ready to go. In the following video I tried it out in a variety of conditions, comparing it to the built-in microphone and other solutions. Find out if it's the upgrade you've been looking for!
Rode VideoMic ME-L verdict
The VideoMic Me-L performed well throughout my tests, and in certain instances it is significantly better than the built in iPhone mic. You will benefit most from the VideoMic Me-L when using it at close range or outdoors when combined with the windshield. At arms-length though I struggled to hear a significant difference between the Rode mic and the built-in phone mic when using it indoors, although again when outdoors the Rode wins hands-down. The VideoMic Me-L also does a much better job of cutting out ambient noise, being a more directional mic than the iPhone.
I did have to boost the gain considerably to make the volume equivalent to that of the Rode VideoMicro attached to my Canon EOS 80D DSLR, which shares the same capsule as far as I understand, although obviously the pre-amp and converter in the camera also play their role. Indeed Rode notes the VideoMic Me-L has the potential to sound better than the analogue VideoMic Me version for just that reason: the Me-L exploits Rode's own built-in pre-amp and analogue to digital converter, whereas the older VideoMic Me has to rely on whatever is inside the phone. That said, the combination of VideoMicro on my DSLR vs VideoMic Me-L on my phone often yielded better results overall as you'll see and hear in my video above.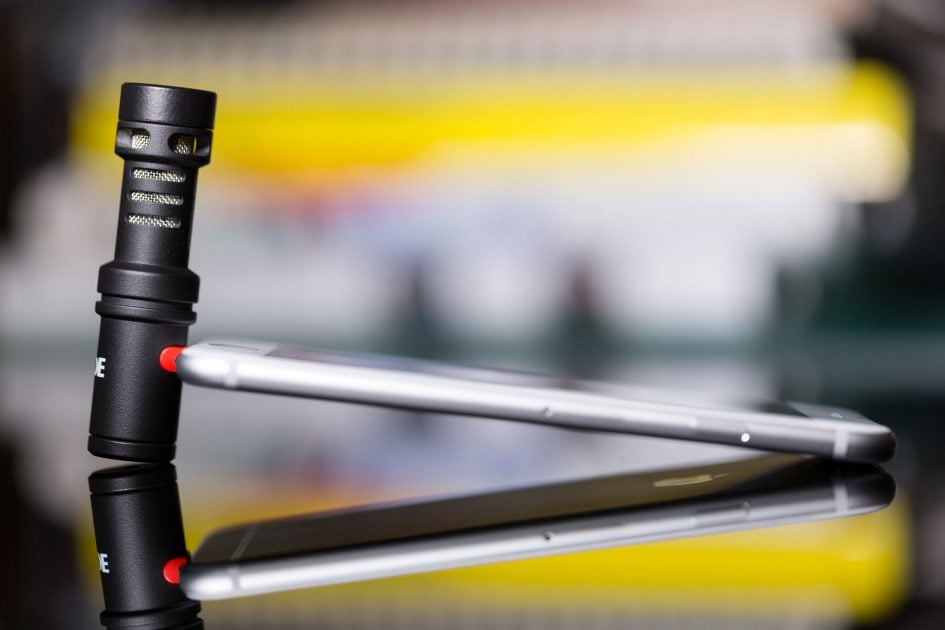 Installation is as simple as plugging it into the lightning port. Rode recommends using it with the Rode app for greatest control over the input levels, however this only records audio. For video you'll need to use a different app. Luckily the phone registers the microphone as the audio source and will work with the iPhone's default video app or 3rd party video apps, so no problems there other than the potentially low levels noted above which you may need to boost later.
Some practical observations, if using it with the windshield expect a portion of your iPhone screen to be obstructed – not a big issue if you're just recording audio, but potentially annoying if you're filming video too. In some orientations the record button is also blocked. The limitations of the iPhone video capabilities also means that you will have to download a third party app if you wish to merge the footage with other PAL recordings, as iPhones shoot in 30p / NTSC format or more recently 24 frames per second, but not 25fps.
If you are set on making recordings with higher production value on your iPhone, then the Rode VideoMic Me-L will certainly give you better audio quality, at least when used at close range or outdoors. But for serious vloggers I see this being one accessory that would accompany a clip-on lens with filter adaptor and a selfie-stick or gimbal of sorts. The iPhone rig is then starting to creep up in size and I would ask myself whether a smaller dedicated camera (perhaps a Canon EOS M50 fitted with Rode's VideoMicro) is the better option. But it's all about having options, and if you simply want to upgrade the audio recording quality of a modern iPhone for vlogging, interviews or musical performances, the VideoMic Me-L does a good job and comes recommended.