The Rode Podcaster is a broadcast-quality USB microphone designed for recording spoken vocals from podcasts to voiceovers. As a USB microphone, it connects directly to a USB port on your Mac or PC – or even an iPad using the optional camera connector kit and a powered hub – thereby bypassing or eliminating the need for an audio interface. With a laptop, Podcaster and some kind of stand, you could be recording studio-quality vocals wherever you go.

The Podcaster is essentially a USB version of Rode's Procaster studio microphone, swapping the latter's XLR jack for a USB port and internal analogue to digital conversion; this is more convenient for anyone recording with a single microphone directly into a computer, although if you intend to use two or more microphones, you'll be better-served by traditional XLR mics connected to an audio interface with multiple inputs and mixing capabilities.

The Podcaster employs a dynamic audio design with a cardioid pattern designed to pick-up audio from the front and sides but reject sound from the rear. Rode designed it to mimick broadcast microphones of the past with a fairly narrow frequency response (40Hz to 14Khz in this case) and relatively low sensitivity. Coupled with a built-in foam pop filter, it's designed to be used at close range for classic radio-style spoken vocals, and while you can mount it on a stand (even a table-top one), it's most comfortable with an angle-poise boom arm and anti-shock mount, such as Rode's own PSA1 and PSM1 accessories; meanwhile if you desire greater protection from pops or wind, you can fit the optional WS2 foam shield. In the following video, I'll compare the quality and features of the Rode Podcaster against the Rode NT USB, an equally popular mic for voice work.

Check prices on the Rode Podcaster at Amazon, B&H or Adorama. Alternatively get yourself a copy of my In Camera book or treat me to a coffee! Thanks!

The cylindrical design measures roughly 56mm in diameter and 215mm in length, while the metal construction and 655g weight lends it an air of solidity and confidence. The Podcaster also features a 3.5mm headphone jack for latency-free monitoring of audio both from the microphone and from the computer, along with a plastic volume control. This volume knob feels a little flimsy compared to the substantial build of the microphone itself although overall the microphone looks able to take the knocks and be thrown into bags for ad-hoc recording on the road.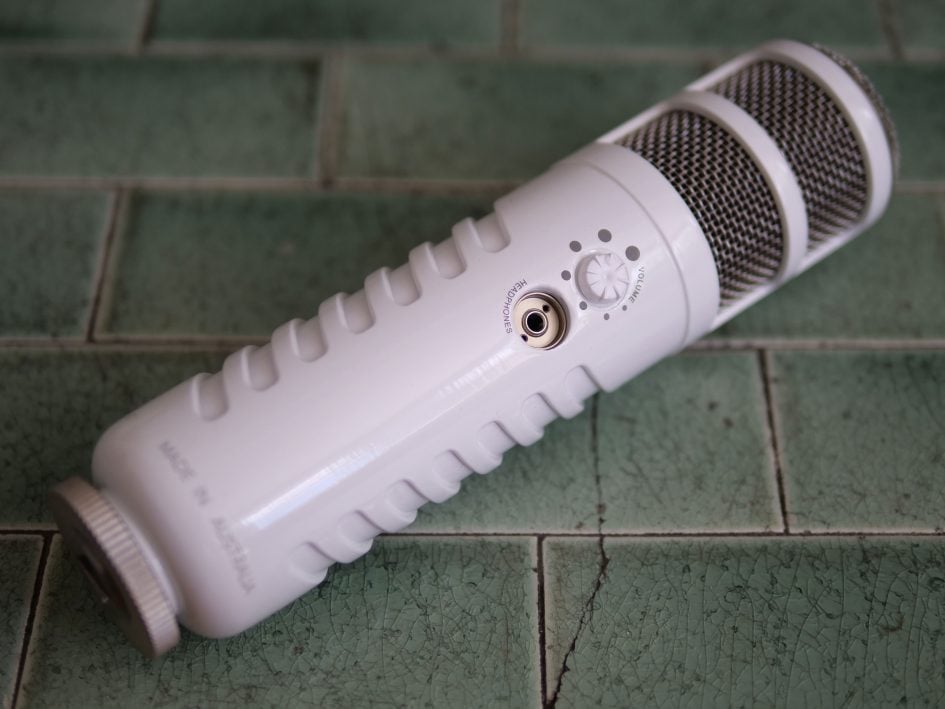 The Rode Podcaster's physical and audio design means you'll be speaking directly into the front of it at close range, typically from around two inches away; Rode includes a small forward-facing LED which you should be able to see if you're in the correct position. This recording distance coupled with the slightly narrower frequency response means voices sound fuller with greater bass than normal, while the short typical working distance from the mic means it'll almost certainly be in shot if you're capturing video too. This makes it best-suited for audio podcasting or recording voiceovers, although some may also enjoy the professional studio look of a large microphone mounted on an arm in their videos.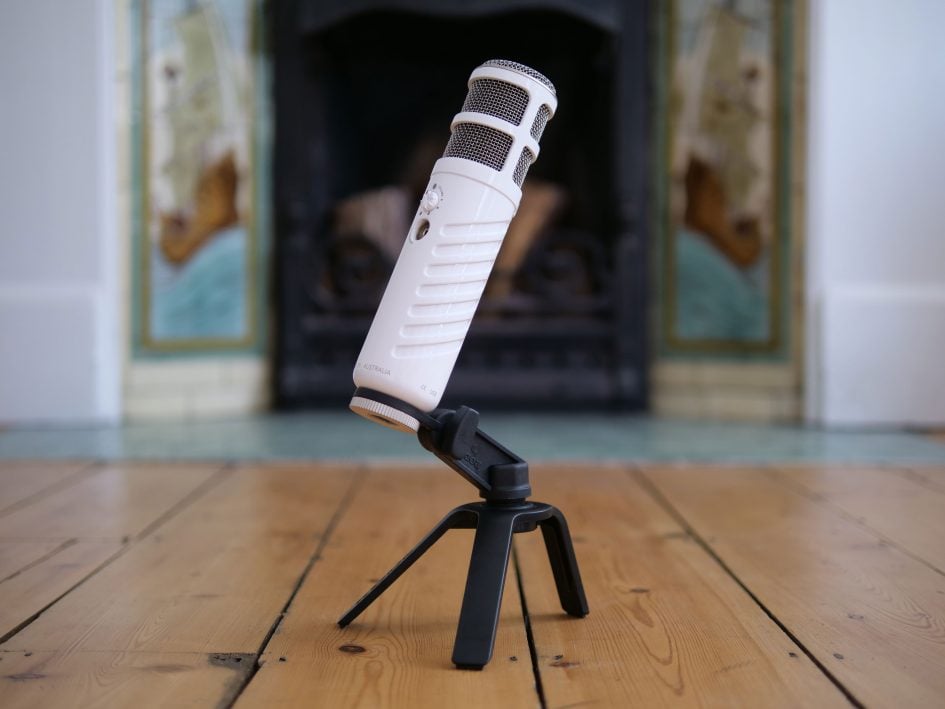 Rode Podcaster final verdict
The Rode Podcaster is a high quality USB microphone optimised for spoken vocals and ideally suited for podcasts and voiceovers. The physical and audio design encourages use at close range to deliver a classic radio sound that's flattering for spoken content, while the USB interface means you can be recording studio-quality audio onto a computer or laptop with a stand and a single cable; it'll also work with iPads with the optional camera connector kit and a powered USB hub.

The cylindrical shell is well built and includes a headphone jack for monitoring audio, and the mic itself can be mounted on a stand, tripod or an articulated arm; indeed while you could use the Podcaster on a tabletop tripod in the field, I suspect its design and close-range use means most will deploy it in more of a studio environment on a boom arm, but it is worth remembering the audio design means it's more effective at rejecting ambient sounds than some mics. If you're after a more transparent – not to mention more sensitive – USB microphone that's great for musical instruments as well as voice, consider the Rode NT USB, but again remember it will be more sensitive to ambient sounds so is best used in a quieter environment. Ultimately a lot will also boil down to preferences on styling and use – if you've always dreamed of a studio style microphone mounted on an arm for spoken work, then the Podcaster is the one for you. Do however note the boom arm – and your radio voice – are optional extras.

Check prices on the Rode Podcaster at Amazon, B&H or Adorama. Alternatively get yourself a copy of my In Camera book or treat me to a coffee! Thanks!