The Rode NT USB is a broadcast-quality USB microphone designed to capture a wide range of sound from vocals to musical instruments. As a USB microphone, it connects directly to a USB port on your Mac or PC – or even an iPad using the optional camera connector kit and a powered hub – thereby bypassing or eliminating the need for an audio interface. Supplied with a tabletop tripod, it's a microphone you can pop on a desk, connect to your computer and easily start recording studio-quality audio in moments.
Unlike the slightly compressed audio style of the roughly similarly-priced Rode Podcaster, the NT USB is designed to be as audibly transparent and accurate as possible. Its condenser design captures a broader frequency response of 20Hz to 20KHz and enjoys a higher sensitivity that's better for recording quieter or more intricate sounds. As such while it lacks the classic radio presenter style sound of the Podcaster, the NT USB will more accurately record singing, musical instruments or simply a cleaner spoken style. Do however note the condenser technology is more susceptible to moisture so it's best to store and transport it in a pouch with some silica gel.
The NT USB measures 184x62x50mm, weighs 520g and is designed for use with its front surface angled towards the sound, like speaking to the flat side of a wide ice lollypop; Rode's fitted an LED to indicate the mic's powered-up and operational. It's also supplied with a curved metal mesh pop shield that prevents you getting too close, as well as a small tabletop stand and a long USB cable. There's a 3.5mm headphone jack for latency-free monitoring of audio, as well as a volume dial and a handy mixer dial that lets you adjust the balance between the sound you're monitoring from the microphone and the sound coming from the computer; I find this invaluable for comfortable listening during conference calls, Skype sessions or Google hangouts. Having the additional mixer dial is a key benefit over the Podcaster and both the NT USB's dials feel of a higher quality than the tiny plastic headphone volume dial of the Podcaster. Overall the Podcaster's main cylindrical shell may feel tougher, but I have no complaints over the build quality of the NT USB – it's a substantial piece of kit. In the following video, I'll compare the quality and features of the Rode NT USB against the Rode Podcaster.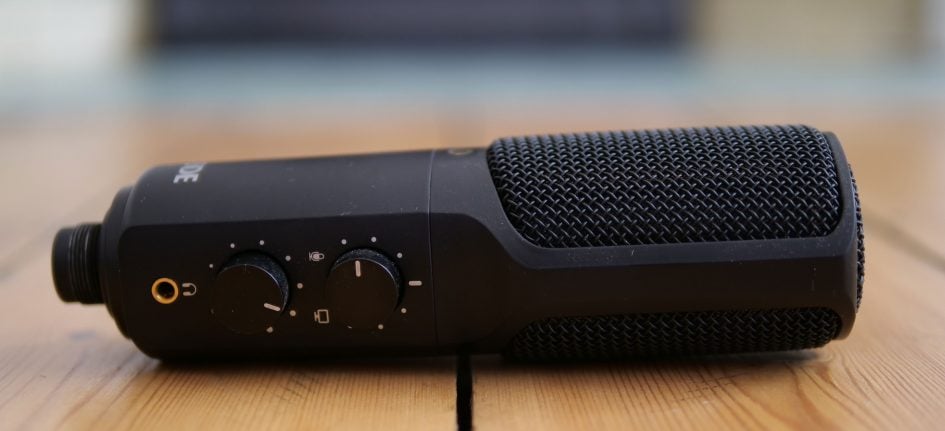 Check prices on the Rode NT USB at Amazon, B&H, Adorama, or Wex. Alternatively get yourself a copy of my In Camera book or treat me to a coffee! Thanks!

I've been using the NT USB to record the voiceovers of most of my product overviews on YouTube as well as for my recent podcasts with Doug Kaye, and I've been impressed by its clarity and quality, not to mention its ability to work well at distances of around 12in allowing me to position it just out of frame – a distance where the less sensitive Rode Podcaster would struggle. The NT USB's clinical accuracy can be unforgiving though, so if you prefer a deeper vocal sound, try to position yourself closer to the pop shield; around 6in is ideal. If you're only recording spoken vocals and can accommodate a microphone positioned close to your mouth, then you may prefer the Rode Podcaster which is designed to deliver more of a classic radio presenter sound. But if you favour a cleaner, more precise approach then the NT USB sounds great and it's also better-suited for recording other sounds like music or singing.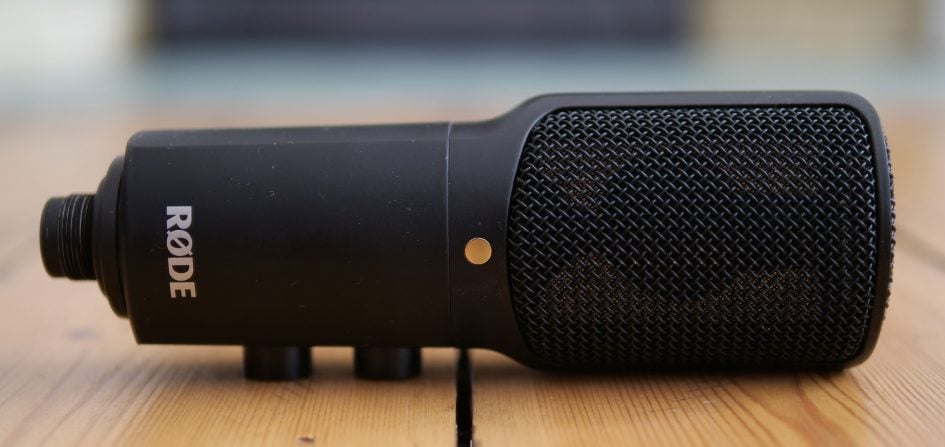 Indeed the cleaner sound quality with better results from 6 to 12in, coupled with a smaller body, sound balance mixer, pop shield and tabletop tripod supplied in the package makes it, for me, a superior and more flexible choice than the Podcaster. Again if you prefer the classic radio sound style and a physical design that's better-suited for arm-mounting in a studio, then the Podcaster is for you, but for greater quality and flexibility, it's the NT USB all the way. Having used both, I'd be very happy with either, but ultimately I prefer the NT USB – and it's a little cheaper too.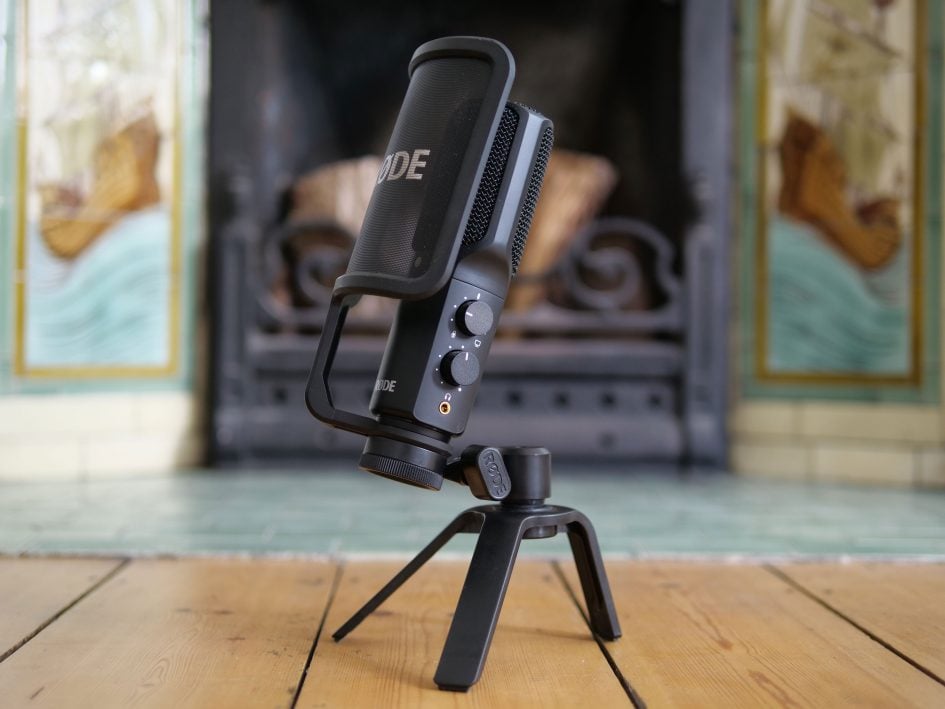 Rode NT USB final verdict

The Rode NT USB is a high quality USB microphone designed to capture broadcast-quality vocals or music with a simple USB connection to your computer or laptop; indeed, with the supplied pop shield, tabletop stand and long cable, you're ready to record high quality audio wherever you go. The NT USB is solidly built and fitted with a 3.5mm headphone jack as well as twin dials, one to adjust the headphone volume and the other to balance the mix between the microphone and the computer's own audio, making it ideal for calls or hangouts. The condenser design captures a broader range of frequencies than dynamic mics like the Podcaster, allowing it to deliver more precise and transparent audio, while the higher sensitivity lets you record from slightly further away too. The Podcaster may deliver more of a classic radio presenter sound as well as being better-suited to studio arm mounting, but if you need to record a broader range of sounds like singing or music, or prefer less coloured vocals, then the NT USB is the preferred (and my personal) choice.

Check prices on the Rode NT USB at Amazon, B&H, Adorama, or Wex. Alternatively get yourself a copy of my In Camera book or treat me to a coffee! Thanks!