The Rode NT USB Mini is a compact USB microphone designed for gamers, podcasters, musicians, streamers or voiceovers. Announced in February 2020, it's a smaller and more affordable alternative to the original Rode NT USB from 2014, a microphone I personally use for most of my YouTube video voiceovers.
The Rode NT-USB Mini costs around 99 dollars or pounds, while the larger NT-USB costs around 169 dollars or pounds, although do look out for bargains on the older model. I've made a video below showing you around the Mini and how it compares to the original mic, along with lots of audio comparisons. If you'd like to read more about them though, please keep scrolling.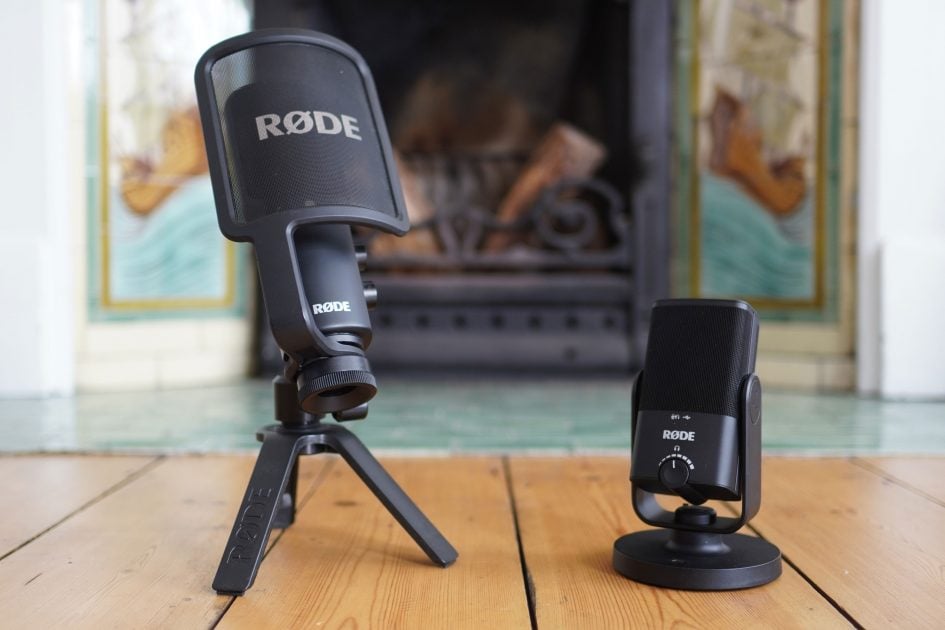 Here's the original NT USB on the left and the Mini on the right, and it's clear to see how much more compact the Mini is. Surprisingly though, the Mini actually weighs a few grams more at 585g versus 520g, thanks to its metal bracket which allows the mic to rotate within by 360 degrees. Both feel reassuringly solid and substantial in your hands. In the first bonus over its older sibling, the Mini has a built-in pop filter whereas the original is supplied with a large, separate filter that makes it considerably larger to carry around.
Both mics share a lot in common. They both employ condenser capsules with a cardioid polar pattern, which means they're directional and designed to pickup audio primarily from the front, a little from the sides and mostly reject it from the rear. Rode quotes the frequency response of both as 20Hz to 20kHz, although the dynamic range of the Mini's conversion is higher at 24 bit versus 16 bit on the original; for most work though you're more likely to notice the difference in their capsules.
They're designed for use on table-tops with their supplied stands, or mounted on an optional boom arm or mic stand. The Mini's stand is more convenient though, connecting magnetically compared to a more conventional screw-in tripod for the original.
They're both Class Compliant USB devices which means they'll work on Macs, Windows PCs or even tablets so long as there's a USB port to deliver power and receive the audio; you can't connect them directly to an analogue mic input on a camera. While the old NT USB employs a traditional USB B port, the new Mini opts for more modern USB C, although both are supplied with cables that end in a USB A plug; the Mini's supplied cable is much shorter.
Both have 3.5mm headphone jacks with zero latency options which let you directly monitor audio without delay. Both have volume controls, and you can push to click the Mini's to switch between monitoring the mic directly or using it as a headphone amp for your computer. But the original NT USB sports a second dial to adjust the mix with audio from the computer which can be handy for balancing the volumes when gaming or talking to someone; this is one of the main benefits of the original, but that said, I didn't find its absence a big issue on the Mini.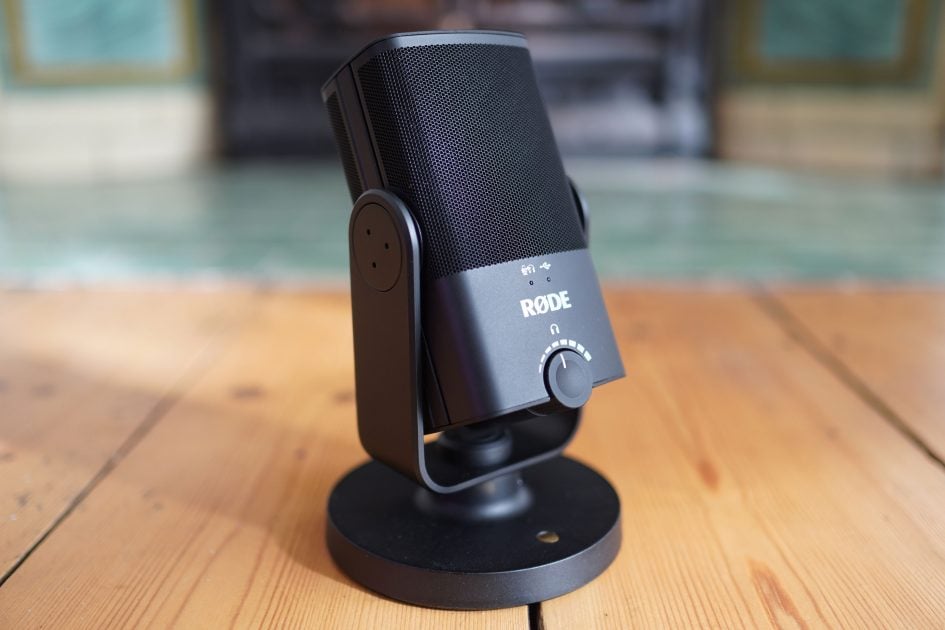 So which one should you buy? In terms of audio quality, I really like the sound of both mics for voice work, although personally feel the original NT USB has the edge, and if you're in a mostly fixed location I'd say it's worth spending the extra; certainly if you're an existing NT USB owner who, again, mostly records from one location, I see no reason to switch. Audio style and quality is of course highly subjective though, so you may prefer the Mini.

But one thing isn't subjective and that's the convenience of the Mini when it comes to portability. It may not weigh less than the original model, but it does take up way less space in your bag, doesn't need a separate pop filter, and is quicker to mount on its supplied stand. If you record in different locations, the Mini is easier to transport and faster to setup once you get there. As such I'm planning on using one for my trips away when I need to record decent audio, say, from a hotel or meeting room. It's also cheaper, although do look out for discounts on the older NT USB.

Ultimately if you don't already own a decent USB mic for this kind of work, I'd recommend the original NT USB if you have a semi-permanent or fixed location, but I'd go for the NT USB Mini if you're more likely to use it in multiple locations. Both can of course do either very well, but that's my personal recommendation now that both models are available.

Check prices on the Rode NT-USB Mini at Amazon, B&H, or Wex. Alternatively get yourself a copy of my In Camera book or treat me to a coffee! Thanks!