Ricoh WG-70 review - Verdict
Verdict
If you start with its ruggedness, the Ricoh WG-70 certainly has what it takes to survive the great outdoors – and it looks the part too. It's waterproof to a depth of 14 metres, can withstand a drop from a height of 1.6 metres and can be used in temperatures down to -10C. That puts it on par with more expensive competition like the Olympus TOUGH TG-6 – waterproof to 15 metres, freezeproof to -10C and shockproofed for drops of up to 2.1 metres.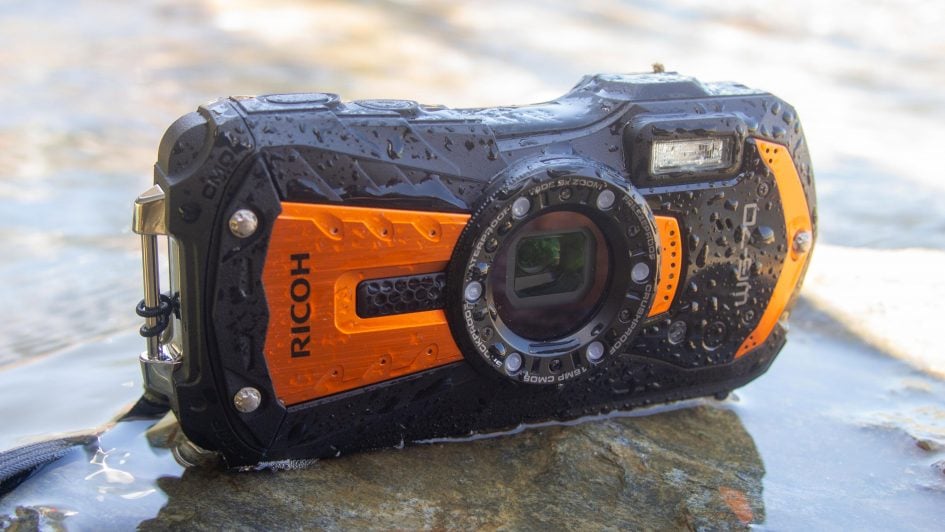 It also has a capable lens and sensor combination with 16 Megapixels on the sensor and a 5x zoom that performed pretty well in my quality and noise tests. The lens is equipped with an LED ring light – something you won't see on any other compact – and it can capture objects at distances as close as 1cm. But with a maximum aperture of f3.5-5.5 it's not nearly as bright as the f2-4.9 lens in the TOUGH TG-6 which, though it lacks a built-in macro light, also outclasses the WG-70 with its macro capabilities.
Delve deeper into the Ricoh WG-70's specifications and a number of other shortcomings come to light. First, let's take a look at that 2.7 inch 230k dot LCD screen. Like so much about the WG-70, it's adequate, but a bit of a disappointment on a 2020 model. Particularly when you look at what the competition has to offer – a 3 inch 1040k dot screen on the TOUGH TG-6 and a 3 inch 920k dot screen on the COOLPIX W300.
A more glaring drawback though is the WG-70 lacks Wi-fi or Bluetooth connectivity. This is pretty much a must have feature in any compact camera these days, arguably more so in a rugged model as the lack of it not only means you can't wirelessly transfer photos to your phone, but you're unable to shoot remotely (unless you count using the optional wireless remote for the WG-70).
Both the Olympus TOUGH TG-6 and Nikon W300 offer Wi-fi in addition to a host of other built-in sensors. In the TOUGH TG-6 there's a manometer for altitude and depth recording, an electronic compass, and a temperature sensor, while the Nikon W300 sports GPS, Bluetooth, a barometer and electronic compass.
The WG-70 provides some control over exposure – in Program auto mode you can set the ISO sensitivity and white balance and apply up to plus or minus two stops of exposure compensation. But that's as far as it goes, there's no aperture priority mode as on the TOUGH TG-6. The WG-70 also falls well behind the TOUGH TG-6 when it comes to continuous shooting. Where the TG-6 can shoot full resolution at 20fps and offers Pro-capture buffering providing five frames prior to when you fully press the shutter release, the best the WG-70 can manage at full resolution is just shy of 2fps – though there is a 5 megapixel mode that shoots a 29-frame burst at just under 7fps.
The WG-70's best quality video mode is 1080/30p – probably good enough if what you're mostly interested in is still images, but again, on a 2020 compact in this price bracket you'd expect better – and indeed most of the competition, including the Olympus TOUGH TG-6 and the Nikon COOLPIX W300 offers 4K video. The TG-6 is also better for slow motion capture with a 1080p quarter speed mode compared to 720p on the WG-70.
There's one other limitation to the WG-70's video recording that's a disappointment on a camera in this price bracket, and that's the lack of an optical zoom while filming. If you press the zoom rocker while recording video, the image is zoomed digitally, resulting in a loss of resolution and quality that in my opinion renders the footage unusable.
To be fair, I should mention that in all these comparisons with the TOUGH TG-6 and COOLPIX W300 you need to remember that both these models cost more than the Ricoh WG-70. You'll pay around 25% more for the recently reduced TOUGH TG-6, but the three-year-old COOLPIX W300 is now much closer in price to the WG-70. As always though, it pays to shop around as you may be able to find an even better deal.
Some of the Ricoh WG-70's shortcomings, such as the lack of Wi-fi, will rule it out for many people regardless of price. Others, like the lack of optical zoom while shooting video, poor continuous shooting performance and small, low resolution screen are things that should be better on a recent compact in this price bracket. For all these reasons I think there's more compelling options if you're able to stretch your budget, most notably to the Olympus TOUGH TG-6 or the Nikon COOLPIX W300. Alternatively, you may find a good deal on the earlier TOUGH TG-5, which compared to the TG-6 may have a lower resolution 3 inch screen and lacks some shooting modes, but is otherwise very similar. Alternatively, if you can live without Wi-fi and like what the Ricoh WG-70 has to offer, you could save some money and go for an earlier version in the series – the WG-60, or even WG-50 if you can find it, are pretty much identical.