QNAP TVS-472XT NAS review
The QNAP TVS-472XT is a network attached storage device, or NAS for short, designed to store and share your data with very fast access whether connected over a network or directly to your computer. Launched in September 2018 in four, six, or eight drive bay versions, it features 10 Gigabit ethernet as well as dual Thunderbolt 3 USB-C ports, allowing not only quicker network connections than most NAS units but also supporting direct access that's fast enough for video editing – something still fairly unique in the NAS market. In this review I tested the four-bay TVS-472XT version, costing around 1100 dollars or pounds for the enclosure – like most NAS units you'll need to buy your drives separately and I'll talk about the ones I used in a moment.
The combination of ethernet and Thunderbolt ports allow the TVS-472XT to work as network or directly-attached storage, or even both simultaneously, with potential speeds that can match or even exceed many external drives. This speed means it can be used by photographers and video creators as fast production or library storage, but with the traditional NAS benefits of shared content, multiple users, online access, media streaming, cloud backup, and RAID configurations to better-protect from drive failure. I've been using the four-bay TVS-472XT for six months and in this review will show you how it's become an invaluable part of my workflow for photo and video, as well as general storage and backup. My complete review is in the video below, but if you prefer a written approach, keep scrolling for excerpts and results.
What is a NAS and what makes the TVS-472XT different?
If you're new to network storage, a NAS simply allows you to share a drive over a network between multiple users or devices. Two or more people can access the same drive at the same time, while other devices like media streamers could be playing music, photos or videos stored on it too. Since the drive is connected to a network, it can also be configured for external access over the internet for remotely retrieving files when you're out, or automatically backing-up to cloud-based services. Most NAS devices also support multiple drives working together in a pool to deliver larger total capacities, often with faster speeds and some degree of redundancy to better-protect your data from disk failure. So in theory if one disk breaks, you won't lose your data and can keep working while you replace it with a new disk.
A NAS can be enormously flexible, but is generally limited in speed by the local network connection, typically operating at 1 Gibabit. While the QNAP TVS-472XT is equipped with a pair of RJ45 Gigabit ethernet ports for compatibility with popular and cheap network gear, it additionally boasts a much faster 10 Gigabit ethernet port as well as a pair of Thunderbolt 3 USB C ports. The 10 Gigabit port can be connected to a compatible switch or directly to a computer that's lucky enough to be equipped with one, like an iMac Pro, but it's the Thunderbolt 3 ports that make the 472XT really special and more flexible than most NAS units. These allow you to directly connect the NAS to a suitably-equipped computer, like a MacBook Pro laptop, and effectively use it as a fast external drive, while still allowing other users or devices to access it at the same time over a traditional network. This best-of-both-Worlds approach of combining network and direct-attached storage was pioneered by QNAP and while it's already produced a number of Thunderbolt-equipped NAS units, the TVS-472XT takes everything its learned so far and delivers the functionality in an affordable package with decent future-proofing. Right, now let's get into the review and the benchmarks!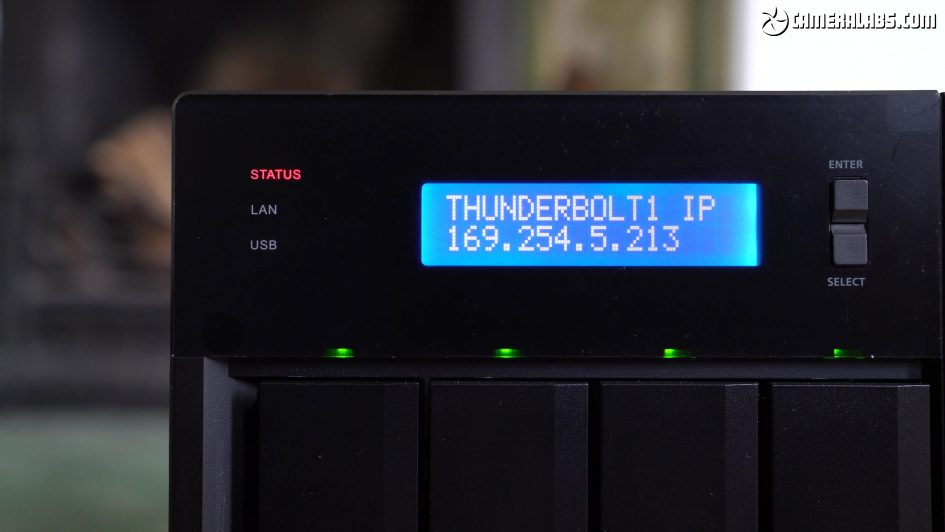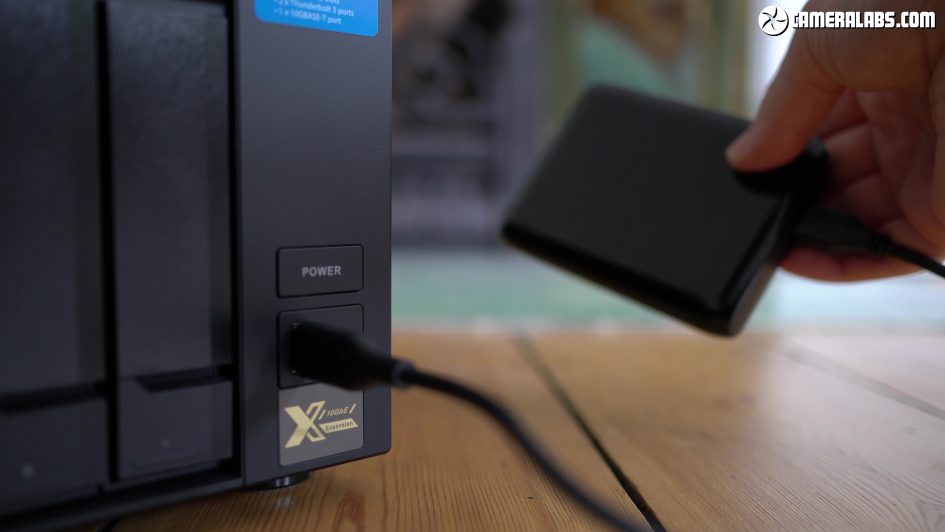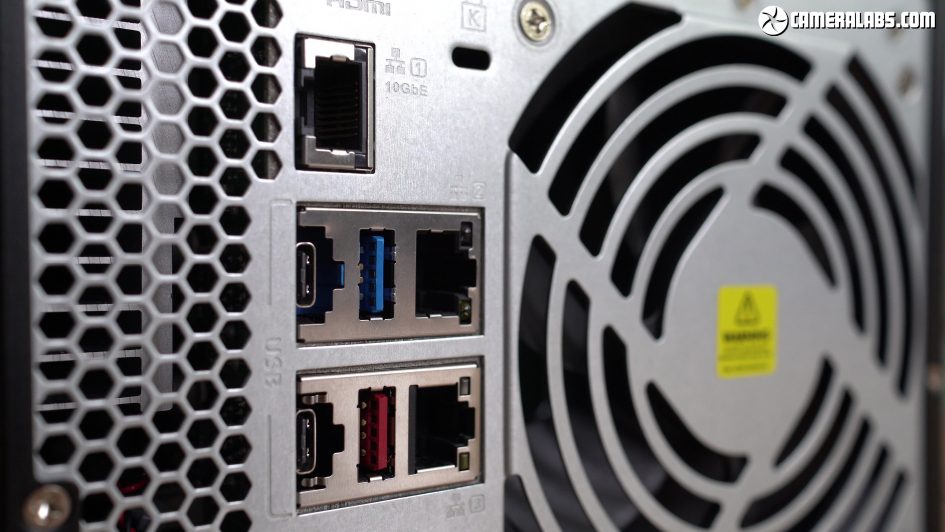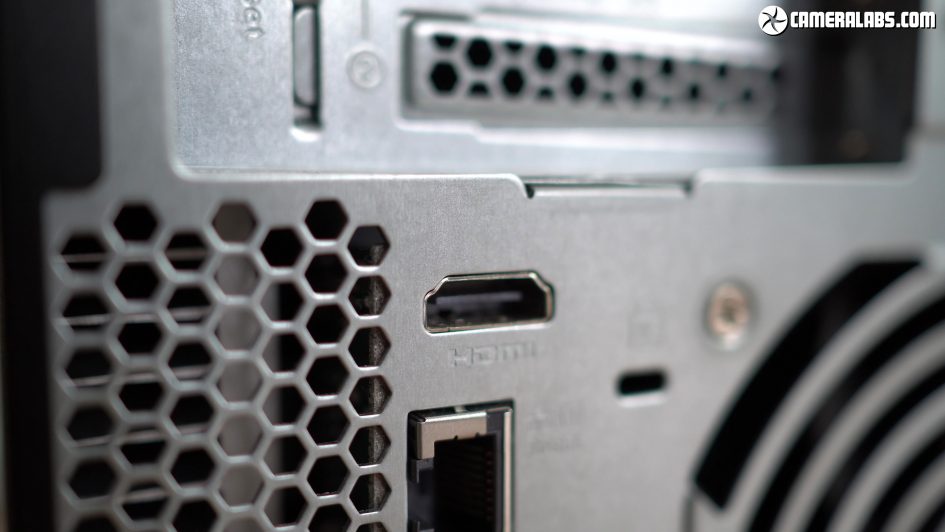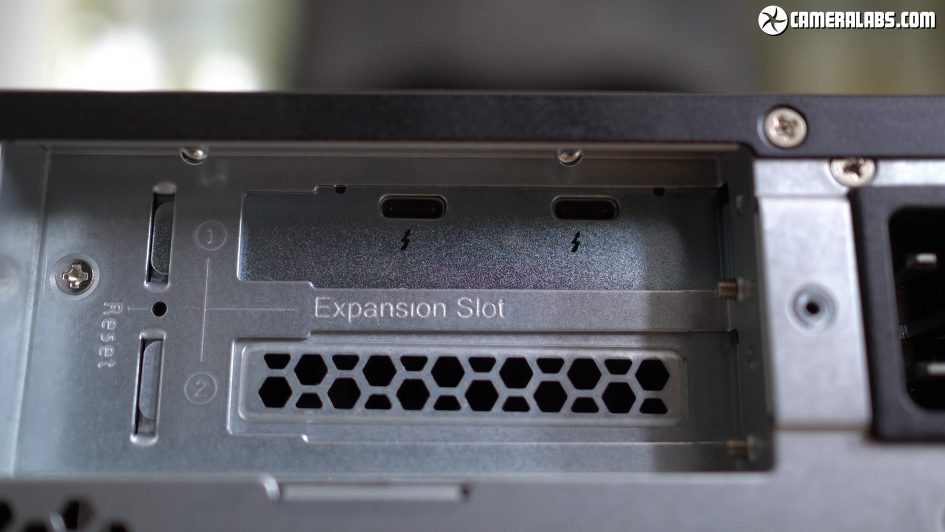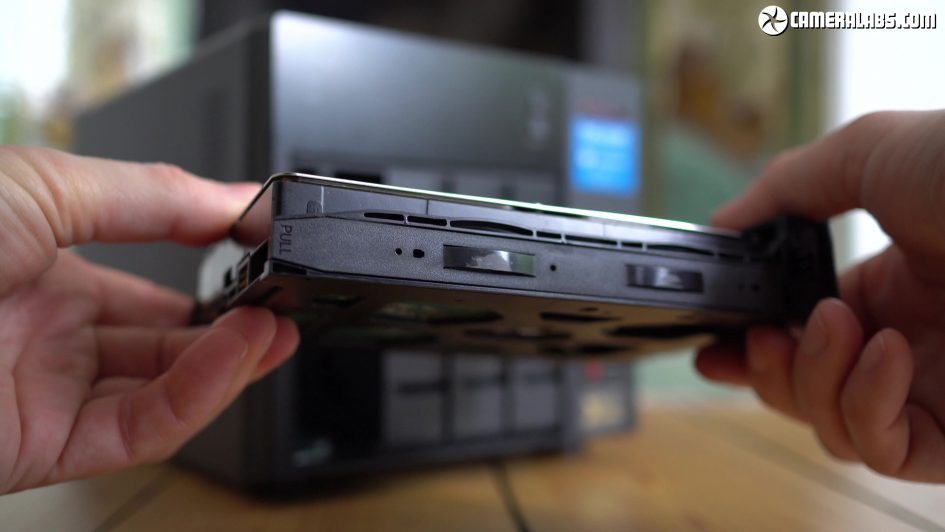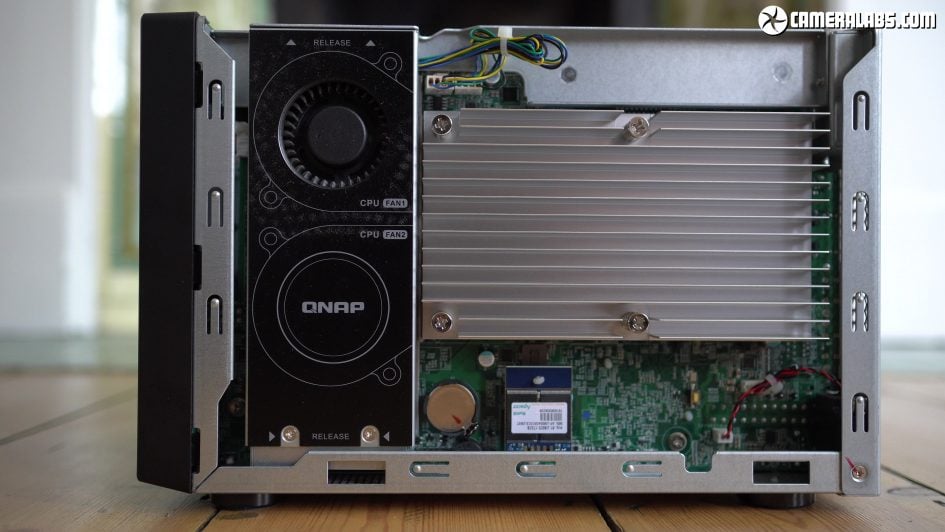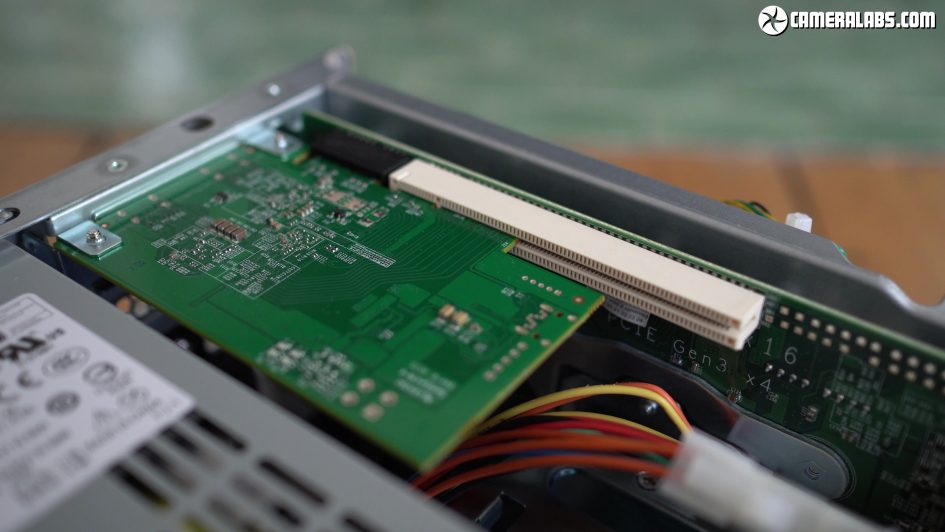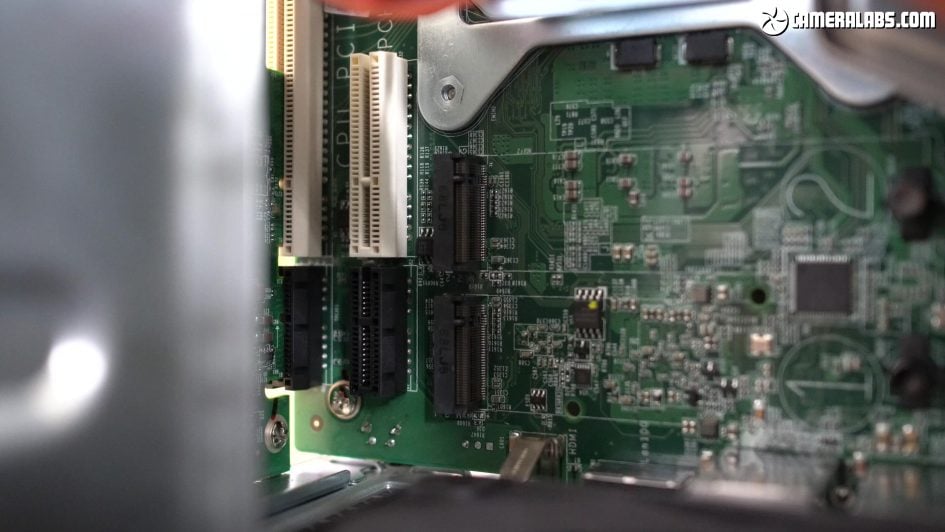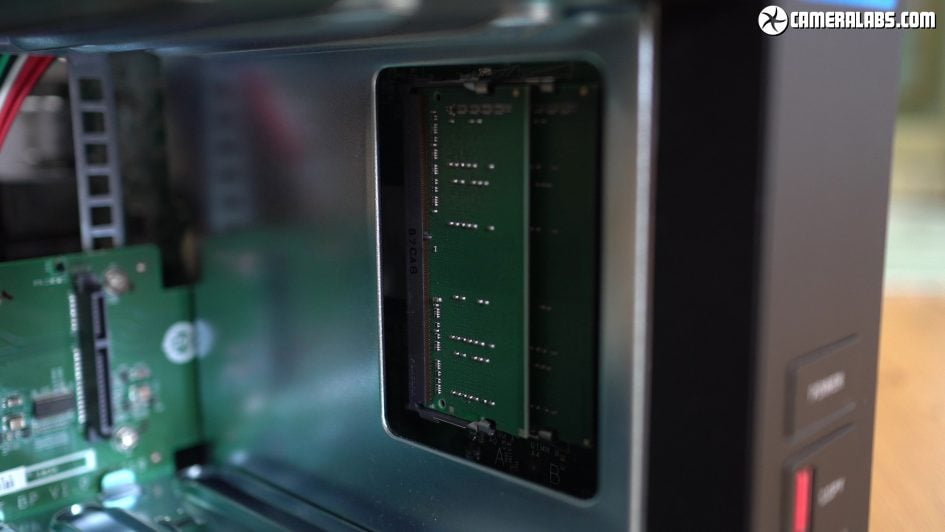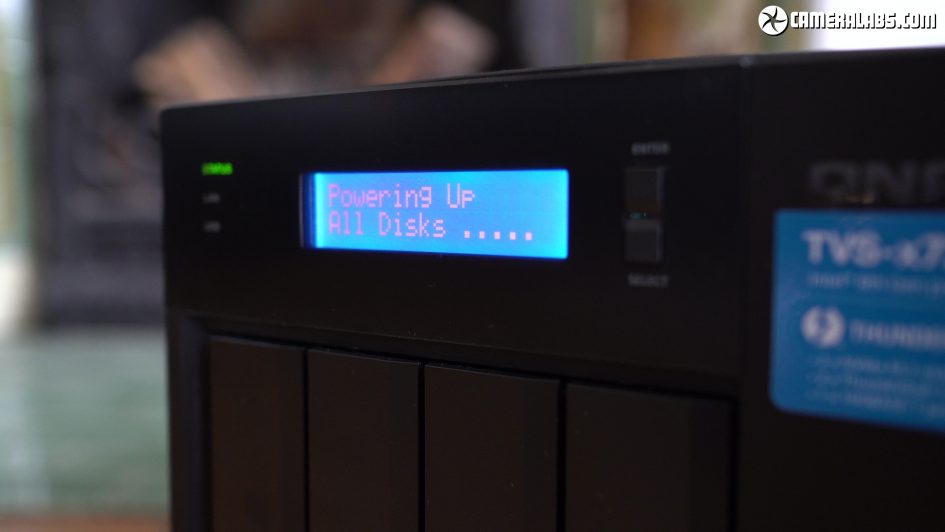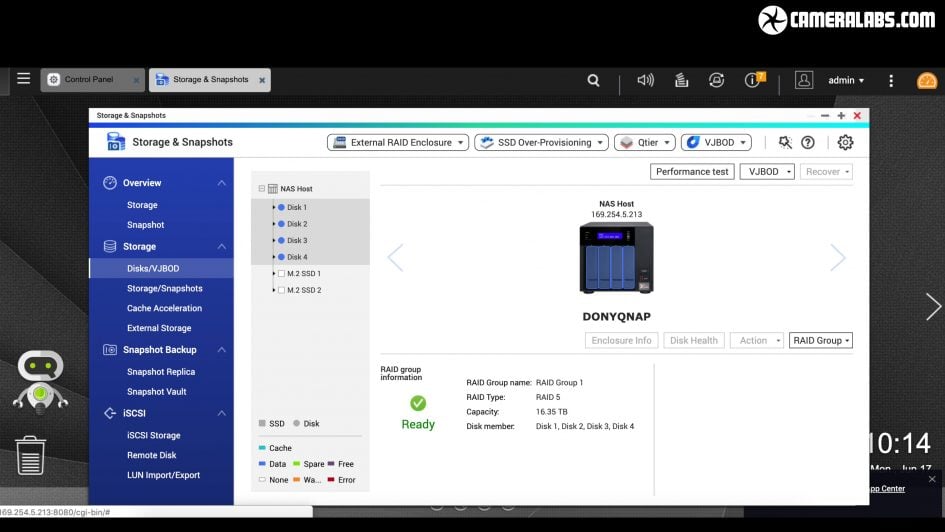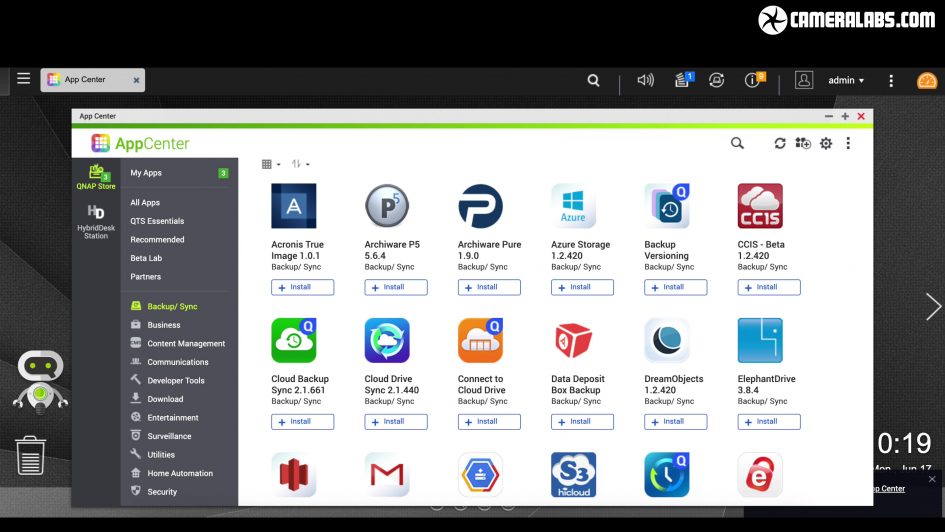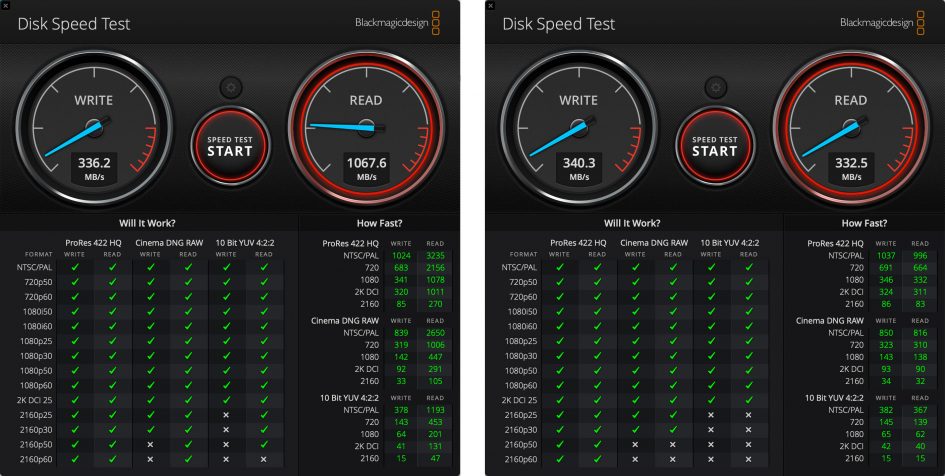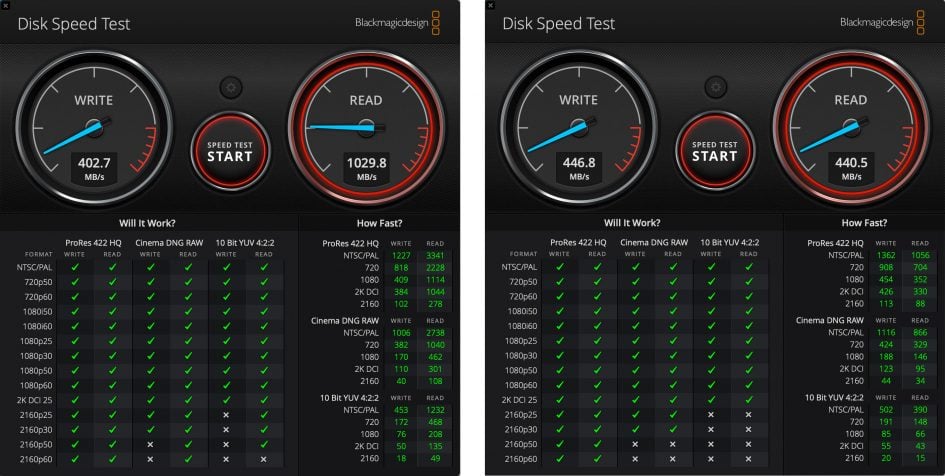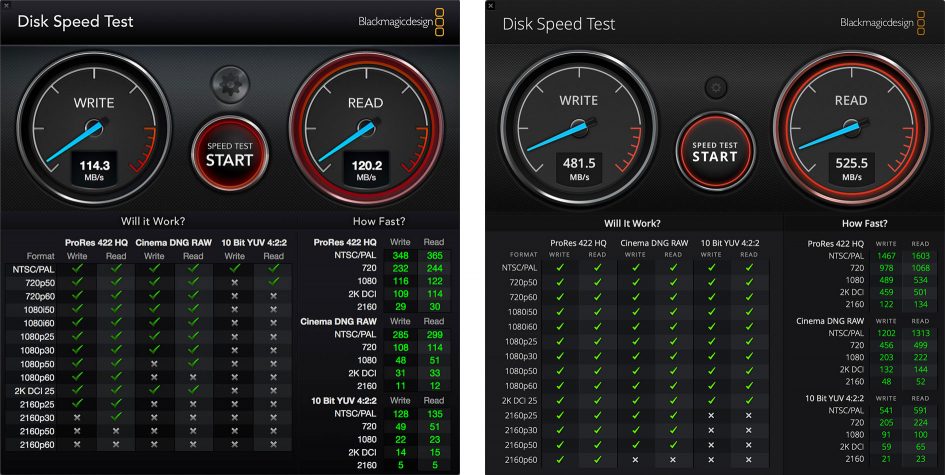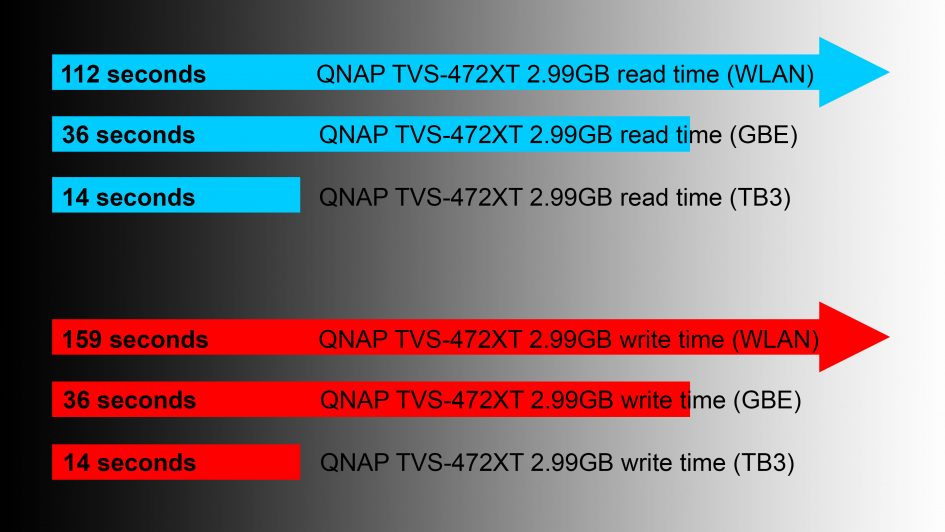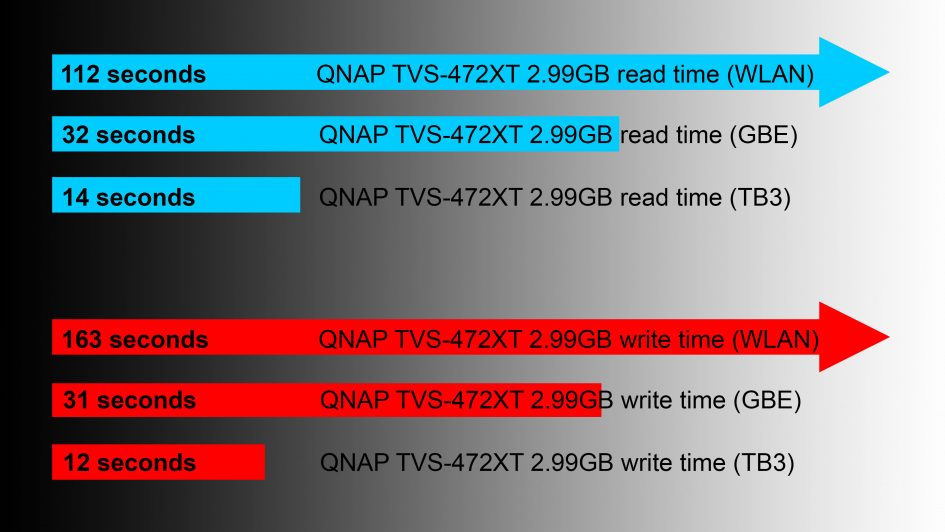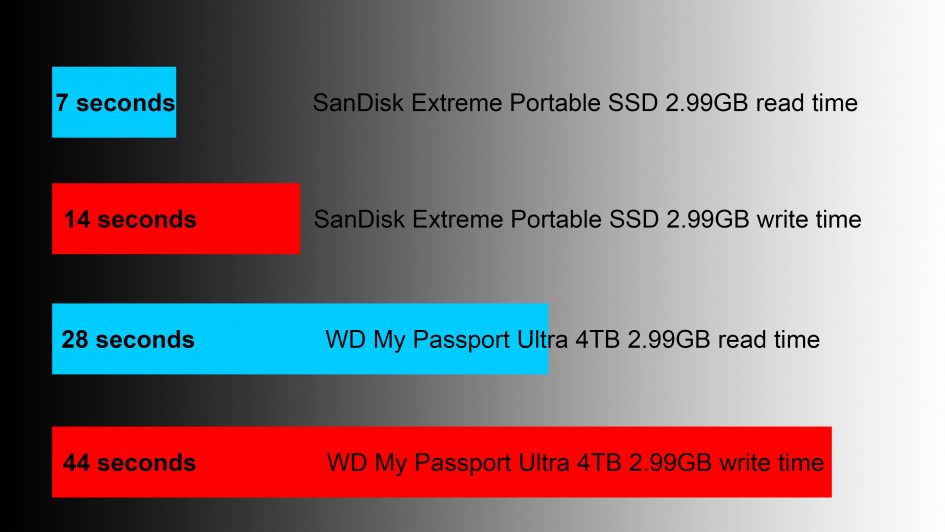 QNAP TVS-472XT verdict

QNAP really has delivered the best of both Worlds with its Thunderbolt-NAS drives: you get the potential speed of a directly-connected SSD drive that's quick enough to actually edit video from, but coupled with the benefits of a traditional NAS, including large shared storage pools, protection against disk failure and automated online backup. The TVS-472XT hits a sweet-spot too, with a compact four-bay enclosure that cherry-picks the best of the connectivity of the higher-end models without being excessive for most smaller operations. You get a single 10 Gigabit ethernet port and twin Thunderbolt 3 ports, allowing you to directly connect three devices for very fast access, and if you're lucky enough to have a 10Gbe network switch, the Thunderbolt ports also act as bridges, allowing suitably-equipped Macs or PCs to connect at maximum speed without splashing out on expensive 10Gbe adapters. Twin NVMe M.2 ports and upgradable RAM also provide easy routes for increasing performance for certain applications. Meanwhile a wealth of USB 3.1 ports allow quick connection to external drives – including a handy front-mounted port for easy backup – while an HDMI 2.0 port lets you connect the unit directly to a TV for media streaming in 4k up to 60p. QNAP rounds it all off with a powerful software suite that makes it easy to run media servers, security cameras or automated backups to cloud services. As someone who's used traditional NAS units for years, I was already won-over by the traditional network aspects, but the direct Thunderbolt connection transforms its flexibility. Here's a drive I can use for both traditional network storage and sharing as well as super-fast direct access similar in speed to a quick external drive. I can highly recommend it to any photographer or video creator, where the only real questions remaining are whether to go for the four, six or eight bay model and what drives to populate it with.

Check prices on the QNAP TVS-472XT at Amazon, B&H or Adorama. PS - Treat yourself to a copy of my In Camera book or treat me to a coffee! Thanks!