PowerVision PowerEgg X review
Intro
The PowerEgg X isn't the beginning of PowerVision's story. The firm isn't the most well-known brand in the drone world, or at least it wasn't before CES at the beginning of 2020. Their original PowerEgg, launched in 2017, earned interest, design awards but ultimately rather fewer sales than perhaps it deserved. Why? Well if anything it did too much innovation; the shape was great for portability, but the Wii-mote like 'Maestro' controller was perhaps an innovation too far, let alone the polished marketing battle between DJI's Mavic Mini and the GoPro's Karma pushed the white ovoid very much into the third spot in the battle for attention.
The PowerEgg X is looking to change that history, and it really might. It isn't a mere update; it is an all-new design approach. The first egg flew vertically, with arms and landing legs folding in and out of the shell itself, allowing the camera 360-degrees motion beneath. This new one adopts a more 'conventional' approach, with a horizontal fuselage that has a distinct front where the camera – and collision avoidance sensors – are positioned. Beyond that point, though, things get innovative again; the arms are removable so the drone can be used as a stabilized camera which can track its subject and, as if that weren't enough, a version is available with a waterproof shell and floats which enable a water landing.
The great thing about this is that the market has definitely shown interest in both stabilized cameras and waterproofing drones. Do they need to come in a single package? And does that package need to be egg-shaped? Well, that's what I'm here to find out…
The Options
The PowerEgg X comes in two packages, 'Explorer' and 'Wizard.' The former is the basic option, which includes a high-quality EPP case with fabric wrap, single 30-minute battery, remote controller, drone legs, camcorder grip, tripod mount, charger, spare props, and USB leads for iPhone, Micro USB and USB-C phones. The 'Wizard' edition includes all that and more; specifically a waterproof housing for the egg fuselage (so you make a shell within a shell), two EPP landing skids, an additional battery, and another set of spare props.
In fact, my Wizard set arrived as a big shipping box containing the Explorer box plus the Wizard goodies in an additional box which presumably might be sold as an upgrade at some later point (if there are enough Explorer-pack owners out there who might want to upgrade). For now, though, you can only choose when you buy your aircraft so – if you've got the cash to hand – it's best to work on the assumption you will want the water gear from day 1.
First Impressions
Beautiful packaging is always encouraging with any piece of consumer electronics, but PowerVision have pulled off something particularly impressive with the box/case within which the Egg arrives. Pure white external boxes with simply-lit photographs of the product within have, of course, been de rigour since the iPod arrived, but inside that is an EPP case made of two pieces held together with a piece of high-quality fabric. This serves as a hinge, a (velcro) lock, and home to the silver branding.
It owes a little in concept to that which DJI ship the Phantom series and Inspire 2 series in, but the addition of the premium quality upholstery fabric makes for a better-looking case which, happily, is also easier to use in the field than DJI's plastic locking mechanisms. A very promising start, not diminished by the cardboard inner you find on first opening which shows you everything you should find inside.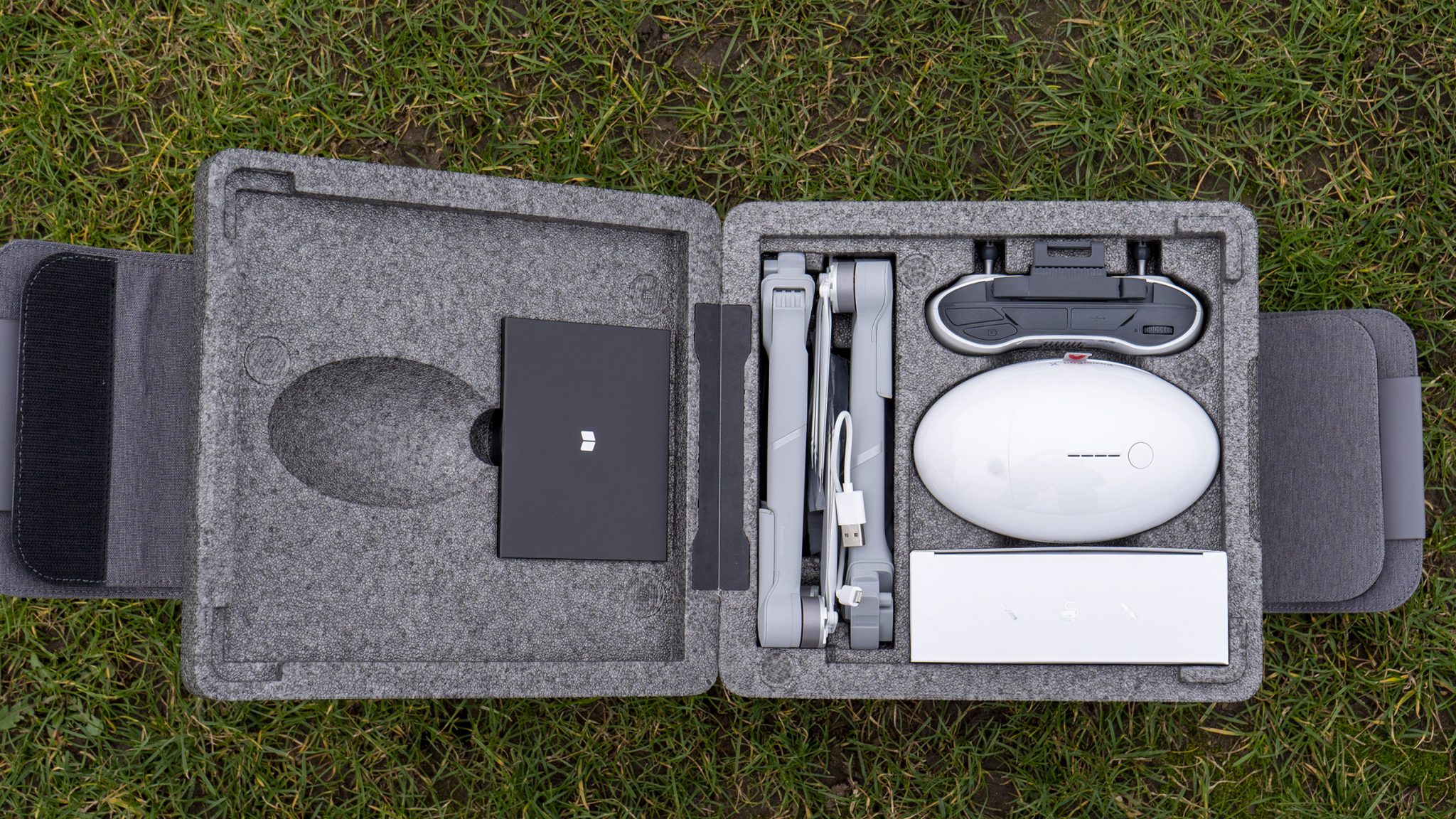 Once the box is open, you find a slightly unusual experience for drone owners; something with no motors. For the most part, modern drones either fold out or require their propellors to be attached. Here you need to attach the folding arms to the fuselage, which means you need to crack it open. Fortunately, that is easily done. A fabric tab attached to the lower half of the case makes removing it effort-free, exposing two buttons on either side which can be pushed to release the top cover.
Doing this reveals that the four battery indicator lights and round on/off button on the top were in fact prisms and a mechanism which actually push the real button on the real 3,800 mAh smart battery below. The first time I did this I must admit I was starting to feel this was going to be bewilderingly complicated, but when I picked up the arms, found they could only slot in one way, and replaced the top cover which snapped into place reassuringly (gripping the arms in the process) I was reassured.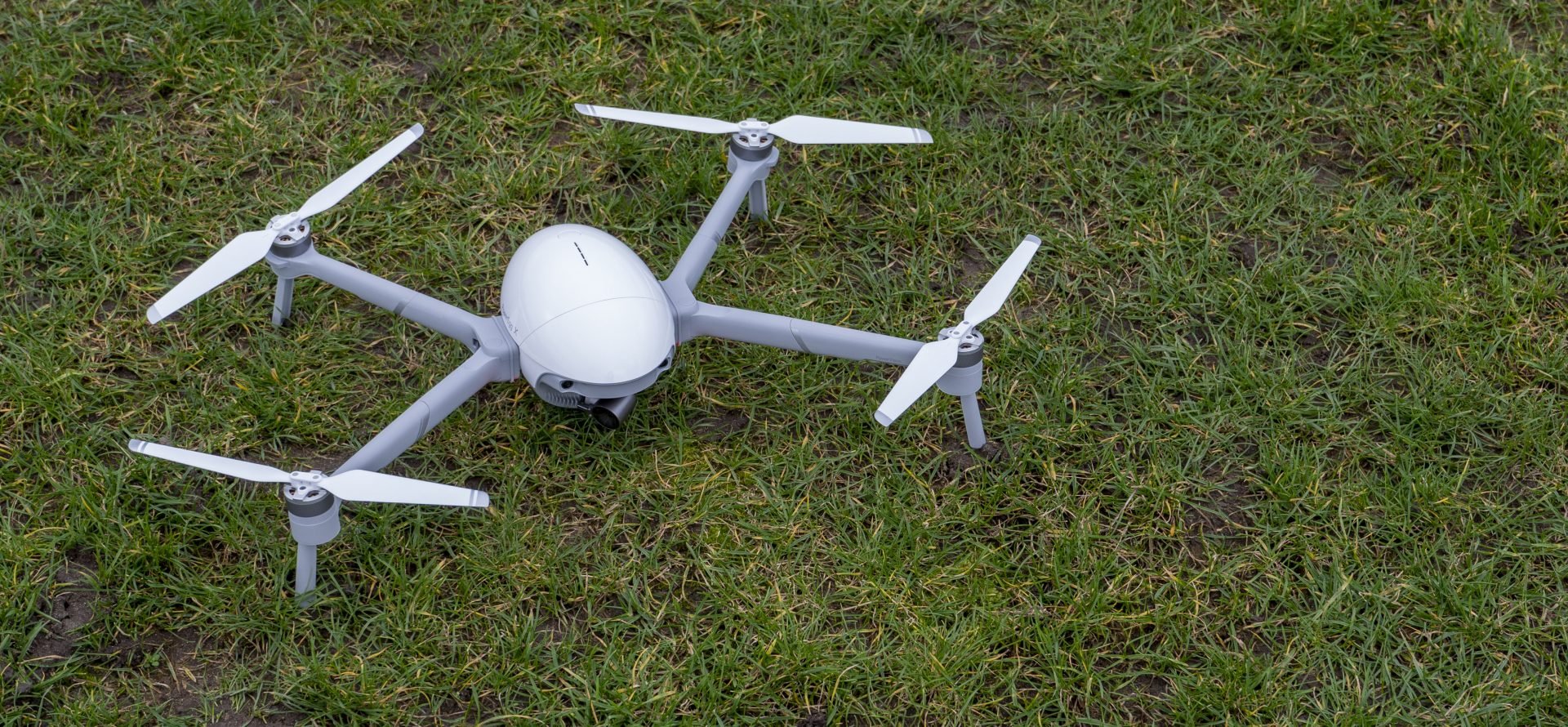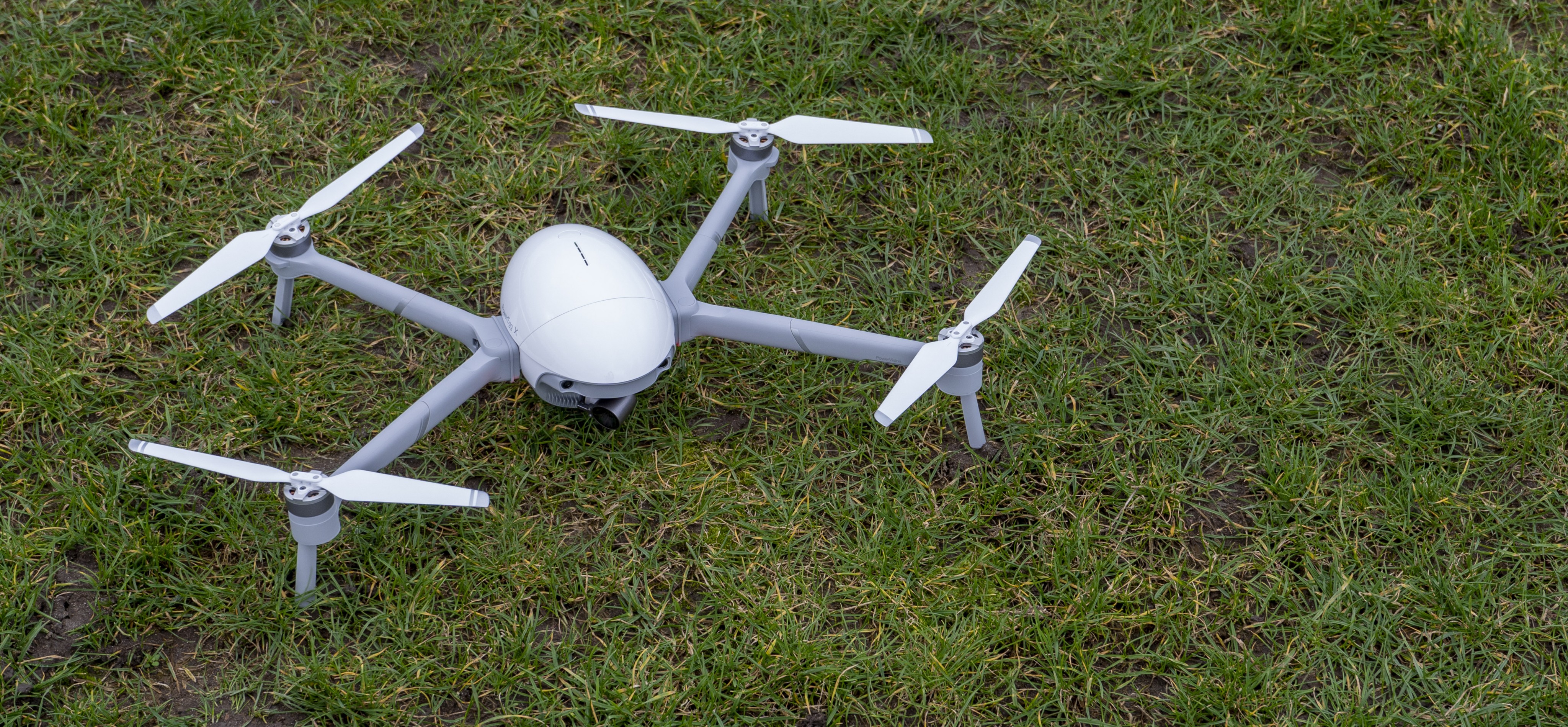 Better still, on folding out the arms (each spread open to form a V shape on each side of the body) I discovered I was holding a good-sized aircraft which does not fall prey to the wind (it seems able to hold its own in winds near 30 knots, though the spec suggests a more cautious 20 knots (10 meters/second). Better yet each arm has a fold-out landing leg which, when extended, allow you to rest the aircraft comfortably above the surface of the ground (actually basically the same length as the Mavic 2, which can also handle short grass, though these can be folded away unlike the Mavic's).
Initial impressions did suffer a slight setback when I cracked open the 'Wizard' box (and the accompanying fabric pencil case which – while being photographed on the Wizard box, was shipped outside it). I eventually determined this case was for the arms supplied with the main craft, on the grounds that nothing else would fit in it, but that seemed superfluous since there was space for these in the main EPP case. The alternative, to carry the remote loose in a backpack with the egg and the arms in the case didn't seem especially practical. Still, it's nice to have options.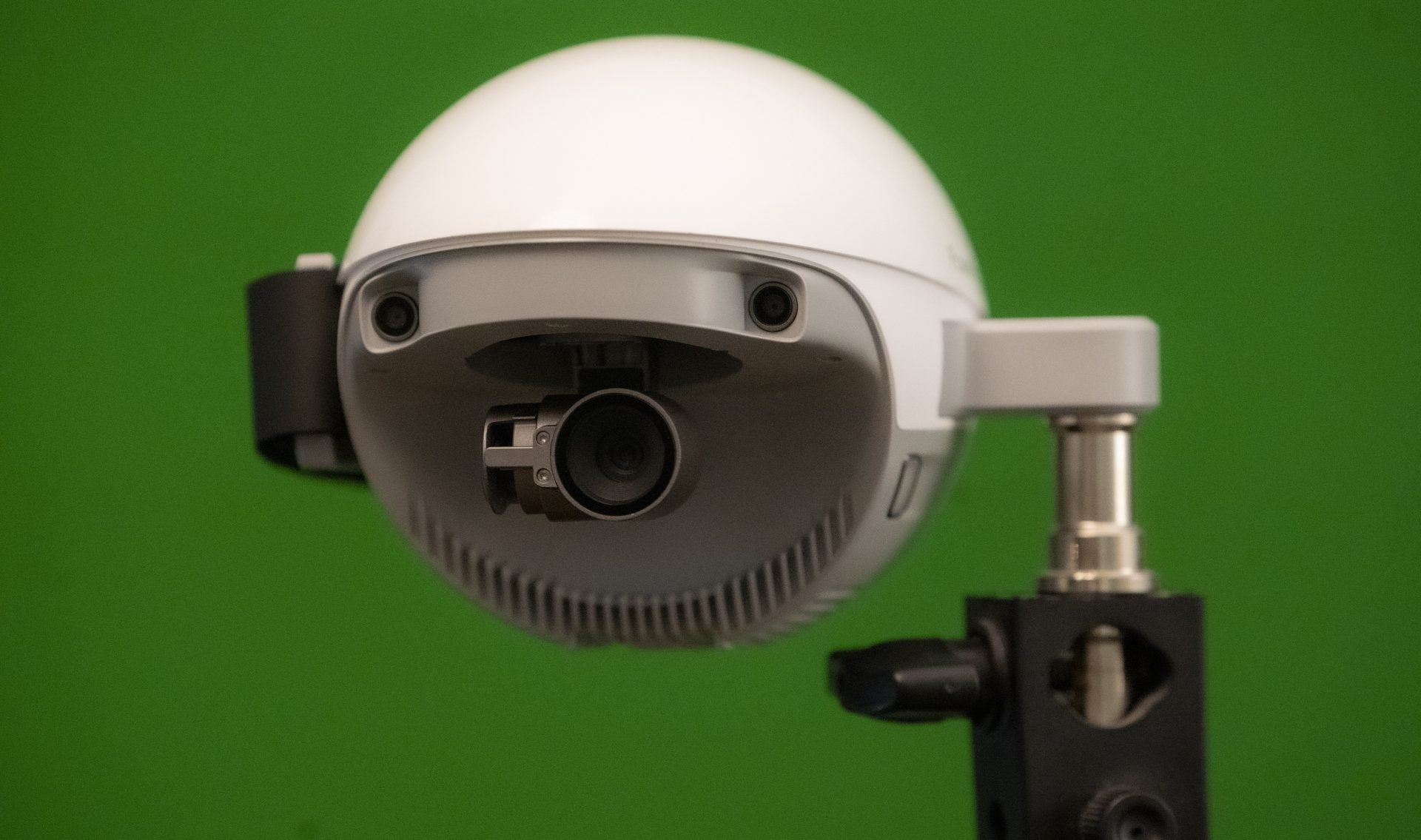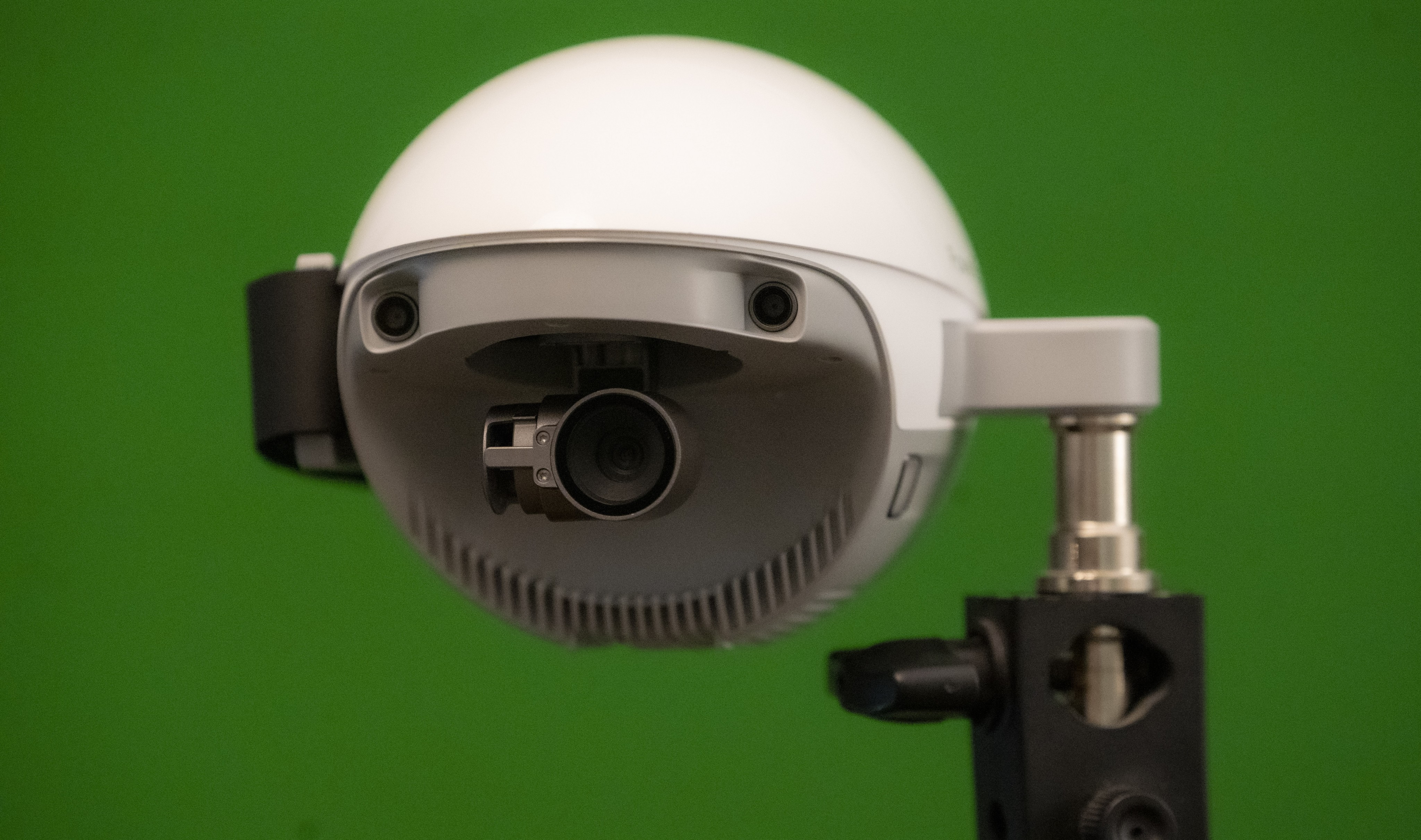 Speaking of options, removing the top of the shell, followed by the arms (you can fold or unfold them before or after they're detached) leaves open two gaps on either side. Into these you can insert the camcorder-style handgrip on the right, the tripod-mount on the right, or both (a white blanking piece is also provided to avoid leaving an ugly gap in the side). This is all well and good, but having a side-mounted tripod attachment makes using a standard tripod head essentially impossible – it does, however, work on a mini tripod or a lighting stand and, of course, the auto-levelling camera gimbal compensates for the near-inevitable horizontal imbalance of having a 522g camera on with its screw-mount on one side.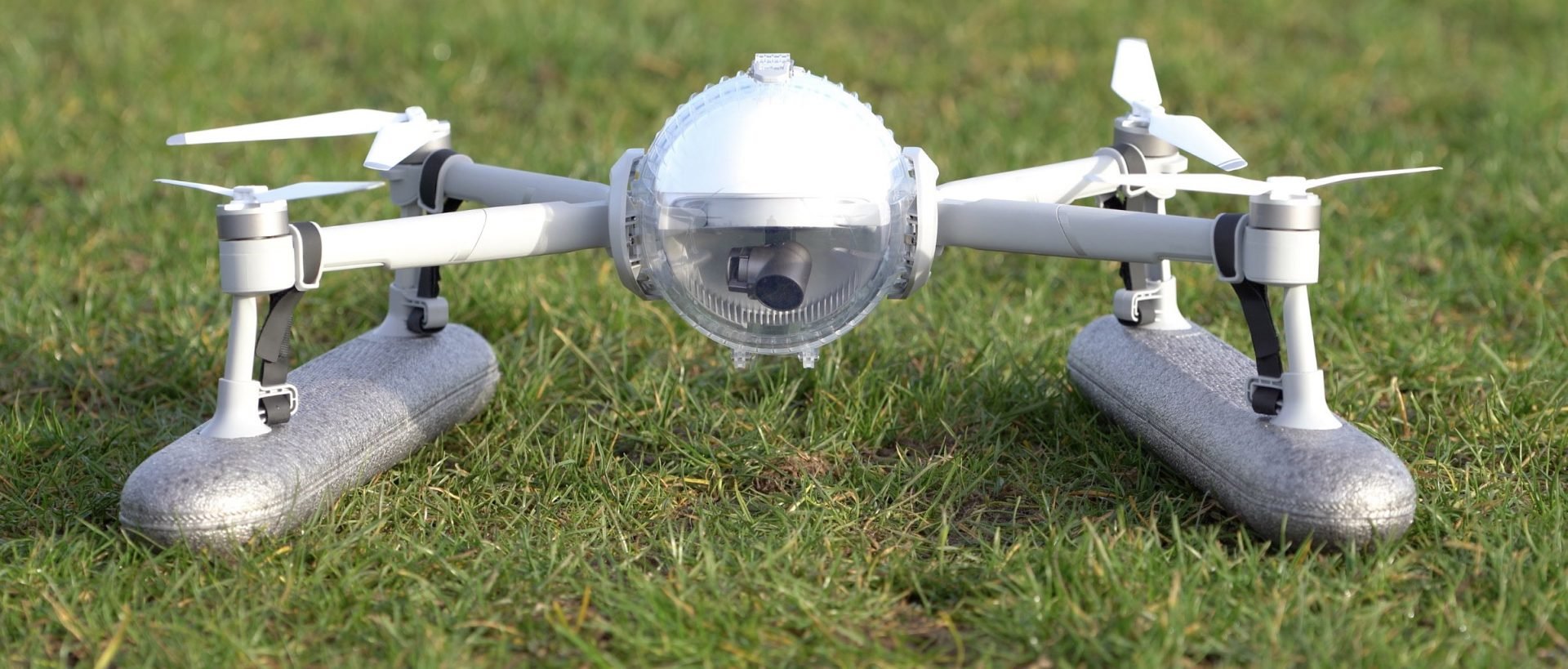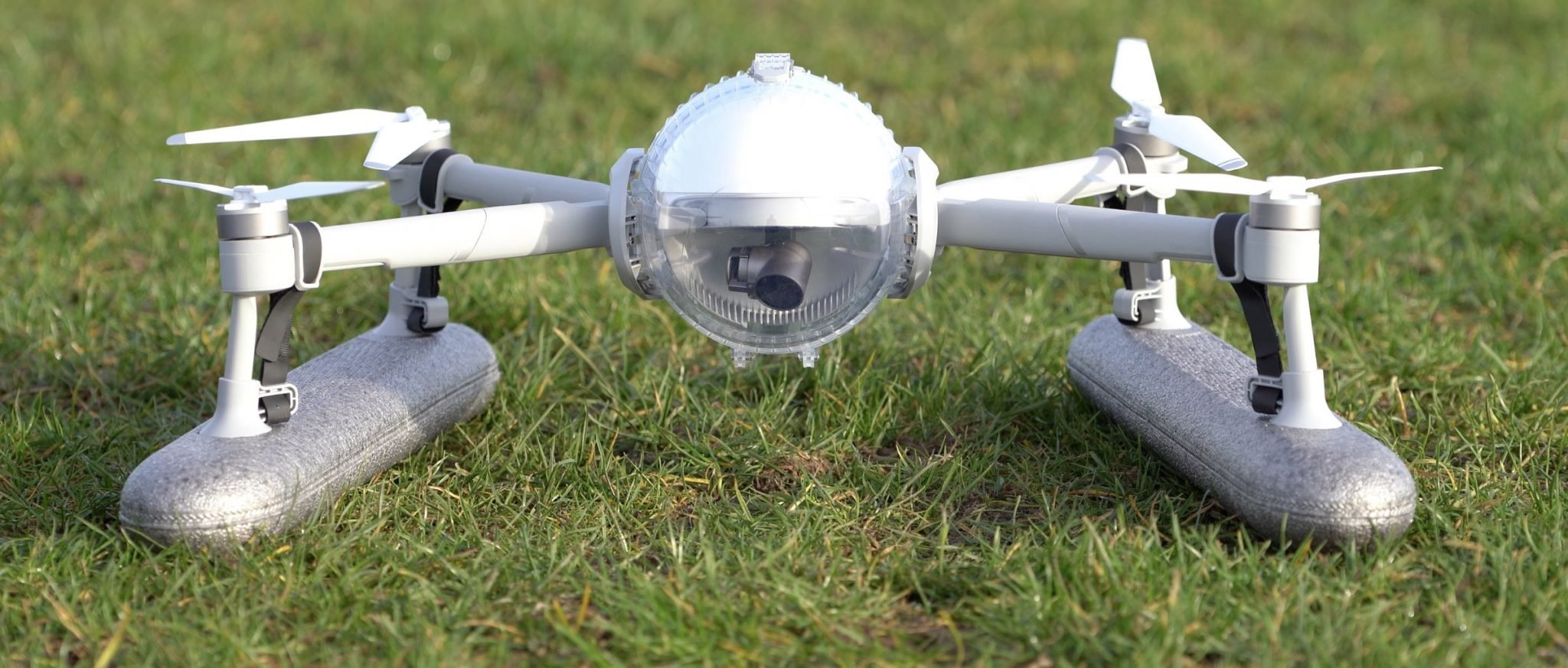 On the subject of transitions, I found that switching from drone mode to waterproof drone was a little more fiddly. In all fairness, this does tend to be the way with waterproof housings for cameras too, but I was not fully prepared for one aspect: you need to fold the front arms back to get the housing on, before opening them and clipping the three anchoring grips shut. You need to have removed the gimbal cover before as you can't get at it now, and indeed the camera is now behind an ovoid plastic shield which doesn't have ideal optical properties.
You must do the shell first because only then can you open (or re-open) the arms, which in turn insert into matching holes in the landing floats. With the props off, this provides adequate grip, but wisely each foot also has a rubber & velcro grip which is attached next to the motor beneath each propellor, making it impossible for the drone to blow its landing float off. It all seems a little inelegant compared to the surprising simplicity of setting up and taking off in normal drone mode, especially since it all has to be undone for each battery change, but such is life.
In Flight
So far my experience has been tactile fun, but now it's time for the realities. Charging a battery and remote from the main charger was no problem – indeed there are two USB charging sockets on it so I could have charged my phone too, but only one of the battery. Downloading the app was equally straightforward – It's called Vision 2+ and it's in the App Store and Android equivalent. It operates in a very similar manner to DJI Go 4 (rather, thankfully, than DJI Fly); at the opening screen, you'll need to choose between the PowerDolphin (yes, PowerVision do submarine drones too) and the PowerEgg X, then access it.
Before the flight, I was able to tuck my iPhone 11 Pro Max into the grip, still in its case, and connect it to the controller with the short Lightning lead provided. The phone sits well in the controller, personally I prefer having it like this than clamped beneath the control sticks as on the Mavic series, since you don't have to look quite so far down to see the screen.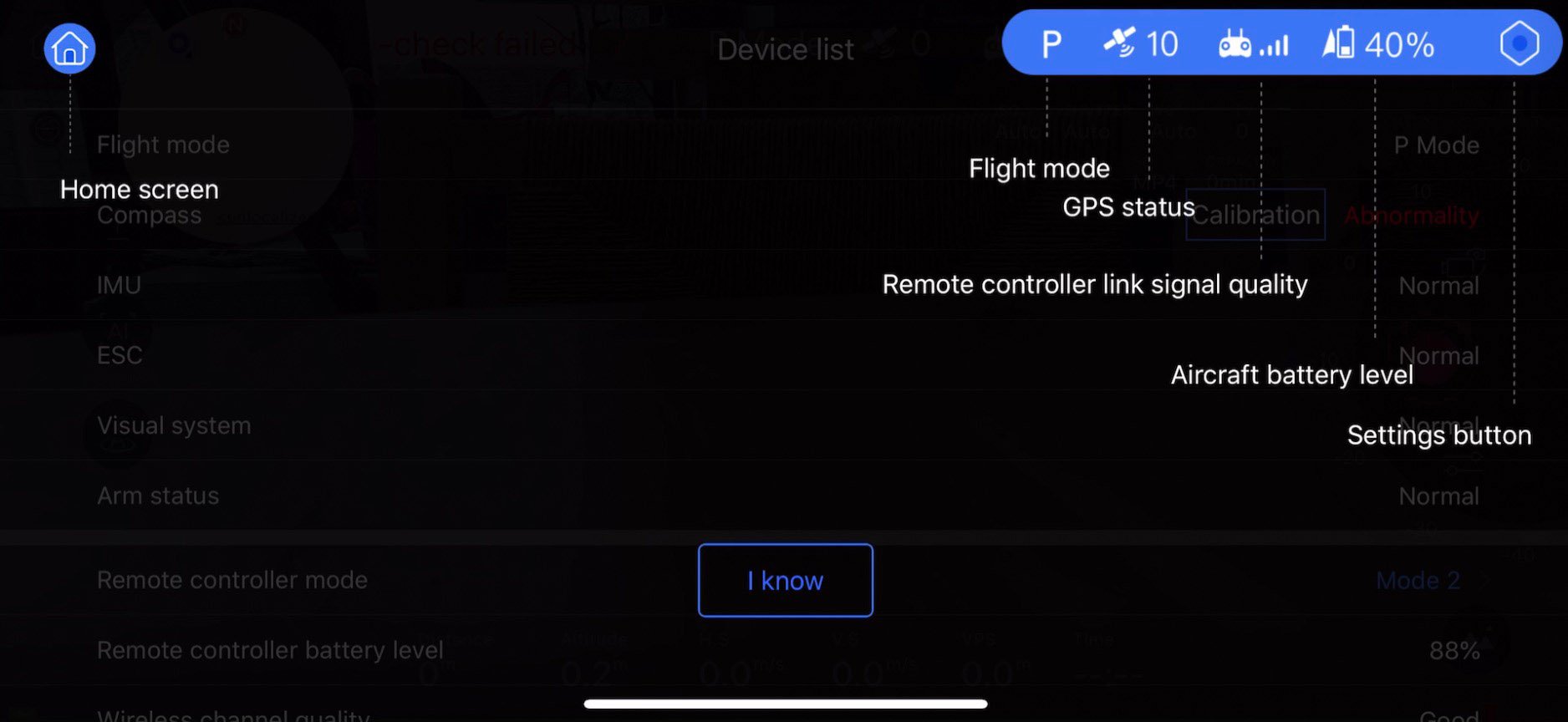 In the app, everything is elegantly presented, though on my first run through I was presented with a few slightly questionable choices of language – presumably imperfect translations. There was a tutorial introducing the main features, but instead of saying "OK" after reading the tooltips, one was required to tap "I Know" to progress, which made me feel a little like I had the internal monologue of an irritable teenager.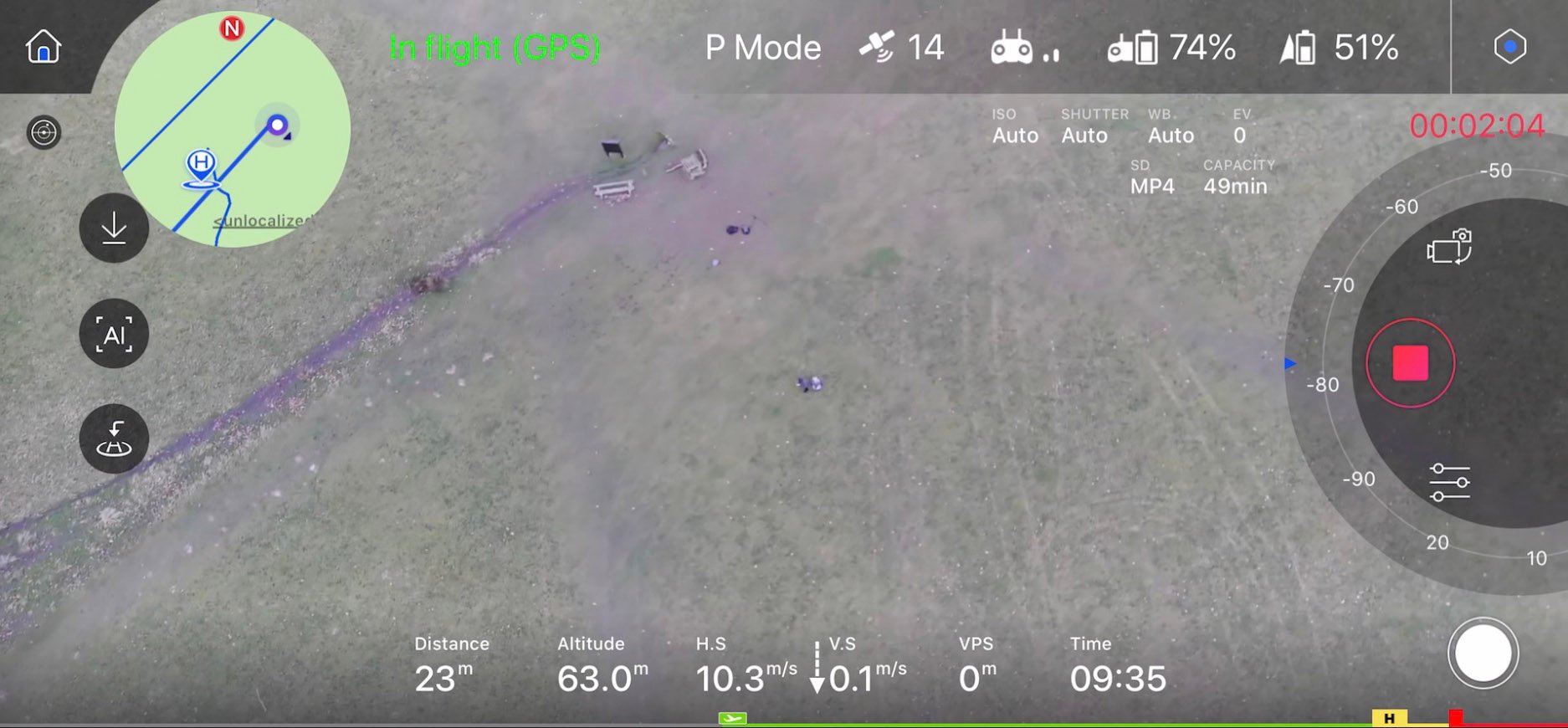 Once in the field and set up, you're also required to do "the drone dance" (rotate in certain ways to calibrate the system's sensors). Again this is clearly explained – on a par with DJI or Parrot rather than one of the cheaper brands. I did find that the app was occasionally a bit laggy, especially when changing video modes in the camera settings but, for the most part, it was all well designed and I'm sure that will clear itself up. DJI users will feel very at home, with features and settings menus all laid out in virtually the same place. The icons and indeed names of the AI modes like QuickShot seemed very familiar.
From some angles you might think the PowerEgg X looks a little ungainly, like a sea-spider which has had some legs ripped off, but it moves with an assuredness I've only seen on bigger aircraft. It's not quite as quick as an Inspire 2, but it wouldn't be embarrassed by one, and the tuning is spot on. It's easy to fly, doesn't drift worryingly, and offers a good choice of speeds in its three modes – Professional, Normal, and Easy. The former is the fastest (and disables the forward-facing collision sensors). 'Easy' is actually very slow, more like a tripod mode – a useful option to have. Normal seems the sensible choice most of the time unless you're operating near objects and would prefer to avoid them manually.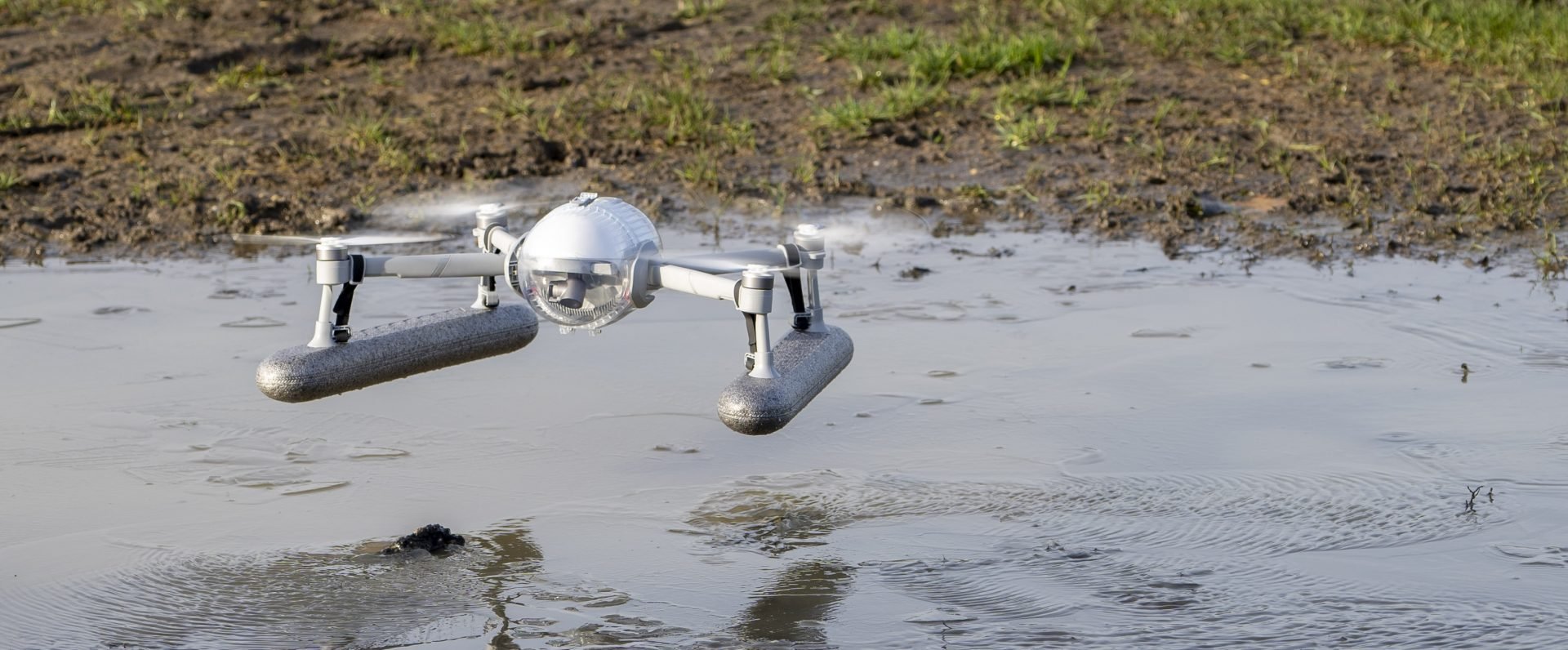 With the water landing skids on, the aircraft adds an extra 252g of weight to its 862g take-off weight, meaning that the 30 minutes battery life is significantly reduced. The drone also lost some of its agility – I really noticed that on the descent (which tends to be slower than ascent on rotary-wing aircraft because of the inherent instability of falling into downdraft). It's good that the software is making these allowances for you, but you also need to be mindful of this when plotting a flight as 15 minutes seems a realistic limit at this weight. That said, the water landing does work, and I got progressively less nervous each time. The only downside – inherent with all water surface craft – is a tendency to drift across the surface with even a light breeze. You need to be mindful of this so you take off before you get too near any hazards, or are able to recover the drone by hand.
Stills
The 12-megapixel camera is definitely not without its problems. The image sensor is 1/2.8-inch (0.357mm) as opposed to the 1/2.3-inch (0.435mm) of the Mavic Mini, Mavic Air and Mavic 2 Zoom. That smaller size presumably means smaller photosites and lower sensitivity.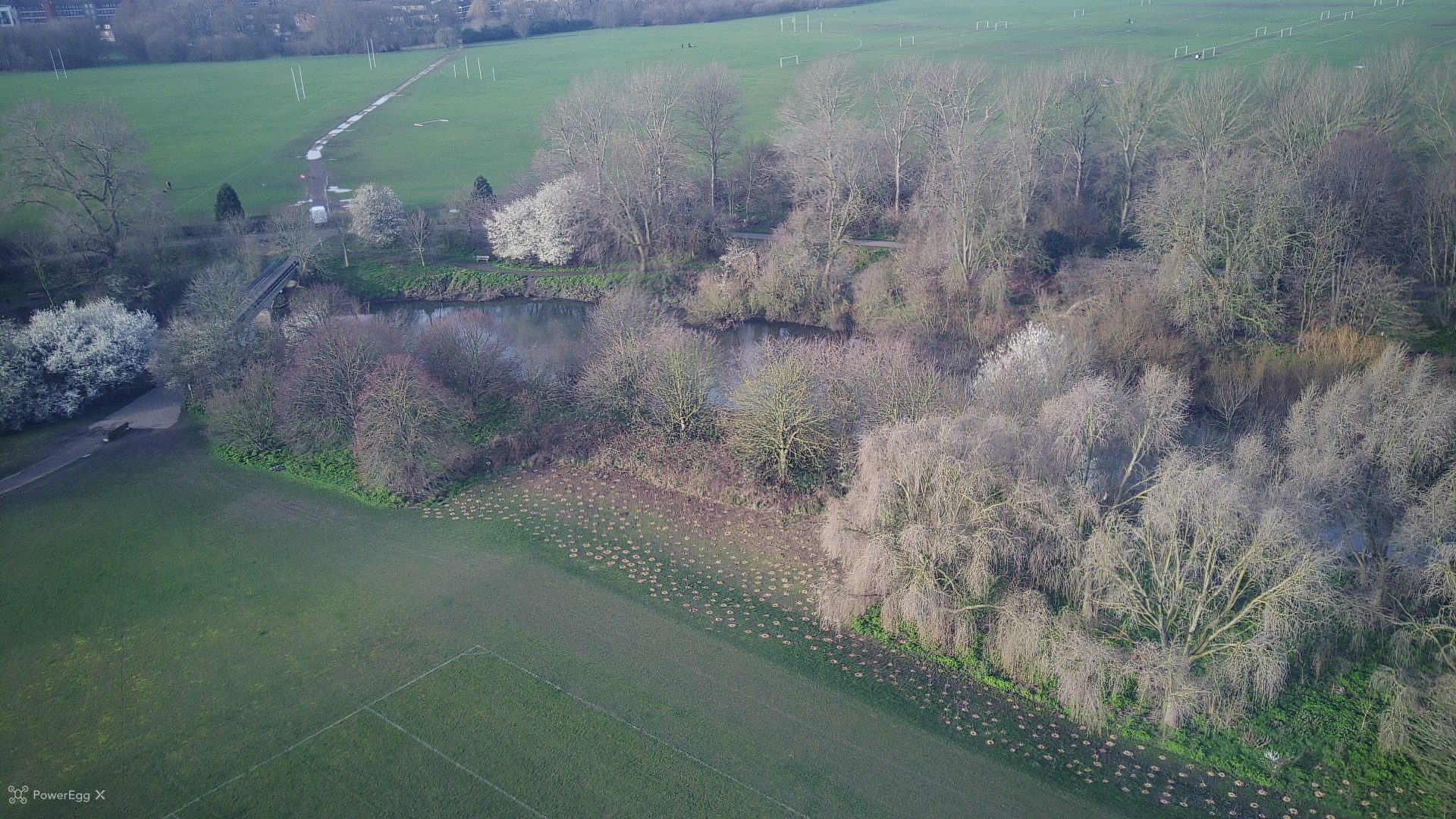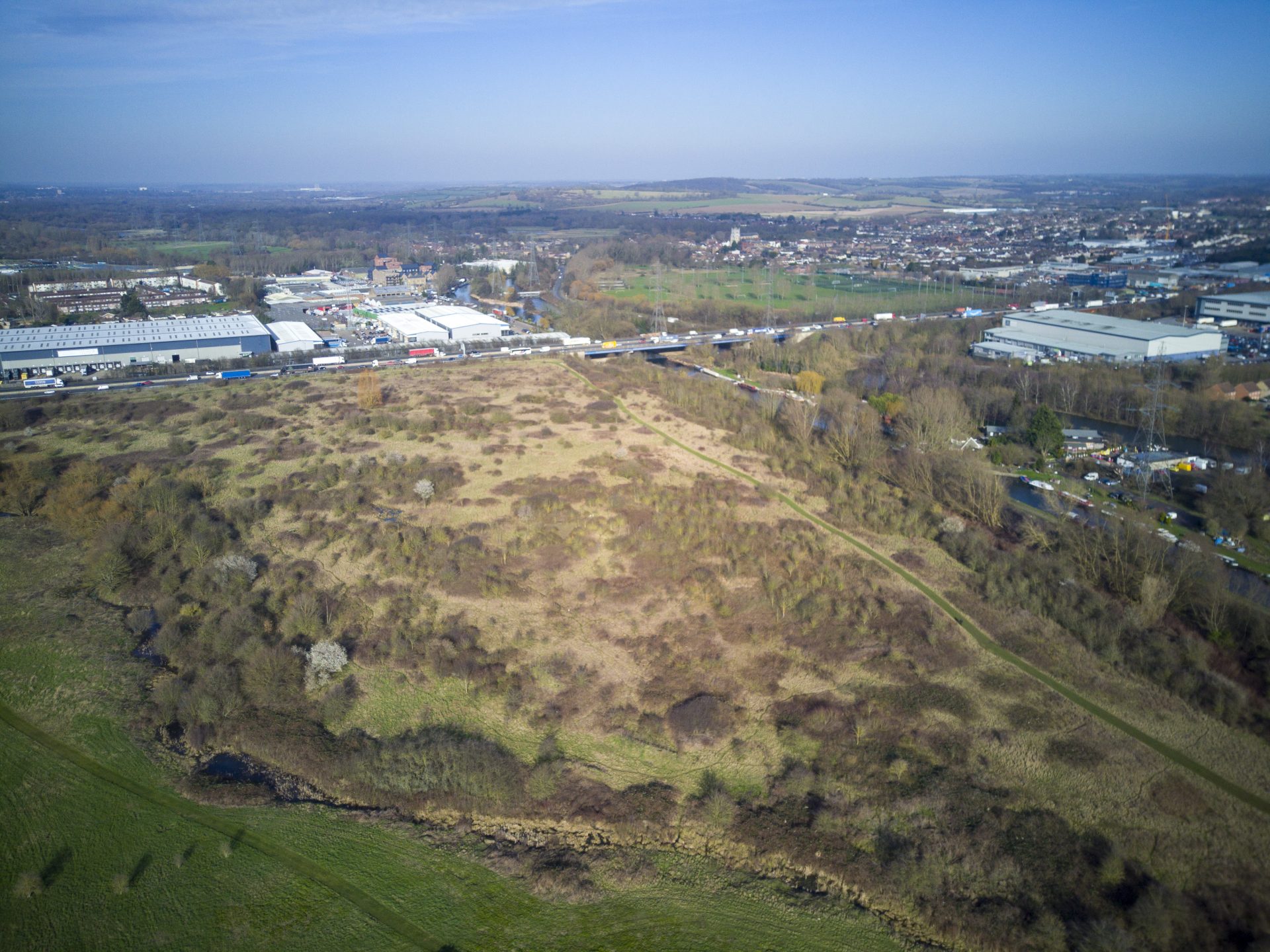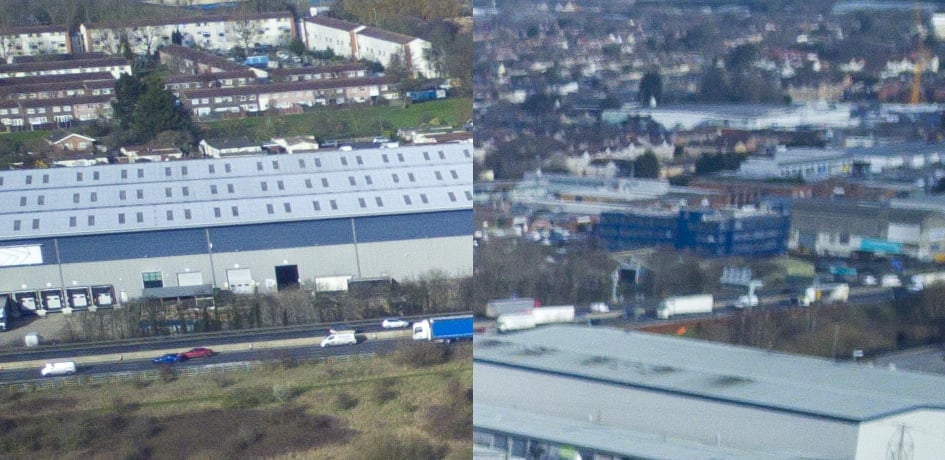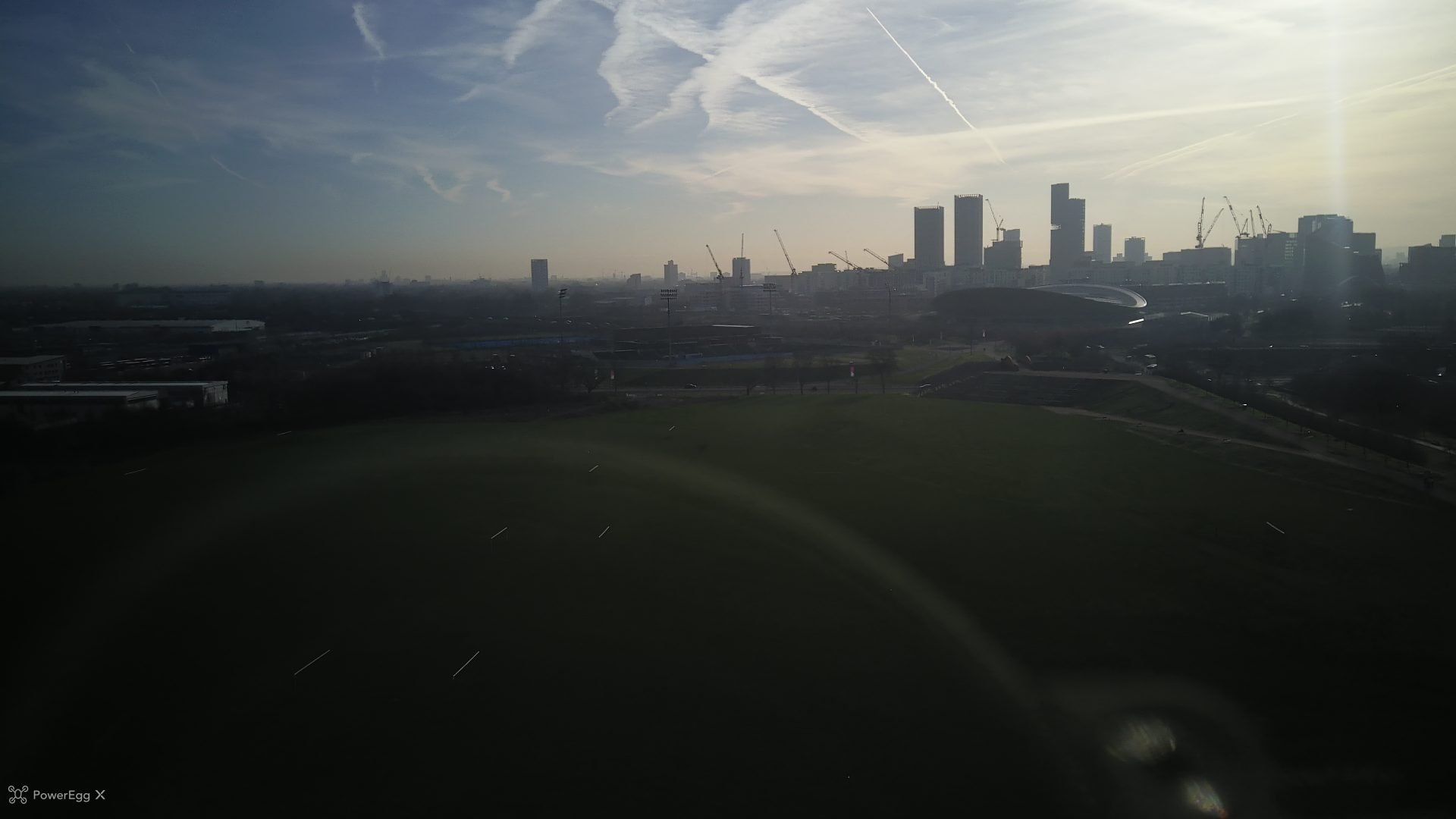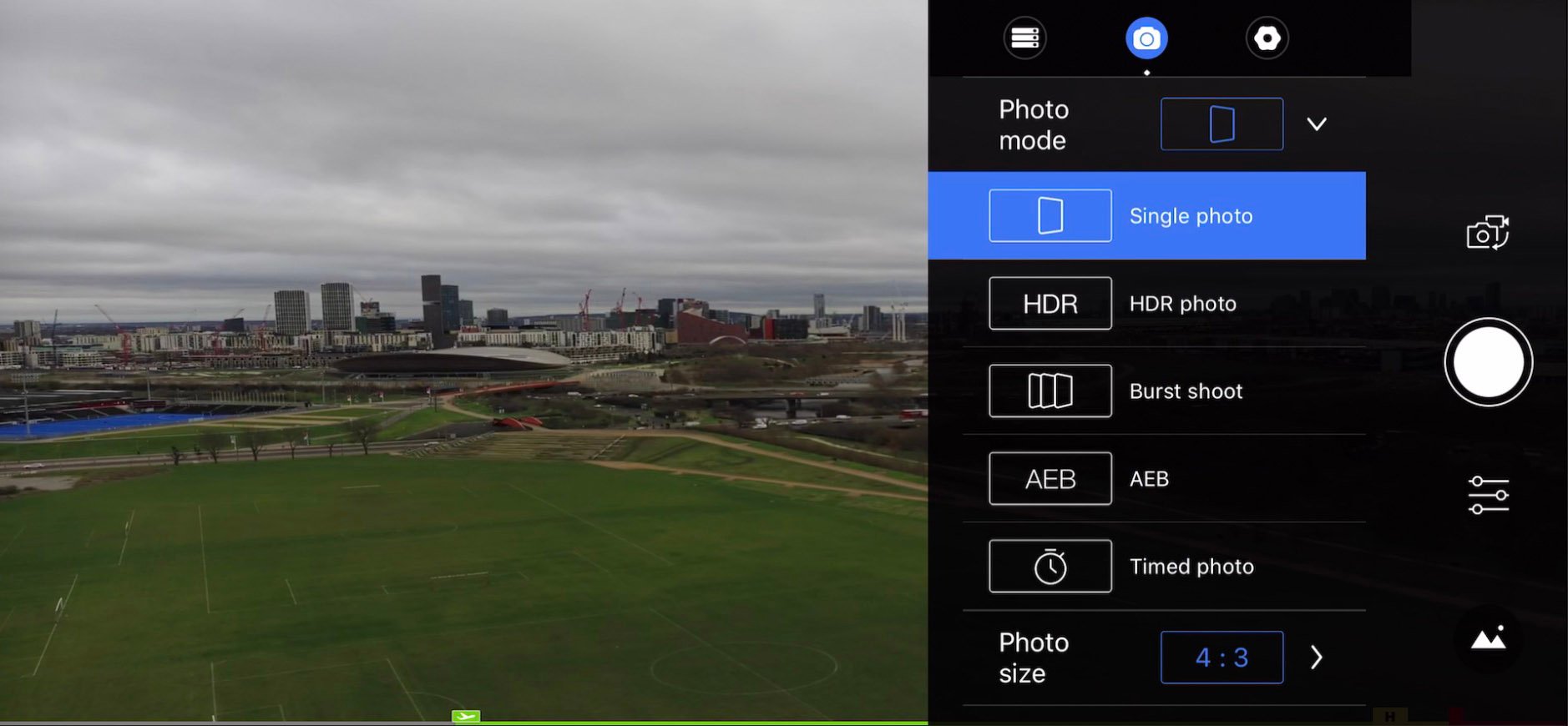 So the quality of the stills are mixed. From an operational perspective, the stills are easy to capture and the manual mode options are easily selected via the menus, including an HDR processing option and manual white balance. The camera's electronic shutter can operate at 8 to 1/8000 sec, capture 3 or 5 shot brackets at 0.7EV steps, and bursts of 3, 5 or 7 shots. An interval timer (every 3, 5, 7, 10, 15, 30 or 60 seconds) is coming too. The aperture is ƒ1/1.8 with 1m to infinity and ISO 100 to 6,400 (for stills) but the 4,000 x 3,000 resolution is merely average and the quality seems slightly below DJI's of the same resolution (i.e. Mavic Mini, Mavic 2 Zoom). In fairness the drone's JPEGs are good, and actually there are times DJI's sharpening seems a little harsh.
Video (as a drone)
This isn't just a 4K camera, it's 4K at 60 fps, meaning you can shoot glorious 3,840 x 2,160 pixel video and run it in smoothly in slow motion (YouTube's standard frame rate is 30fps, so played at half speed you see no jerkiness whatsoever). Or, if your playback device supports it, you can play it at 60fps (sometimes known as HFR for High Frame Rate) and twists and turns in flight look super-smooth (see above). At 1080p ('normal' high definition) you can choose up to 120fps, and at 720p the camera will max out at 240fps. This means the aircraft is ideally suited to capturing high-speed action.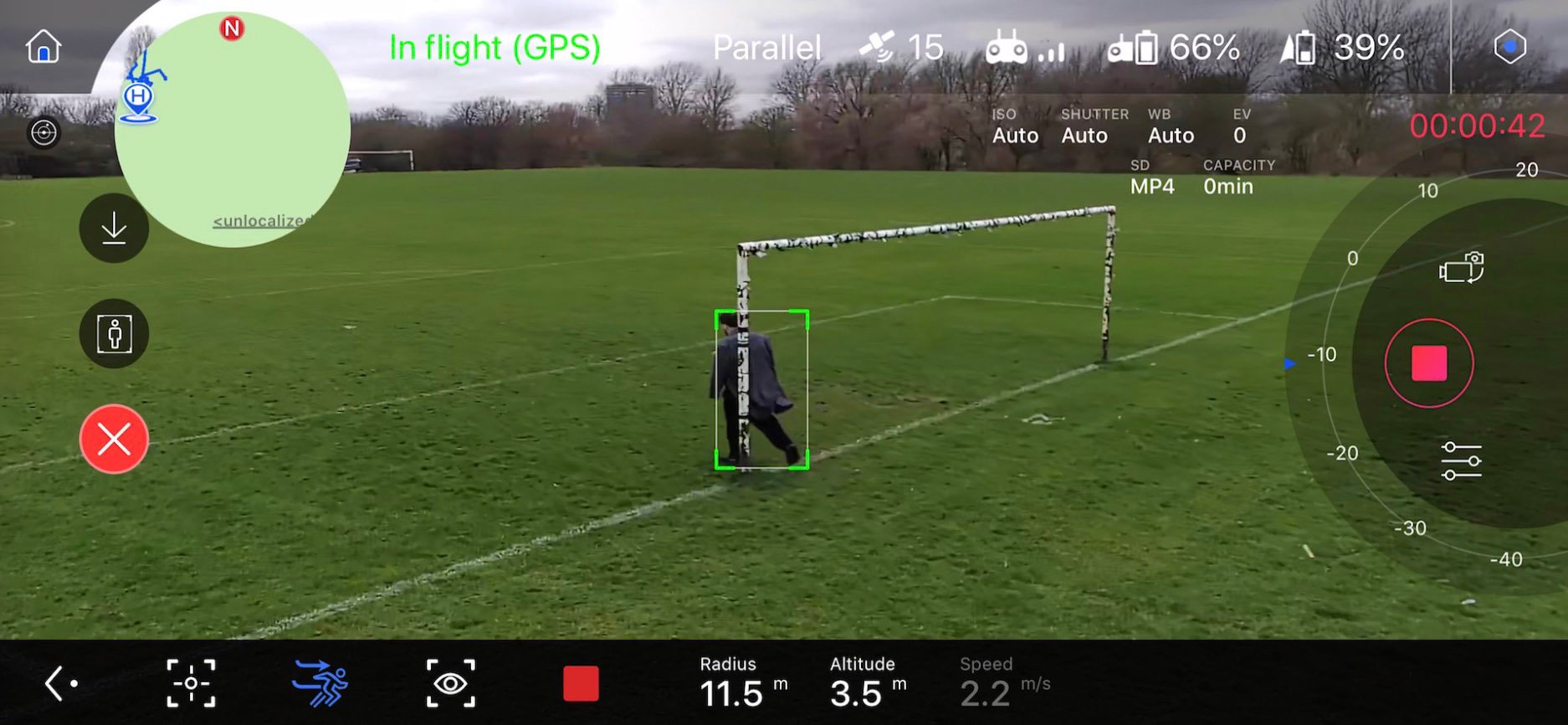 In addition, the feature set includes what is branded as "AI recognition," but from above at least is effectively the same as the person or object tracking which we've seen arrive in on DJI's drones. These features use the binocular cameras mounted on the front (which also help with collision detection), and so are not available with the water housing on, but when they are available they make a good job of identifying potential subjects to track (i.e. it placed a dot on me) and once I'd selected myself it kept the box around me. I tested it walking near others and it had no problem keeping me in shot for the Trace, Parallel tracking and Spotlight modes. At one point though the drone did turn the camera to follow me so far it got the leg in shot rather than turn the aircraft.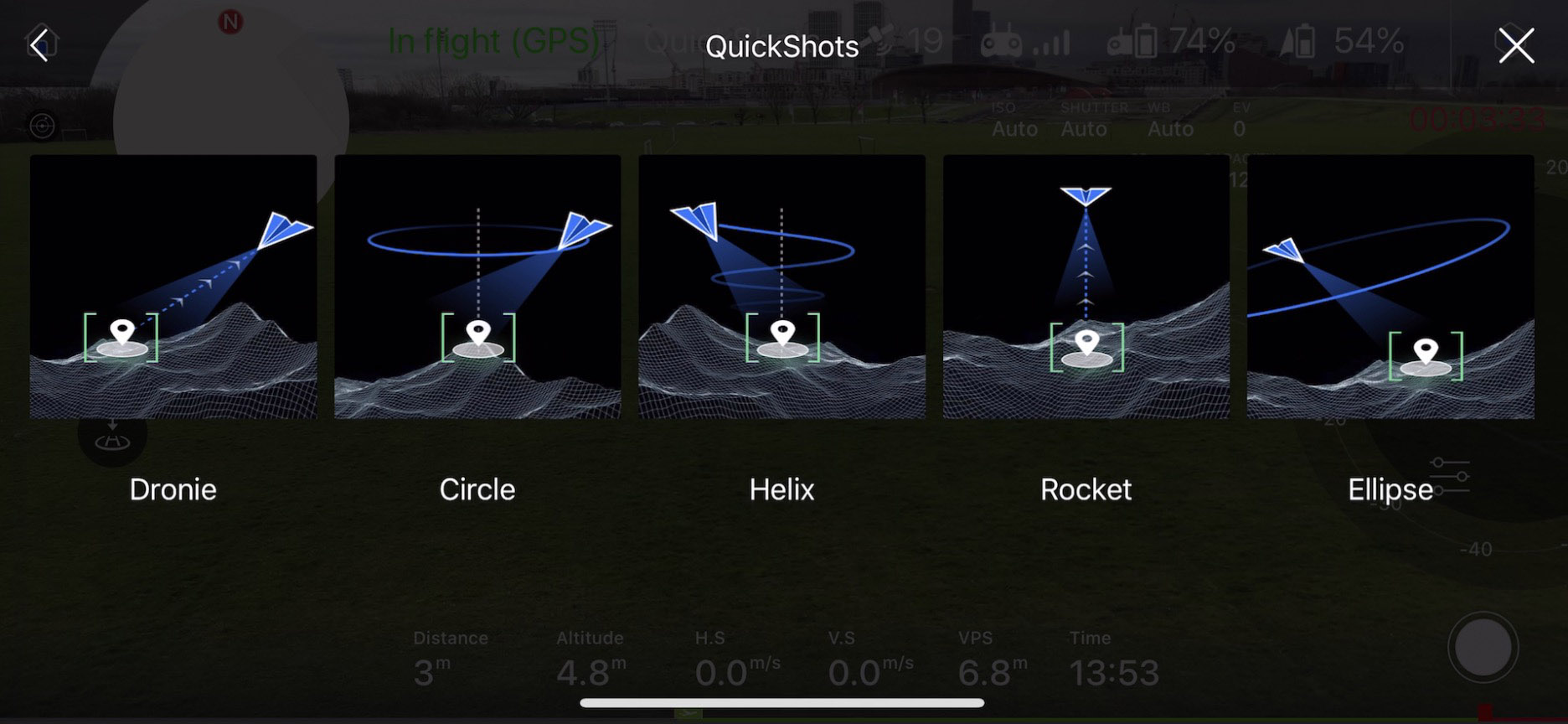 As well as the longer tracking modes, there is a range of "QuickShots" (and there was me thinking DJI must have trademarked that word). They are to all practical intents and purposes the same thing; on request the drone performs one of the paths described diagrammatically, keeping you / your subject in shot, and presenting you with a perfect 15-second clip for Instagram / TikTok etc.
The compact sensor shouldn't really be an issue for 4K video (if my iPhone is anything to go by, at least), but – again in gloomy, windy conditions – I did still detect the blur to the right-hand side of the frame identified above. I don't want to over-emphasise this issue, since much of my testing was in very unfavourable conditions (British winter with two major storms sweeping the country) and the results were still solid. Moreover the same wind would have carried away a Mavic Mini, so if there is some gimbal vibration visible in wind it's unfair to complain too much. (One plus for the gimbal is that the internal protector is both durable and relatively easy to remove and replace – if you've ever flown the original Mavic Pro you'll understand this is not always the case!)
What I was actually a little more disappointed by is the video's bit rate. Most drones now seem able to record at 100Mbps (Mega Bits Per Second), while the PowerEgg only lays down 75Mbps. This is still good, and where the image is sharp (i.e. in good weather!) the detail is definitely there, but smaller numbers are always vaguely disappointing.
A.I. Video (smart camcorder mode)
Many drone users have found themselves holding their drones in hand to take advantage of the motorised gimbal stabilization, something which no doubt led market leader DJI to develop their Osmo series of hand-held gimbals. When GoPro made their abortive attempt to enter the industry they made the drone gimbal removable for hand-held use. It was only logical, then, that PowerVision should attempt something similar, and the PowerEgg X's approach is, arguably, more elegant than GoPro's.
I'm not sure why, but when I tried hand-holding the camera in low light it plumped for 1080P and shot the above at just 42Mbps, though I was able to use the full 4K via the settings. The stabilization is good, and it actually handles the low light pretty well all things considered, but the detail in the road is the give-away as far as the bit rate is concerned.
You can use the phone in both orientations when recording, but it took me a while to realise I needed to tap on the subject in the video to start tracking them – but it seems to work adequately. Unlike a DJI Osmo Mobile, you can record sound from your phone while the camera is at a distance, which is useful (especially since the processor's fan in the Egg is still running to manage the artificial intelligence, providing a similar issue to the rolling tape inside a Video 8 camcorder. The tracking is good, though it will get fooled from time to time, and will warn you that "Gimbal Reaches The Limit" before simply attempting to lock onto the next humanoid in frame. In crowds this can happen as someone passes your subject and confuses the camera so it follows them instead. They'll head off at a distinct angle to the one you, as camera operator are expecting, so the camera gimbal, now following the wrong person, hits a right angle to the camera body, loses them, and then starts hunting for a new humanoid to follow without re-centring the camera. It just means if you're trying a difficult shot you need to keep your eye on things.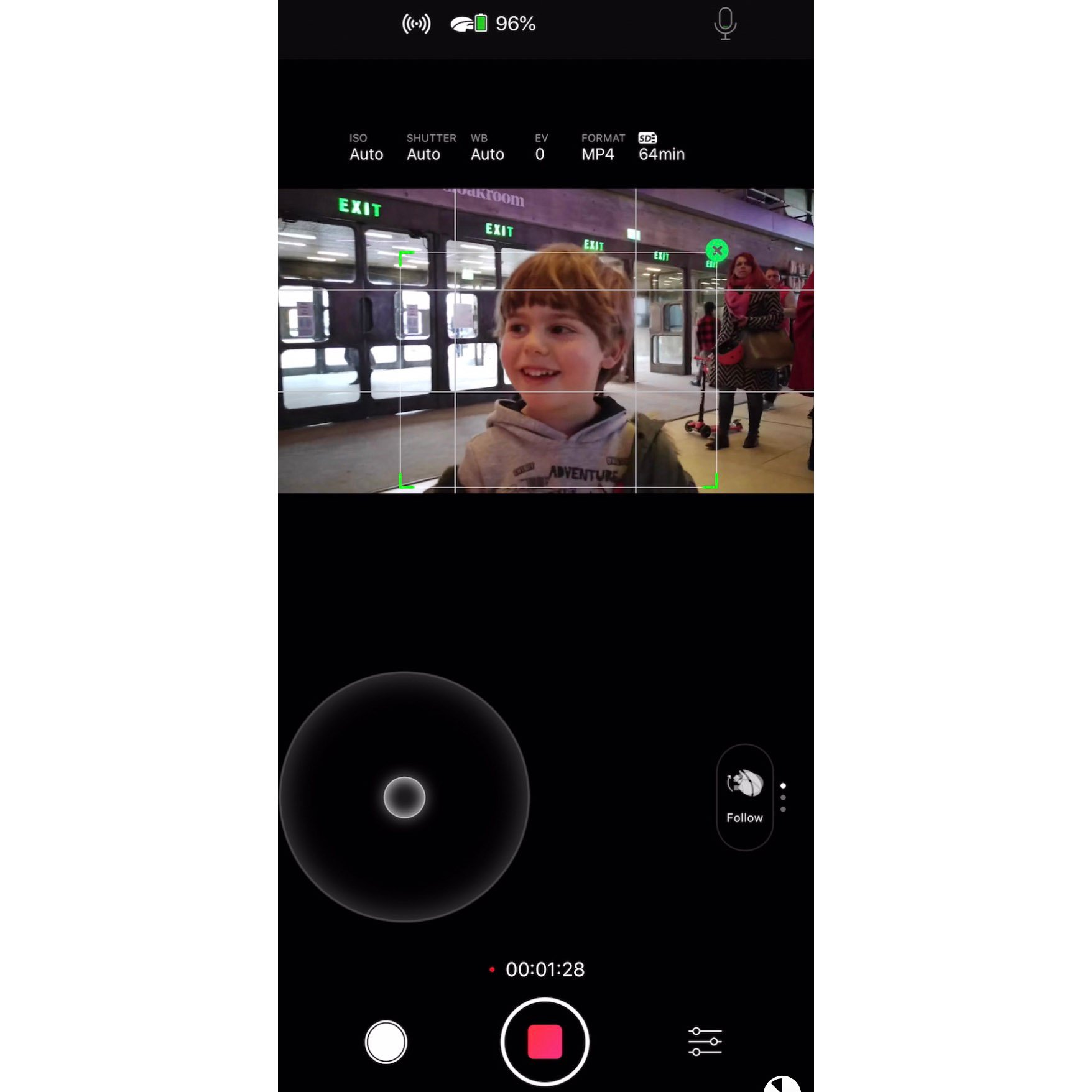 On the subject of the Video-8 era, the physical grip of the camcorder grip is very nice to use, but it does (at least for those of us who have used real camcorders) beg the question "Where is the red button?" The only way to get the camcorder recording (or prepare it so so, if you're relying on gesture control) is to use the app. A single button on the body of the camera would make this so much easier to quickly use in numerous video recording situations. As it is you have to have your phone connected via WiFi and to use the app. When you're working locked-off, having a circular control for panning and tilting is kinda cool – when you're walking backwards (as I was here) it's more things to control than is reasonably possible. Luckily the AI tracked the subject for a long shot, going indoors and out, in front and behind, passing others. In other words, range isn't the only reason we fly using remotes with sticks – touchscreens are imprecise.