Pentax K10D verdict
---

Good points
Built-in Shake Reduction system
Dust and weather-resistant seals
Unique shooting modes and RAW options
Switches for metering and focus areas

Bad points
Default JPEG settings lack impact
Basic metering and tendency to underexpose
No dedicated buttons for ISO or WB
Tough rivals like the Nikon D80 and Canon 30D

Scores
(compared to mid-range DSLRs)


Build quality:
Image quality:
Handling:
Specification:
Value:

Overall:



16 / 20
15 / 20
16 / 20
18 / 20
18 / 20

83%

The Pentax K10D is certainly a feature-packed DSLR and one which offers a lot of bang for the buck at current online prices. You get 10 Megapixel resolution, built-in Shake and Dust Reduction, environmental sealing, two unique exposure modes and a wealth of RAW options which put other mid-range cameras to shame. Indeed in some respects these features elevate the K10D beyond mid-range DSLRs to compete against semi-pro models, and that's impressive considering the price point.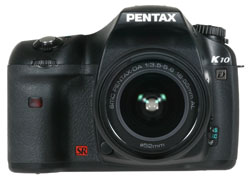 The K10D isn't however without its faults. The body may be dust and weather-resistant, but it ain't built from magnesium alloy. The image quality using the default settings can come across as dull compared to the competition and we also felt it had a tendency to underexpose or be fooled under certain conditions. And while the Shake Reduction system proved quite effective at removing dust, it only offered modest compensation against camera-shake in our tests compared to rival systems. Speaking of which, here's a brief look at how it compares against the nearest competition.
Compared to Nikon D80

Arguably the biggest rival for the K10D is the Nikon D80. At first glance the K10D appears to thrash it in terms of features including built-in image stabilisation, dust removal, environmental sealing and impressive RAW capabilities; the K10D's also cheaper.
But in our view, the D80 simply out-performs the K10D in day-to-day use. We shot with a D80 throughout the entire period of this review and saw first-hand how it handled exactly the same situations as the K10D. There were many occasions when the K10D required exposure compensation, while the more sophisticated metering of the D80 remained un-phased. We also preferred the output from the D80 using the default settings, although to be fair this is subjective. See our Nikon D80 review and video tour for more details.
Compared to Nikon D200

Sporting environmental sealing and sophisticated RAW options, the K10D often finds itself compared against semi-pro models like the Nikon D200. In reality though they are quite different cameras, and even Pentax wouldn't claim any rivalry.
The D200 is tougher and quicker while boasting many unique features of its own along with the benefit of superior metering. It is without a doubt a far superior camera, although to be fair it also costs almost twice as much. So if you're after the most affordable DSLR with environmental sealing, the K10D comes across as a bit of a bargain. See our Nikon D200 review for more details.
Compared to Canon EOS 30D

Canon's mid-range DSLR is an interesting rival for the K10D, and like the D80, it initially appears to come-off badly in terms of features. The K10D boasts slightly higher resolution, built-in anti-shake and anti-dust, environmental sealing, the chance to swap focusing screens and impressive RAW capabilities.
Look a little deeper though and the 30D has several aspects in its favour including a magnesium alloy body, 5fps continuous shooting, superior metering and again more consumer-friendly output using the default settings. That said the K10D's cheaper than the Canon 30D, so unless you need 5fps and aren't willing to tweak image settings, the K10D represents much better value. See our Canon EOS 30D review for more details.
Compared to Sony Alpha A100

The Sony Alpha A100 is a natural rival for the K10D as both are 10 megapixel DSLRs featuring in-camera stabilisation which also doubles-up for anti-dust duties. In practice we found the Sony A100's Super SteadyShot proved slightly more effective than the K10D's Shake Reduction, although neither were as effective as lens-based solutions at longer focal lengths.
In its favour, the K10D's anti-dust was more effective in our tests and while its default output wasn't as punchy as the A100, it did boast lower noise levels at higher sensitivities. The A100 may be cheaper than the K10D, but if you're willing to learn how to tweak the settings, it's worth spending the extra on the Pentax. See our Sony Alpha A100 review for more details.
Pentax K10D final verdict

One thing should be clear from our comments so far: the K10D is not the greatest performer using its default settings. If you want a camera that takes great-looking JPEGs straight out the box, then look elsewhere. Shooting alongside the K10D with a Nikon D80 really cemented this point home.
But the K10D undeniably offers a lot of features for the money. For starters it's the most affordable DSLR with environmental sealing. The Shake Reduction may only have offered a couple of stops compensation in our tests, but it's certainly better than nothing. The anti-dust system may not be as good as the Olympus SuperSonic Wave Filter, but it sure proved more effective than the Canon 400D and Sony A100 systems in our tests. The support for both proprietary and open RAW file formats, along with in-camera processing is also very welcome. And while it's annoying not to have buttons offering direct access to the ISO and White Balance, the K10D makes up for it to some extent with its Sensitivity Priority mode and a dedicated RAW button.
Had the K10D sported superior metering and better-looking JPEGs out-the-box, it would have easily achieved our Highly Recommended rating. But the fact you need to put some effort into learning the camera when rivals are ready to go straightaway means we can only award it our lower Recommended rating.
At this point you could argue any product needs to be learnt to make the most of it, but in photography you may only have one chance at your shot – and the fact is cameras like the Nikon D80 will get it right almost every time, whereas the K10D often requires some adjustment. By that time your opportunity may have passed.
Ultimately if you're a beginner or want the easy life, look elsewhere. But if you're willing to learn how to get the best from the K10D, it undoubtedly represents great value for money and a compelling option. Just don't expect miracles from the Shake Reduction and be prepared to tweak the settings.
For an overview of this camera's headline features, check out our Pentax K10D video tour
NEW: See our Pentax DA 40mm & 70mm lens review and video tour.