Pentax *istDL review with 18-55mm f3.5~5.6 DA lens
Pentax *istDL sensor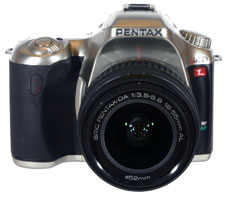 The Pentax *istDL employs a 6.1 megapixel CCD sensor with quoted dimensions of 23.5 x 15.7mm. The sensor format results in all lenses designed for a 35mm body effectively having their focal length multiplied by 1.5 times. Images measure 3008 x 2000 pixels and sensitivity can be set between 200 and 3200 ISO in 1 EV steps.
Files and memory
Images can be recorded at three different resolutions, each with a choice of three JPEG compression levels; the JPEG levels are labelled *, ** and *** for good, better and best. Full resolution images can also be recorded in Pentax's RAW PEF format, although there's no RAW plus JPEG option. Using the full resolution and best quality JPEG setting, the average file size worked out at 3MB each.
Like the Pentax *istDS before it, the DL employs SD memory cards. Pentax was the first manufacturer to abandon Compact Flash in favour of SD alone, and while it seemed an almost blasphemous move back with the DS, it's no longer seen as a big deal; indeed Nikon followed by implementing an SD slot on its D50. The camera employs a USB-2.0 port for transferring images.
Image processing and handling
Startup times are pretty much instantaneous, either from power-on or wakeup. In use the camera feels very responsive, ready for action and quick to grab the shot. Playback and zooming-in of images is quick and a page of nine thumbnails loads in just over a second.
Pentax quotes a continuous shooting rate of 2.8fps for five best quality JPEG frames. In practice this holds true, with the shooting rate slowing significantly to about 1.5fps after the fifth frame, but the camera continues to fire and record without complaint. Even after shooting 100 frames, the card only remained busy for a couple of seconds after letting go of the shutter release. The shutter and mirror flip are louder than its rivals, but the tone isn't unpleasant – indeed it's quite a satisfying clunk.