Pentax *istDL review with 18-55mm f3.5~5.6 DA lens
Pictured below from left to right are the Canon EOS-350D, Konica Minolta Dynax 5D, Nikon D50 and Pentax *istDL. Based on the same shell as its predecessor, the Pentax *istDL inherits the claim of being the smallest digital SLR in its class. Measuring just 125 x 93 x 67mm, the Pentax DL's actually a fraction smaller than Canon's EOS-350D and noticeably more compact than Nikon's D50. It's light too at 790g including batteries and the optionally bundled 18-55mm lens – indeed 50g lighter than the earlier DS, although still 66g heavier than the 350D. The DL's available in black or silver.
Despite its budget price and compact dimensions the Pentax *istDL feels both solid and comfortable to use. The grip makes a sharper turn towards the inner body than its rivals, which frees up space for your finger tips, but at the cost of not feeling as rounded. As always, the size, shape and feel of a camera is highly subjective and you'll need to pick it up to judge for yourself. We feel it's slightly easier for those with larger hands to hold than the Canon 350D though.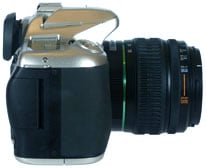 Unlike its budget rivals, the DL's powered by four AA batteries. When you consider their physical volume and weight compared to a typical Lithium Ion battery, the DL's overall size and weight become even more impressive. Pentax throws in a set of disposable alkalines to get you started, but annoyingly leaves it to you to invest in a set of rechargeables and a recharger. Admittedly most homes have an AA charger and an extra set of NiMHs won't break the bank, but since every other budget DSLR comes with a rechargeable battery, it seems a little mean. On the upside, AAs are pretty much universally available should yours run dry without spares or a charger to hand.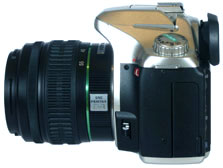 The DL's top surface is dominated by a large (non-backlit) screen on the right and the main command dial on the left. The latter offers the usual Program, Manual, Shutter and Aperture Priority modes, along with six scene presets and an Auto Pict mode which automatically selects what it believes is the most appropriate scene preset. This is quite a neat feature for beginners, offering wider creative options without having to worry about the technicalities. The power dial when twisted clockwise also gives easy access to the depth-of-field preview.
Shutter speeds range from 1/4000 to 30 seconds and bulb in increments of half or one third of a stop. Exposure compensation is offered from -2 to +2EV, again in either increments of one half or one third of a stop. There's a popup flash with red-eye reduction, compensation from -2 to +1EV in one third steps and a slow-synchro scene option, but no rear-curtain mode. The hotshoe supports external flash guns at a modest sync speed of 1/180 of a second – slower than the *istDS.
Round the back, a Function button brings up the current drive mode, ISO, flash and white balance settings on the main colour screen. From here it's quick and easy to push the control pad toward the item you want to change, before making the required adjustment. The menus are also easy to navigate, and Pentax has opted for beginner-friendly styles on several options – for example the JPEG quality setting is measured from one to three stars, although RAW mode is spelt out. The Recording menu also offers Saturation, Sharpness and Contrast settings.
Pentax *istDL composition and screen
The Pentax *istDL's focussing screen is clean and uncluttered, with most information shown using icons and digits below it. Like its predecessor and rivals, the DL employs a penta-mirror to reduce cost (and weight), but the view remains bright.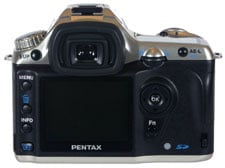 The biggest change, literally, from the earlier DS is obvious from the first instant you pick up the DL: its screen is a generous 2.5in, and looks even bigger considering the compact size of the body. Unlike many cheaper 2.5in screens, the DL's packs in 210,000 pixels, resulting in highly detailed image playback. It's a joy to use and puts the smaller or less detailed screens of its rivals to shame.
The 11 area auto-focus of the earlier DS has been downgraded to a basic 3-point system. In use you sometimes need to specifically point at the area you'd like to focus on, before locking and re-composing, but it generally gets it right most of the time.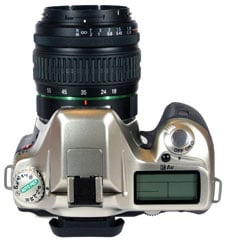 Lens
The Pentax *istDL can use a wide range of existing Pentax lenses. KA, KAF and KAF2 models can all be used without adapter or modification, although the power zoom function is not supported; K-mount are also usable with restrictions. Older screw-mount and even 67 / 645 medium format optics are usable with an adapter and certain restrictions. Even with obvious limitations taken into account, this level of compatibility is a boon for anyone with existing Pentax lenses, or who enjoys browsing the second hand market for ageing but exotic bargains.
Most people who buy the DL will also go for the 18-55mm f3.5~5.6 DA lens, designed for the APS-sized sensor and offering a range equivalent to 27-82.5mm on a full frame camera. Unlike the equivalent lenses bundled with its budget rivals, the Pentax model stands out in three respects: first, it's the only one with distance markings on the outer focussing ring, secondly, it's also the only one with a non-rotating front element which is great news for users of polarising filers, and third, Pentax throws in a decent lens hood as standard.