Pentax K20D - Pentax K20D lens and stabilisation
Pentax K20D lens and stabilisation
The Pentax K20D is equipped with a KAF2 bayonet lens mount which is compatible with KAF2, KAF and KA lenses. Like earlier Pentax DSLRs, the K20D also works with a wide variety of older Pentax optics (albeit with certain restrictions), including K lenses and even M42 and medium format models with the help of optional adapters; as you fit older lenses you'll generally be working increasingly in Manual, but it's still very handy to have the option.
Like the K10D before it, the K20D also supports the company's latest DA* lenses equipped with internal supersonic SDM focusing motors; these lenses also sport environmental sealing to match the K20D.
Like all Pentax DSLRs so far, the K20D's sensor results in the field of view of all lenses being reduced by 1.5 times, so the optional DA 18-55mm kit lens delivers an effective focal range of 27-83mm. After bundling the ageing DA 18-55mm with most of its DSLRs, Pentax has finally updated it with a Mark II model for the K20D. This wasn't however available for our tests, so we used the optional DA 18-250mm lens, but if you want to get the best from the K20D you should couple it with a higher quality option like the 16-50mm SDM; we hope to retest the K20D in the future with this lens.
Again like the K10D, the new K20D features built-in Shake Reduction to combat camera shake. First seen on the Pentax K100D, this uniquely employs magnets to adjust the position of the sensor. Like other body-based DSLR stabilisation systems the great advantage is being able to enjoy the benefit with any lens you attach, new and old. The disadvantage is not being able to see the stabilising effect through the viewfinder (and unlike Sony, there's not even indicators showing how hard it's working), although at least with Live View you can now preview the effect on-screen.
Unlike rival bodies with built-in sensor-shift stabilisation though, the Pentax Shake Reduction system uniquely supports rotational compensation along with the usual vertical and horizontal axes. Pentax claims this all provides the K20D with 2.5 to 4 stops of compensation, and the system can be switched on or off using a control on the rear surface. The Shake Reduction system also makes use of lens focal length data from supporting optics or you can manually enter the details of older lenses from 8 to 800mm.
To test the effectiveness of the K20D's built-in stabilisation we took a serious of photos with it and the DA 18-250mm zoomed-into an equivalent of 80mm where traditional photographic advice would recommend a shutter speed of 1/80 to eliminate camera shake. Our sequence therefore started at 1/80 and reduced one stop at a time until 0.8 of a second.
Support this site by shopping via these links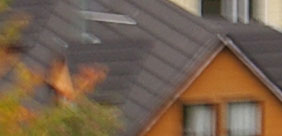 Pentax K20D Shake Reduction off / on

100% crop, 18-250mm at 50mm, 1/10, 100 ISO, SR off

100% crop, 18-250mm at 50mm, 1/10, 100 ISO, SR on

Without Shake Reduction enabled, the slowest shutter speed with which we could achieve a sharp image (at an equivalent of 80mm) was 1/40, whereas with SR enabled we achieved sharp results down to shutter speeds of 1/10. You can see 100% crops taken from the 1/10 samples above.
A shutter of 1/10 corresponds to two stops of compensation over the 1/40 non-stabilised shot, and three stops over the 1/80 speed suggested by traditional advice. As always, the lens, conditions and the photographer themselves can produce different results, but here the K20D's built-in stabilisation isn't performing quite as well as those from Sony or Olympus which consistently provided three stops in practice.
Pentax K20D focusing

The Pentax K20D is equipped with an 11-point Autofocus system (SAFOX VIII); the central nine focusing points are cross-type sensors. A dial on the back of the body switches between the three focus area modes: Auto which selects from all 11 points, SEL which allows you to manually choose one of the 11 points, and Center which sets the focusing area to the centre of the viewfinder. If you're using older lenses, the focus point is always locked to the centre regardless of the mode selected.
The K20D offers the choice of three focusing modes, adjusted by a switch to the left side of the lens mount: AF.S is the standard single shot mode which locks once in focus; AF.C continuously focuses with the shutter release pressed halfway; MF is manual focus only.
In a perfect world, all lenses would focus precisely on the focal plane, but sometimes they're slightly off. While several manufacturers turn a blind eye to this problem, Pentax offers AF adjustment in the K20D which allows you to fine tune up to 20 different lenses, or apply a setting globally to all lenses. This is a very useful feature to have, although it would have benefitted from an effective manual focus assist mode in Live View. Better instead to use the digital preview option which effectively takes a photo and lets you zoom into it by 32 times for precise checking.
A new Catch-focus mode also allows you to manually focus the lens at a set distance, then only have the K20D trigger the shutter when the subject moves into focus.
In use, the K20D's focusing performance very much depended on which lens was attached. With the original Mark I DA 18-55mm lens it actually felt surprisingly quick given the budget status of the optics, although the DA 18-250mm was be noticeably slower in comparison – the K20D would roughly but quickly adjust this lens' focus before slowing down and performing tiny steps to get it spot on. Again to really see what the K20D is capable of, you'll need to equip it with one of the Pentax SDM lenses.
Pentax K20D metering, exposures and bracketing

The Pentax K20D offers the same three metering modes as its predecessor: Spot, Center-weighted and Multi Segment, the latter employing a 16-segmented system. 16 Segments is considerably fewer than the 420 you can look forward to on rivals like the Nikon D80 (or even the budget D40), and in use the K20D, like the K10D before it, certainly lacks the almost uncanny ability of Nikon's 3D Matrix Metering to correctly evaluate the scene almost every time.
So once again, the K20D appears to under-expose most of its shots in Multi Segment mode, particularly those which were dark to start with. More offen than not we had to apply one stop of positive exposure compensation, or even 1.5 stops in dark interiors. Of course the positive spin on this is that the K20D is unlikely ever to blow any highlights, but we'd still expect better for a camera of its class – especially as the K10D suffered in the same respects. See our Gallery for more examples.
The K20D offers the same shutter speed range as its predecessor, running from 1/4000 to 30 seconds plus Bulb in half or third-stop increments, while exposure compensation is available in either a +/-3 EV range with half EV steps, or the more common +/-2EV range in one-third steps.
The K20D boasts a wide array of bracketing options. In terms of exposure bracketing, you can choose three or five frames up to 2EV apart which will delight HDR fanatics. Each frame can be taken separately, or in an automatic sequence if you've select the One Touch Bracket custom function.
The K20D's Extended Bracket option also supports bracketing for White Balance along with saturation, hue, sharpness and contrast. This goes beyond the facilities offered by most DSLRs, and there's even a multi-exposure option which lets you combine two to nine images as one.
Pentax K20D anti dust

Like its predecessor, the K20D employs its anti-shake system in the battle against dust. By vigorously shaking the sensor, the K20D attempts to shake-free any foreign particles which have settled on the low pass filter. This process can be manually applied from a menu option, or configured to take place every time the camera powers-up.
The Dust Reduction shake itself lasts for about half a second and can be both felt and faintly heard. If you have it enabled at power-up, it clearly slows the startup time, but only by a fraction of a second – and you can always switch it off if desired.
New to the K20D is a Dust Alert option which detects dust on the sensor and creates an image to show you where it is. This works like an automatic version of taking your own dust reference frame, and the view shown as if you were looking into the open camera body from the front, although having identified the pesky particles, the K20D won't actually do anything about them. Instead they're displayed against a white background to show you where to aim your blower.
Following our usual DSLR torture-test we left our K20D face-up without a lens, inside and outside for ten minutes each; we can't know how much dust entered the body during this time, nor even how much was present to start with, but we know such a process would result in dust being a problem for most models.
We then powered the camera on and off twice to vibrate the filter before taking a series of photos at every aperture setting of a plain white surface at close range with the DA 18-250mm lens zoomed-into 55mm and manually focused to infinity. Dust marks normally become most apparent at the smallest apertures (eg f16 and f22), but it's also important to test at more common apertures.
Support this site by shopping via these links Pentax K20D dust example at f22 / f8

100% crop, 18-250mm at 50mm, f22

100% crop, 18-250mm at 50mm, f8
Following our test the K20D revealed two dust marks at f22, although both were quite faint and one was very small. These are pictured above left. At f16 the larger was just visible, but at f11 had become very diffuse and faint. By f8 it had essentially disappeared, and to illustrate this above right is a crop of the exact same area – you can just see it as a very faint mark, about one third to one half the height of the crop.
While all dust testing has a random factor, gathering anecdotal evidence is useful, so on the strength of these results we'd say the K20D was performing above average. Like most anti-dust systems it's not infallible, but with only one major mark following 20 minutes without a lens, there's certainly worse offenders on the market.
Pentax K20D sensor and processing

The Pentax K20D is equipped with a brand new 14.6 Megapixel CMOS sensor co-developed by Samsung; this sensor is currently only found in the K20D and Samsung's own version of the camera, the GX-20. It measures 23.4×15.6mm and generates 3:2 aspect ratio images with a maximum resolution of 4672×3120 pixels – that's enough to produce 15.6×10.4in prints at 300 dpi.
Compare this to the 3872×2592 pixels of the K10D's CCD sensor, which at the same 300 dpi can make 13×8.6in prints. It's not just about making bigger prints though – the K20D's higher resolution also allows you to make tighter crops while still having sufficient remaining to make a decent sized print. So with the K20D, Pentax has switched its sensor technology and sensor manufacturer while significantly increasing the resolution – check out our results pages to see how it performs in practice.
There's the choice of three lower resolutions and four different JPEG compression options; like other Pentax DSLRs the latter are represented by stars which seems a little consumer for its semi-pro aspirations. Still at least there's now a new four-star option with very mild 1 /2.8 compression. Alternatively you can record images as a RAW file with or without an accompanying JPEG at any compression or resolution, although the RAW file is always recorded at the maximum resolution. Best quality **** JEPGs typically measure around 11 MB each, while RAW files weigh-in at around 15 MB each.
Like its predecessor, the K20D refreshingly also allows you to choose whether RAW files are recorded in the proprietary Pentax PEF format or Adobe's open DNG format – if only all manufacturers were as open-minded. PEF and DNG files measure roughly the same size. As described on the Design page, the K20D is also equipped with a dedicated RAW button on the side of the body which can be used to switch between JPEG and RAW mode or RAW and RAW plus JPEG mode; you can also configure it so the setting is cancelled or remembered each time you press the button.
The K10D's 22-bit A-D processing is now carried out in 14-bits on the K20D, and RAW files are recorded in 12-bits; the new A-D conversion sounds like a big come-down from the K10D, but both cameras are still recording RAW files with 12-bits of final data. Like the K10D, RAW files can be processed in-camera to create new JPEGs. You can adjust the final resolution, compression level, white balance, sensitivity (-2 to +2), tone / saturation, filter effect / hue, contrast, sharpness, colour space and High ISO noise reduction.
The K20D's sensitivity runs between 100 and 6400 ISO, two stops up from the 1600 ISO maximum of the K10D, although you'll need to enable the Expand Sensitivity custom option to access the top 6400 ISO setting, and in Bulb mode, the maximum will be 1600 ISO. Like the K10D, you can use the finger and thumb dials to set both a minimum and a maximum sensitivity for the Auto ISO setting.
New to the K20D is an Expanded Dynamic Range option which operates between 200 and 6400 ISO; like Canon's Highlight Tone Protection, this helps prevent blown highlights, although the K20D's habit of underexposing rarely makes this an issue. Below are examples taken normally, then with Expanded Dynamic Range enabled.
Support this site by shopping via these links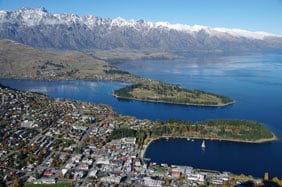 Pentax K20D Expanded Dynamic Range off / on

Pentax K20D, Expand Off, 100 ISO, 1/250, f8

Pentax K20D, Expand On, 200 ISO, 1/500, f8

Pentax K20D, Expand Off, Histogram

Pentax K20D, Expand On, Histogram
We shot the normal image, above left, at 100 ISO, which the K20D then boosted to 200 ISO for the version with Expanded Dynamic Range, above right. The histograms reveal highlight clipping on the normal image, which has been protected on the version with Expanded Dynamic Range, although there's quite a few unused levels on the far right as a consequence, and also a fractional increase in shadow noise thanks to the higher sensitivity.
The K20D offers two types of noise reduction for slow shutters (applied automatically or always for exposures under 0.3 seconds), and High ISO settings; the latter has four settings of off, weakest, weak and strong. Interestingly while most cameras default to a higher degree of NR as standard, the K20D's default setting is for High ISO NR to be off. We have examples at all four settings in our results pages.
The White Balance can be set to Auto, Daylight, Shade, Cloudy, three different Fluorescent lights, Tungsten, Flash, Manual or as a colour temperature. Each can be fine-tuned between green and magenta or blue and amber, while twisting the power dial clockwise will deliver a digital preview.
New to the K20D is the way you apply tone and sharpening adjustments. After pressing the Fn button, you press OK to enter the Custom Image section. This lets you choose from six main modes: Bright, Natural, Portrait, Landscape, Vibrant and Monochrome. Bright is the default setting and is therefore what we used for our sample images – it produces punchy images which are surprisingly consumer-friendly after the somewhat subdued default output of the K10D, although you can easily tone this down if preferred.
For each of the colour modes, you can adjust the Saturation, Hue, Contrast and Sharpness by plus or minus four steps; in Monochrome, Hue and Saturation are switched for Filter Effect and Toning. Particularly impressive is the sharpening adjustment which actually offers the choice of fine or coarse steps. And as you make your adjustments, their impact is represented on a colour graph on the right. Like White Balance adjustments, you can again twist the power dial to deliver a preview.
Pentax K20D drive modes

The Pentax K20D has three continuous shooting options. Continuous Hi takes pictures at 3fps for up to 38 *** JPEGs. Continuous Lo reduces the speed to 2.3fps, but can continue shooting until the card is full. Finally, the new Burst mode drops the resolution to just 1.6 Megapixels, but increases the rate to approximately 21fps. It's worth noting the earlier K10D could shoot at 3fps until it ran out of memory, although to be fair, the K20D is dealing with a lot more data.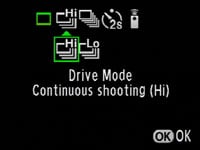 To put this to the test we fitted the K20D with a SanDisk Ultra II 1GB card, set the JPEG quality to ***, the shutter to 1/500 and the focus to manual. In Continuous Hi mode, the camera fired-off 35 frames in 12 seconds before slowing and stopping a few frames later. This corresponds to a fraction under 3fps as promised. Switching to RAW DNG mode and the K20D shot 15 frames in just over five seconds, again corresponding to 3fps.

The new Burst mode is an interesting concept, inspired by similar high speed modes on some compacts. In this mode the K20D keeps the mirror and shutter open while the shutter release is held, so during the sequence the viewfinder will be dark, but you will see a jerky representation on-screen. The focus is locked once you start shooting and the limit is roughly 115 shots.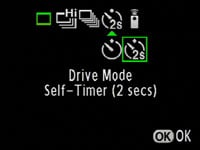 The greatly reduced 1.6 Megapixel resolution, locked focus and blacked-out viewfinder restrict what kind of sequences you can capture, but it's still a useful option to have for some situations, especially if the action can be confined to a fixed frame.
The K20D offers a 12 second or two second self timer, the latter with mirror-lockup. There are also three modes for use with an optional remote control: instant release, delayed release and continuous shooting. A viewfinder cup is provided to prevent stray light from entering the viewfinder, but you will need to remove the rubber surround first.
The K20D also features built-in intervalometer facilities which can take up to 99 photos at intervals between one second and 24 hours apart; you can also set what time you'd like the sequence to start, giving you up to 24 hours delay. The camera must be left switched on, but it can wake itself from sleep to take a scheduled photo. Automated time lapse facilities like these are normally reserved for pricier bodies like the Nikon D300.