Intro
The Pentax K200D is an affordable 10 Megapixel DSLR with built-in Shake Reduction that provides stabilisation facilities with any lens you attach. Announced alongside the K20D in January 2008, the K200D may be over-shadowed by the feature-packed 14 Megapixel flagship model, but it boasts an unprecedented degree of strength and weather-proofing for a body of its class.
The K200D may be priced at a similar level to models like the Nikon D60, Olympus E-520 and Sony Alpha A300, but is weather-resistant with 60 environmental seals. That's something you'd normally only find on pricier semi-pro models.
Beyond tougher build, the K200D also sports a number of advanced features. There's an upper LCD information screen, support for both Pentax's own PEF and Adobe's DNG Raw formats, along with optional in-camera RAW processing and even a dedicated RAW button on the side.
The K200D additionally supports top-end Pentax lenses with quick and quiet SDM focusing and offers Pentax's unique Sensitivity Priority mode which allows you to select the desired sensitivity and let the K200D work out the appropriate shutter and aperture.
Numerically-speaking, the K200D may be the successor to the K100D, but it's clearly much more than simply an enhanced version of this earlier body. Indeed the K200D actually shares much more in common with the company's former flagship, the K10D.
So while the K200D doesn't boast the K10D's penta-prism viewfinder, dual control dials, interchangeable focusing screens nor match its continuous shooting capabilities, it does employ the same sensor, same Shake Reduction and same PRIME image processor, along with the K10D's Sensitivity Priority 'Sv' shooting mode and a number of its menu options. And in one small respect, the K200D is actually a little better: its screen measures 2.7in to the K10D's 2.5in.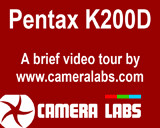 One major difference between the K200D and the K10D though, not to mention the vast majority of other DSLRs, is its power source. Rather than using a proprietary rechargeable Lithium Ion pack, the K200D employs four standard AA batteries. Fit the K200D with Lithium AA batteries and you could shoot up to 1100 images, and if that's not enough, Pentax has developed a brand new battery grip for it. For some people, the opportunity to operate on AA batteries is a serious advantage – certainly even if you run out of power in unusual or remote locations, a spare set should be relatively easy to find.
The K200D may not feature Live View, but it does offer a unique combination of dust and weather-proofing along with several advanced features at an affordable price. So is it a bargain version of a former flagship, or a cut-down compromise which lacks the latest features? Find out in our Pentax K200D full review where we'll weigh-up its features against other Pentax DSLRs and crucially compare the image quality against contemporary rivals including the Canon EOS 450D / XSi and Olympus E-520. And as always, for a demonstration of its highlights, check out our Pentax K200D video tour.
Our Pentax K20D was kindly supplied by I R Little of New Zealand. For information on Pentax stockists in New Zealand, please contact pentax@irl.co.nz.
Testing notes

We tested a final production Pentax K200D. The K200D was set to 10M *** JPEG quality, Auto White Balance, Multi-Segment metering, High ISO NR off, and the Custom Image setting at the default Bright option with +1 for Contrast and Sharpness. Shake Reduction was enabled for all handheld shots. We tested the K200D using a Pentax DA 18-250mm lens; note this was the only lens the distributor had available for our review.