Intro
introduction

The Panasonic Lumix TZ1 is a 5 Megapixel compact digital camera which houses a massive 10x optical zoom. Indeed when it was announced in February 2006, it was the world's smallest camera with these capabilities.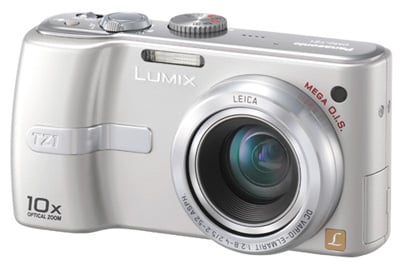 Sporting an equivalent range of 35-350mm, the TZ1 combines the lens power and flexibility of much larger super-zoom cameras with the convenience of a relatively pocketable form factor. It also features Panasonic's Optical Image Stabiliser to ensure camera shake doesn't become an issue at longer focal lengths.
All in all it sounds like the dream camera for those who want to travel light but still get close to their subjects, but can a lens with this range really deliver the goods when squeezed into such a small package?
Find out how the Lumix TZ1 compares to both compacts with shorter zooms and fully-fledged super-zoom cameras in our full review.
UPDATE: See how the TZ1's successor compares in our Panasonic Lumix TZ3 review and video tour