Outdoor scene - Panasonic Lumix DMC-LX2 versus Fujifilm FinePix F30
Support Camera Labs by shopping via these links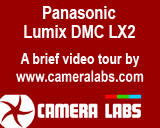 To compare real-life performance we shot the same scene with the Panasonic Lumix LX2 and Fujifilm FinePix F30 within a few moments of each other using their best quality JPEG and lowest ISO settings.

The LX2 captured a wider 16:9 frame, but the focal length of each camera was adjusted to deliver the same vertical field of view. Since the LX2 crops below are taken from the same 4:3 area as the F30, it's effectively being treated here as a 7.5 Megapixel 4:3 camera.
The image above was taken with the Panasonic Lumix DMC-LX2 at 8mm f5.6 and with a sensitivity of 100 ISO; the original JPEG measured 4.80MB, while the original image used for the Fujifilm F30 crops was taken at 9mm f5.6 with a sensitivity of 100 ISO and measured 2.98MB. Apertures of f5.6 were selected for their sharpness. The crops are taken from the upper left, center and lower right portions of the originals (on a 4:3 crop for the LX2) and presented here at 100%.

Viewed at 100%, the LX2 crops unsurprisingly show a slightly smaller area due to its effective 7.5 Megapixels across a 4:3 frame compared to the 6.3 Megapixels of the F30. The markings on the tennis courts in the third crops are arguably slightly clearer on the LX2 image, but overall there's little difference in resolved real-life detail.

We're not surprised by this result, but it does illustrate when comparing Megapixel ratings and resolvable detail, you must do so with the same shaped frame. In terms of marketing, the 10.2 Megapixel LX2 may sound considerably higher resolution than the 6.3 Megapixel F30, but it's important to remember LX2's pixels are spread over a much wider 16:9 frame. In terms of vertical resolution though, it's little different from the 6.3 Megapixel F30. Of course to be fair, if the F30 images were cropped to deliver a wide 16:9 shape, the LX2's images would have a considerable advantage.
| | | |
| --- | --- | --- |
| Panasonic Lumix DMC-LX2 | | Fujifilm FinePix F30 |
| | | |
| 1/400, f5.6, 100 ISO | | 1/350, f5.6, 100 ISO |
| | | |
| | | |
| 1/400, f5.6, 100 ISO | | 1/350, f5.6, 100 ISO |
| | | |
| | | |
| 1/400, f5.6, 100 ISO | | 1/350, f5.6, 100 ISO |