Panasonic Lumix DMC-LX2 verdict
The Panasonic Lumix DMC-LX2 is very much a camera of two halves. In use, it can be an absolute dream with its wide lens, sensor and screen inspiring your creative side, and the decent build quality and high level of manual control satisfying the demands of enthusiasts. In these and many other respects it's an excellent product. It's only once you get home and take a closer look at the images that you realise anything shot above 200 ISO is severely compromised by noise reduction and processing – see our outdoor results page.
This is a serious problem, and one not exclusive to the LX2 by any means. The steady and quite unnecessary increase in resolutions on compacts has seen noise or subsequent noise reduction increase to a point where image quality can become unacceptable at anything other than the lowest sensitivities. In the past we were familiar with saying, beware of shooting at 800 or 1600 ISO if you want to avoid noise, but to now say avoid anything above 200 ISO is quite frankly ridiculous.
| | |
| --- | --- |
| | |
| | |
| | |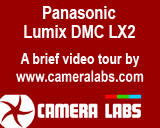 But then you take products like the LX2 out the next day and once again fall for its operational qualities. Shooting in 16:9 with a widescreen display is genuinely refreshing and simply great fun. The widescreen movie modes also deliver great quality, the image stabilisation works very well and the manual control allows you to be as creative as you like – see our video tour for more details. In fact there's so much going for the LX2 that you find yourself forgiving its shortcomings and deliberately avoiding settings where you'll know it'll disappoint.
This of course puts the reviewer and buyer in a tricky position. If you force the LX2 to exclusively shoot at 100 ISO, or 200 at a push, you can really enjoy reasonable image quality. And thanks to the optical stabilisation, you can also shoot at low sensitivities under equally low light and enjoy sharp images – so long as the subject's not in motion of course.
It's only when you shoot above 200 ISO that things start to go wrong. There may be several noise reduction options available, but as our outdoor results page shows, none deliver particularly pleasing images. Sure if you're only producing postcard sized prints and rarely zoom-in closer than 50% on-screen, you'll be fine, but the LX2's so appealing to enthusiasts it'll be hard for them to accept small prints and avoid 100% examination all the time. Besides, it's crazy to buy a 10 Megapixel camera but be restricted to treating it as if it only had 5.
Ultimately the LX2 excels with landscapes shot at low sensitivities, and preferably under bright light conditions – see our Gallery page. If this sounds like your style of photography, you'll probably love the LX2 and we can recommend it. But if you like shooting under dim conditions, making big prints or examining images at 100% on-screen, the LX2 is likely to disappoint under many circumstances. Since we believe a compact should be an all-round performer we therefore can't recommend it wholeheartedly to everyone.
This is a real a shame because everything up to the final image quality is so good. It might sound ridiculous to say a camera's great apart from the picture quality, but there really is a lot going for the LX2. The wide lens with stabilisation, wide screen, video mode, build quality and manual control are all excellent, and had they been coupled with a sensor and image processor which could do them justice, Panasonic would have one of the best compacts around.
As it is the LX2 is a hobbled product which will only deliver good results if forced into using low ISOs. If you can live with that, the plus points make it worth considering. If you find the quality at higher sensitivities unacceptable, look elsewhere. Ultimately the digital camera industry really has to address its obsession with increasing resolutions for marketing purposes at the cost of overall quality. It's compromising otherwise excellent products like the LX2 and does no-one any favours.
Please visit our Compact digital camera Buyer's Guide for an update of the best buys around right now.
---
Good points
Unique wide sensor and screen
Sharp, wide lens with stabilisation
Widescreen movies including 720p at 15fps
Plenty of manual control and good build quality

Bad points
Visible noise even at 100 ISO
Aggressive noise reduction at higher sensitivities

Scores
(compared to mid-range compacts)


Build quality:
Image quality:
Handling:
Specification:
Value:

Overall:



16 / 20
10 / 20
15 / 20
16 / 20
13 / 20

70%