Intro
The Lumix DMC-L1 marks Panasonic's debut into the digital SLR market. Officially announced back in February 2006, but only widely available now, the Lumix L1 is a significantly different proposition to the debut of rival consumer electronics giant Sony. For while the Sony Alpha A100 goes up against entry-level models like the Canon EOS 400D / Rebel XTi, Panasonic's chosen to aim its debut at a higher-end market.
Just one look at the Lumix L1 tells you this is a very different camera. Panasonic's opted for a retro look and feel which will greatly appeal to lovers of classic rangefinder film cameras, but packed it with modern technology. By sharing the same internal mechanics, sensor and optical path as the earlier Olympus E-330, the Lumix L1 inherits the highly-regarded SuperSonic Wave Filter (SSWF) and a Live View feature which allows you to compose with the main colour screen just like a consumer camera.
| | |
| --- | --- |
| | |
By adopting the Four Thirds standard, the Lumix L1 can also use any of the existing Olympus Zuiko Digital or Sigma Four Thirds lenses, although the camera is currently only sold as a kit with the brand new Leica 15-50mm lens. This is undoubtedly one of the highlights of the L1 though, not least because it's Leica's first lens designed specifically for a digital SLR, but also as it's the first Four Thirds lens featuring optical stabilisation. Panasonic recently confirmed it works just fine on Olympus digital SLRs and will be sold separately in the near future. We'll briefly discuss its optical performance in this review, but look out for a detailed standalone report coming to Camera Labs in the very near future.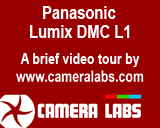 So the Lumix L1 boasts a triple-whammy of anti-dust, anti-shake and Live View, along with unique styling, analogue controls and what promises to be first class optics. It sounds like Panasonic's ticked all the right boxes for camera enthusiasts, but how does the Lumix L1 measure-up against the current crop of 10 Megapixel digital SLRs? With 'only' 7.5 Megapixels and a price tag almost double that of the cheapest 10 Megapixel DSLR kits, can it really deliver the goods? Find out in our full review.
NEW: For an overview of the camera's headline features, check our Panasonic Lumix DMC L1 video tour.
NEW: See our Leica D 14-50mm lens review and video tour.

Testing notes

We tested a final production Lumix L1 running the latest v1.1 firmware, quoted as resolving widely publicised issues including shooting while RAW data is being recorded to the card. Following our convention of using default factory and best quality JPEG settings to test camera bodies unless otherwise stated, the L1 was set Large SuperFine quality, Auto White Balance, Multi-Pattern Metering and its Standard Film Mode (using the default settings of zero for contrast, sharpness and saturation, and the default minimum -2 setting for noise reduction).