Panasonic Lumix TS5 / FT5 review
Verdict
The Panasonic Lumix FT5 / TS5 is waterproof, shockproof, dustproof and freezeproof compact designed for use in the water and other demanding environments. It shares the same 4.6x zoom lens as its predecessor, the Lumix FT3 / TS3, but features a number of significant upgrades not least of which is a new 16 Megapixel CMOS sensor.
It's tougher than the model it replaces, you can dive with it to a depth of 13 meters, any deeper and you'll need the DMW-MCFT5E housing which will take you down to 45 metres.
The new sensor brings improvements in continuous shooting speeds with a 7-frame full resolution burst at 10fps backed up with plenty of fast reduced resolution modes. There's an upgraded 1080p50/60 best quality HD video mode, but the Lumix FT5 / TS5 lacks the kind of high speed video modes offerred by the Olympus TOUGH TG-2 and the Nikon 1 AW1. It outdoes both those models in terms of connectivity though; its built-in GPS is coupled with a location database for meaningfull tagging of photos and video, plus it has Wifi with NFC connectivity for devices that support it.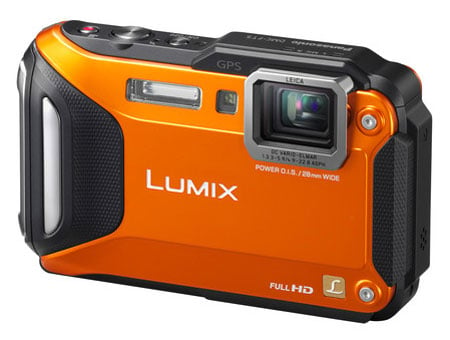 Compared to Olympus TOUGH TG-2
Externally, the Panasonic Lumix FT5 / TS5 and the Olympus TOUGH TG-2 are very similar. The dimensions are almost identical and there's little difference in their respective weights. They have similar control layouts, but the TOUGH TG-2's mode dial and Tap control makes it an easier camera to handle in the water and other difficult environments.
Internally, both models use folded optics to keep the internal lens assembly compact. The TOUGH TG-2's lens is centrally mounted whereas the Lumix FT5 / TS5's is on the corner, this makes little pratical difference other than the need to keep your fingers out of the way with the FT5 – something you quickly get used to. The Tough TG-2's zoom starts at a wider 25mm super-wide-angle extending to 100mm compared with 28-128mm on the Lumix FT5. The f2-4.9 Olympus lens is also quite a bit brighter than the f3.3-5.9 zoom on the Lumix FT5, and it also supports two optional lens attachments to broaden or tighten the view.
In terms of picture quality, the Lumix FT5 / TS5 with its 16 Megapixel sensor did slightly better than the 12 Megapixel TOUGH TG-2 with less noise at higher ISO settings. In its favour the TOUGH TG-2's brighter lens means you can select a lower ISO sensitivity under the same lighting conditions.
The Lumix FT5 / TS5 has 1080p60 HD video compared with 1080p30 on the TOUGH TG-2, but the latter also offers lower resolution high speed modes. In its favour the Lumix FT5 can append location data from its built-in GPS to video clips, a rare trick. And though both models have built-in GPS with a location database, the implementation on the TOUGH TG-2 is more informative. Against that, the Lumix FT5 / TS5 also has built-in Wifi with NFC for easy connection with a compatible smartphone, making it much easier to get your photos off the camera and onto sharing sites.
Prices for these models vary considerably, , so it pays to shop around. In some regions prices are similar, in others the Lumix FT5 is up to a third less expensive than the TG-2.
See my Olympus TOUGH TG2 review for more details.
Compared to Nikon 1 AW1

The major difference between the Nikon AW1 and the Lumix FT5 / TS5 is the former has a much larger sensor and the chance to swap lenses; as such it's not surprising to find the Nikon leading this comparison for image quality, and that's before you've even explored its ability to shoot RAW as well. And while the AW1 is currently limited to only two waterproof lenses, you can mount any of the Nikon 1 series lenses for use on dry land.
The Lumix FT5 / TS5's 3 inch LCD screen is the same size as the Nikon 1 AW1's, but at 460k dots the resolution is quite a bit lower and the image isn't as detailed, though obviously this doesn't affect image quality in any way. The Lumix has Auto and Program exposure modes plus a Manual mode, but with only two available apertures it's limited in a similar way to the TOUGH TG-2 and can't compete with the AW1's full PASM exposure controls. It does have a good range of scene modes though, including, as you'd expect, underwater and Beach and Snorkelling modes, a well as a panorama mode.
The Lumix FT5 / TS5 has respectable continuous shoting speeds – for a compact – and can shoot a 7 frame burst with AF at 10fps. It's no match for the Nikon 1 AW1, though, which can shoot at 15fps with AF for a much longer burst of 33 shots. The Lumix FT5 / TS5 can shoot 1080p50 HD video and can cleverly add GPS location data to movie footage, but it lacks the slow motion modes of the Nikon 1 AW1. One very useful advantage it does have over the more expensive model is Wifi capability including NFC which allows you to set up a connection simply by tapping the FT5 against another suitably equipped device such as an Android smartphone.
In one sense, the Lumix FT5 is a much easier camera to get into the water with than the AW1. It's small and light and you don't need to worry about lenses, seals and the like (apart from making sure the battery/card compartment door is closed and locked). But in the absence of anything like the AW1's Action button it can be quite difficult to change settings using the small, fiddly buttons.
Lastly there's the price. At around a third of what you'll pay for the Nikon 1 AW1 with its kit zoom, the Lumix FT5 / TS5 is very competitively priced for an advanced waterproof compact so if you're on a tight budget it could prove a more economical, though ultimately less classy option. If however you demand the best possible quality and relish the chance to swap lenses, the AW1 will be very tempting.
See my Nikon AW1 review for more details.
Panasonic Lumix FT5 / TS5 final verdict
The Panasonic Lumix FT5 / TS5 is capable performer both in and out of the water. Its image quality and noise performance are good, and it has a wide range of exposure modes with flexible options for continuous shooting as well as 1080p50/60 HD video. If the ability to connect to your smartphone and to other devices and the Web via Wifi is a priority, you won't find a better implemented, easier to use waterproof compact than the Lumix FT5 / TS5, particularly if you own other NFC-equipped devices.
If there's one criticism I were to make of the Lumix FT5 / TS5 it would be the handling. The small closely spaced buttons make it quite a challenge to use in the water and the absence of anything like the TOUGH TG-2's Tap control or the Nikon 1 AW1's Action button means changing settings is something you can't do with gloves on. That may or may not be a deal-breaker for you, but it's certainly worth knowing about. That said, when the gloves are off, the Lumix FT5 / TS5 is hard to fault and certainly deserving of Cameralabs' Recommended Award, but the handling holds it back from our top award.
Good points
4.6x stabilized optical zoom.
Built-in GPS and manometer.
Built-in Wifi with NFC.
1080p50/60 HD video.
Bad points
Small, closely spaced buttons.
No tap or tilt controls for use with gloves.
Only 2 aperture settings in manual mode.
No High speed movie modes.