Panasonic Lumix TS5 / FT5 review
Intro
The Panasonic Lumix FT5 / TS5 is a rugged waterproof compact designed for use in the water and other outdoor environments. It's waterproof to a depth of 13 metres, can withstand a drop from 2 metres and is freeze-proof down to -10C. It has a 4.6x zoom lens with a focal range equivalent to 28-128mm, a 3 inch LCD screen and a 16 Megapixel sensor. It has a built-in GPS receiver for adding location data to photos and is also equipped with Wifi and NFC, so you can easily communicate with a compatible smartphone to share photos or upload directly to the web. In North America the Lumix FT5 is known as the Lumix TS5 so throughout my review I'll refer to it as the Lumix FT5 / TS5.
In this review I'll be comparing the Lumix FT5 / TS5 with one of its biggest rivals, the popular Olympus TOUGH TG-2 which has the same sized sensor and shares similar styling. I'll also be comparing it with the Nikon AW1 – the world's first waterproof compact system camera. The AW1 is bigger, more sophisticated and more expensive than compacts like the Lumix FT5 / TS5, but it does offer the higher quality of a bigger sensor and the versatility of interchangeable lenses at a price that's well below that of an equivalent system camera with a waterproof housing. It also shares the convenience of a compact, so is a logical step up from the point-and-shoot features offered by models like the Lumix FT5 / TS5. Read my full review to discover which of these waterproof models is the best choice for you.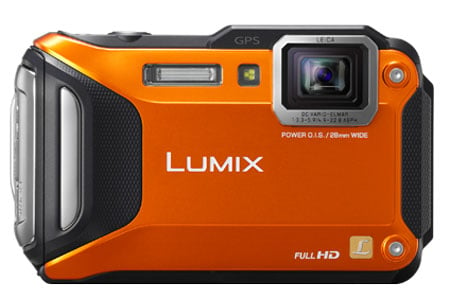 Lumix FT5 / TS5 design and controls
The Lumix FT5 / TS5 is available in black, white, orange and blue, I had the orange model for review which has a metallic finish; while it doesn't look as attractive as the other colours it's easier to spot, which could be an advantage outdoors and in the water. Panasonic has never gone for over-the-top design on its waterproof models and though the Lumix FT5 / TS5 looks sturdy enough, with dimpled plastic grip surfaces on the front, it could almost pass as a conventional compact. It's no looker, though, and if style is important to you, the Olympus TOUGH TG-2 would be a more stylish option.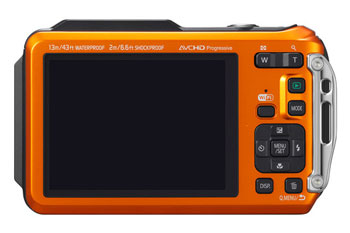 The Lumix FT5 / TS5 measures 109 x 67 x 29mm and weighs 214g with the battery and a card fitted, almost identical in size, and a few grams lighter than the Olympus TOUGH TG-2 at 111 x 66 x 29mm and 230g. It'll fit comfortably in your trouser pocket and when slipped inside a wetsuit you'd hardly know it was there. That's not something you're ever going to be able to do with the Nikon AW1.
The front grip makes the Lumix FT5 / TS5 easy to hold onto when in the water, but the lack of a thumb pad on the back caused me problems with the zoom rocker which found myself activating unintentionally a number of times. As it happens, the zoom is one of the few controls that's (too) accessible, the other buttons are small and closely packed which makes them difficult to operate in ideal conditions, in the water it's a real challenge and you can forget about gloves.
This has long been an issue with the waterproof Lumix models, but Panasonic appears to be oblivious to it. It makes you wonder if they do any user testing with these models in the conditions for which they're supposedly designed. It wouldn't be such a big problem if the Lumix FT5 / TS5 had an equivalent feature to the TOUGH TG-2's tap control or the Nikon AW1's action button – but it doesn't. The lack of it and the tiny buttons really rule out the Lumix FT5 / TS5 for activities that require gloves.

Thankfully, those criticisms don't apply to the shutter release, which is plenty big enough and flanked on the top panel by the on/off button and the movie record button. To the right of them the line of the top panel rises to a slight hump which houses the GPS receiver. The lens sits below this on the top left corner, so you need to be careful to keep your fingers out of the way, something you quickly get used to. The other issue with waterproof cameras is keeping water drops off the lens – they'll either blur part of the image or completely throw the auto focus off the trail, or both. This is an issue with any camera in the water, but the small front window of the Lumix FT5 / TS5 makes it particularly difficult to remove them. It's a little easier on the Olympus TOUGH TG-2 and a lot better on the bigger lenses of the Nikon AW1.
The 3 inch LCD screen on the Lumix FT5 / TS5 has 460k dots compared with 610k on the Olympus TOUGH TG-2 OLED screen and 921k dots on the Nikon AW1. But despite its lower resolution it provides a bright punchy image which was easy to see in the mostly overcast conditions I was using it in. On the rare occasions when the sun came out, like all screens it was almost impossible to make out what was on the display. With a 4:3 proportioned screen, the Lumix FT5 / TS5 does at least use the full screen area for stills unlike the TOUGH TG-2 which has narrow black bands down either side of its 3:2 proportioned screen.
The Lumix FT5 / TS5 has just one sealed compartment for the battery, card and ports – a USB / AV out port for which a cable is supplied and a micro HDMI port for connecting to an HD TV – you'll have to buy your own cable for that one. The door has the commonly used latch and lock system with two catches.
The Lumix FT5 / TS5 has a built-in flash which has a maximum range of 5.6 metres at the wide angle zoom setting. That distance is quoted for Auto ISO, making comparison difficult, but assuming it's 1600 ISO that makes it slightly less powerful than the TOUGH TG-2's built-in flash. The flash can be forced on or off and also has red-eye reduction and slow sync modes.
The Lumix FT5 / TS5 includes a built-in GPS receiver which allows it to record location and time details for each image and store them in the standard EXIF header. These can be cross-referenced by a built-in database of landmarks to display location information or your location on-screen, there's no map display like on Panasonic's earlier compact superzooms; but you can of course use the location details to plot your position on mapping software on your computer later.
Other GPS features include GPS-logging, an on-screen compass showing the direction the camera is pointing (with 16 positions), and additional support for the Russian GLONASS (Global Navigation Satellite System). GLONASS works in a similar way to the GPS system, but having support for both GPS and GLONASS increases your chance of 'seeing' enough satellites for an accurate position. This won't make much difference in wide open spaces, but definitely helps when there are obstructions such as buildings in a city.
Once the Lumix FT5 / TS5 has locked onto the GPS signal, it can cross-reference the co-ordinates against its internal location database to display the name of the Country, State and City on-screen. As well as the camera's built-in database of landmarks you can add your own and the camera also has a built in barometer and altimeter for providing altitude and depth information independently of the GPS system.
Lumix FT5 / TS5 lens and stabilisation
The Lumix FT5 / TS5 has an optically stabilised 4.6x zoom lens with a range equivalent to 28-128mm on a 35mm camera. The Olympus TOUGH TG-2 has a wider wide angle at 25mm, but the Lumix FT5 / TS5 has a longer overall range extending to 128mm compared to 100mm on the Olympus. The Lumix FT5 / TS5 outreaches the Nikon AW1's 30-74mm kit lens, though there is of course the option to fit other lenses to the AW1.
| | |
| --- | --- |
| Panasonic Lumix FT5 / TS5 coverage wide | Panasonic Lumix FT5 / TS5 coverage tele |
| | |
| 4.9-22.8mm at 4.9mm (28mm equiv) | 4.9-22.8mm at 22.8mm (128mm equiv) |
The Lumix FT5 / TS5's lens has a maximum aperture of f3.3-5.9, which isn't as bright as the f2-4.9 lens on the TOUGH TG-2; indeed with an aperture a stop and a half slower than the TG-2 at the wide-end, it'll be forced to use higher sensitivities of slower shutters under the same conditions. Compared to the Nikon AW1's kit zoom, the FT5 / TS5's lens starts a little brighter and ends up a little dimmer, not enough to make much of a difference, but the AW1's bigger sensor will allow you to use higher ISO sensitivities with less noise than the Lumix FT5 / TS5, making it a better bet for low light photography. And it's also worth bearing in mind that underwater photography is by its nature, usually low-light photography.
One thing the Lumix FT5 / TS5 has over the Nikon 1 system is built-in stabilisation. As on the Olympus TOUGH TG-2, the Power O.I.S stabilization on the Lumix FT5 / TS5 is a straightforward system which is either on or off. To test the stabilisation I zoomed the lens to its maximum 128mm equivalent focal length and took a sequence of shots at different shutter speeds first with the stabilisation turned off, then with it enabled. As you can see from the below crops, it's possible to hand hold the Lumix FT5 / TS5 at shutter speeds down to 1/8th, around four stops slower than would be recommended with a non-stabilised lens.
Panasonic Lumix FT5 / TS5 Power O.I.SOff/On

100% crop , 4.9-22.8mm at 22.8mm, 100 ISO, 1/8th, O.I.S off.

100% crop , 4.9-22.8mm at 22.8mm, 100 ISO, 1/8th, O.I.S on.
Lumix FT5 / TS5 shooting modes
Like all Lumix compacts the Lumix FT5 / TS5 features Intelligent Auto mode with scene detection. This selects the Portrait, Scenery, Macro, Night Portrait, Night Scenery, Handheld Night Shot Sunset or Baby scene modes where appropriate, otherwise, it uses the standard auto exposure settings. Intelligent Auto also employs Intelligent ISO which detects motion in the frame and selects an appropriately high sensitivity setting to enable a suitably fast shutter speed. Lastly, Intelligent exposure sets different ISO levels for individual scene areas to produce an exposure that captures a wider range of tonal detail than would otherwise be possible. Intelligent ISO and Intelligent Exposure are also available in other modes.
Program Auto gives you control over some settings, but falls well short of fully manual operation. Most of these, including AF mode, white balance, ISO and picture size are selected from the Q.Menu. Others including face recognition, stabilisation and minimum shutter speed, are selected from the main menu.
That the Lumix FT5 / TS5 also has a fully manual mode comes as a bit of a surprise. However, like the Olympus TOUGH TG-2 the Lumix FT5 / TS5 has a limited choice of aperture settings (f3.3 and f10 at the wide angle setting). Though this limits its usefulness somewhat, you still get the range of shutter speeds from 4 seconds to 1/1300.
The Lumix FT5 / TS5 also has a panorama mode which takes a sequence of shots as you rotate the camera and automatically stitches them together to create a panoramic image. You shoot with the camera held in portrait or landscape orientation and the maximum coverage is around 180 degrees. The maximum image size when the camera is held in portrait orientation is 8000 x 1440 pixels which will produce a good quality print around 40 x 7 inches.
And let's not forget the scene modes, if only because there are some dedicated to underwater shooting. Beach and snorkelling and Advanced underwater mode get their own icons on the mode menu, the latter is intended for shooting at depths greater then 3 metres.
Finally the Lumix FT5 / TS5 has a a range of effects filters under the creative control menu. These include Expressive, Retro, Dynamic monochrome, impressive art, Cross process and Toy effect. Below you can see examples of Impressive art, Cross process and Toy effect.
The Lumix FT5 / TS5 has no fewer than five AF modes. The default AF mode in Intelligent Auto exposure mode is Face detection. If it can't lock onto a face, or there are none in the frame, the FT5 / TS5 defaults to 23-area AF and, even in rough seas, this is quite effective. The other AF modes, which you can select from the Q menu in Program auto and some scene modes are 1-area, Spot and AF-Tracking. It's always good to have a choice of AF modes, but in the water I found that the 1-Area centre AF mode was the most practicable and reliable.
When there's a lot of water moving around, area AF and tracking AF have a hard time finding and keeping hold of subjects and anything you can do to help out, for example by restricting the AF to one area and trying to keep the subject within it, yields results. Having said that, shooting surfers is just one particular scenario and the situation for, say, yachting, or kayaking could be quite different. The point is that the Lumix FT5 / TS5 provides enough AF options to cope with these different situations both in and out of the water.
Lumix FT5 / TS5 movie modes
The Lumix FT5 / TS5 inherits most of the movie modes of its predecessor, along with adding a couple of nice upgrades. This means the core movie capabilities capture 1080p at 50p or 60p depending on region, and at a high rate of 28Mbit/s too.
Like the FT3 / TS3 before it, audio is recorded in stereo from built-in microphones, and you can also zoom the lens while filming. You can start filming in any mode by simply pressing the red record button, but even if you set the mode to manual before recording, movie exposure is fully automatic once you start filming. The only exception is when filming in the Intelligent Auto mode, where the Lumix FT5 / TS5 can choose from one of four scenes: portrait, scenery, macro and low light. Like earlier models, stabilisation is always active, even if you've disabled it for still photos.
Panasonic continues to offer the choice of two encoding formats, AVCHD or MP4, recommending the former for the best quality results or playback on HDTVs, and the latter for extensive editing or uploading. The AVCHD mode can record video in 1080p at 28Mbit/s, 1080i or 720p, both at a rate of 17Mbit/s. 1080p footage is recorded at 50p or 60p depending on region, while 1080i footage is recorded at 50i or 60i depending on region. 720p footage is recorded at 50p or 60p depending on region. You can choose to tag AVCHD movies with GPS location data, although it may cause incompatibilities with some devices. Using the best quality 1080p AVCHD mode, you're looking at about 200Mbytes per minute of footage, considerably more than the 1080i and 720p AVCHD modes which consume closer to 120 Mbytes per minute of footage.
The MP4 mode can record video in Full HD 1080p, 720p or standard definition VGA, at rates of 20, 10 and 4 Mbit/s respectively. All three modes are encoded using progressive video at 25p or 30p depending on region. Panasonic quotes both the AVCHD and MP4 modes as being restricted to clips with a maximum length of 29 minutes and 59 seconds. Finally, Panasonic recommends using an SD card rated at Class 4 or faster for recording movies.
Panasonic Lumix FT5 / TS5sample video 1: outdoors, cloudy bright, handheld pan
This clip, like the others below was shot using the Panasonic Lumix FT5 / TS5's best quality 1080p60 video mode. The quality of the 28Mbps video is very nice and the image stabilisation does a good job on the wide-angle pan as well as when zoomed into 128mm.
Panasonic Lumix FT5 / TS5sample video 2: outdoors, overcast, tripod pan
For this tripod mounted pan the image stabilisation was turned off. Both rain and bright sunshine combine to create demanding conditions, but apart from the flare the Lumix FT5 / TS5 copes well and the exposure is good. The zoom motor is virtually inaudible and the AF does a good job keeping the focus where it should be.
Panasonic Lumix FT5 / TS5sample video 3: indoors, low-light, handheld pan
The Lumix FT5 / TS5 has a tendency to under-expose in low light in Program auto mode. That aside, the quality of this interior panning shot is good with little noise and the stabilisation helps iron out wobbles.
Panasonic Lumix FT5 / TS5 sample video 4: indoors, continuous AF
To test the continuous AF performance of the Lumix FT5 / TS5 I zoomed the lens in a little and panned from the close-up coffee cup to the bar and back again several times. The FT5 / TS5's small sensor and lens aperture don't make for particularly shallow depth of field, all the same, the autofocus does a good job of tracking from the coffee cup to the bar and back.
Lumix FT5 / TS5 handling
The Lumix FT5 / TS5's compact size and light weight make it ideal for use in the water and other demanding environments. It's easily stashed away and the cord, while it doesn't look like anything special, at least can be adjusted to fit snugly around your wrist so, should you let go of the camera, you won't lose it altogether.
The FT5 / TS5 is quick to start up and, as I've already mentioned its AF is quick and reliable in the water – providing you pick the right mode for the subject. Like the Olympus TOUGH TG-2, the Lumix FT5 / TS5's buttons are quite small and that can make changing settings a more demanding task than it needs to be, particularly if your hands are cold or wet, or both. Operating the FT5 / TS5 with gloved hands is not something you're going to want to try. Fortunately, the FT5 / TS5's Q menu provides most of the frequently used setting in a very accessible format and the combined delete/Q menu button is positioned on the bottom left of the rear plate, where it's relatively easy to get at. But the Lumix FT5 / TS5 lacks anything like the Olympus TOUGH TG-2's tap control or the Nikon AW1's Action button and these features make a huge difference to your ability to change the camera's settings when you've got gloves on, when you're operating the camera single-handed, or when the conditions are just too demanding to be bothered with little buttons.
The Lumix FT5 / TS5 offers a broad selection of continuous shooting modes the fastest at the full resolution being 10fps for a 7-frame burst with the focus, exposure and white balanced fixed after the first frame. Reduce the speed to 5fps (or 2fps if you prefer), and you can shoot up to 100 pictures in a sequence and you can enjoy continuous autofocus with adjustable white balance and exposure. If 10fps isn't quick enough, you can drop the resolution to 5 Megapixels and shoot at 40fps for around 30 frames, or down to 2.5 Megapixels for a 60fps burst. Understandably the focus, exposure and white balance are all locked in these modes.
I tested the Lumix FT5 / TS5's full resolution continuous shooting performance by fitting it with a freshly formatted 8GB Sandisk extreme Pro UHS-1 SD card. With the camera set to 10fps in its best quality JPEG mode I fired off a burst of seven frames which I measured at 12 frames per second – a little faster than advertised. It takes less than a couple of seconds for the seven frames to be written to the card.
Lumix FT5 / TS5 Sensor
The Lumix FT5 / TS5 has a 16 Megapixel 1/2.3in compact sensor that produces images with a maximum size of 4608 x 3456 pixels. Its ISO sensitivity range is from 100 to 3200 ISO and in Program Auto mode its shutter speed range is 4s – 1/1300. It saves images as JPEG files at one of two quality/compression settings and at the best quality Fine setting image size is on average around 6MB.
To see how the quality of the Panasonic Lumix FT5 / TS5 measures-up in practice, take a look at my Panasonic Lumix FT5 / TS5 quality and Panasonic Lumix FT5 / TS5 noise results pages, browse my Panasonic Lumix FT5 / TS5 sample images, or skip to the chase and head straight for my verdict.