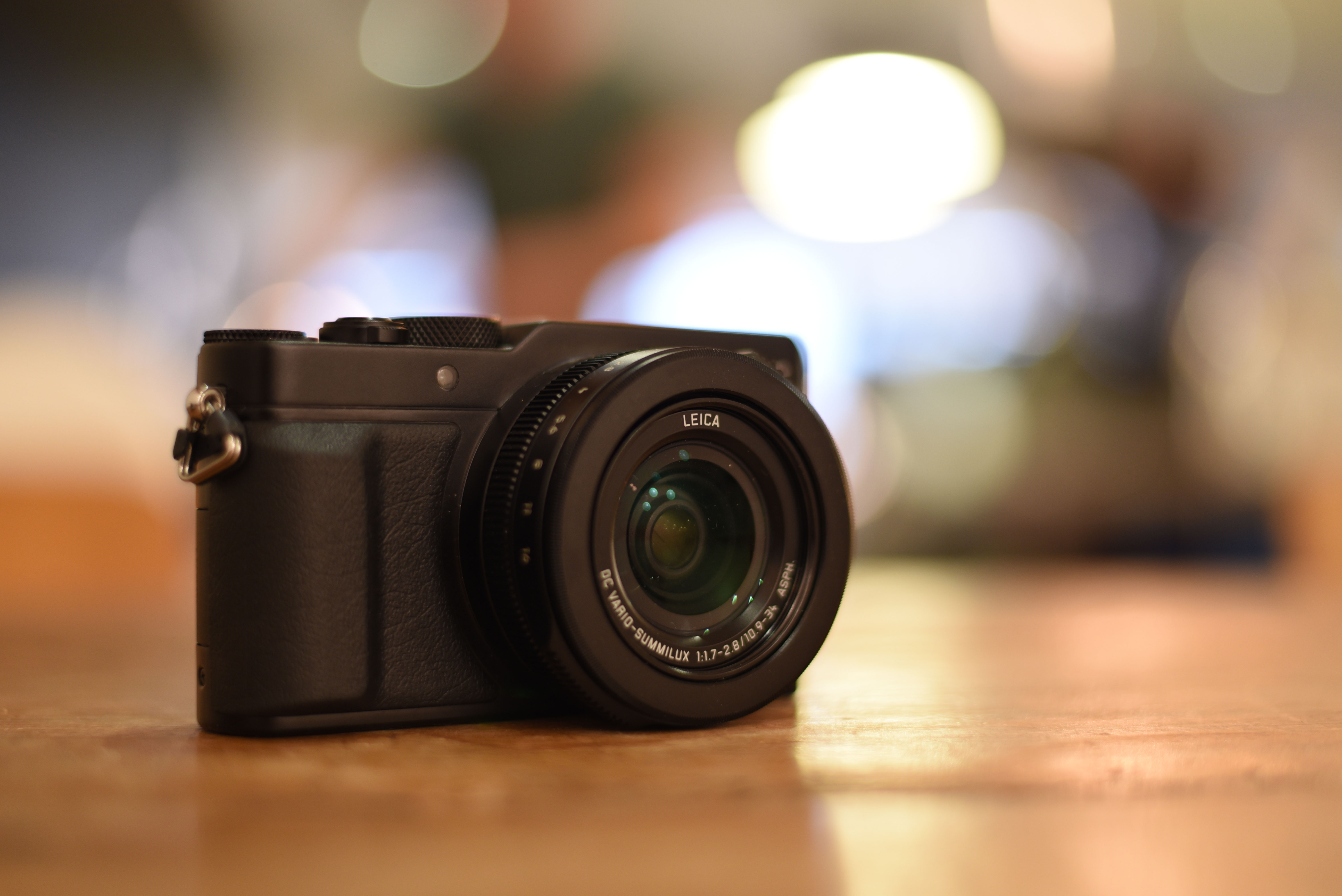 Panasonic Lumix LX100 review - Verdict
Verdict
The Lumix LX100 is valuable addition to the growing ranks of compacts aimed at enthusiasts, and importantly it offers something different from its rivals.
At its core, the LX100 may be a compact with a big sensor and bright lens, but rather than adopting the 1in sensor deployed by Sony on its RX100 series, Canon on the G7X, and indeed Panasonic itself on the Lumix FZ1000, the LX100 has gone for one of the company's larger Four Thirds sensors. Sure, the lens design means not all of it is used (see the bottom of the first page in this review), but crucially the active area remains comfortably larger than a 1in sensor. In my tests there may not have been a big difference in noise, especially when you down-sample the 20 Megapixels of the 1in models, but the combination of the LX100's sensor and optics are definitely worth talking about. In particular the closer focusing distances of the LX100 make it a joy for macro photography, and the rendering of out-of-focus areas is a big step ahead of its smaller sensor rivals. Macro-photographers will love it.
Meanwhile the LX100 lets you take control with a wealth of dials and buttons, offers a high resolution electronic viewfinder, shoots deep brackets, panoramas and time-lapses, and boasts 4k video recording, along with the neat ability to grab 8 Megapixel stills from footage, all in-camera. It also shoots and focuses quickly and in lower light than rivals. I'll go into more of the pros and cons in detail below, along with comparing it with key rivals before my final verdict.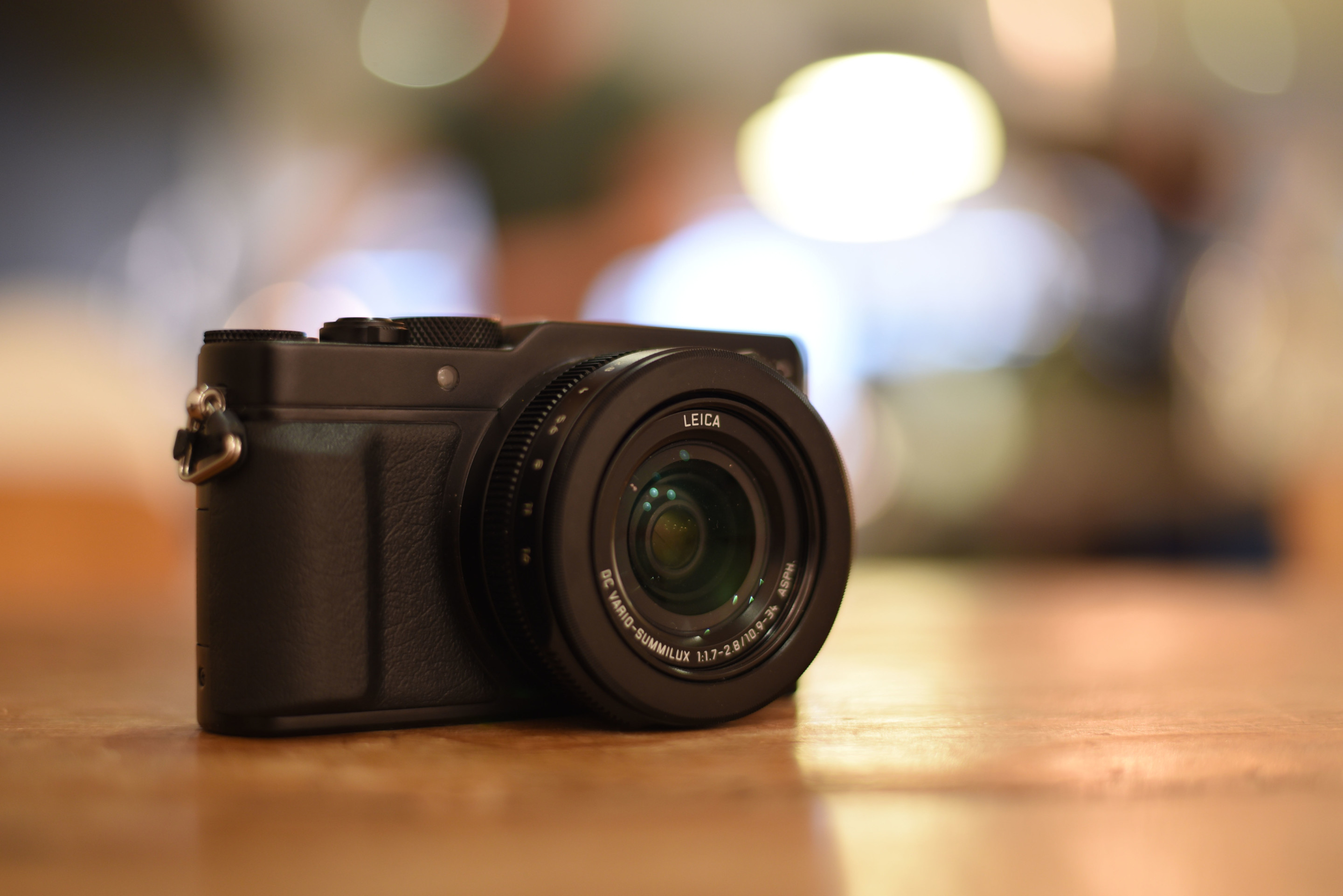 I'll start with the design and controls. The LX100 unashamedly adopts an analogue style and ends up looking a lot like the Fujifilm XT1 and other cameras that have followed the same nostalgic strategy – although to be fair Panasonic has tried this approach on several earlier models. The result is a camera that looks great and will appeal to traditional photographers. Handling is a very tactile experience with all those dials and switches, and I'm delighted the all-important focusing and aperture rings feel more like those on high-end interchangeable lenses rather than a fixed lens compact. Coupled with the decent-sized and nicely-coated grip, it makes for a very enjoyable handling experience.
As I've said previously though I'm not sure having a dial for things like the shutter speed is an improvement over a PASM mode dial and a finger or thumb wheel. If you want to access sub-stop shutter increments on the LX100, or anything beyond the 1-1/4000 range, you'll need to use the buttons and screen. Then there's the aperture ring which may click in a very satisfying fashion, but is absolutely not appropriate for adjusting during video.
The overall body is larger and heavier than models like the Sony RX100 series, which rules it out for trouser-pocketability, unless of course you're talking cargo pants. This makes it more of a replacement camera as far as I'm concerned rather than a pocket companion. Of course it's all about personal expectations and what you're used to. I mostly use smaller mirrorless cameras for my 'serious' photography, so for a pocket companion I'm looking for something that's genuinely pocket-sized. But if your main camera is a DSLR, then the LX100 is obviously much smaller, and of course you may be considering using it as your main camera, in which case the bigger grip and tactile coatings make it feel much better in your hands than the RX100 or G7X. Ultimately you really have to pick a camera up for yourself to judge whether it's the right size and weight for you or not.
Moving onto composition, the presence of the GX7's electronic viewfinder is a classy addition to the LX100, although as I commented on my GX7 review, the 16:9 shape delivers a smaller image when shooting 3:2 or 4:3, and I personally don't get on with the field-sequential technology of the panel – I see rainbow artefacts when glancing around the image. But again that may not affect you.
The screen is decent quality but I'm disappointed it's not touch-sensitive and doesn't tilt. On other compacts you generally have one or the other, and very occasionally both, but to have neither is a serious issue for the LX100 in my book. I realise the body would have been thicker with an articulated screen or pricier with a touch-sensitive one, but I find it lacks flexibility without at least one of them.
Video is a highlight on the LX100, most obviously because it's currently the only fixed lens compact (in this category) with 4k video. Don't have a 4k TV? Don't worry, recording in 4k lets you perform zooms and pans on a 1080 timeline and also allows you to grab 8 Megapixel stills at 25-30fps. Panasonic's cleverly taken the latter idea and run with it on the LX100 with its 4K Photo mode, making it easy to capture video with the intention to later capture stills from it during playback – all in-camera. In my tests it works really well and the quality may surprise you. Here's a portrait I grabbed from 4K video, and you can find out more in my main review.
4K Photo Grab: 1/640, f/2.8, 200 ISO, 10.9-34mm at 34mm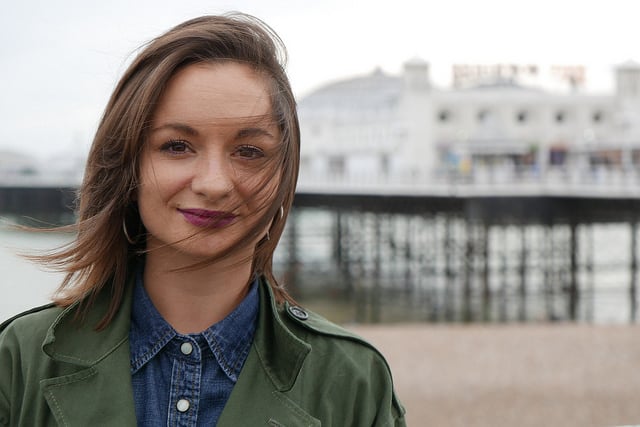 Click image to access original at Flickr
But that's not to say the LX100 is perfect for video. First of all I'm frustrated Panasonic reduced the potential quality by cropping and scaling the output (rather than taking a clean crop alone as with the GH4), and also leaving out the Cinelike D preset for flat output. The LX100 also lacks any slow motion options and the absence of any means to connect an external microphone is a missed opportunity. I don't believe having any of these would have affected sales of the GH4. But maybe it's churlish to complain as the 4k output from the LX100 is still a big step-up over 1080p in terms of detail, and again the 4K Photo mode is a genuine game-changer.
Panasonic Lumix LX100 sample video: Timelapse with in-camera conversion to 4k UHD / 25p
Sample movie filmed with the Panasonic Lumix LX100 using its timelapse mode. I set the camera to shoot 900 frames at 3 second intervals. The white balance and focus were locked, and the aspect ratio set to 16:9 as I wanted to encode 16:9 video afterwards; I also set the quality to medium JPEG as these had sufficient resolution for 4k. The exposure mode was Aperture Priority at 200 ISO f4, and I let the camera work out the shutter speed – it started at 1/5000 and ended at 2.5 seconds, approximately 79 minutes later. I then used the timelapse option in the playback menu to encode the video at 4k UHD / 25p. I also have a 1080 / 50p timelapse version.
I'd also like to mention many of the best and most unique things about the LX100 over its rivals are buried away in the menus. It features decent timelapse (above) and stop motion capabilities and can even generate a 4k video of them in-camera. There's seven frame AEB, adjustable tone curves, 11fps continuous shooting and in-camera RAW processing. The focusing is also quicker and more confident than rivals in low light, although I should note the stabilisation was below average in my tests for stills and video – strange since Panasonic is normally very good at this sort of thing.
But what you really want to know about is the image quality: ultimately does that bigger sensor with the modest resolution give the LX100 a measurable benefit in noise or depth-of-field control over rivals like the Sony RX100 III, and how does the detail compare? The answer is actually a mixed bag.
Both the LX100 and RX100 III share a similar effective range, but in my outdoor tests with distant subjects I found the Sony generally delivered crisper results across the frame. In good light, the higher resolution of the Sony sensor delivered finer details and was more consistent into the corners. So with distant subjects in bright light at low ISOs, the RX100 III enjoyed an edge.
In low light at higher ISOs I expected the LX100 to take a definitive lead, but in my tests the RX100 III actually delivered greater detail in the lower range with them both roughly meeting at about 3200 ISO. Beyond here the Sony quickly became noisier, but by this point the LX100 wasn't looking too great either. RAW comparisons may yield greater differences once the files are supported in ACR.
In terms of depth of field on portraits the LX100 enjoyed greater blurring, but the real benefit came in a macro environment. The LX100 can simply focus much closer than any of its rivals and delivers superior rendering while it's at it. Here's a comparison I made with the RX100 III when both had their lenses zoomed to their longest focal lengths and the difference is dramatic. If you're a macro photographer, you'll love the LX100, and I'd also like to mention the manual focusing experience was better than any zoom-compact I've shot with.
Panasonic Lumix LX100
Macro at 75mm at 30cm

Sony RX100 III
Macro at 70mm at 30cm

10.9-34mm at 34mm (75mm equiv) – full image
8.8-25.7mm at 25.7mm (70mm equiv) – full image

crop made from upper left corner
crop made from upper left corner
So it's not the clear win you may have been hoping for across the board. The LX100 delivers better quality than the RX100 III and G7X in some situations, but falls behind on others. As such unless you're a macro photographer, you can't base a decision on image quality alone. You have to weigh up all of the features. So before my final verdict, here's a roundup of the key differences with the competition.
Sony RX100 III vs Lumix LX100
Sony's RX100 series is the market leader and the latest version III is the model to beat. Both it and the LX100 share a similar price tag in many regions, so it's a case of weighing up the pros and cons very carefully.
In terms of lens range, there's little in it. Both start at 24mm and end within 5mm of each other, and they share similar focal ratios too, with f1.8 at the wide end and f2.8 at the longer-end. In my tests the Sony was generally crisper across the frame, and its higher resolution sensor delivered greater details without compromising high ISO performance – at least below 3200 ISO.
The slightly bigger sensor and actual focal length of the LX100 though gives it an edge on blurring backgrounds on portraits. The LX100 can also focus much closer at the wide-end (3cm vs 5cm) and while they quote the same 30cm closest focusing distance at the telephoto-end, I found the Lumix could still get a little closer. This makes a big difference on the magnification you can achieve when shooting macro, and importantly the out-of-focus rendering on the LX100 was much better. The manual focusing experience on the LX100 was also superior. I should also note the Sony has a built-in ND filter whereas the Lumix does not – this may not be necessary for using bright apertures in daylight thanks to the LX100's faster shutter of 1/16000, but the ND really helps with long exposure photography.
For composition, the LX100's viewfinder is slightly larger than the RX100 III, especially when shooting in 16:9, but I personally prefer the look of the OLED panel on the Sony. Both share high resolution screens, neither of which is touch-sensitive, but the LX100's is fixed in place, compared to the Sony's which can angle up or down.
In terms of bodies, the RX100 III is noticeably smaller and lighter, and just about trouser-pocketable, whereas the LX100 most certainly isn't. But conversely the LX100 has more to hold onto and feels more comfortable in your hands. The LX100 also has room for a flash hotshoe, although lacks the built-in flash of the RX100 III. Both have full manual control, but the Sony employs a PASM mode dial compared to dedicated dials for the shutter and aperture on the Lumix. I personally like the look of all the analogue dials, but prefer the control of a PASM system as I often work outside the normal shutter range. I should also mention the Sony can be charged over USB whereas the LX100 requires the separate AC charger.
In terms of movies, the LX100 boasts 4K recording which in my tests genuinely captures a lot more detail than 1080p, and Panasonic even lets you grab still photos from it during playback in-camera. But the RX100 III counters with 720p slow motion at up to 120fps.
Both have Wifi with smartphone remote control. The LX100 supports GPS tagging, but the RX100 III supports full exposure control and downloadable apps.
That's all I'm mentioning for now, but you get the picture – there's a lot to weigh-up and no definite leader. A lot will build down to size and whether you need something pocketable. Others will be influenced by the style and controls. The desire for 4K video is another, and now you know about the differences in macro, that could be a factor too. Interestingly though if you were hoping one would be decisively better than the other in terms of all-round image quality, you'll be disappointed as there's pros and cons to both.
See my Sony RX100 III review for more details.
Canon G7X vs Lumix LX100
Canon's PowerShot G7X is another high-end fixed-lens compact aimed at enthusiasts, so is another key rival to the LX100, but they're quite different prospects. Most obviously the LX100 is a comfortably larger camera than the G7X, preventing it from squeezing into most pockets unless they're in coats or cargo pants. It's also adorned with many more physical controls, a built-in EVF and a larger sensor within, even if some of it isn't used. I'll drill-down into more detail.
In its favour, the LX100 has a larger Four Thirds sensor vs the 1in sensor of the G7X, but it doesn't use all of it, and the effective resolution is lower. So in good light at low ISOs, the G7X, like the Sony RX100 III, will out-resolve the LX100, and you'll only see a noise benefit to the Lumix at very high ISOs in my tests. The G7X also sports a longer zoom range, getting closer to more distant subjects, and again with a higher resolution that lets you crop-in. But the optical design allows the LX100 to deliver nicer-looking bokeh, plus the chance to focus closer which makes it great for macro work. Plus with spare sensor real-estate, the LX100 can offer multiple aspect ratios without cropping the diagonal field of view.
Moving on, the LX100 boasts a built-in electronic viewfinder, the same as the Lumix GX7 no less. Remember there's no hotshoe or accessory shoe on the Canon G7X, so no chance to mount an optional viewfinder either. Speaking of hotshoes, the LX100 has one of those too, letting you mount external flashguns, although sadly there's no way to connect an external microphone. If you like physical controls, you'll love the LX100, as it's adorned with dedicated exposure compensation and shutter speed dials, along with an aperture ring on the lens. As a larger body, there's also more to hold onto. The other major benefit of the LX100 is the ability to record video in 4k, making it the smallest and lightest camera to date to offer the facility. On top of this the LX100 also offers continuous shooting at 11fps, a top shutter speed of 1/16000 (effectively the same in exposure as 1/2000 with a 3-stop ND filter, but of course better at freezing action), and a far more capable Wifi implementation with better smartphone remote control.
In its favour, the Canon G7X is more pocketable. The lens zooms almost 50% longer at the telephoto end. It has a built-in ND filter. Its screen is articulated vertically and touch-sensitive too, something I'm still surprised Panasonic didn't equip the LX100 with. Crucially, the G7X is also coming in at a lower price point that might be an important factor for you.
See my Canon G7X review for more details.
Panasonic Lumix LX100 final verdict
The Lumix LX100 confidently dives into the increasingly busy market for high-end compacts with style and specifications that separate it from the pack. It's arguably the best looking of the bunch, adorned with a wealth of dials and switches, while balancing compact size with comfortable handling. The styling may be retro, but the feature-set is thoroughly modern with Wifi, timelapse capture and 4K video, complete with the chance to grab 8 Megapixel stills from footage all in-camera. The image quality is very good, with a step-up over rivals in terms of bokeh and macro performance, and the AF is quicker and more confident in low light too.
Is it decisively better than the Sony RX100 III or Canon G7X? No, it's different, better in some ways, but not as good in others. Each model has its pros and cons that I've gone over in detail above and you should think very carefully about what you want from a high-end compact. For me the biggest bugbear with the LX100 is a screen that doesn't tilt and isn't touch-sensitive. I'm also frustrated the video could have avoided moire with a simple crop and no scaling. Ultimately a lot will boil down to differences in size, style, screen articulation and video quality, but interestingly there's no leader in these three in terms of still photo quality across the board.
While some models are very close to each other, for example Canon's G7X and Sony's RX100 III, I'm pleased to see Panasonic delivering something genuinely different with the LX100. Indeed while I enjoyed the handling experience of the LX100, the standout feature for me was having 4k video. Not just filming in 4k, but generating timelapse movies in 4k and especially grabbing stills from 4k – all in-camera. Approve of it or not, 4k photo capture really is a game-changer, providing a genuinely useful means to record the decisive moment whether you're shooting action or even portraits. Traditionalists don't worry, it's not going to replace or ruin photography as you know it. It's merely another tool in the bag to deploy when the conditions suit. But what a tool to have at your disposal in such a small, light and comparatively affordable camera. It's the icing on an already tasty cake that's the Lumix LX100, a refreshing and highly enjoyable camera to use.
Good points
Great quality from (mildly-cropped) Four Thirds sensor.
Maintains diagonal field of view with 4:3, 3:2 and 16:9.
Useful lens range with bright aperture.
Decent-sized electronic viewfinder.
4k video with in-camera photo grabbing.
Fast continuous shooting up to 11fps at full resolution.
Comfortable body with great controls.
Excellent macro performance. Focuses at 3cm in wide.
Attractive bokeh rendering – best of rivals.
Fast AF system that's confident in low light.
Wifi with NFC and smartphone control.
Optional silent operation with electronic shutter.
1/16000 fastest shutter speed and bulb to 128 seconds.
Hotshoe for external flashes.
Timelapse with chance to encode video in-camera.
Bad points
Screen isn't touch-sensitive and doesn't tilt.
Corner softness at 50-75mm unless stopped-down to f8.
Below average stabilisation for stills and video.
EVF sometimes suffers from rainbow artefacts for me.
No built-in flash.
No microphone input.
No built-in ND filter.
No exposure control via Wifi app.
Exposure controls too clicky for video use.
Moire on video could have been avoided.
1:1 square mode could use full sensor height.
No USB charging.
Body a little too large to be genuinely pocketable.