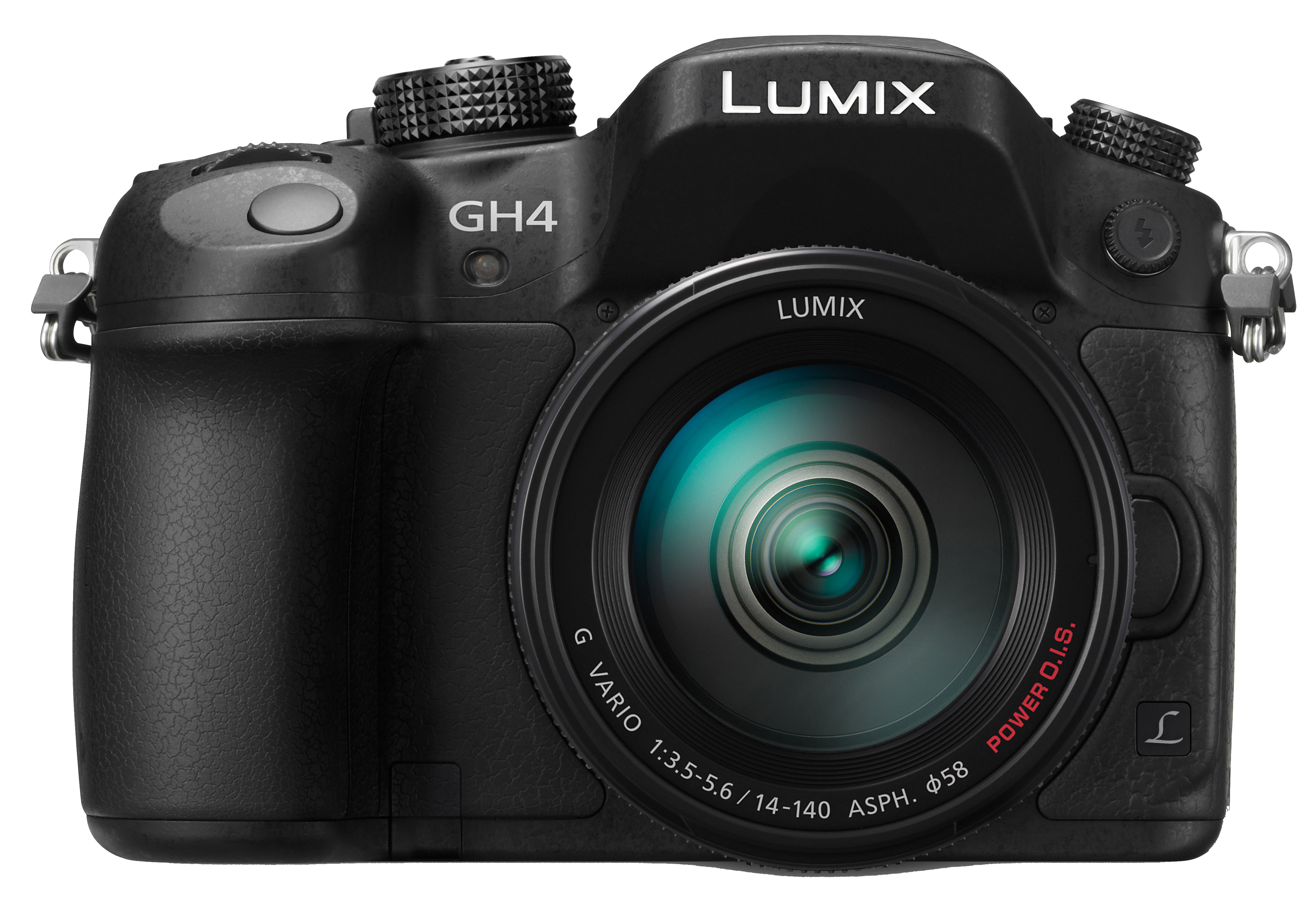 Panasonic Lumix GH4 review - Verdict
Verdict
The Panasonic Lumix GH4 delivers a seductive combination of high-end video and semi-pro stills in what's the best hybrid camera to date. Indeed in terms of video, there is no better camera for the money.
Over previous generations Panasonic learned what video professionals really want from feedback and firmware hacks, and it's pulled out all the stops for the GH4. For comfortably less than $2000 USD here's a small, light and discreet camera which can record both Cinema 4k and UHD 4k internally to a sufficiently quick SD memory card. No external recorder is required, although if you connect one you can exploit the GH4's 10 bit output. 1080p Full HD is also very well catered for with high bit rates up to 200Mbit/s and the chance to film at 96fps to slow down the action by four times. Video pros will also welcome a wealth of high-end features including adjustable Luminance and Master Pedestal Levels, relatively flat picture profiles, setting the shutter in degrees, and enjoying both zebra patterns and focus peaking. And as a 'World' camera, the GH4 offers NTSC, PAL and Cinema frame rates regardless of where you buy it.
It's easy to concentrate on the GH4's video capabilities simply because they're so good, but it also becomes Panasonic's flagship stills camera, sporting a weatherproof body, high resolution viewfinder, fully-articulated touch-screen, 12fps continuous shooting, 1/8000 shutter, seven-frame AEB, built-in intervalometer, silent electronic shutter option, and Wifi with NFC. The Single AF, like most recent Micro Four Thirds bodies, is blindingly quick and works well in very low light, but in a very welcome surprise the Continuous AF works better than expected, successfully tracking action, albeit at reduced frame rates of around 5-6fps.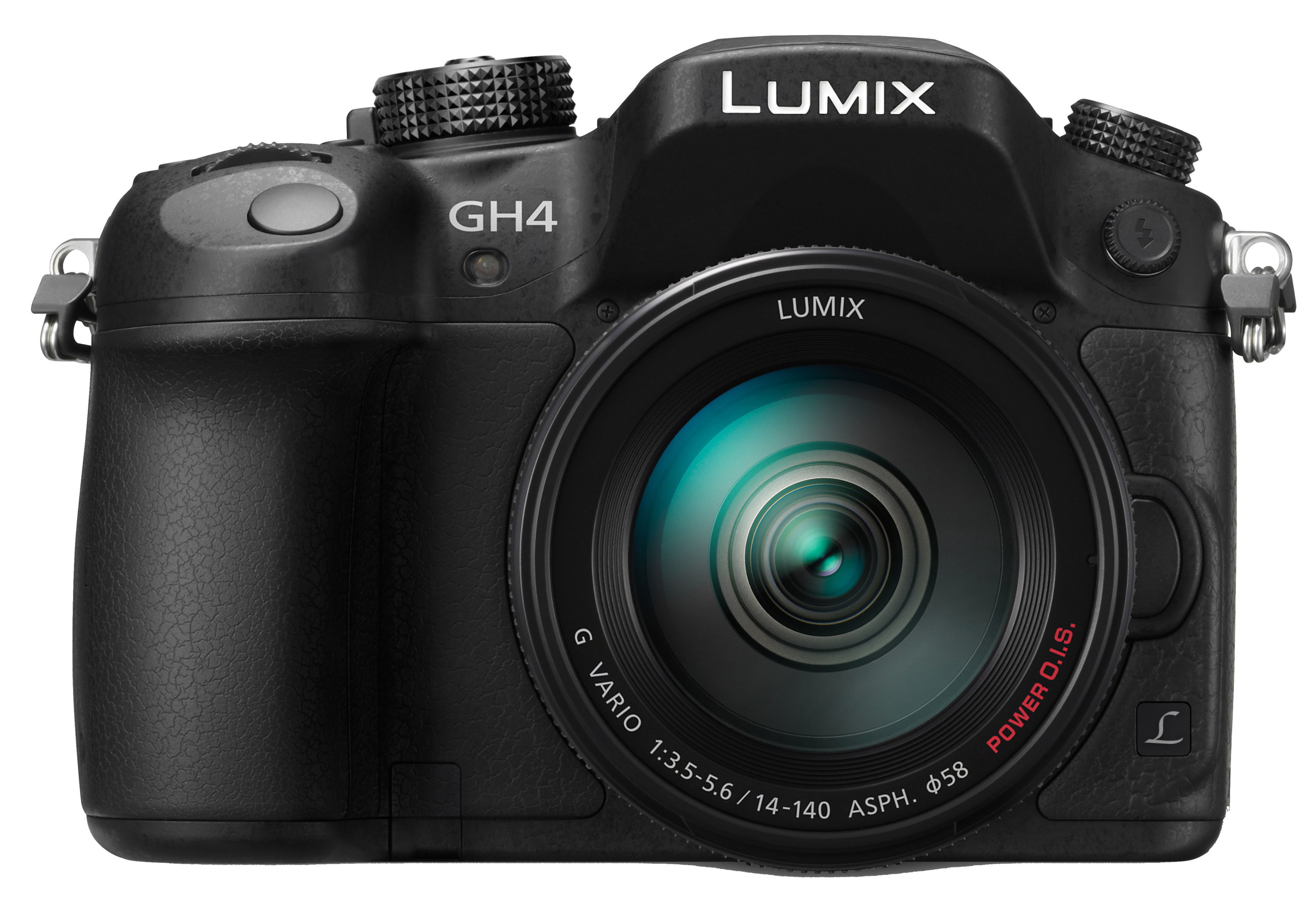 Shooting in 1080p delivers less noise, but annoyingly Panasonic has chosen to scale the entire sensor width down with a non-integer factor, which in turn means the footage isn't as crisp as it could have been with a crop that matched the UHD frame. Of course the solution is to simply film in UHD and down-sample it to 1080p with a nice even factor of two, and in my tests that works very well. But it does kind of render those nice high bit rate options for 1080p a little redundant.All of the above makes the GH4 the best hybrid camera to date, and I'm confident it's the best all-round video camera for the money. But that's not to say it'll be for everyone. The 4k video modes sensibly take a 1:1 crop from the sensor to avoid scaling artefacts, but it means they also don't enjoy the benefit of combining pixels for greater sensitivity. Couple this with the relatively small Micro Four Thirds sensor and you have 4k footage which inevitably looks noisy at high ISOs. I reckon it's pretty good up to 800 ISO, but at 1600 ISO and above you will see the noise dancing around the image.
But scaling or not, the ability to film 1080p at 96fps for a potential four-times slowdown is without a doubt up there with internal 4k recording as one of the GH4's killer features. It really gives independent film makers on a budget the chance to film Full HD in slow motion with great-looking results. Here's a clip I filmed at the second highest video sensitivity of 3200 ISO using the Lumix 25mm f1.4 wide-open, and it's handheld too.
Panasonic Lumix GH4 with 25mm f1.4 sample video: slow motion / 1080p / 96fps / 100Mbit
My slow motion clip here shows a fire dancer practising in Santa Cruz. Once again I filmed with the Lumix 25mm f1.4 wide-open, but this time I had to increase the sensitivity to the second highest value of 3200 ISO. of all the slow motion clips I filmed, this is my favourite. The action is sufficiently slowed for a good look at the fire's motion, and the clip is usable at 3200 ISO with nice black levels.
Another killer feature is being able to grab stills from 4k footage that essentially match the quality of stills taken with the camera. Sure the 4k frame is 16:9 shaped, so almost half the total height of the native 4:3 shaped stills, but if you can position the action within that area you'll be capturing 8 Megapixel photos up to 30 times a second. This is wonderful for action or even some types of portrait photography. Here's 100% crops from a still photo on the left and a 4k video grab on the right, and I think you'll agree they look pretty similar.
Panasonic Lumix GH4 with 17mm f1.8
Photo taken in 16 Megapixel 4:3 mode

Panasonic Lumix GH4 with 17mm f1.8
Screen grab from UHD movie 16:9

Full image from photo (4:3 shape)
Full image from UHD video grab (16:9 shape)

100% crop from photo pictured above
100% crop from video grab pictured above
I also really loved using the built-in intervalometer to capture a timelapse sequence and assemble it into a video for me, all in-camera. Even more impressive the GH4 can output the final movie in 4k UHD at 30fps. Check out the sequence below I filmed with it at the Rockerfeller Center in New York, without ever touching my computer.
Panasonic Lumix GH4 with 17mm sample video: Timelapse with in-camera conversion to UHD
Sample movie filmed with the Panasonic Lumix GH4 fitted with the Olympus 17mm f1.8 using its Timelapse mode. I set the camera to take a photo in Aperture Priority at f4 every 5 seconds for 819 frames, so you're looking at about 68 minutes worth of images. I then used the GH4 to generate a timelapse movie at UHD / 30fps in-camera.
So really the only thing you can't do with the GH4's movie mode is film in high ISOs without noise or shake it about a lot and expect no rolling shutter artefacts. If you want 4k that's cleaner at high ISOs you'll need to go for something like Sony's Alpha A7s which requires an external recorder where the combined cost will be roughly double the GH4. If you want to film 4k without rolling shutter artefacts, you'll need to go for something like the Black Magic Production Camera 4k (which also boasts RAW video formats), but again it's roughly double the price. Or how about a Sony FS700 or Canon EOS 1Dc which record 4k with larger sensors, but cost up to five times more.
I think you're getting the message: the GH4 is not a high ISO monster, nor is it immune from rolling shutter, but give it enough light to shoot under 800 ISO and it'll give you stunning output that's simply unbeatable for the money. It's a genuine game-changer in this regard, and I've gone into considerable detail in my Lumix GH4 movie mode review section. PS – you will need a USH Speed Class 3 SD memory card to successfully record in the 4k or 100-200Mbit 1080p modes. I used a Kingston card, pictured opposite.
As I mentioned earlier, the GH4 is also a very capable stills camera and it's great to see Panasonic not neglecting that side of the project. The GH4 inherits the weather-sealed body, wealth of ports and controls, popup flash, deep bracketing, interval timer and fully-articulated screen from the GH3, but upgrades the monitor and viewfinder to new, higher resolution OLED panels. I love fully-articulated screens: wherever and however you hold the GH4, you can twist the screen to face you, unlike vertically-tilting screens which only favour horizontal, landscape compositions. I regularly shoot with the camera on its side in in the taller, portrait orientation and it's great to do so with the screen flipped out at waist height. It's also great to have the electronic shutter option for shooting in silence.
The GH4 also better-caters for action and sports photographers with a burst rate of 12fps which can keep shooting JPEGs until you run out of memory, so long as the focus is locked or in manual. It slows down to about half that speed with continuous AF and focus priority enabled, but the upside is it'll keep subjects in motion in focus pretty successfully. Meanwhile the Single AF is as fast as previous models, which is to say very quick indeed and usefully it continues to work in very low light when other models just give up.
Panasonic's new AF technology which profiles the out-of-focus characteristics of its own lenses to more confidently calculate the focusing direction seems to work for the latest kit lenses, but was less effective in my tests with older primes like the Lumix 25mm f1.4, and obviously made no difference to Olympus lenses which aren't profiled. In this respect Panasonic has made a small improvement over earlier models, but it still falls way behind the confidence of decent hybrid AF systems like those on the Sony A6000 or Canon EOS 70D. Panasonic and Olympus are both falling behind in this regard and it shows for continuous AF in movies and burst photos at the top speeds. I don't know if it's a limitation with Micro Four Thirds or an issue giving up precious sensor real estate when there's not much to start with, but the bottom line is if you want effective continuous AF at around 10fps or no hunting when refocusing for movies, there are better models available.
Oh and where's the panorama mode? Sure it's not a consumer camera, but I'd still have liked to have it in there. Which only leaves me to make some comparisons with rival models before coming to my final verdict!
Panasonic Lumix GH4 vs Olympus OMD EM1
As the flagship model in Panasonic's Lumix G range, it makes sense to compare the GH4 to the top model from Olympus, the OMD EM1. Both cameras employ the Micro Four Thirds format, so share the same lenses with the same field reduction factor. Both are weather-sealed and offer built-in Wifi with decent smartphone remote control. Both also share the same 16 Megapixel resolution for stills, albeit with different sensors. In my still photo tests I found the out-of-camera JPEGs from the OMD EM1 were sharper and more contrasty than the GH4, with fractionally higher fine detail too, although much of this could be down to processing, so I'm waiting for broad RAW support before calling one out as being superior for photo quality than the other.
Looking at the other features, the OMD EM1 boasts built-in sensor-based stabilization that works with any lens you attach. Its control dials and buttons are larger and more tactile, making it more comfortable to operate with gloves or in the cold; I personally found the ergonomics and grip preferable, but that's a subjective choice. Both may share the same viewfinder resolution, but the greater magnification on the EM1 delivers a bigger apparent image to look at, and it stayed less noisy in low light too. The EM1 also offers innovative long exposure options which preview the image as it builds; it's also possible to use various custom settings to trigger exposures of several minutes with any additional accessories. The EM1 also costs about two thirds the price of the GH4.
In its favour, the GH4 has a fully-articulated screen instead of one that just tilts vertically. It shoots continuously at up to 12fps compared to 10fps and I found it could more successfully keep moving subjects in focus, albeit by slowing down the rate to 5-6fps. The battery life is also considerably longer and there's electronic shutter options which can shoot in silence. The built-in interval timer is more sophisticated and can output smoother and more detailed movies at up to 4k in 30fps.
Movies are of course the biggest difference between them though. The Olympus OMD EM1's movie capabilities are poor to be frank, whereas the GH4's are state of the art. It can film at higher resolution (4k vs 1080p), it can film 1080p at higher frame rates (96fps vs 30fps), you can choose different frame rates for different regions, there's a headphone jack as well as one for a microphones, the chance to adjust luminance and master pedestal levels, set the shutter in degrees rather than seconds, display various calibration bars, view zebra patterns, the list literally goes on and on.
If you're remotely into video, the choice between them should definitely be for the GH4. If your priority is stills, then I feel the EM1 has the edge for ergonomics, not to mention for its built-in stabilization and out-of-camera JPEG quality, although I did find the GH4's fully articulated screen very useful. Once I can compare the quality of their respective RAW files, more will become clear, but right now if video's your thing, then go for the GH4. But the lower price and stills capabilities of the EM1 still make it very attractive to anyone for whom video is not a priority.
See my Olympus OMD EM1 review for more details.
Panasonic Lumix GH4 vs Sony Alpha A7s
Announced shortly after the GH4, Sony's A7s is the third in the A7 series and the first to offer 4k video. Since both are compact mirrorless cameras which can capture 4k video, they're inevitably seen as rivals, but there's a lot to weigh-up between them.
In its favour, the GH4 can record 4k internally to a sufficiently quick SD card, whereas the A7s requires an external recorder for 4k; suitable models like the Atomos Shogun will add about $2000 USD to the price, making the A7s a considerably more expensive option. The GH4 also offers the slighter wider Cinema 4k format in addition to UHD 4k, and can capture 1080p at higher bit rates (albeit with a different codec) and at higher frame rates too: 96fps vs 60fps. The GH4's screen is fully-articulated and touch-sensitive, whereas the A7s only tilts vertically and is not touch-sensitive. The GH4 sports much faster continuous shooting at 12fps vs 5fps and also offers a completely silent electronic shutter option. The photo resolution is higher at 16 Megapixels vs 12, but I suspect the A7s will seriously out-perform the GH4 for image quality due to its sensor.
Yes, in its favour, the A7s has a much larger full-frame sensor that boasts four times the surface area. As such it'll deliver much lower noise at high ISOs, and if you're happy to handle noise, it offers shooting sensitivities up to 409600 ISO for photos and movies whereas the GH4 stops at 6400 ISO for movies and 25600 ISO for stills. Like the GH4, the 4k mode utilizes a 1:1 crop to avoid scaling artefacts, but I believe this crop is also shared for 1080p footage which should make the latter crisper than the GH4. And if you're happy to drop the resolution to 720p, you can shoot at 120fps, although some may prefer the GH4's 1080p at 96fps.
Ultimately the A7s is all about the full-frame sensor. It's for those who want to shoot video at high ISOs with low noise, although the capability will cost you. The price of the A7s body is still unknown at the time of writing, but it will almost certainly be more than the GH4 body – and don't forget you'll also need to factor another two grand or so for an external recorder if you want to capture 4k. So the GH4 is a considerably cheaper option, but if you want noise-free footage at high ISOs, you'll need to invest in a bigger sensor.
See my Sony Alpha A7s review-in-progress for more details.
Also consider:
Black Magic Production Camera 4k, along with the Canon cinema cameras and Sony professional models. All are broadcast professional-level products with higher price tags to match and are beyond my capabilities to test right now. If you're interested in these cameras, please check out reports from pro film makers Philip Bloom and Stu Maschwitz.
Panasonic Lumix GH4 final verdict
It's hard not to be impressed by the Lumix GH4. It handles confidently as a stills camera and is an absolute joy for video. As I've mentioned throughout my review, it is not a low light monster: the 1:1 crop for 4k video from the relatively small sensor of Micro Four Thirds means the footage inevitably becomes noisy at 800 ISO and above. The absence of a global shutter means it's also susceptible to rolling shutter artefacts. There are cameras which address both issues, but the fact is they typically cost at least twice the price. The bottom line is the Lumix GH4 delivers better video quality than we've ever had before at this price point.
Shoot at the lower ISOs and you'll be stunned by the degree of detail from the UHD and Cinema 4k modes, and don't forget you're recording them internally with a small, light and discreet camera which could even be mounted on a modest drone. And while it's a shame the 1080p footage employs a non-integer scaling factor, the ability to shoot at 96fps for a four-times slowdown is fantastic. Besides, you can always shoot in UHD and downsample it yourself if you want great-looking 1080p.
Couple the video quality with a wealth of pro-level features, displays and controls, and you've got a camera that will delight budget film makers, or indeed well-funded ones who simply want a small and light camera. Understand its limitations and you'll be very happy with it.
Meanwhile, the stills photo capabilities are satisfyingly high end with great controls, flexible composition, fast continuous shooting, deep bracketing, built-in timelapse, Wifi remote control, and continuous AF that's surprisingly effective for moving subjects, although in my tests with Panasonic or Olympus lenses with CAF and focus priority enabled, the rate could slow to 5-6fps. Again it's important to remember what it can and can't do. If you want more confident continuous AF for stills or movies, you can get it on the Sony A6000 at a third of the price, and if you just want a great mirrorless experience for stills, the Olympus OMD EM1 will give you it with built-in stabilization at about two thirds the price.
So if you're only judging the GH4 on stills, it's clearly very good, but you can match or beat it with cheaper models. But if you're interested in video, the Lumix GH4 is triumphant. Yes it's noisy at high ISOs, but look at the price! 4k video with internal recording and 1080p at 96fps, squeezed into a compact camera that's also respectable for stills – all for under $2000 USD? The GH4 is not just a bargain for video enthusiasts, it's a game-changer.
Good points
4k (C4k and UHD) video, recorded internally.
1080p at up to 200Mbit/s or 96fps for slow motion.
Pro-level video options, controls and displays.
Weatherproof body with broad customization.
Very fast single AF speed. Works in very low light.
Silent electronic shutter option.
Good quality stills and chance to grab from 4k video.
Decent battery life for a mirrorless camera.
High resolution electronic viewfinder.
Fully-articulated touch-screen.
12fps continuous shooting (focus locked).
Built-in Wifi with NFC and smartphone remote control.
Built-in interval timer with movie encoding option.
Seven frame AEB.
Broadest native mirrorless lens catalogue.
Bad points
4k footage looks noisy at 800 ISO and above.
1080p footage uses non-integer crop.
Rolling shutter artefacts in some conditions.
Still photo quality no better than other MFT cameras.
Burst speed can slow to 5-6fps with CAF & focus priority.
No phase-detect / hybrid AF.
No built-in stabilization, unlike Olympus MFT models.
No in-camera panorama mode.